In this post I share about different vegan restaurants, areas of town, and tourist attractions in Dubrovnik, Croatia.
Jump To
I'm so glad I'm writing these recaps of all the cities we visited on our babymoon extravaganza. It's so fun to reminisce on the amazing cities we were able to explore and all the different scenery and cultures we were able to enjoy.
Despite the life-sucking heat, Dubrovnik, Croatia was definitely one of our favorite babymoon spots. It reminded me of Greece, or at least pictures of Greece since I've never been. We had amazing weather the entire time we were there and the sky was so blue and contrasted beautifully with the white and brown houses on the hills. The airbnb we stayed at had the most beautiful view of the marina and I loved waking up to the sun and blue sky just outside our window.
In total we stayed 4 nights and 3 full days in Dubrovnik and the slower pace was so welcomed. We didn't plan much of anything before we got there, so everyday allowed for new adventures and spontaneity.
The Old Town
We knew that Dubrovnik had a famous Old Town so we spent a lot of our time there exploring all that was available. There was a little market with fresh fruit, cute cafes where you could rest and enjoy coffee, restaurants serving all kinds of cuisines, gelato shops everywhere and beautiful architecture throughout. We ended up finding some adventure and foodie gems which I'll talk about farther down this post.
Nishta Vegan Cafe
Nishta Vegan Cafe was one of or maybe the only restaurant in Dubrovnik that offered tons of vegan and vegetarian options. It was located in the Old Town on one of the upper alleyways. I was so excited to have access to healthy, plant-based food because, in order to get to Dubrovnik from Plitvice Lakes we had to ride a bus for over 13 hours. I don't do well with car rides and then couple that with being pregnant, I spent the entire trip looking out the window trying not to barf. I basically snacked on potato chips and chocolate the entire trip to Dubrovnik in hopes of calming my stomach, so I was more than ready for some vegetables once we arrived.
Nishta was just what I needed! They had a salad bar with all kinds of raw and roasted veggies, grains, nuts and seeds. I ended up going with the salad bar due to my potato chip overdose the day before and it hit the spot. I didn't even end up using a dressing because all of the vegetables were so flavorful.
Brett chose the vegan burritos and they were some of the best burritos I've ever tasted. He loved them and I knew that we'd need to come back another time so I could order them for myself. Sadly the next day when we went back to Nishta it was closed. It's closed every Sunday, so keep that in mind if you want to eat there!
Cogito Coffee
I love lattes and they have definitely become a rare treat since moving to China, since there aren't any cafes in our city that provide soy milk as an option. We found Cogito Coffee online and I was so excited that they offered non-dairy options. We ended up having a wonderful, slow morning there one day when we ran into another American lady from Texas who was so easy to talk to. We spent a couple of hours there, enjoying our drinks, the quick internet and our new talkative friend. It was a small cafe, so there wasn't much seating, but we were able to score some benches outside in the shade.
Tutto Bene
We discovered Tutto Bene Pizzeria & Fast Food the Sunday we were hoping to eat at Nishta again, but it was closed. We were at a loss for where to find veggie options, but remembered that we had seen a wrap/pizza restaurant in one of the alleyways. I figured if they had vegetables then they'd be able to make me a vegan wrap and that was just the case. Brett ended up order the kebab and I ordered the vegetable tortilla without cheese and with mustard as a dressing. I was so excited to be able to eat so many vegetables as well as beans! So while there aren't many vegan options here, you can at least order a hearty, delicious wrap.
Incredible India
Brett and I are obsessed with Indian food, so we knew we wanted to find an Indian restaurant to eat at while in Dubrovnik. Incredible India ended up being a great option. The owner knew a lot about veganism so he was more than happy to use oil instead of butter in all of my dishes. I ordered the Aloo Gobi with naan and white rice. Brett ordered his usual Chicken Tikka Masala and we found that splitting a serving of rice was more than plenty for the two of us, especially since we ordered naan as well. It was an oily meal, as most Indian food is, but it was so spicy and flavorful and hit the spot.
Cliff Jumping at Cafe Buza
I think the highlight of our time in Dubrovnik was finding a fun cliff jumping spot on the outside of the Old Town walls. We randomly walked by a cafe called Cafe Buza which was located on a rocky hill right outside of the city walls. If you keep walking down all the different steps and terraces past the drink bar and seating areas, you'll soon see an open area where people are hanging out on the rocks and cliff jumping. We were able to carefully change into our bathing suits behind our towels and join in on the fun.
Since I was pregnant I couldn't do any of the higher jumps, but there were a lot of rocks right near the water that I could jump off of for a refreshing swim. Brett thoroughly enjoyed the adventure of jumping and diving off the higher rocks and we both loved people watching as everyone had different levels of confidence and skill when it came to cliff jumping. There were people from all over the world hanging out on the rocks, so it was fun to chat with people while we sunbathed.
Sandy Beach Plaza Sunj
One thing we quickly noticed about the beaches in Dubrovnik was that most of them were rocky beaches. I don't know what Brett and my deal was, but we had such a hard time walking into the water on the rocks. It was like our feet had never felt a pebble before. So after an afternoon of struggling at the rocky beaches we decided to find a sandy beach to enjoy. After some research we found that there was a sandy beach called Plaza Sunj, which was located on Lopud island which you could get to by ferry from the main land. It was about a 45 minute ferry ride to get to the island because the ferry made other stops along the way. Per person, we also spent about $8 for round trip ferry tickets.
Once you get to Lopud Island you have to walk or pay to take a golf cart to the other side of the island in order to get to the sandy beach. We ended up paying for the golf cart and it was so worth it to not have to walk ½ hour in the scorching heat and to get to the beach earlier to find good seats. We paid for two chairs and an umbrella since we knew we'd be there all day and it was perfect. The water was shallow and everything was sand, so we could easily walk into and swim in the ocean to cool off. Most of our time, however, was spent reading under our umbrella.
The ferry leaves at a couple different times to take you back to Dubrovnik and we ended up choosing the later 6:30 ferry ride so that we could spend the entire day on the beach and also eat an early dinner at one of the cafes. I wasn't expecting to find much, but ended up ordering an amazing vegan pizza and salad that hit the spot. Brett was able to order a burger and he said it was really good as well.
Running in Dubrovnik
If you enjoy running, it's definitely possible to run in Dubrovnik. It's a very hilly city, but Brett and I were able to go on a 5 ½ mile run one morning around ACI Marina Dubrovnik, which was right below our airbnb. Because we ran along the water for the first part, it was mostly flat. Towards the end of our run once we entered back into the city a little more, we had more hills to face. Overall it was a good run. Go as early as possible if you're in Dubrovnik during the summer though, because it gets hot and sunny fast!
Walking the Old Town Wall
One touristy, yet fun thing to do while in Dubrovnik is to pay to walk around the Old Town Wall. We chose to do this after dinner one day in hopes if it being cooler and less sunny. They stop allowing people onto the wall at 7:30 PM and force people off the wall around 8 PM. It took us about an hour to walk around the entire city so keep that in mind.
While it wasn't the cheapest excursion (it cost us a little over $20 per person), we enjoyed this activity because it allowed us to look out onto the water or into the city. There are lots and lots of stairs, so it's not a restful walk, but it's worth it for the view.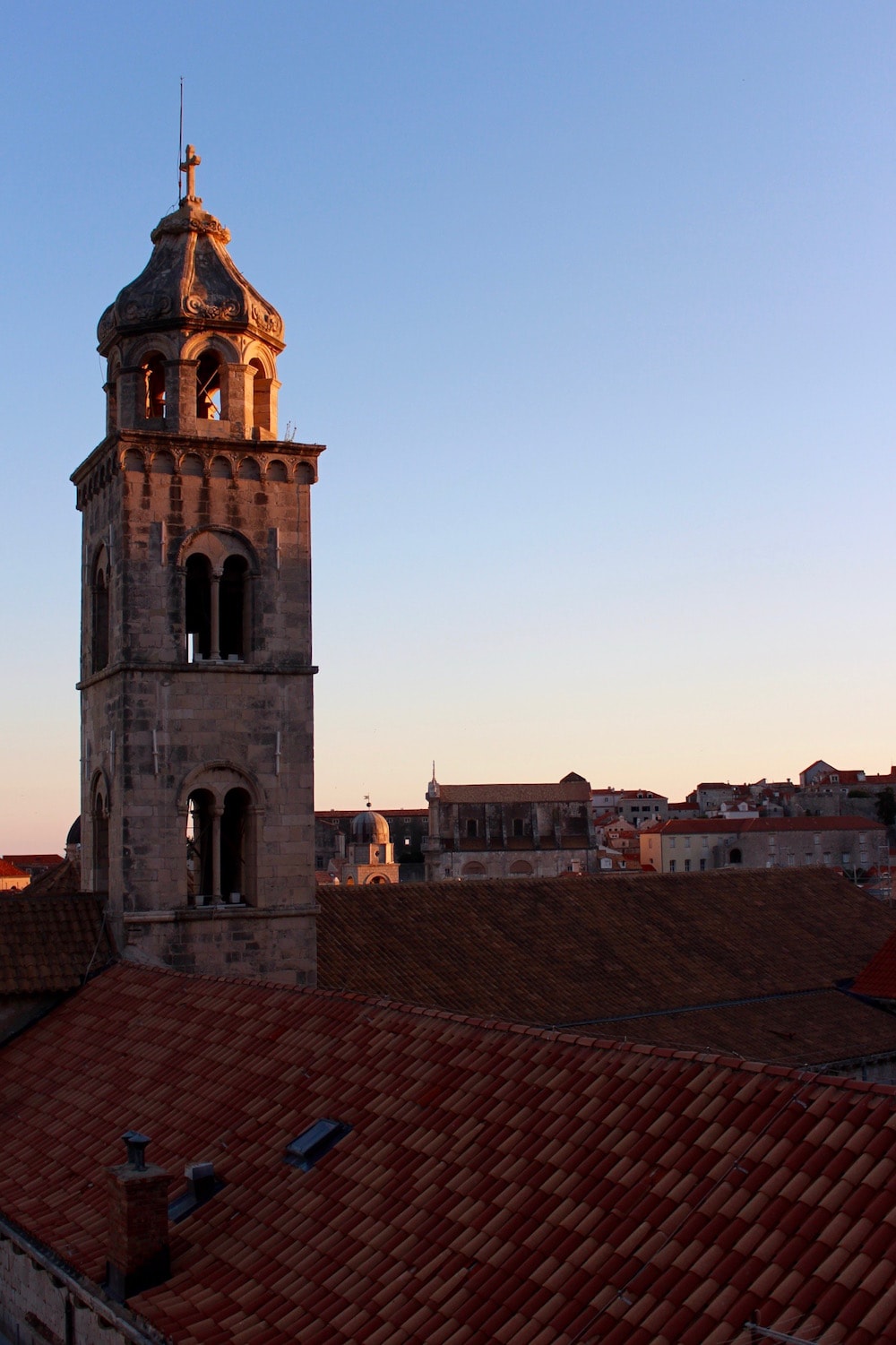 Vegan Gelato
It wasn't the easiest to find non-dairy gelato in Dubrovnik but I managed to score some strawberry sorbet the night we walked the Old Town Wall. It was so fruity and refreshing! Sadly I don't remember what the shop was called, but definitely ask the servers if they serve non-dairy sorbet and you'll be sure to find some!
Those were the highlights of our time in Dubronik, Croatia. I'd love to hear if you've been to Dubrovnik before if or you've been to other areas of Croatia that you loved.