Studded with vibrant zucchini, crunchy walnuts and chewy raisins, this hearty and sweet Zucchini Bread Baked Oatmeal recipe is a healthy and satisfying way to start your day!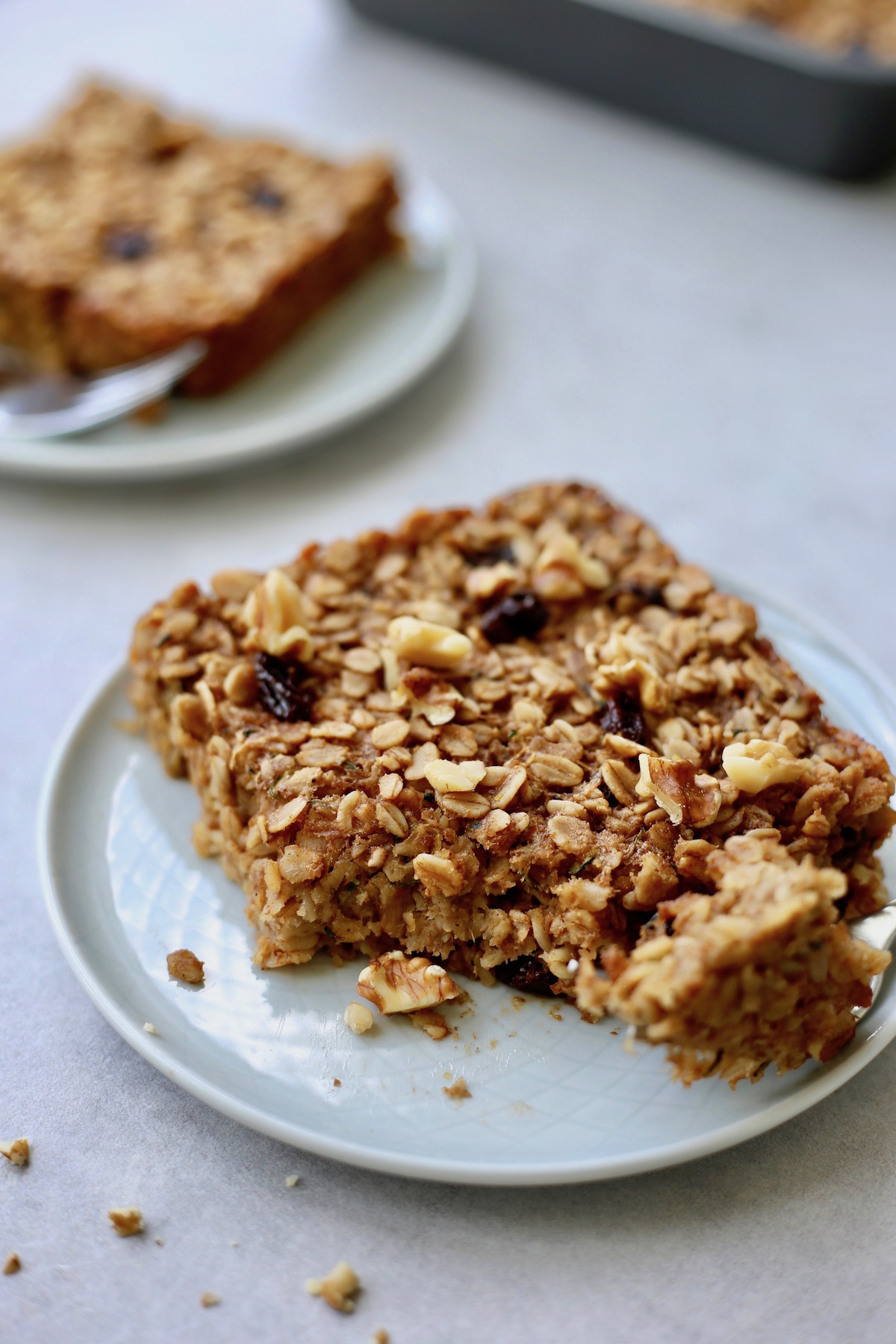 Oatmeal is by far my favorite way to start the day. It's tasty, satisfying and nutritious. What's not to love?! Plus, it's so versatile! You can use it to make Healthy Peanut Butter Chocolate Chunk Granola or Easy Homemade Oatmeal Date Granola Bars or Zucchini Carrot Oatmeal Breakfast Muffins.
Or if you're sweet tooth is talking, then you can use it to make cookies like these Chewy Oatmeal Apricot Almond Cookies ( <== seriously amazing!) or these Vegan Coconut Oatmeal Cookies.
You can cook oatmeal in the microwave, on the stove top, or be selfish and make vegan baked oats just for one.
You can even prep it ahead of time with this make ahead carrot cake baked oatmeal.
You can turn this into any flavor you desire...such as this zucchini I'm about to show you 🙂
Really, I could keep going on and on about how much I love oatmeal!
Ingredients
Other than some freshly shredded zucchini, this zucchini bread baked oatmeal requires just a handful of pantry staple ingredients.
I'll list out everything you need to make this recipe:
Shredded zucchini
Optional mix-ins: chopped walnuts, raisins, etc.
How to Make Baked Oatmeal
Baked oatmeal isn't one of those foods you eat every single morning, but it is our family's favorite way to eat oatmeal.
The truth is that this kind of oatmeal appeals to those who love anything that comes out of the oven. It's denser and chewier than what you'll get with oatmeal cooked on the stove top, which tends to have a more creamy, soupy texture to it.
This method allows you to slice it and serve it with your favorite fruit or spread!
Step-by-step instructions
Step 1: Mix wet ingredients
Start by whisking together the wet ingredients in a large mixing bowl, including any sugars, spices and salt.
STEP 2: Add in dry ingredients
Then add in rolled oats and any mix-ins you desire, such as shredded vegetables, sliced or chopped frozen, fresh or dried fruit as well as any nuts or seeds. For this particular recipe, we're obviously putting in the zucchini as well.
STEP 3: Pour into baking dish
Pour the batter into a greased baking dish and use a spoon to make the batter nice and level. You want to make sure the oats and liquid are evenly distributed before you begin to bake.


STEP 4: Bake and set
Bake the oatmeal until it's firm and set. Oven should be at 350°F / 175°C.


STEP 5: Slice and serve!
Slice and serve this zucchini bake with your favorite toppings!


More vegan baked oatmeal recipes
When it comes to creating different flavors of baked oatmeal, the possibilities are limited only by your own creativity.
Below I'll share the other baked oatmeal recipes I've shared on the blog so you can have lots of different flavors to choose from.
Once you've tried out all of these different recipes, you can come up with your own flavor combinations! I like to think through my favorite quick bread or cake flavors and use those as inspiration.
📖 Recipe
Zucchini Bread Baked Oatmeal
Studded with vibrant zucchini, crunchy walnuts and chewy raisins, this Zucchini Bread Baked Oatmeal is a perfect start to your day!
Instructions
Preheat your oven to

350

°F

degrees and grease an 8x8 baking dish. Set it aside.

In a

large mixing bowl

make your flax egg by whisking together 1 tablespoon of ground flaxseed and 3 tablespoons of water. Allow it to sit and thicken for about 5 minutes.

Once your flax egg has thickened, add in the non-dairy milk, coconut

sugar

,

coconut oil

,

salt

and spices and whisk well to combine.

Stir in the

rolled oats

and zucchini and, if using, the walnuts and raisins.

Pour the batter into your greased baking dish and spread the mixture out until even and the liquid and oats are evenly distributed.

Bake for 25-35 minutes or until set.

Slice and enjoy!
Notes
Store leftovers in the fridge for 2-3 days and simply reheat a serving in the microwave.
Nutrition
Calories:
322
kcal
Carbohydrates:
45
g
Protein:
9
g
Fat:
13
g
Saturated Fat:
7
g
Polyunsaturated Fat:
3
g
Monounsaturated Fat:
2
g
Sodium:
341
mg
Potassium:
381
mg
Fiber:
6
g
Sugar:
16
g
Vitamin A:
411
IU
Vitamin C:
12
mg
Calcium:
163
mg
Iron:
3
mg