This Creamy Vegan Tomato and Zucchini Soup packs a nutritious punch without sacrificing flavor!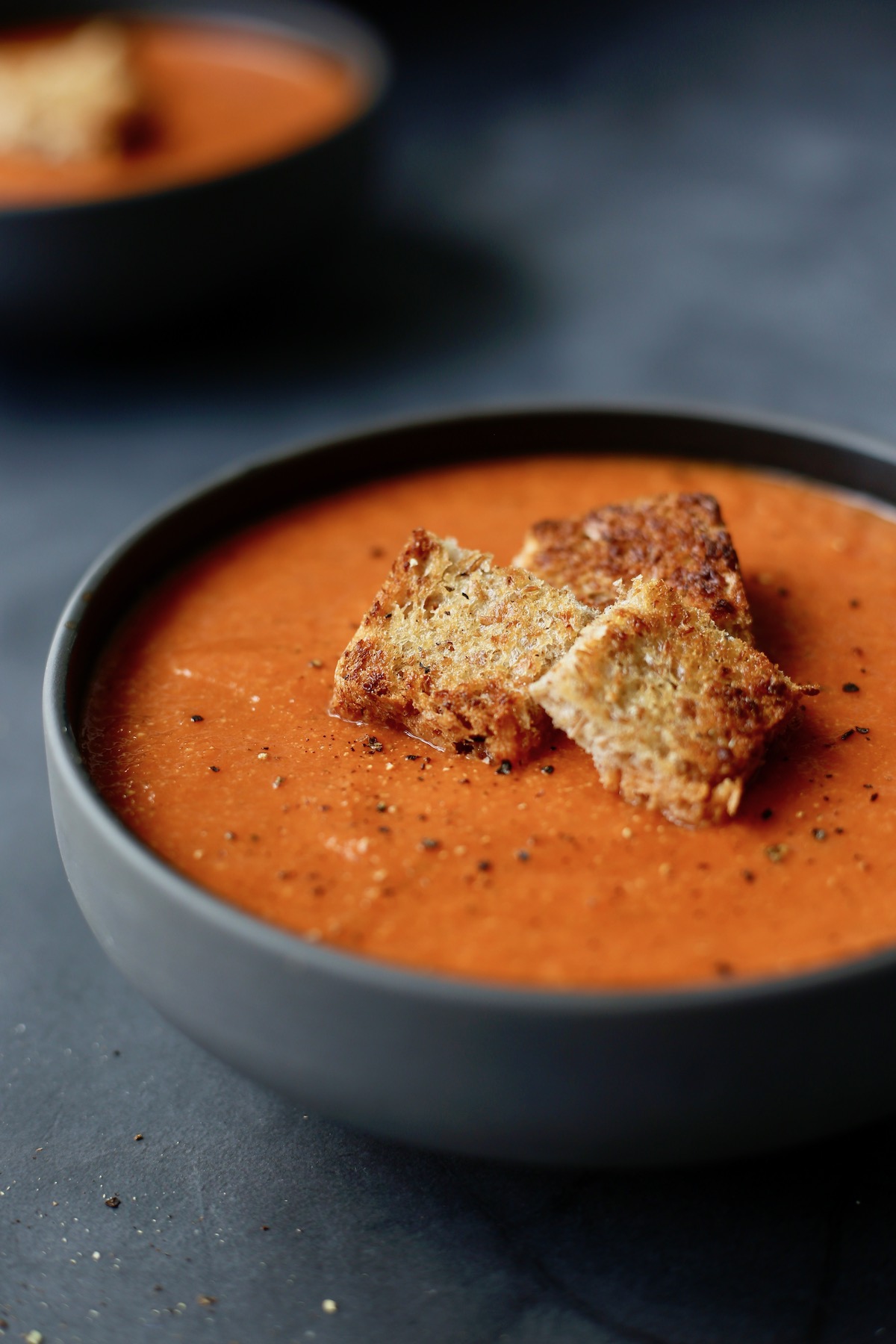 Healthy vegan smoothies really are beautiful things. The fact that I can drink spinach at breakfast and not even realize it always amazes me.
Maybe that's what I love so much about soup (which I've also been craving lately). They are so warming, versatile AND you can easily sneak in lots of veggies…just like a smoothie.
But instead of slurping up a delicious tomato soup with a straw, we eat it with with a spoon. Oh, and I guess there's a slight temperature difference too. But you know what I mean.
My friend made Joy the Baker's Tomato Zucchini Soup the other day and I knew I had to turn it into a vegan recipe.
This Creamy Vegan Tomato Zucchini Soup is so healthy and full of plant-based nutrition!! Just look at all the vegetables that go into this soup.
Carrots, celery and zucchini, oh my!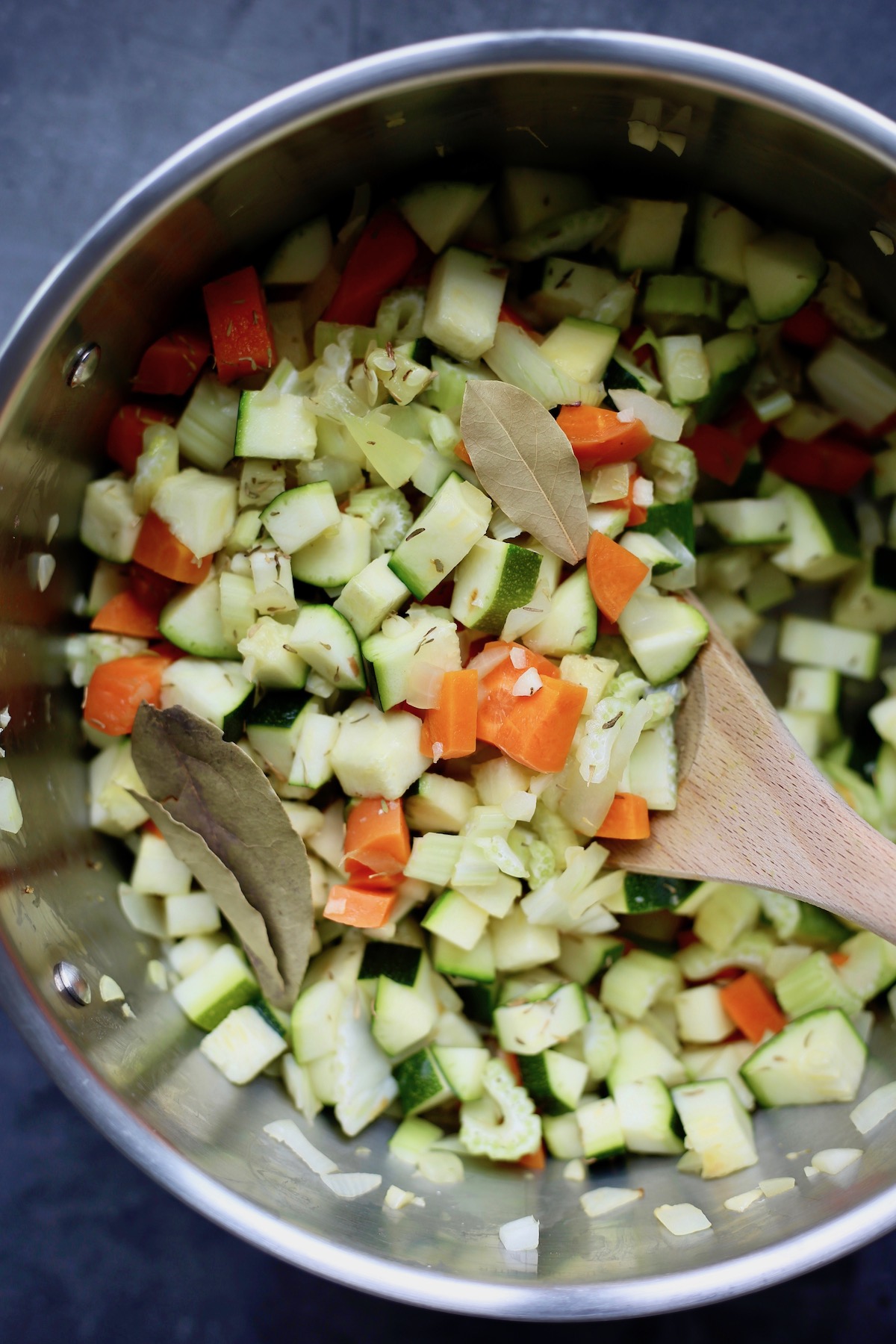 Ingredients You'll Need for Vegan Tomato Zucchini Soup
Like I mentioned above, this tomato soup is loaded with veggies. Apart from the veggies, this recipe mainly calls for pantry staples, making it an easy meal for any night of the week! Below I'll list out all the ingredients you'll need to make this creamy, healthy soup:
Carrots
Celery
Zucchini
Onion
Garlic
Crushed tomatoes
Vegetable broth
Cashews
Water
Dried thyme
Bay leaves
Salt
Red pepper flakes (optional)
See! Mostly just simple veggies and pantry staples!
How to Make Vegan Tomato Zucchini Soup
To make this Creamy Vegan Tomato Zucchini Soup you begin by sautéing lots of chopped up carrots, celery, zucchini, and onion in a large pot.
Once they're tender you add in a bunch of tomatoes, vegetable broth, garlic and spices.
Then, just like a smoothie, you blend everything up to create a beautiful, red and flavorful base.
Then comes the special part: the vegan cashew cream!
The cashew cream takes this vegan tomato soup to the next level. It adds richness and creaminess and turns this dish from good to great! It's comforting and super healthy all at the same time.
Yeah, you're gonna want to try this one.
Creamy Vegan Tomato Zucchini Soup
This Creamy Vegan Tomato and Zucchini Soup packs a nutritious punch without sacrificing flavor!
Ingredients
1 cup diced carrots
1 cup diced celery
4 cups diced zucchini
1 large onion, diced
5 cloves garlic, minced
1 teaspoon dried thyme
2 bay leaves
salt and red pepper flakes
2 28 ounce cans crushed tomatoes
4 cups vegetable broth
3/4 cup cashews, soaked
1 cup water
Instructions
Before making this soup, cover your cashews with water in a bowl and let them soak for a few hours.
In a large saucepan, sautee the carrots, celery, zucchini and onion for about 10 minutes, until the onion is translucent and the vegetables are soft. Stir in the garlic, thyme, bay leaves, and a pinch of salt and red pepper flakes and stir well. Let cook 1-2 more minutes.
Add in the tomatoes and vegetable broth and stir everything well. Bring everything to a boil and then reduce the heat to a simmer and allow the soup to cook for about 30 minutes. You want all of the vegetables to be very soft and tender.
Remove the bay leaves and then with an immersion blender, or in batches in a regular blender, puree the soup until smooth. Pour the pureed soup back into the large saucepan.
Rinse out your blender and drain and rinse your cashews. Place the cashews and 1 cup of water in your blender and blend until smooth and creamy. Pour the cashew cream into the pureed soup and stir well.
Heat until warm and serve!
Nutrition Information
Yield

8
Serving Size

1
Amount Per Serving
Calories

181
Total Fat

7g
Saturated Fat

1g
Trans Fat

0g
Unsaturated Fat

5g
Cholesterol

0mg
Sodium

891mg
Carbohydrates

27g
Net Carbohydrates

0g
Fiber

6g
Sugar

14g
Sugar Alcohols

0g
Protein

7g
Nutrition information is a rough estimate provided by Nutrionix and should be used for informational purposes only.