Creamy pumpkin puree and airy sourdough discard combine together to create this decadent Vegan Pumpkin Bread!
Just this past year I became the proud mother of a sourdough starter. Now I love to turn all of my favorite baked goods into vegan sourdough baked goods. I've already shared our favorite vegan sourdough pancakes, sourdough waffles and this delicious vegan sourdough banana bread. Today I want to share a delicious, decadent fall inspired recipe with this easy Vegan Sourdough Pumpkin Bread! I know you all will love this quick and easy quick bread recipe. Let me walk you through how to make it!
Jump To
Why You'll Love This Recipe!
Outside of spices and leavening agents (things most bakers always have on hand), this recipe requires only 6 ingredients...5 if you omit the chocolate chips, but who does that?!
This recipe allows me to never waste my precious sourdough starter. Even if I've been storing my starter in the fridge, I'll just let it sit at room temperature for a bit before making this moist, delicious pumpkin sourdough bread.
Even when my friends or guests aren't big into sourdough love this pumpkin loaf. It's sweet with that classic pumpkin bread taste so no one will know it has sourdough starter in it!
This pumpkin loaf stores beautifully in the fridge and freezer. It will get harder as it chills, but a few seconds in the microwave always brings it back to life.
Starting with the Sourdough Starter
I recently acquired a sourdough starter from a friend and it has changed my life! Well, it's at least changed what I'm baking most days of the week. While I love to make freshly baked sourdough bread (you know, the kind that requires active, bubbly starter, time, stretching and folding and a dutch oven?!), I also love to make quick and easy sourdough recipes using sourdough discard. That's also what you'll be using for today's sourdough pumpkin bread recipe.
How to use Sourdough Discard
I've never actually thrown away any sourdough starter. When you are making your own sourdough starter from scratch, you will have to discard quite a bit of the starter in the beginning. However, I got some active, healthy sourdough starter from a friend so I skipped the whole "discard" stage of making a sourdough starter at home. Even though you don't have to discard any sourdough starter once you have an active, healthy sourdough starter, many recipes still call for "sourdough discard."
When I say "sourdough discard," I'm mainly talking about sourdough starter that has been fed recently, but isn't bubbly and active anymore. It has already fallen after hitting it's peak height. Usually once my sourdough stater hits it's peak and I've used some in a recipe, I stick my starter in the fridge. Chilled, inactive sourdough starter is often called sourdough discard.
Ingredients
Sourdough Starter - I got some sourdough starter from my friend who has been maintaining her starter for a while and it has allowed me to jump ahead in the sourdough learning processes. If you're able to get a healthy, vibrant sourdough starter from a friend, I highly recommend it!
Pumpkin Puree - I like to make my own pumpkin puree by buying a bunch of pumpkin when it's in season, roasting it and blending it until smooth. Then I just store it in ½-1 cup amounts to easy baking all-year-round. Canned pumpkin puree works great too, though!
Flour - Your sourdough starter provides quite a bit of bulk to this recipe, but you'll also need some all-purpose flour.
Oil - Any neutral oil should work in this recipe. I like to use light olive oil, but when I'm out of that, I just use vegetable oil.
Brown Sugar - Classic brown sugar pairs beautifully with the warming spices and pumpkin puree.
Chocolate Chips - Any dairy-free chocolate chips or chopped up chocolate bar will work!
Spices - I love to pair pumpkin with spices such as cinnamon, ginger and nutmeg, so that's what I've used in this recipe!
See recipe card for full list of ingredients and quantities.
🔀 Variations and Substitutions
🎃 Pumpkin Puree
Pumpkin puree obviously provides the main flavor of this pumpkin loaf. However, you could try using mashed banana or applesauce instead. Just remember, bananas and and applesauce are sweeter than pumpkin puree, so if you use one of those, you may want to reduce the sugar a bit.
🍫 Chocolate Chips
I always like to bake with chocolate chunks instead of chips. Chocolate bars are more affordable than chips where I live and I like the variety of sizes chopped up chocolate provides. If you want to make this sourdough pumpkin bread a little less sweet, then you could always add in some chopped pecans or walnuts!
🫒 Oil
Any neutral oil should work in this recipe. I've made it with coconut oil, light olive oil and vegetable oil. If you use coconut oil, it will just make the bread harder as it chills in the fridge. But a few seconds in the microwave will revive this bread perfectly!
How to Make Sourdough Pumpkin Bread
In a large mixing bowl, whisk together the sourdough starter, pumpkin puree, brown sugar, oil, leavening agents and spices until there are no lumps or larger pieces of sourdough starter.
Stir in the flour and chocolate chips until just combined.
Pour the batter into a greased loaf pan, smooth out the top and sprinkle a few more chocolate chips on top.
Bake the bread for about 60 minutes or until a toothpick or knife inserted into the center comes out clean.
Storage
You can store this vegan pumpkin sourdough bread at room temperature in an airtight container for 1-2 days. To keep it fresher for longer, however, I recommend storing it in an airtight container in the fridge for up to a week. You can also slice and freeze this bread! It should last for 1-2 months if stored properly.
Expert Tips
👉🏻 Get a starter from an experienced baker
If you're new to sourdough baking, I highly recommend getting sourdough starter from an experienced baker, or someone who has been maintaining a sourdough starter for a while. Having a healthy sourdough starter is key to creating delicious sourdough bread!
👉🏻 Bring Discard to Room Temp
Bring your sourdough discard to room temperature before you mix it with the other wet ingredients. Super cold sourdough starter is hard to incorporate into other ingredients and can cause sourdough clumps to remain in your batter.
👉🏻 Cover with aluminum foil
If your sourdough pumpkin bread is starting to brown more than your liking, cover the loaf with aluminum foil towards the end of the baking time.
👉🏻 Rewarm in microwave
This pumpkin bread will become harder as it chills in the fridge as coconut oil solidifies when it gets cold. So if you store this bread in the fridge, I recommend warm it it up in the microwave for a few seconds or at least allowing it to come to room temperature for a few minutes before enjoying.
Recipe FAQs
What is the difference between sourdough bread and yeast bread?
Sourdough bread relies on a combination of lactic acid bacteria and wild yeast while yeast bread uses baker's yeast to leaven the dough. While both are delicious, sourdough bread has more nutrients and is less likely to raise your blood sugar. Sourdough bread also contains less gluten and is often easier for people to digest.
What is sourdough discard?
Sourdough discard can refer to two things: 1.) the extra sourdough starter you have to throw away when starting a sourdough starter from scratch or 2.) inactive, fallen sourdough starter.
What is the secret to good sourdough bread?
There are so many variables that go into a good loaf of sourdough bread. For starters, make sure you're using active, bubbly starter when making your dough. You can also experiment with different flours and levels of hydration. Autolyse your dough and allow for a long bulk fermentation. Oh, and don't forget to proof your dough before baking.
Is sourdough bread healthier than yeast bread?
Sourdough bread is often considered healthier than yeast bread as it is higher in nutrients and lower in gluten. The lower gluten content often makes it easier to most people to digest. Plus, sourdough bread tastes amazing!
How long does sourdough discard last in the fridge?
I've kept my sourdough discard in the fridge for up to a month. This is definitely on the longer end and it took a few feedings to get it bubbly and active again, but you should be able to store your starter in the fridge for at least a couple weeks. Just try not to store it in the coldest place in your fridge.
More Vegan Pumpkin Recipes
Love this recipe? Please leave a 5-star 🌟🌟🌟🌟🌟 rating in the recipe card below & a review in the comments section further down the page.
📖 Recipe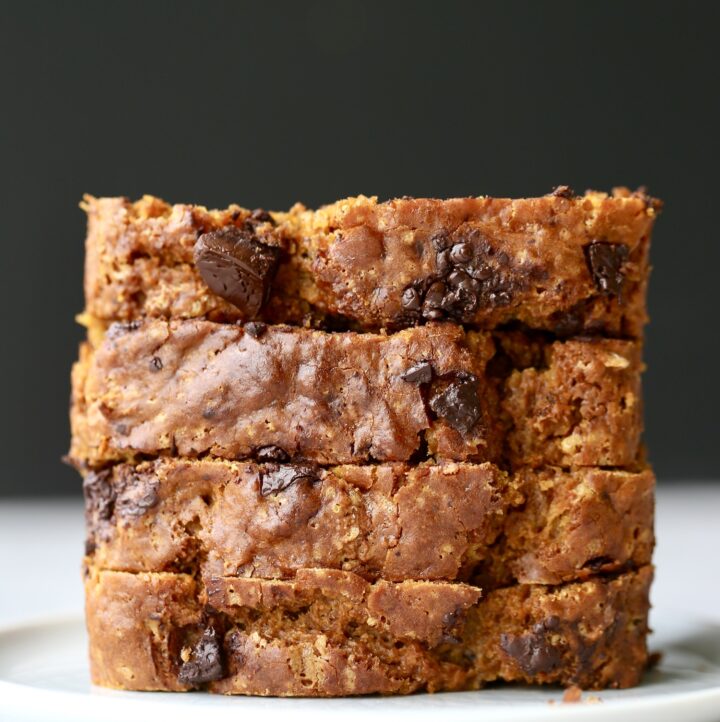 Sourdough Pumpkin Bread
Bubbly sourdough starter and creamy pumpkin puree combine to make this decadent Sourdough Pumpkin Bread!
Instructions
Preheat your oven to

350

°F

. Grease a standard size loaf pan and set it aside.

In a large mixing bowl, whisk together the first 10 ingredients, from the pumpkin puree to the sea salt.

Add in the flour and chocolate chips and stir until just combined.

Pour the batter into the greased loaf pan and sprinkle a few more chocolate chips on top if desired.

Bake the bread for 50-55 minutes or until a toothpick inserted into the center comes out clean. If your pumpkin bread is starting to brown around the 45-50 minute mark, but it needs to cook longer, cover it with aluminum foil for the last 5-10 minutes.

Allow the bread to cool in the pan for about 10 minutes before carefully removing it to a wire rack to cool completely. Allow the bread to cool completely before cutting it into slices and enjoying.
Notes
- If you are using chilled sourdough discard, allow it to sit at room temperature for a while to make it easier to mix in with the other ingredients. 
- Nutrition facts are for this recipe without the chocolate chips. 
Nutrition
Serving:
1
slice
Calories:
211
kcal
Carbohydrates:
38
g
Protein:
2
g
Fat:
6
g
Saturated Fat:
0.5
g
Polyunsaturated Fat:
2
g
Monounsaturated Fat:
4
g
Trans Fat:
0.02
g
Sodium:
221
mg
Potassium:
103
mg
Fiber:
1
g
Sugar:
22
g
Vitamin A:
3814
IU
Vitamin C:
1
mg
Calcium:
55
mg
Iron:
1
mg