These easy to prepare Sweet and Spicy Roasted Cashews have the perfect balance of sweetness and heat to keep you going back for more. They never last long in our house!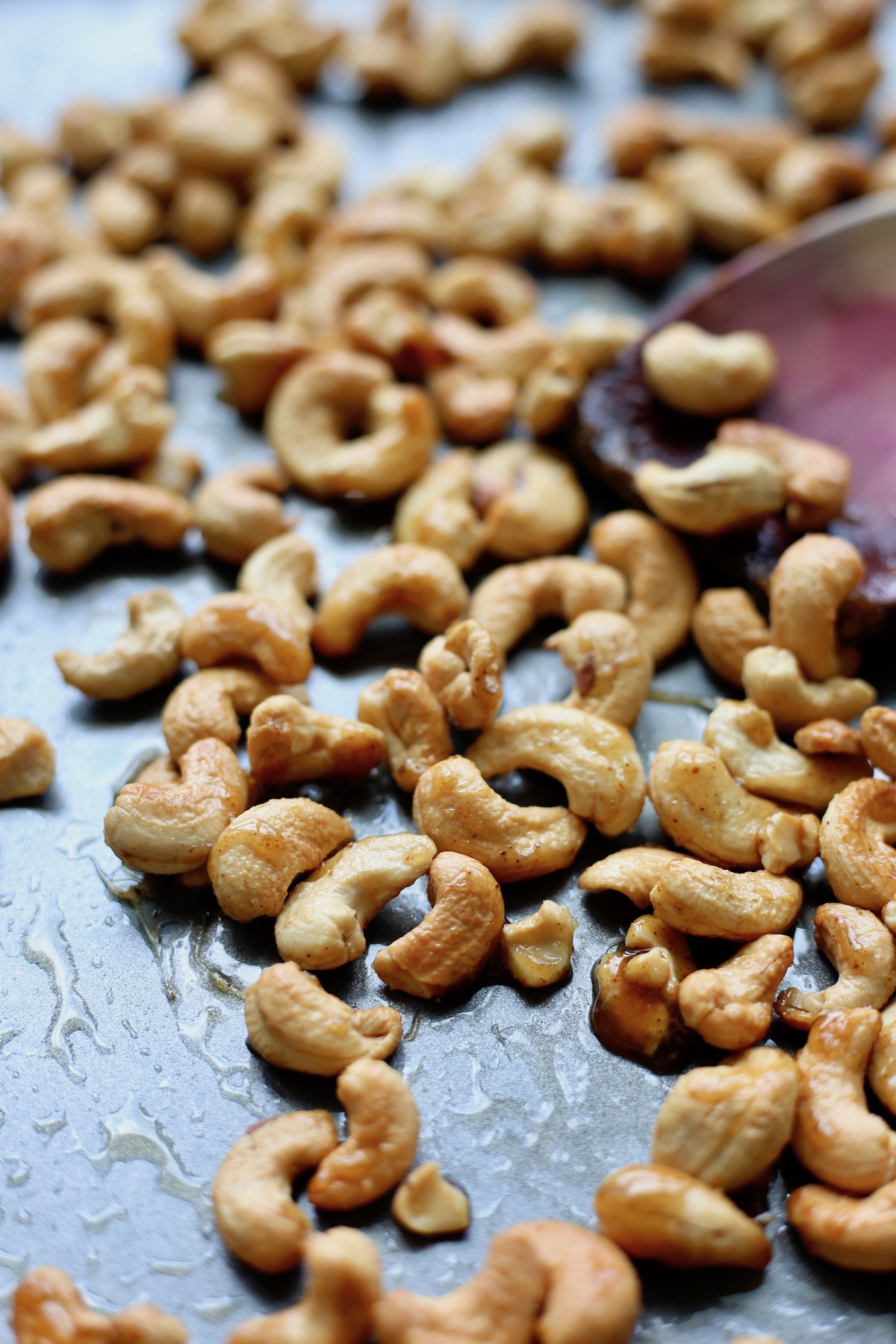 Jump To
Our family is nuts about nuts.
We demolish jars of homemade peanut butter and homemade pecan butter in just a matter of days at our house.
We love incorporating nuts into our breakfasts, whether that in this homemade granola recipe or sprinkling some chopped nuts onto a bowl of oatmeal.
Even most of our snacks and desserts contain some sort of nut or nut butter (check out this amazing Homemade Cashew Milk Hot Chocolate and these Easy Peanut Butter Cups!)
And of course, I love to make these sweet and spicy roasted cashews to have on hand all throughout the week!
How to properly roast nuts
Roasting your own nuts can be super easy and is a great way to bring out more of the natural flavor of the nuts.
Many people often skip this step when making cookies or other dishes, but roasted nuts can add so much more flavor than just raw nuts!
While roasting nuts doesn't take long, they can be easy to burn as they go from perfectly roasted to burnt in just a matter of minutes...or even seconds!
Do you have to roast nuts with oil?
You don't necessarily have to coat your nuts in oil before roasting them, but a little bit of oil can add extra flavor and crunch.
If you add oil to your nuts, you can try to have the oil and match the nut (almond oil with almonds etc.), but otherwise a neutral oil works fine.
How should I roast nuts?
The amount of time it takes to roast nuts will vary depending on the nut. At 350°F / 175°C it should never take more than 15 minutes. Sometimes there are smaller nuts or stray pieces that will toast or burn quicker than larger nuts. Pine nuts are super easy to burn!
My best tip for roasting nuts is to keep an eye on them. Don't walk away and check them often after 7 minutes or so.
For today's recipe for sweet and spicy roasted cashews, they should only need about 8-10 minutes!
What are candied nuts?
It's so easy to candy nuts, you guys. I'm kind of glad I didn't realize just how easy it is until recently, otherwise I may have gone overboard making them on a regular basis!
There are lots of different ways to candy nuts. However, the basic concept is easy. You coat your favorite nuts in a little oil (or whipped aquafaba or egg whites!) and some form of sugar and bake them in the oven. Alternatively, you can also cook them in a skillet. When heated, the sugars in the sweetener melt and then harden once cooled to give your nuts the most amazing, crunchy, sweet exterior.
The recipe I'm sharing today for sweet and spicy roasted cashews is basically a less-sweet version of candied nuts.
I definitely recommend adding some salt and spices to your nuts as well before baking them. The salt brings out the sweetness of the sugar and different spices keep things exciting!
Are candied nuts healthy?
I hope you guys know by now that I believe all foods can take part in a healthy diet and lifestyle! While candied nuts contain more oil and sugar than regular raw or roasted nuts, they can also make your meals more satisfying!
For me personally, I love to think of candied nuts as an extra. A few on a salad can make eating greens that much more enjoyable!
However, if I need a heartier snack, I would probably opt for raw or roasted nuts instead of candied nuts for a less-sweet snack. Everything in moderation, right?
Ingredients
These addictive roasted cashews require just a handful of ingredients and make for the best snack or salad topping. Below I'll list out all of the ingredients you'll need to make them yourself!
Olive oil
Maple syrup
Sea salt
The combination of salt, maple syrup and cayenne makes it hard to eat just one handful of these cashews!
How to make sweet and spicy roasted cashews
These amazing roasted cashews are so easy to make. From start to finish they take about 20 minutes!
Below I'll show you how to make them:
Step 1: Preheat your oven to 350°F / 175°C and line a baking sheet with a silicone baking mat.
Step 2: In a mixing bowl, combine the raw cashews, olive oil, maple syrup, ¼ teaspoon sea salt and cayenne pepper. Stir everything together well to ensure each cashew is coated in the maple syrup and spice mixture.
Step 3: Pour the cashews out onto your lined baking dish with any of the excess liquid and spread them out into a single layer.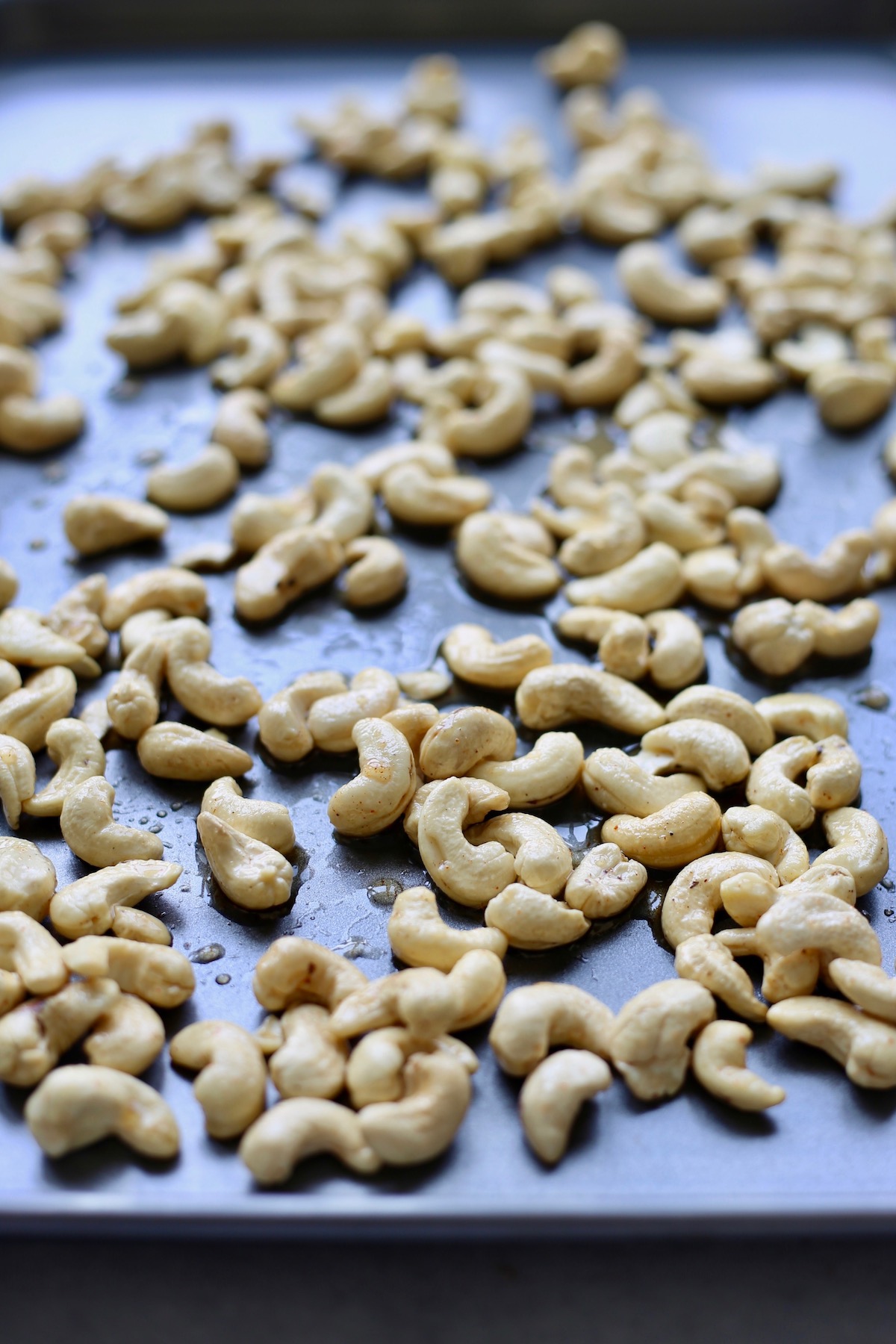 Step 4: Roast the cashews for 5 minutes. Then remove them from the oven and give them a little stir before roasting them again for 4-5 more minutes. Watch them closely towards the end to keep them from burning!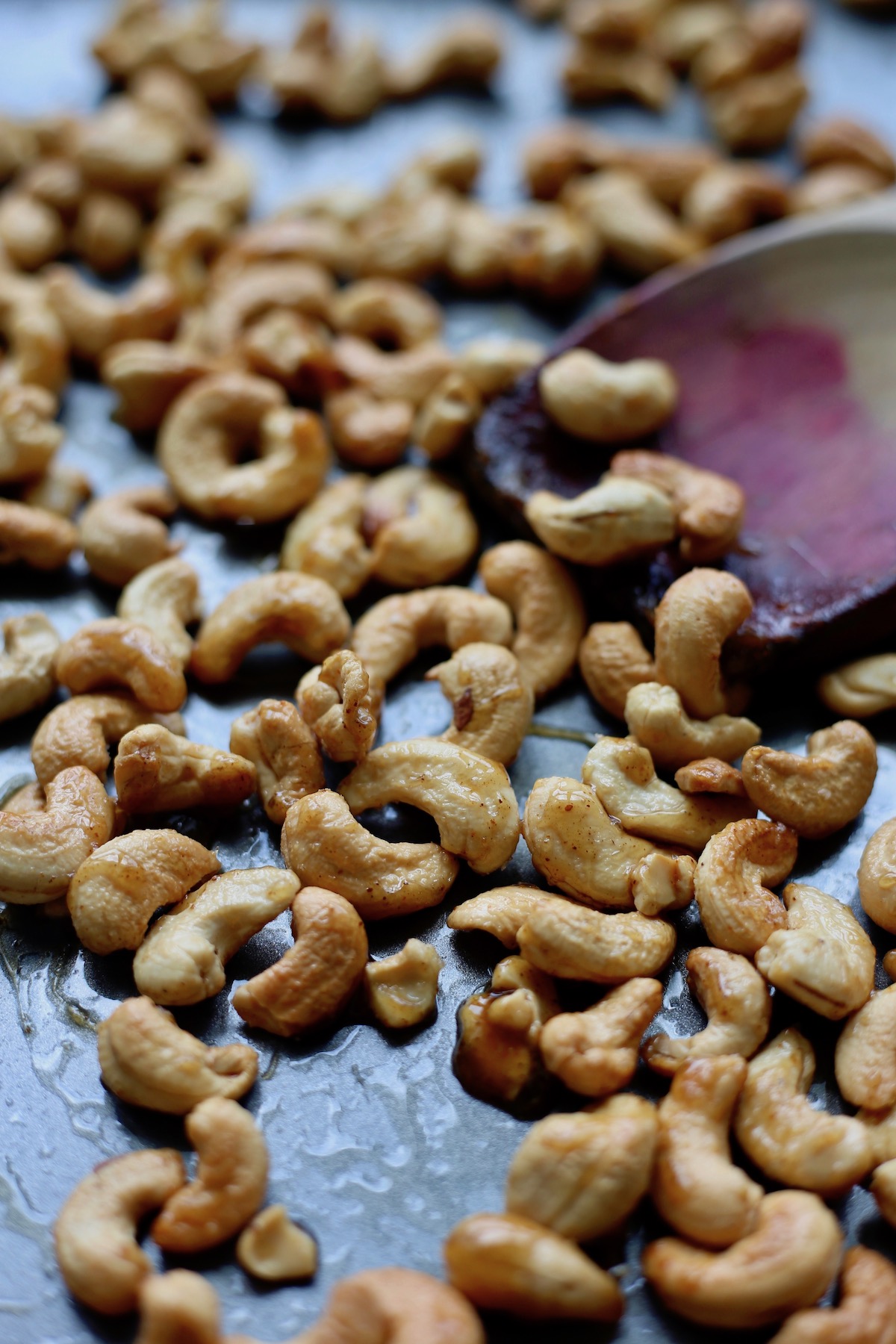 Step 5: Remove the cashews from the oven, sprinkle them with the remaining ½ teaspoon sea salt, and allow them to cool completely before enjoying them or storing them in an airtight container. They get crunchier once they cool so be patient!
Storage
These roasted and candied cashews taste better the sooner they're eaten, but you can also store them in an airtight container for up to a week.
Pro Tip: Don't refrigerate or freeze roasted cashews.
Recipe
Yield:

2 cups
Sweet and Spicy Roasted Cashews
These sweet and spicy roasted cashews are an addictive snack that will be loved by all your family and friends!
Ingredients
2 cups raw cashews
1 tablespoons olive oil
2 tablespoons maple syrup
¾ teaspoon sea salt, divided
½ teaspoon ground cayenne pepper*
Instructions
Preheat your oven to 375°F / 190°C and line a baking sheet with parchment paper.
In a bowl, mix together all of the ingredients, starting with just ¼ teaspoon sea salt. *You can also add more or less ground cayanne pepper to taste.
Pour the coated nuts into your lined baking sheet. Spread the nuts out so that they're not touching each other.
Bake the cashews for 5 minutes. Give them a stir before returning them to the oven to bake another 4-5 minutes or until golden.
Remove the nuts from the oven and sprinkle over the remaining ½ teaspoon of sea salt.
Allow the cashews to cool completely so they become hard and caramelized.
Store the nuts in an airtight container at room temperature for 1-2 weeks.
Nutrition Information
Yield
8
Serving Size
1
Amount Per Serving
Calories

208
Total Fat

16g
Saturated Fat

3g
Trans Fat

0g
Unsaturated Fat

12g
Cholesterol

0mg
Sodium

203mg
Carbohydrates

13g
Fiber

1g
Sugar

5g
Protein

6g
Nutrition information is a rough estimate provided by Nutrionix and should be used for informational purposes only.