Ready in only 15 minutes, these easy to prepare Sweet and Spicy Roasted Cashews have the perfect balance of sweetness and heat to keep you going back for more. They never last long in our house!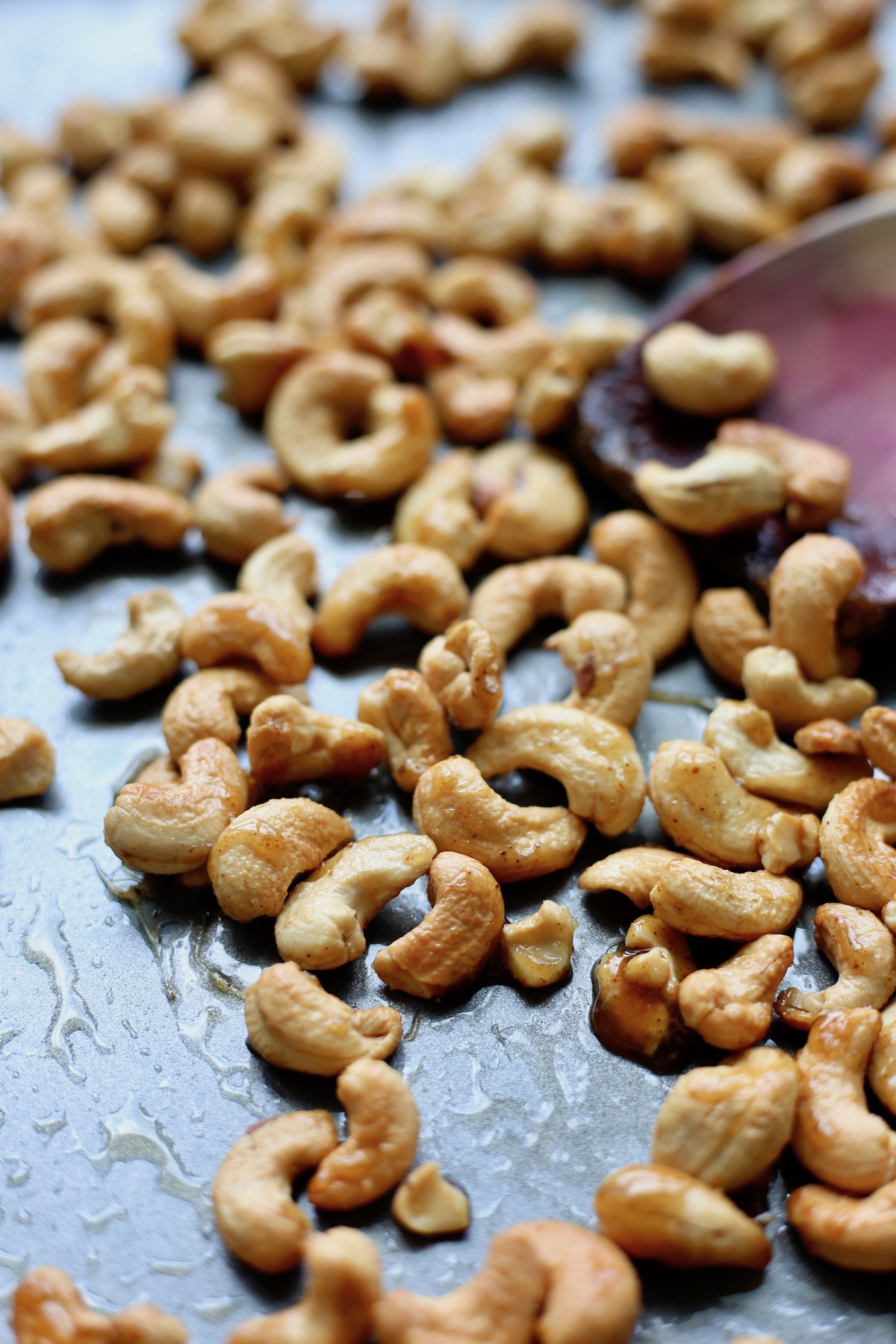 Our family is nuts about nuts! We demolish jars of homemade peanut butter, snack on baked into homemade granola and and drizzle decadent pecan butter on muffins as if it was frosting.
And whenever we're craving something a little bit more savory and salty, I love to make these Sweet and Spicy Roasted Cashews to have on hand all throughout the week!
Jump To
Why Everyone Loves This Recipe!
These sweet and spicy cashews really are the perfect vegan snack. Whenever I bring a batch to my friend's house, they get devoured in no time and everyone asks for the recipe.
These nuts take 15 minutes to make...yep, just 15 minutes!
Maple syrup and salt create the perfect balance of sweet and salty, making everyone reach for another handful.
A touch of cayenne pepper adds in just a hint of heat that tingles the back of your throat...in a good way!
These roasted cashews are a fun way to jazz up raw nuts and to get you snacking on more whole-food ingredients.
A batch of these roasted cashews is the perfect appetizer or party snack.
Ingredients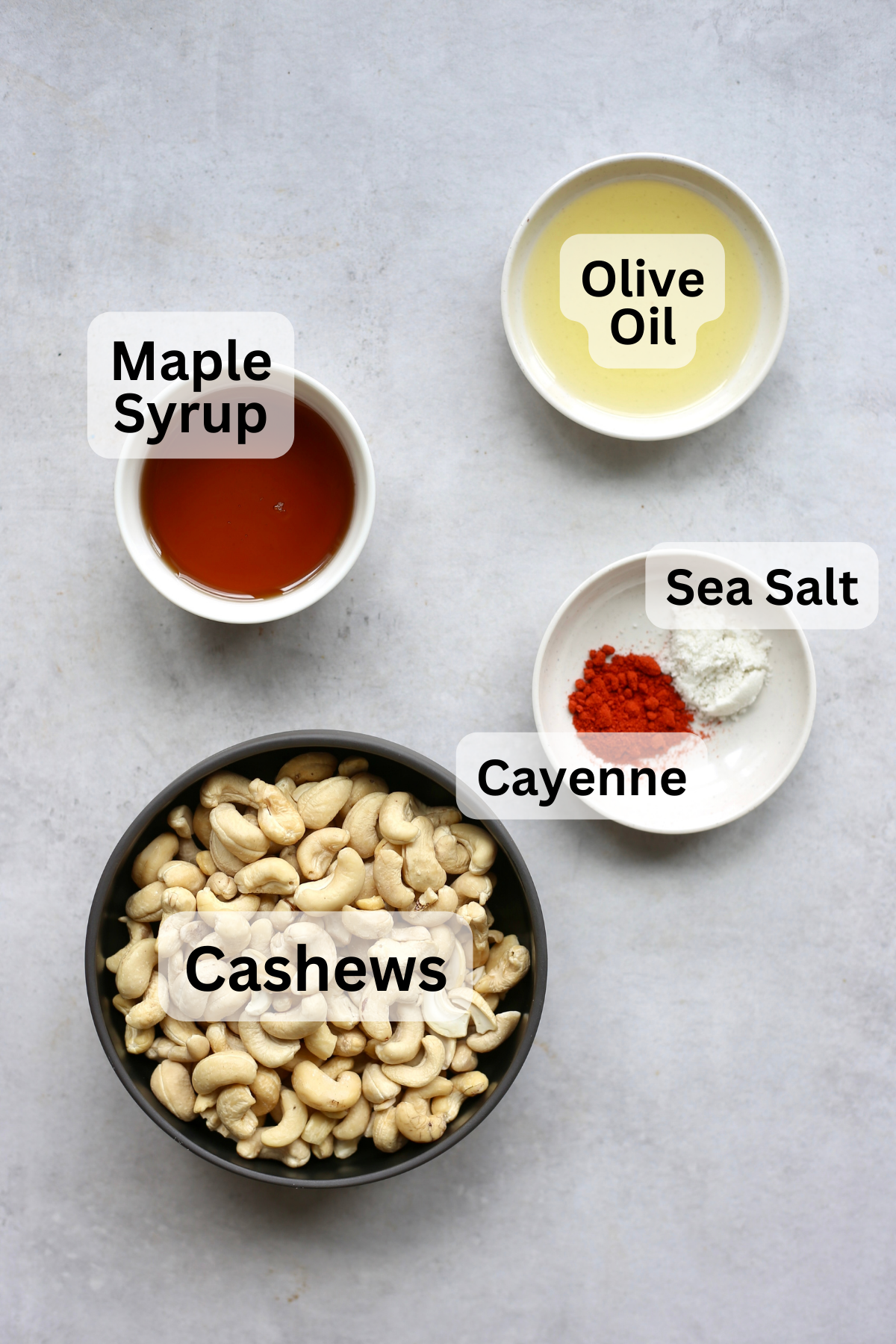 See recipe card below for a full list of ingredients and measurements.
Substitutions and Variations
Nuts - Don't have cashews on hand? Try almonds! Or even peanuts! Just remember that different nuts roast at different and obviously have different flavor profiles.
Oil - If you don't have olive oil on hand, coconut oil or even just a basic vegetable oil would work too. I just love the richness that olive oil gives these roasted cashews.
Cayanne - If you don't have ground cayenne in your pantry, but really want to make these nuts ASAP, try out a different ground chili. Maybe chipotle powder? Or simple ground chili? If you like a certain ground chili in your food, you'll probably enjoy it on these cashews as well.
Spice Level - If you don't like spicy food, simply omit the ground cayenne! The maple syrup and salt add plenty of flavor to make these nuts addicting.
How to Make Roasted Cashews
Step 1: Preheat your oven to 350°F / 175°C and line a baking sheet with a silicone baking mat. In a mixing bowl, combine all of the ingredients, starting with just ¼ teaspoon salt, and stir everything together well.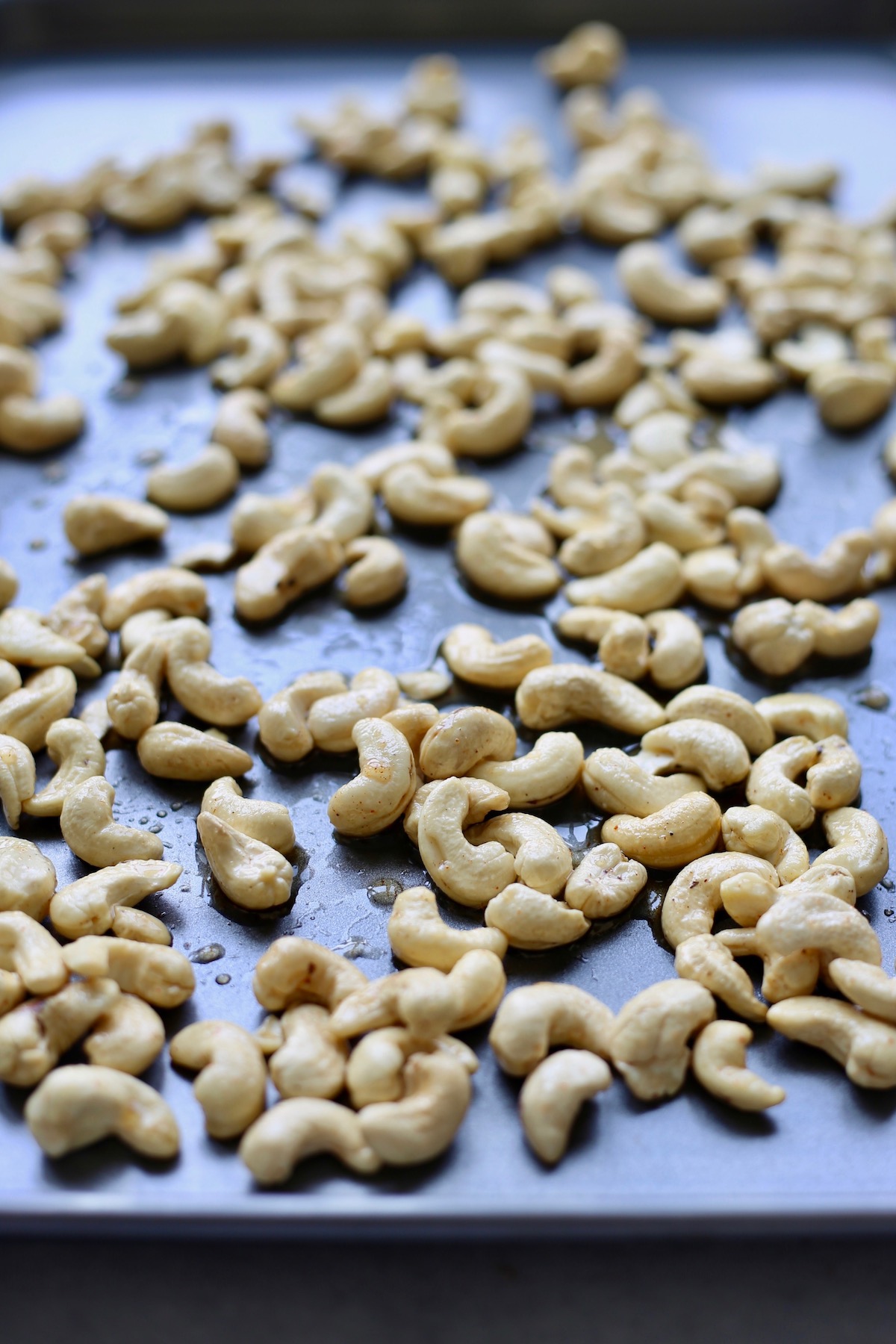 Step 2: Pour the cashews out onto your lined baking dish with any of the excess liquid and spread them out into a single layer.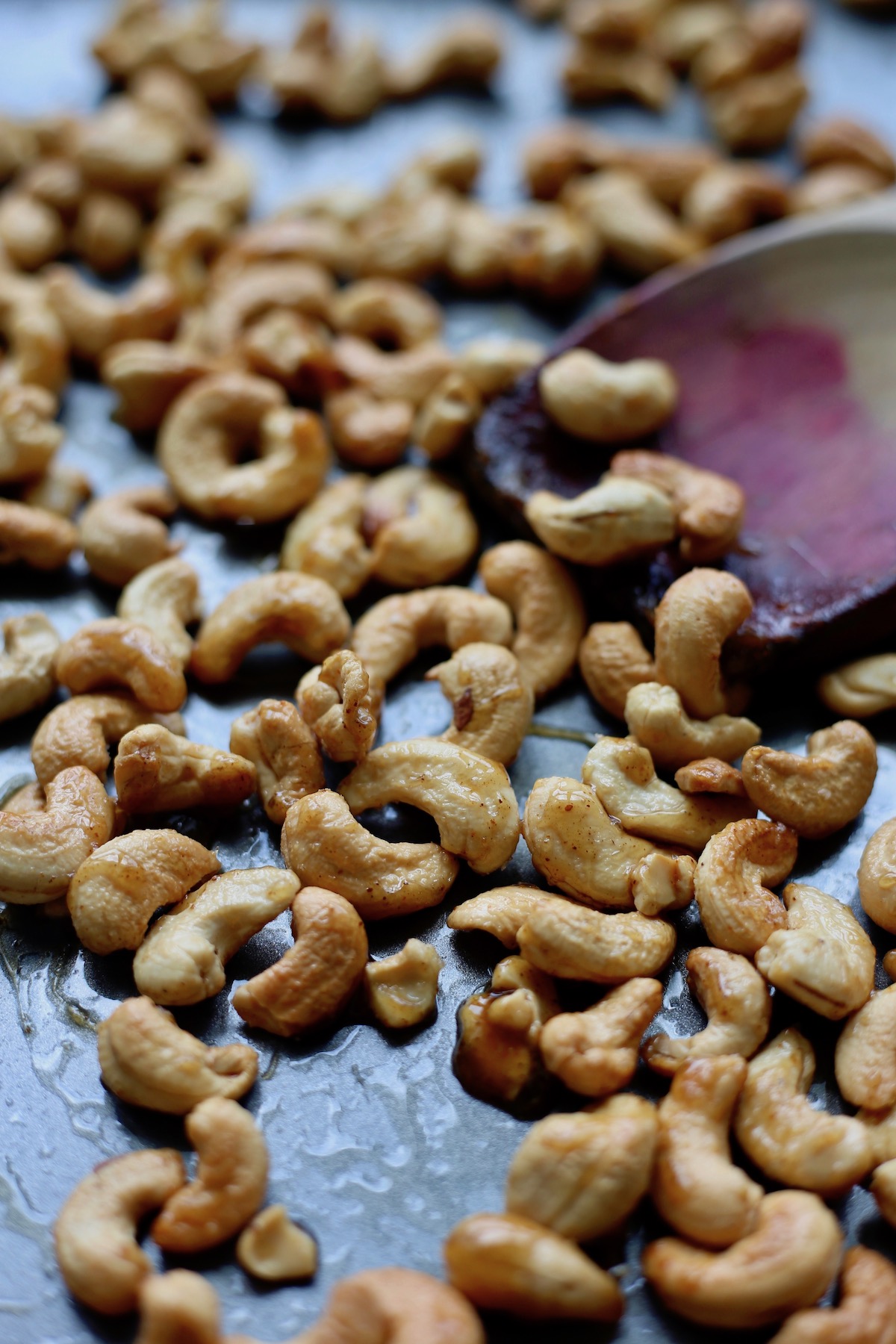 Step 3: Roast the cashews for 5 minutes. Then remove them from the oven and give them a little stir before roasting them again for 4-5 more minutes. Watch them closely towards the end to keep them from burning!
Step 4: Remove the cashews from the oven, sprinkle them with the remaining ½ teaspoon sea salt, and allow them to cool completely before enjoying them or storing them in an airtight container. They get crunchier once they cool so be patient!
Expert Tips
Watch your nuts! By that I mean, keep an eye on your nuts towards the end of the baking time. Nuts will continue to roast once they come out of the oven, so be sure to take them out as soon as they turn golden and are fragrant.
I love to stir some sea salt onto the nuts before baking as well as reserving some sea salt to sprinkle on them once they come out of the oven. Adding half of the salt to the these roasted cashews after they've roasted brings out a lot more flavor.
Recipe FAQs
How do you roast raw nuts?
The amount of time it takes to roast nuts will vary depending on the nut. At 350°F / 175°C it should never take more than 15 minutes. Sometimes there are smaller nuts or stray pieces that will toast or burn quicker than larger nuts. Pine nuts are super easy to burn! My best tip for roasting nuts is to keep an eye on them. Don't walk away and check them often after 7 minutes or so.
Do you have to roast nuts with oil?
You don't necessarily have to coat your nuts in oil before roasting them, but a little bit of oil can add extra flavor and crunch. If you add oil to your nuts, you can try to have the oil match the nut (almond oil with almonds etc.), but otherwise a neutral oil works fine.
What are candied nuts?
Candied nuts are raw nuts that have been coated in a little oil (or whipped aquafaba or egg whites!) and some form of sugar and then baked in the oven. Alternatively, you can also cook them in a skillet. When heated, the sugars in the sweetener melt and then harden once cooled to give your nuts the most amazing, crunchy, sweet exterior.
Are candied nuts healthy?
I believe all foods can take part in a healthy diet and lifestyle! While candied nuts contain more oil and sugar than regular raw or roasted nuts, they can also make your meals more satisfying.
How should I store roasted nuts?
These roasted and candied cashews taste better the sooner they're eaten, but you can also store them in an airtight container for up to a week. I don't recommend refrigerating or freezing these cashews.
More Vegan Cashew Recipes
Love this recipe? Please leave a 5-star 🌟🌟🌟🌟🌟 rating in the recipe card below & a review in the comments section further down the page.
📖 Recipe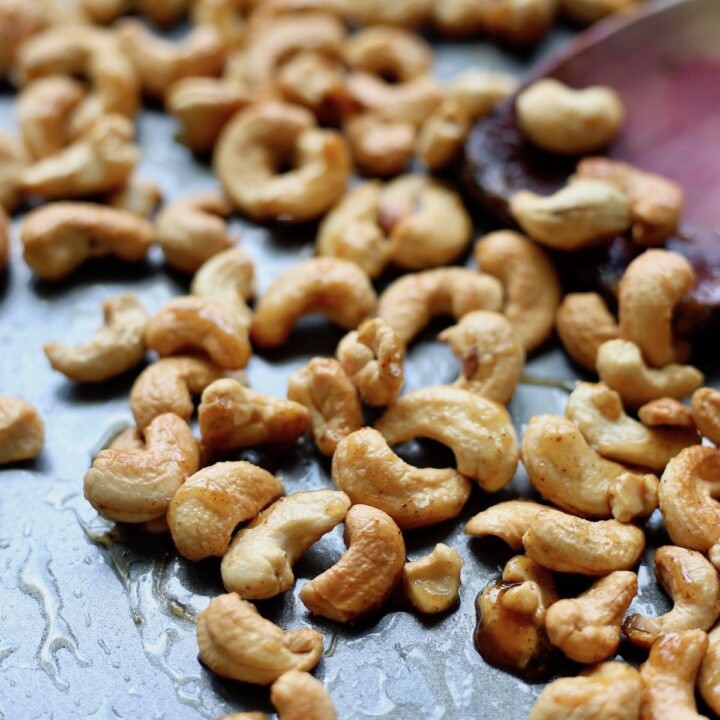 Sweet and Spicy Roasted Cashews
These sweet and spicy roasted cashews are an addictive snack that will be loved by all your family and friends!
Instructions
Pour the coated nuts into your lined baking sheet. Spread the nuts out so that they're not touching each other.

Bake the cashews for 5 minutes. Give them a stir before returning them to the oven to bake another 4-5 minutes or until golden.

Remove the nuts from the oven and sprinkle over the remaining ½ teaspoon of sea salt.

Allow the cashews to cool completely so they become hard and caramelized.
Notes
Be sure to remove the cashews right as they turn golden and become fragrant. They will continue to roast a little bit more as they cool, so be sure not to over roast them.
Add half of the salt before roasting the cashews and the other half after they've roasted.

Store the nuts in an 

airtight container

at room temperature for 1-2 weeks.
Nutrition
Calories:
831
kcal
Carbohydrates:
53
g
Protein:
24
g
Fat:
64
g
Saturated Fat:
11
g
Polyunsaturated Fat:
11
g
Monounsaturated Fat:
36
g
Sodium:
890
mg
Potassium:
907
mg
Fiber:
4
g
Sugar:
20
g
Vitamin A:
208
IU
Vitamin C:
1
mg
Calcium:
71
mg
Iron:
9
mg