If you're new to sourdough bread baking and want to try your hand at making Vegan Sourdough Bread, this recipe is the one for you! This sourdough sandwich loaf is easy to make, doesn't require any stretching or folding and takes minimal hands-on-time.
Once you start baking sourdough bread, it's hard to go back to regular bread. Since I received some sourdough starter from a friend, I've been experimenting with so many different vegan sourdough recipes. We make vegan sourdough pancakes and sourdough waffles almost every week. I love making sourdough artisan bread to pair with creamy tomato soup. And now, I make all of our sandwich bread using this vegan sourdough bread recipe. It's such a simple, beginner-friendly recipe that I know you'll love!
Jump To
Why This Recipe Works!
I've basically taken a tried-and-true sourdough bread recipe and "veganized" it by using vegan butter and the results are amazing. You'll feel like a professional baker after making one loaf of this vegan sourdough bread!
Thanks to a long overnight bulk rise, you don't have to do any stretching or folding which makes this sourdough bread recipe perfect for beginners. Make the dough at night and let it rise while you sleep and the rest is a breeze!
This vegan sourdough bread calls for a mix of whole wheat flour and all-purpose flour, giving it a subtle wheat flavor without it being too dense. Hence why it's perfect for sandwiches!
Ingredients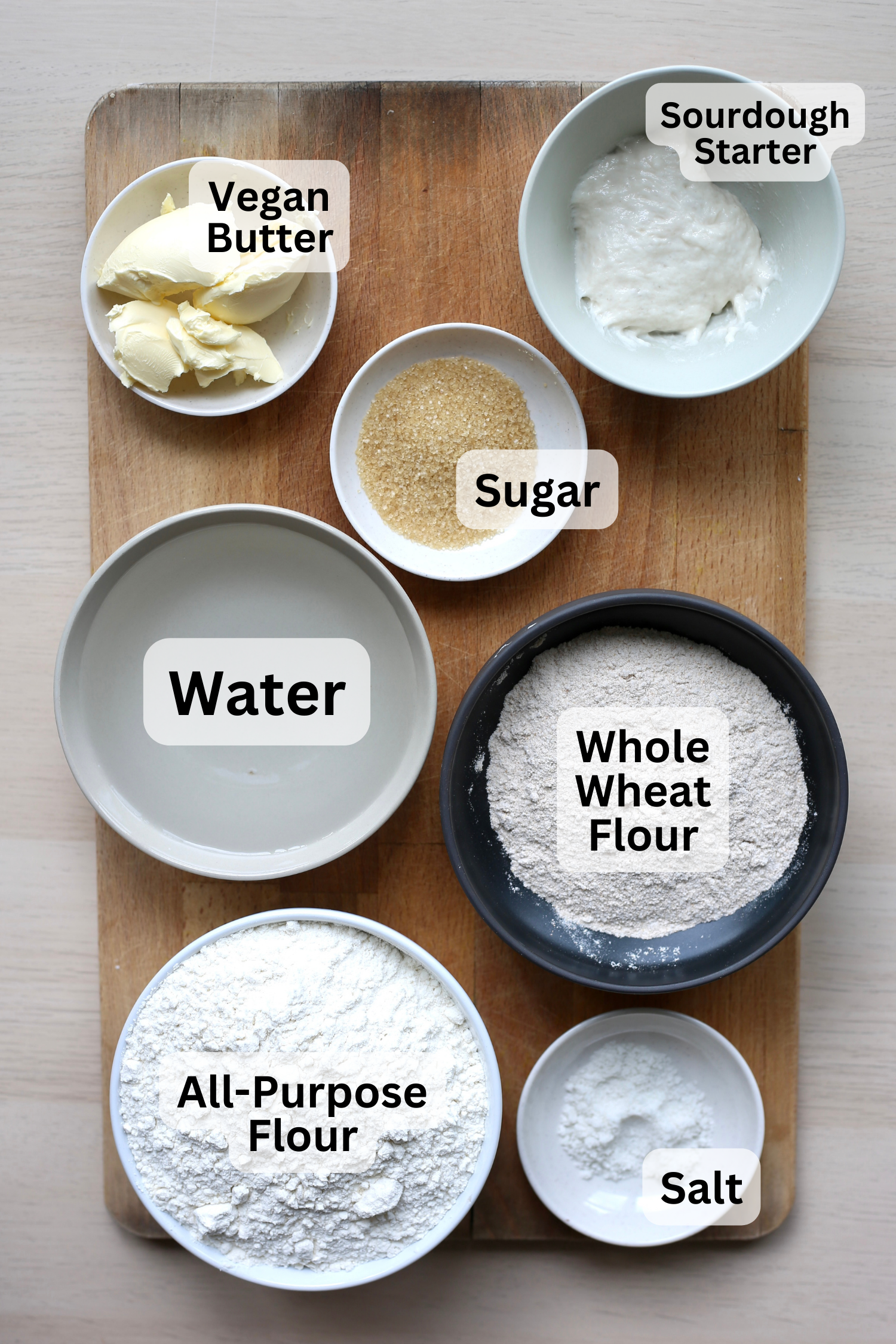 Whole wheat flour - I love to add in a little whole wheat flour to my sandwich bread. In this recipe I use 100 grams of whole wheat flour to 400 grams of white flour, equaling 500 grams of flour total.
All-purpose flour - All purpose flour makes up the base of this loaf. If you're looking for a completely whole wheat sandwich bread recipe, check out my No-Knead Whole Wheat Sandwich Bread!
Sourdough starter - My sourdough starter is at 100% hydration. This means I feed add equal parts of water and flour to my sourdough starter every time I feed it. For example, if I have 100 grams of sourdough starter, I'll feed it with 100 grams of flour and 100 grams of water.
Vegan butter - This recipe needs a little bit of fat. I used to make this bread every time with vegan butter, but I've been testing it recently with olive oil and it works great! So if you would prefer to stay away from hydrogenated vegetable fat, go with olive oil.
Sugar - Adding a little bit of sugar to your dough makes this vegan sourdough bread nice and tender.
Sea salt - Don't forget the salt! It might seem like a lot of salt to add to a loaf of bread, but the salt really helps to give this sourdough sandwich loaf lots of flavor.
See recipe card for full list of ingredients and quantities.
Substitutions
🔀 Flour - If you don't have any whole wheat flour on hand, you can use all white flour.
🔀 Vegan Butter- If you want to avoid vegan butter, use olive oil! This is actually what I use the majority of the time. You just want to make sure you "cut" it into the flour well so you don't end up with little olive oil pockets in your final loaf of bread.
Baker's Schedule
One of the hardest parts in learning how to make sourdough bread is knowing when to start the process! You'll need to feed your sourdough starter 5-8 hours before you plan to make your dough. Then you'll need to plan for 10-12 hours for the bulk rise. When it comes to making this vegan sourdough bread, I usually use this baker's schedule:
11 AM - 2 PM - Feed sourdough starter. Due to the heat and humidity here in Malaysia, my sourdough starter only needs about 4-5 hours for it to become bubbly and active. However, in most cases, it usually takes about 8 hours.
8 PM - Mix together dough. I usually dough a rough mix just until the dough comes together. Then I let it rest for about 30 minutes.
8:45 PM - Knead dough for 7-8 minutes. You can either do this by hand (which I do) or use a stand mixer with a dough hook. Once smooth and elastic, form the dough into a ball, cover it and let it rise overnight, or for 10-12 hours
8 AM - Shape dough. Place it in greased loaf pan. Cover it and let it rise until 1 inch above the loaf pan edge.
9 AM - Bake bread.
How to Make Vegan Sourdough Bread
Step 1: Whisk together the flours, sugar and salt into a bowl. Add in the fat (vegan butter or oil) and use your hands to "cut" the fat into the flour. You should end up with a slightly course, sandy texture.
Step 2: Add in the bubbly sourdough starter and water and stir until a dough comes together.
Step 3: Cover the dough with plastic or a damp tea towel and let it rest for about 30 minutes.
Step 4: Knead the dough for about 8 minutes or until smooth and supple. Cover the dough and let it rise for 10-12 hours.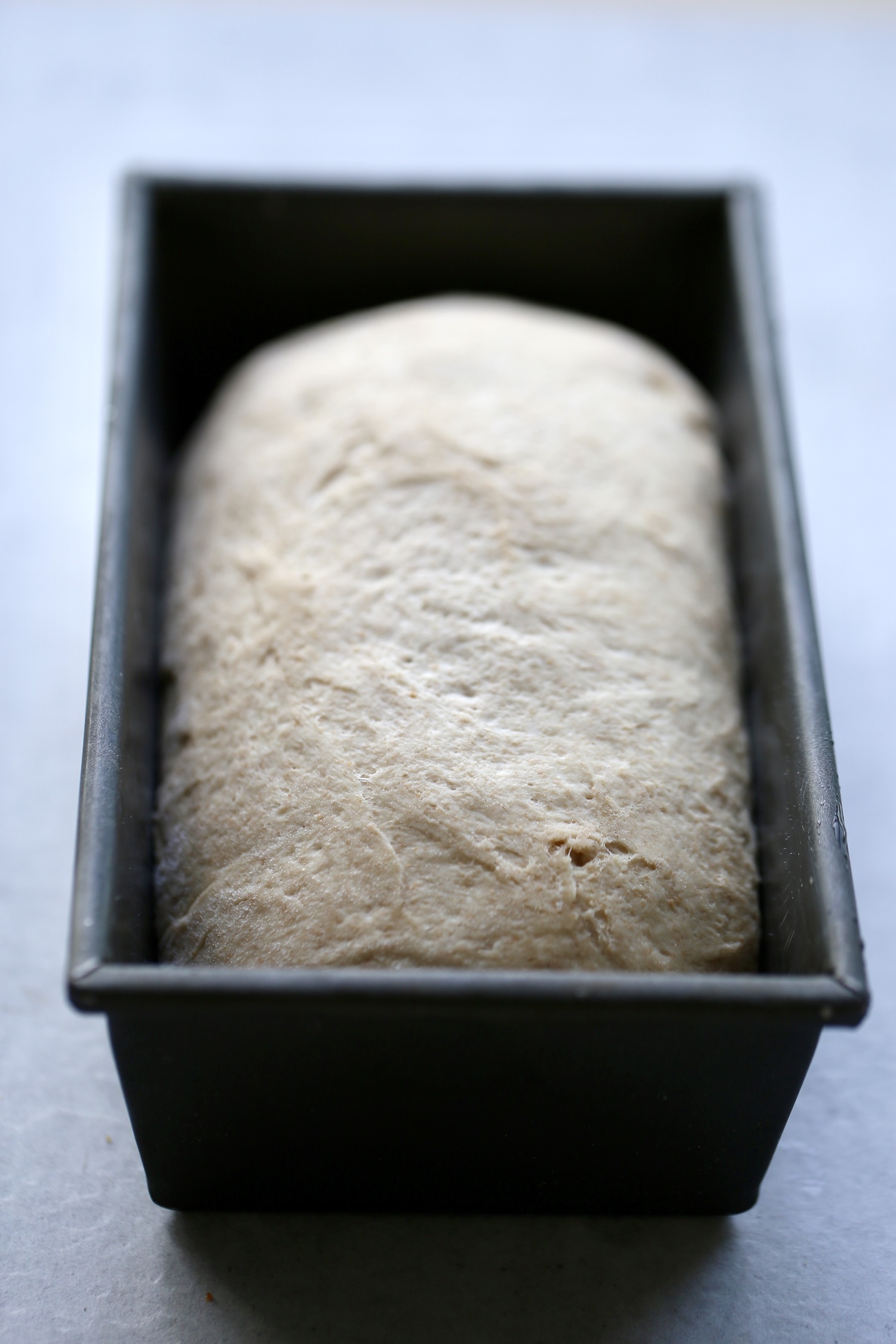 Step 5: Shape the dough and place it in a grease loaf pan. Let it rise until 1 inch above the pan.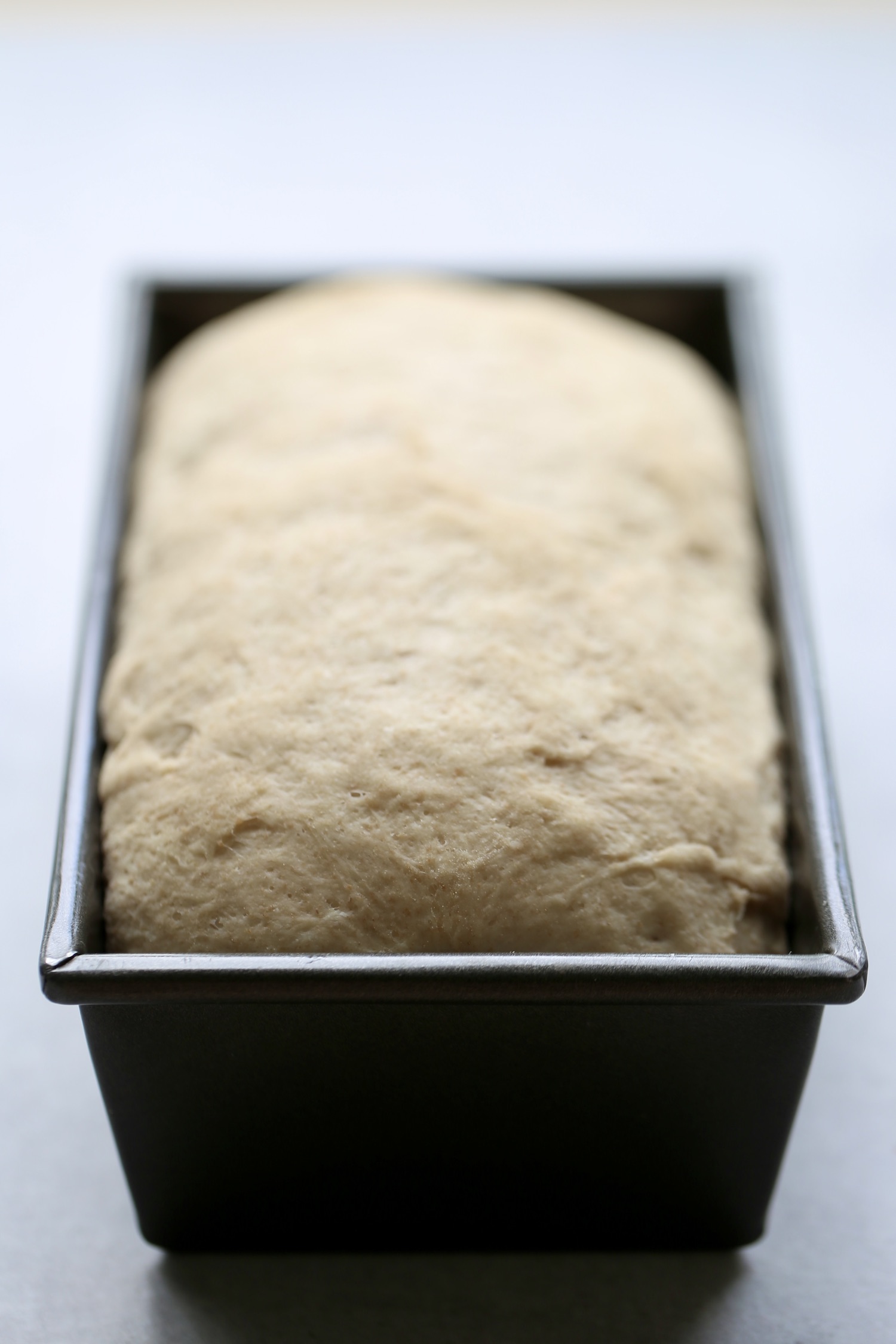 Step 6: After the second rise, bake the bread for about 45-50 minutes.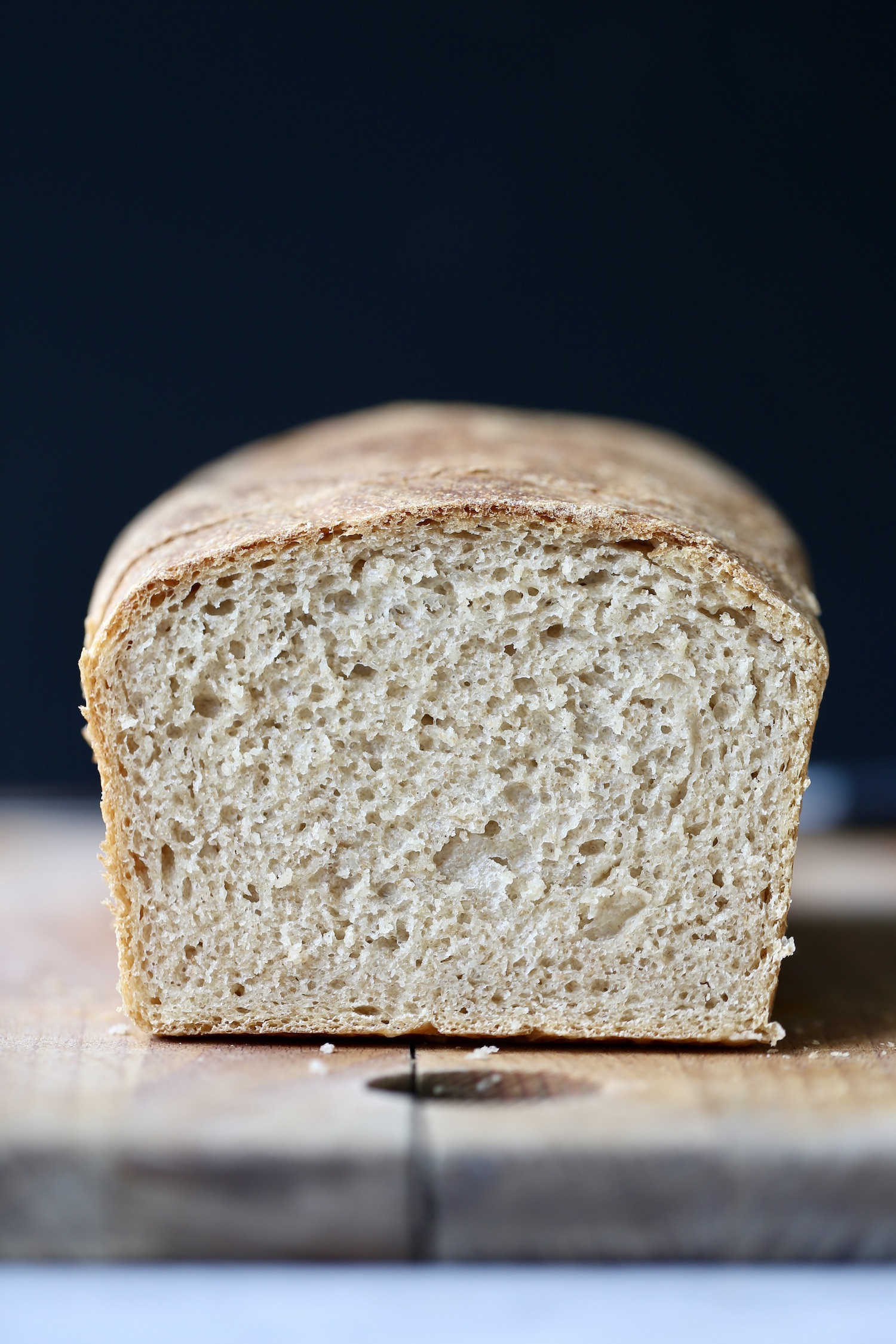 Hint: Allow the bread to cool for 10 minutes in the pan before removing it to a wire rack to cool completely.
Storage
Once my bread has cooled completely, I usually slice it up and store it in a bag in the freezer. However, sourdough bread stays fresh longer than yeast bread when stored on the counter in an airtight container or bag at room temperature. If you're going to store it at room temperature, don't slice it until you want to eat it.
Expert Tips
👉🏻 Know your starter! Because of the temperature in Malaysia, my starter only takes about 4-5 hours to get bubbly and active. If I waited the usual 8 hours, it would have already peaked and fallen and not been as effective in making this vegan sourdough bread. So learn your starter and how it reacts to the temperature in your house.
👉🏻 Get messy. I use my hands to crumble the fat into the flour. That way I can feel the texture and can easily tell when I've achieved a nice, sandy texture. Using my hands to knead the dough also allows me to know when it's nice and smooth and elastic.
👉🏻 Don't worry about time. When it comes to the bulk or second rise, don't hyper-fixate on the time, but check the size of your dough. Your dough should double in size during the bulk rise and it should get to 1 inch above the rim of the loaf pan during the second rise.
👉🏻 Crank the temp. For better oven spring, preheat your oven 500F / 260C. Then when you go to bake the bread, decrease the temperature to 375F / 190C.
Is Sourdough Better for You Than Normal Bread?
Sourdough bread has so many health benefits! Because of it's long fermentation period, it's often easier to digest and lower on the glycemic index. People with gluten sensitivities have even been known to eat sourdough bread without any issues. Sourdough bread also usually contains fewer preservatives.
More Vegan Sourdough Recipes!
Love this recipe? Please leave a 5-star 🌟🌟🌟🌟🌟 rating in the recipe card below & a review in the comments section further down the page.
📖 Recipe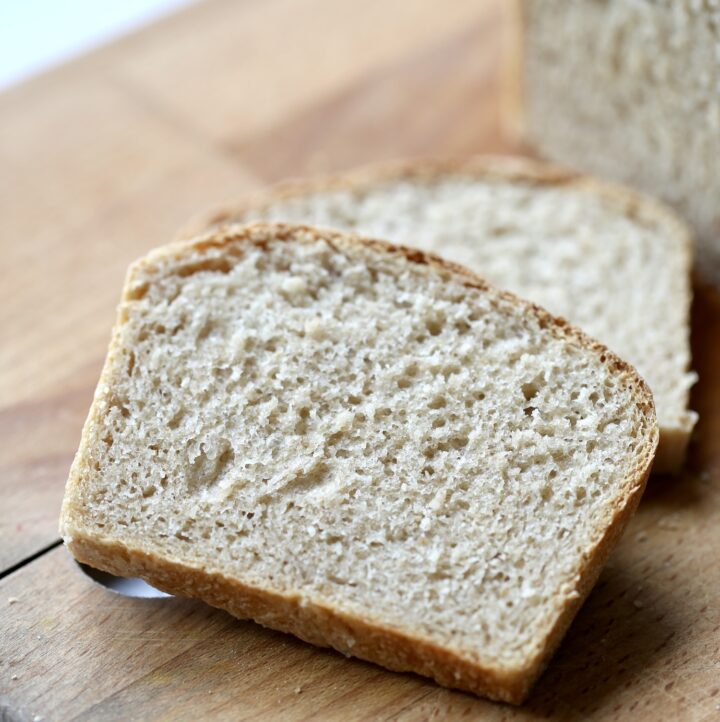 Vegan Sourdough Bread
This beginner-friendly vegan sourdough bread is perfect for sandwiches and toast or a side!
Instructions
In a large mixing bowl, whisk together the flours, sugar and salt. Add in the vegan butter or olive oil and use your hands to "cut" the fat into the flour. You should end up with sandy texture. This process is easier with vegan butter, but olive oil also works. You'll just have to make sure you don't have clumps of olive oil.

Once you have a sandy texture, add in the sourdough starter and water. Stir until a dough forms. Once the dough comes together, cover the mixing bowl with plastic or a damp tea towel and let the dough rest for 30 minutes.

After 30 minutes, knead the dough (either with your hands or a stand mixing fitted with the dough hook) for about 7-8 minutes. The dough should be smooth and supple.

Place the dough back into the mixing bowl and cover it with plastic or a damp towel. Allow it to bulk rise for 10-12 hours at room temperature or until double in size. I like to do this overnight.

After the bulk rise, dump the dough onto a lightly floured surface. Press it into a rectangle and then form it into a loaf. Place it in a greased loaf pan and cover it with a plastic bag for its second rise. I like to make my bag like a tent so that the dough doesn't stick to it as it gets taller. You want it to rise until it is about 1 inch above the loaf pan edge.

Half way through the rising process, preheat your oven to

500

°F

. Once the bread has fully risen and you're ready to bake it, reduce the oven temp down to

375

°F

and bake the bread for 45-50 minutes. Remove the loaf from the oven and allow it to cool for 10 minutes in the pan before removing it to a wire rack to cool completely.
Notes
- The times I list might not be the best times for you. If you live in a hot climate, your dough might rise quicker than dough rising in a cooler climate. 
- You don't have to heat the oven to 500°F and then reduce it to 375°F if you don't want to. You can just preheat the oven to 375°F and keep the temperature the same when you go back to the bread. But I find heating the oven to 500°F and then reducing the temperature creates a higher spring to the loaf.
Nutrition
Calories:
198
kcal
Carbohydrates:
32
g
Protein:
5
g
Fat:
6
g
Saturated Fat:
1
g
Polyunsaturated Fat:
1
g
Monounsaturated Fat:
4
g
Sodium:
228
mg
Potassium:
66
mg
Fiber:
2
g
Sugar:
1
g
Vitamin A:
1
IU
Calcium:
9
mg
Iron:
2
mg