With water-rich vegetables and a touch of lemon juice, this Refreshing Green Smoothie will make you feel so light and hydrated!
When I find a smoothie flavor that I love, I tend to go overboard and drink it everyday until a new creation grabs my attention and I move on. That's exactly what's been going on with this Refreshing Green Smoothie. After four hours of language learning from 8 AM - 12 PM, I'm usually starving and the last thing I want to do is cook. Throwing a bunch of produce in my Vitamix sounds so much more enjoyable and it's practically instant gratification...especially when you just stick a straw in your blender and skip the cup. 
Oh yeah. Classy.
The first time I made this smoothie was actually at my in-laws house right before Brett and I moved to China. I was trying to use up some of the produce that they had bought specifically for me and also decided to squeeze in some fresh lemon juice. [Actually, as I'm typing this I'm remembering that I used spinach instead of romaine (almost a ½ a blender full), so feel free to switch out the romaine for another type of green!] The result was fantastic and even my Mother-in-law accepted a glass, even though she's not a big fan of green smoothies. 
When we moved to China, I wanted to make this smoothie so badly, but it took us a while to find an adaptor that would work for my Vitamix so I had to wait. Thankfully the wait is over and the produce here is in abundance, so I can slurp my heart out!
About This Refreshing Green Smoothie
One of the main things I love about this smoothie is that I can pack in more greens while using less fruit that some of my other green smoothies, and I still don't get an overwhelming "green" taste. The celery, cucumber and lemon juice are so water-rich and sweet, which really helps to keep this smoothie refreshing...hence the name!
If you've never been able to bring yourself to try a green smoothie, I highly recommend this Refreshing Green Smoothie! 
Refreshing Green Smoothie Photos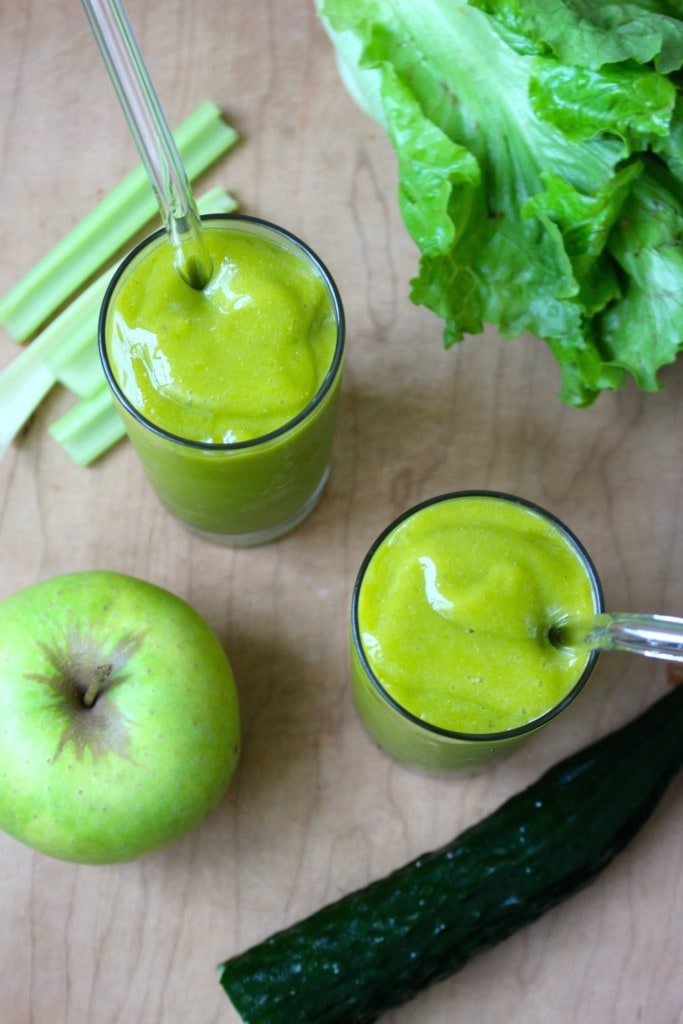 Refreshing Green Smoothie
With water-rich vegetables and a touch of lemon juice, this Refreshing Green Smoothie will make you feel so light and hydrated!
Ingredients
1 large mango, frozen
1 green apple, cored
6 small leaves of romaine (or 3 handfuls of spinach)
2 celery stalks
½ english cucumber
½ lemon, peeled and seeded
cold filtered water to blend (about 2 cups)
Instructions
Place everything into a high speed blender and blend until smooth.
Serve and enjoy immediately!
Nutrition Information
Yield

2
Serving Size

1
Amount Per Serving
Calories

216
Total Fat

2g
Saturated Fat

0g
Trans Fat

0g
Unsaturated Fat

1g
Cholesterol

0mg
Sodium

68mg
Carbohydrates

51g
Net Carbohydrates

0g
Fiber

12g
Sugar

38g
Sugar Alcohols

0g
Protein

6g
Nutrition information is a rough estimate provided by Nutrionix and should be used for informational purposes only.