Chewy oats, protein rich chia seeds, and creamy cashew butter make these Healthy Cookie Dough Overnight Oats a breakfast worth waking up for!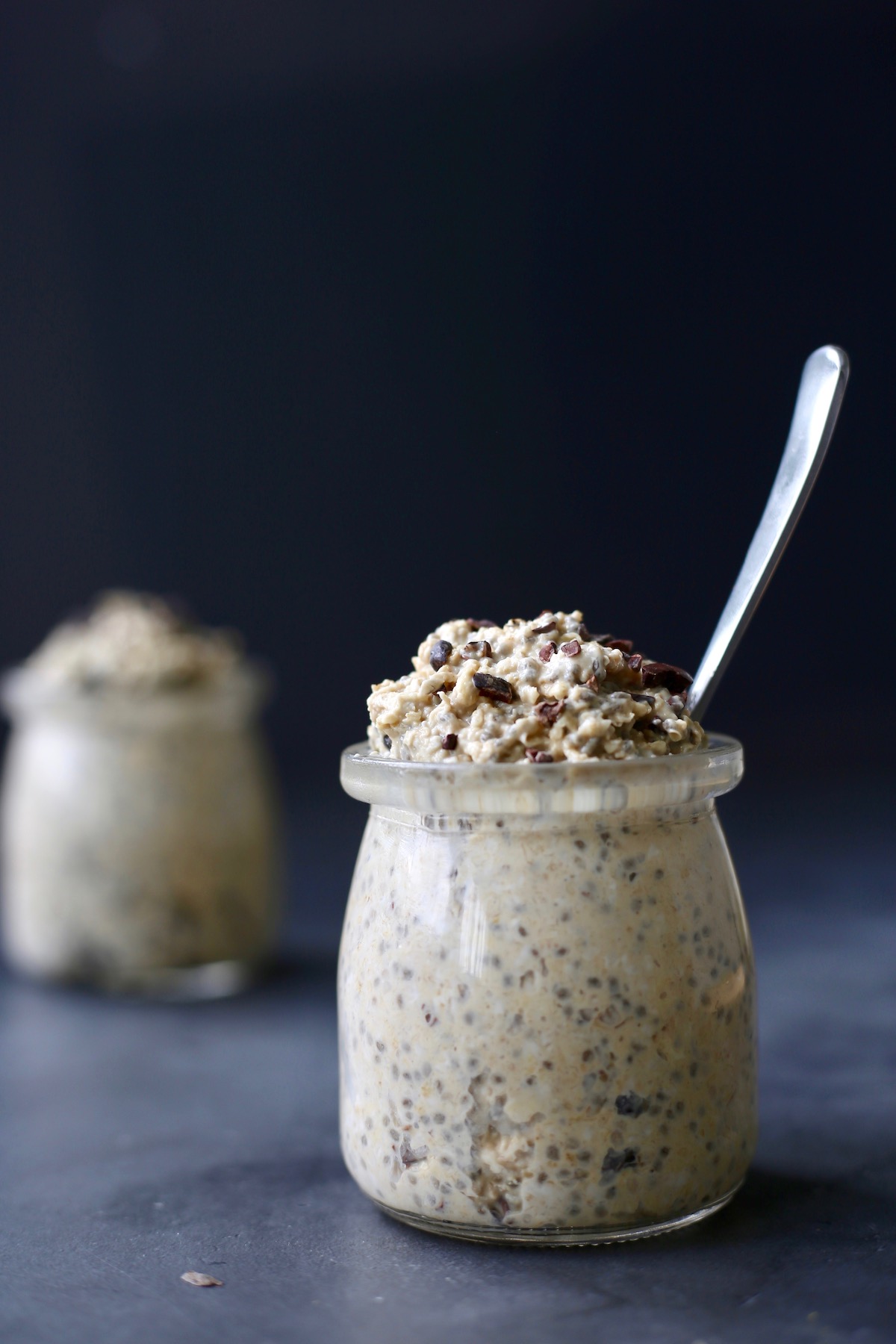 Jump To
I Love Overnight Oats!
Overnight oats were all the rage when I first started blogging. I remember going through a phase when I would try to come up with a new flavor of overnight oats every single morning (umm...ever tried key lime pie overnight oats?!)
Plus, it was an added bonus when I could make them in an almost-empty nut butter jar. Anyone else remember those days?!
Yet, even after 9 years of creating recipes, I'm still obsessed with overnight oats! They are simple to make, great for meal-prepping and have the best creamy texture.
Today I'm going to show you how to make my favorite flavor of overnight oats: healthy cookie dough overnight oats! I also hope to answer all of your overnight oatmeal questions!
What are Overnight Oats?
As you can probably guess from their name, overnight oats are oats that have been mixed with liquid and then soak in the fridge overnight.
They can be as simple as oats soaked in milk, but usually people add in a few more ingredients such as yogurt, chia seeds, powders, spices, fruit, nuts, seeds, etc. These tasty additions help to add texture, flavor and creaminess to the overnight oats.
What Kind of Oats are Best for Overnight Oats?
I personally love to use old fashioned rolled oats when making overnight oats. They are hearty enough to keep their shape after soaking, yet result in perfectly soft and creamy oatmeal the next day.
Quick and instant oats can also work, but they may become more mushy/gummy after soaking. While I've never done it personally, it is also possible to make overnight oats using steal cut oats. Using steal cut oats will just result in a chewier, heartier final texture.
Take your time and experiment with the different kinds of oats to find out which ones you like the best!
Ingredients
To make these healthy, cookie dough overnight oats you'll only need 6 ingredients:
Oats: You really can't make overnight oats without oats! In the section above I share my personal favorite oats to use when making overnight oats, but any variety will work.
Non-dairy milk: I personally like to use unsweetened, unflavored non-dairy milk when making oatmeal as it allows me to better control the flavor and the amount of added sugar. However, you can use whatever non-dairy milk you have on hand! Also, normal cow's milk works great as well when making overnight oats.
Chia seeds: To make my overnight oats thick and creamy, I love to add chia seeds. They are rich in protein and fats to keep you fuller for longer.
Cashew butter: Cashew butter is my favorite nut butter to use when making this recipe as I find it's the most flavor neutral and gives me the most accurate cookie dough flavor. However, you can use whatever nut butter you have on hand! Obviously, just keep in mind that a different kind of nut butter will affect the final flavor of these oats.
Maple syrup: We all know that cookie dough is sweet, so we need to sweeten our cookie dough overnight oats as well! I like to use maple syrup as it's a less refined sweetener, but honey, agave, coconut sugar, brown sugar or white sugar would all work as well.
Cacao nibs (or mini, dairy-free chocolate chips): For the "chocolate chips" in this cookie dough overnight oats recipe, I love to use cacao nibs. They are unsweetened, crushed cacao beans that add a nice, chocolatey flavor. If you've never tried cacao nibs before, just remember that they are unsweetened and very bitter and may take some time to get used to. However, I find that when paired with the sweetened oats, they work perfectly. If you want a sweeter option, just use mini chocolate chips instead!
How to Make Overnight Oats
To make this recipe, you simple need to stir everything together in a bowl until well combined. If you are using cacao nibs, you can either let them soak alongside the oats overnight for a softer, chocolatey addition or you can stir them in right before eating to keep them crunchy.
Overnight Oats Flavor Ideas
When trying to come up with different flavors for overnight oats, I love to take inspiration from my favorite dessert and muffin recipes. Below I'll share some more of my favorite overnight oats recipes as well as some other options for you to try!
Pumpkin Pie Overnight Oats
Mocha Overnight Oats
Peanut Butter Banana Overnight Oats
Maple Pecan Overnight Oats
How Long do Overnight Oats Keep in The Fridge?
I find that overnight oats which have been made with steal cut or old fashioned rolled oats will keep well in the fridge for about 3-4 days.
However, if you add mashed or sliced banana to your overnight oats then they may only last about 1 day as banana oxidizes quickly.
Please share this recipe and rate it in the recipe card below!
Recipe
Yield:

1 serving
Healthy Cookie Dough Overnight Oats Recipe
Chewy oats, protein-rich chia seeds, and creamy cashew butter make these Healthy Cookie Dough Overnight Oats a breakfast worth waking up for!
Ingredients
1 tablespoon cashew butter
¾ cup non-dairy milk
2-3 teaspoons maple syrup
1 tablespoon cacao nibs or mini chocolate chips
Instructions
In a mason jar or bowl, mix together the oats, chia seeds, cashew butter, milk and maple syrup until well combined. If you want your cacao nibs to have a softer texture, you can stir them in at this time and allow them to soak overnight.
Place the mixture in the fridge for at least 2 hours or overnight.
If you omitted the cacao nibs, stir them in before eating.
Enjoy!
Notes
*You can substitute the cacao nibs for dairy-free chocolate chips, craisins, raisins, chopped dates, chopped nuts etc.
Nutrition Information
Yield
1
Serving Size
1
Amount Per Serving
Calories

511
Total Fat

23g
Saturated Fat

8g
Trans Fat

0g
Unsaturated Fat

14g
Cholesterol

15mg
Sodium

142mg
Carbohydrates

62g
Net Carbohydrates

0g
Fiber

10g
Sugar

23g
Sugar Alcohols

0g
Protein

17g