Chewy vegan soba noodles get tossed in a rich, savory almond butter and lime sauce to make these rich and delicious dish that can be made with tofu or tempeh.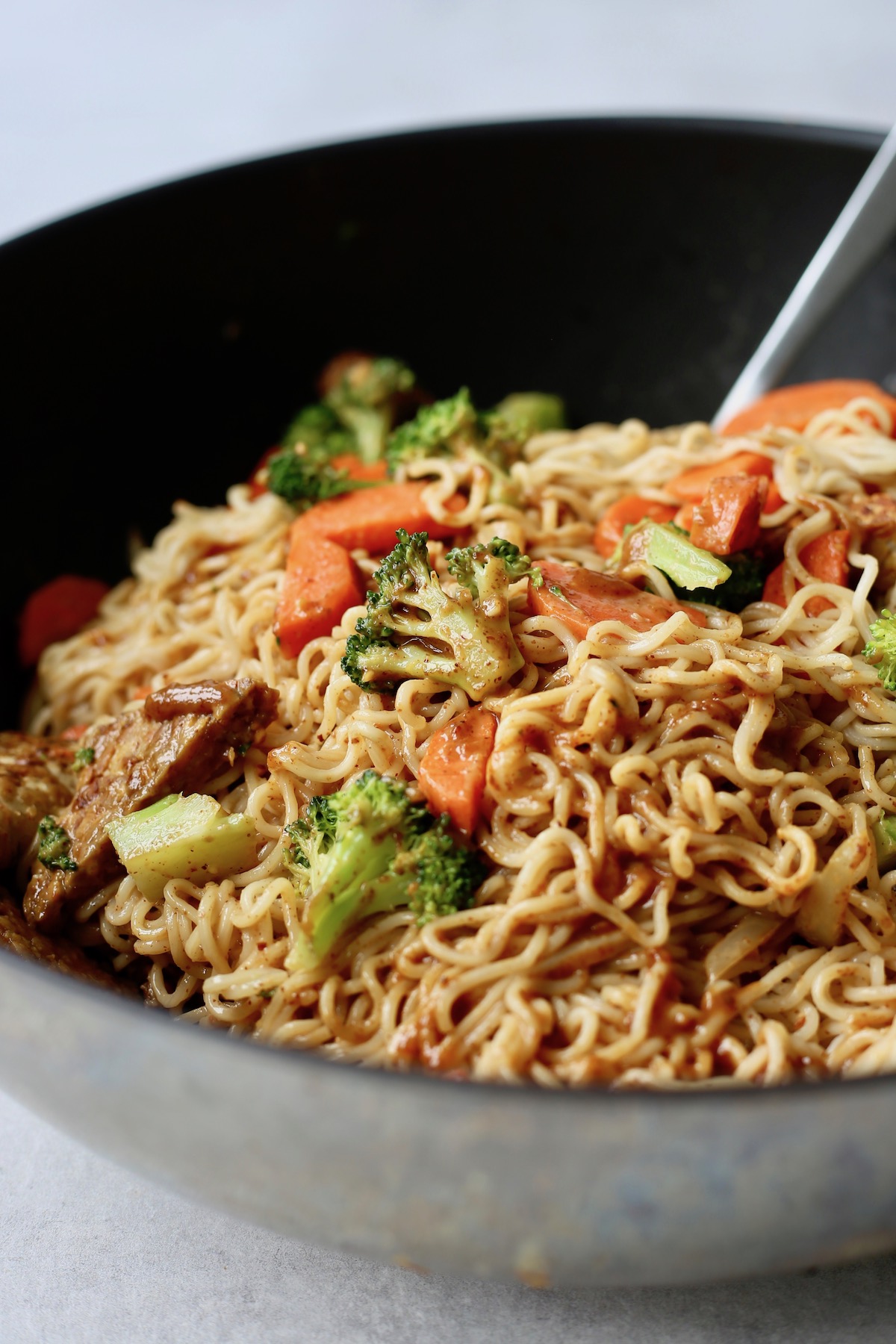 You guys.
These Vegan Almond Butter Soba Noodles... I can't even!
We love anything having to do with noodles and/or pasta in our family. Whether it's my Easy Vegan Miso Noodles or my One-Pot Creamy Marinara Pasta, we're always down for a comforting bowl of carb-y goodness!
If you love noodles as much as we do, then you definitely need to try out these soba noodles coated in a rich almond butter sauce.
Pair them with some roasted veggies and a protein source and you've got a delicious, well-balanced meal!
Are Soba Noodles Vegan?
One of the first questions people ask about this recipe is whether soba noodles are vegan.
And yes, as a general rule, certain Japanese noodles like udon noodles and soba noodles are usually vegan, even though the soup or sauce that might come with packaged noodles is not (you'll have to check the label).
That said, it's always worth checking the label if you want to be extra sure.
About This Soba Noodle Recipe
This Vegan Almond Butter Soba Noodles recipe has been on my list to make for ages and it was so satisfying to finally bring it to life in the kitchen!
I don't know where I got the idea to use almond butter for a savory sauce, but I basically tweaked our favorite Low Fat Peanut Sauce and used almond butter instead of the peanut flour and lime juice instead of the rice vinegar.
The final product is the richest, most amazing savory sauce that I want to pour on anything and everything.
I paired this almond butter sauce with some 5 minute buckwheat soba noodles (which are gluten free), sautéed tempeh and veggies and topped everything off with green onion. You could easily pair this sauce with rice and tofu or use it as a dipping sauce for Homemade Spring Rolls!
Ingredients for Vegan Almond Butter Soba Noodles
I usually think of this recipe as having four different parts: noodles, veggies, a protein source and almond butter sauce.
You really can get creative and use whatever noodles, veggies and protein you have on hand. Coat everything in this easy, rich almond butter sauce and you're all set!
Below I'll share with you the ingredients you'll need for this recipe.
Noodles (soba, whole wheat, white, rice, etc.)
Veggies (roasted, steamed, frozen, leftovers, etc.)
Protein source (tempeh bacon, easy marinated tofu, beans, etc.)
Almond Butter Sauce
Ingredients You'll Need for Vegan Almond Butter Sauce
To make the almond butter sauce, you need just a handful of ingredients. Fresh is always best in my opinion, but some of the ingredients can be substituted for pantry staples if you're in a pinch.
Almond butter
Lime juice (or rice vinegar if in a pinch!)
Soy sauce
Maple syrup
Minced garlic (or garlic powder)
Grated fresh ginger (or ground ginger)
Optional: red pepper flakes or Sriracha for kick
I'd love to know if you give this recipe a try and what you think. Leave your comments down below or take a photo. Share the final product with me on Instagram @theconscientiouseater.
Be sure to share this recipe with anyone else you think would enjoy it!
Don't forget to rate the recipe in the recipe card below!!!
Yield:

4 servings
Vegan Almond Butter Soba Noodles
Chewy soba noodles get tossed in a rich, savory almond butter and lime sauce to make these rich and delicious Vegan Almond Butter Soba Noodles with Tofu.
Ingredients
PROTEIN & VEGGIES & NOODLES
1 block extra firm tofu or tempeh
pinch of salt and pepper
8 ounces (or more) soba noodles*
1 cup frozen stir-fry vegetables**
optional garnishes: sliced green onion, sesame seeds, red pepper flakes
ALMOND BUTTER SAUCE
½ cup almond butter
2 tablespoons reduced-sodium tamari or soy sauce
2 tablespoons lime juice
1 tablespoon maple syrup
1 teaspoon freshly grated ginger
2 cloves garlic, pressed
2-6 tablespoons water
optional: ¼ teaspoon red pepper flakes
Instructions
Bring a pot of water to a boil. This will be used to cook the noodles later
Heat a large, non-stick frypan over medium heat and coat the bottom with cooking spray or oil.
If using tofu, drain the block of tofu and press out as much excess liquid as possible. Cut the block into ¼-inch thin strips and then cut the strips into bite-sized pieces. Place the cut tofu in a single layer on the hot frypan, sprinkle with salt and pepper, and cook on one side until golden brown. Flip the tofu over, sprinkle the second side with more salt and pepper and continue to cook until the second side is golden brown. Watch the tofu carefully to make sure it doesn't burn.
While the tofu is browning, mix all of the almond butter sauce ingredients (except for the water) together until smooth. Add in two tablespoons of water and mix well. Add in more water if you desire a runnier consistency. The sauce will thicken the longer it sits.
Once the tofu has browned on both sides, remove it to a plate and set aside.
Spray the same frypan with more cooking spray or coat the bottom with a little more oil and add in your frozen or leftover vegetables. Stir the vegetables occasionally and allow them to cook through.
While the vegetables are cooking, and the soba noodles to the pot of boiling water and cook according to the package directions. Once cooked through, drain the water and rinse the noodles with cold water.
To serve, place some noodles, sautéed tofu and vegetables into a bowl and top with the almond butter sauce, green onion, sesame seeds and red pepper flakes for kick.
Enjoy immediately!
Notes
*I find pasta serving sizes usually aren't enough for us, so cook more noodles if necessary!

**I often used leftover roasted or sauteed vegetables for this dish, but frozen is a quick and easy option. Use whatever cooked vegetables you have on hand!
Nutrition Information
Yield
4
Serving Size
1 serving
Amount Per Serving
Calories

409
Total Fat

26g
Saturated Fat

3g
Trans Fat

0g
Unsaturated Fat

21g
Cholesterol

0mg
Sodium

772mg
Carbohydrates

28g
Fiber

6g
Sugar

7g
Protein

23g
Nutrition information is a rough estimate provided by Nutrionix and should be used for informational purposes only.