This 5 ingredient, Whole Wheat No-Yeast No-Rise Vegan Pizza Dough is a quick and easy alternative to take-out pizzas that can be enjoyed any night of the week!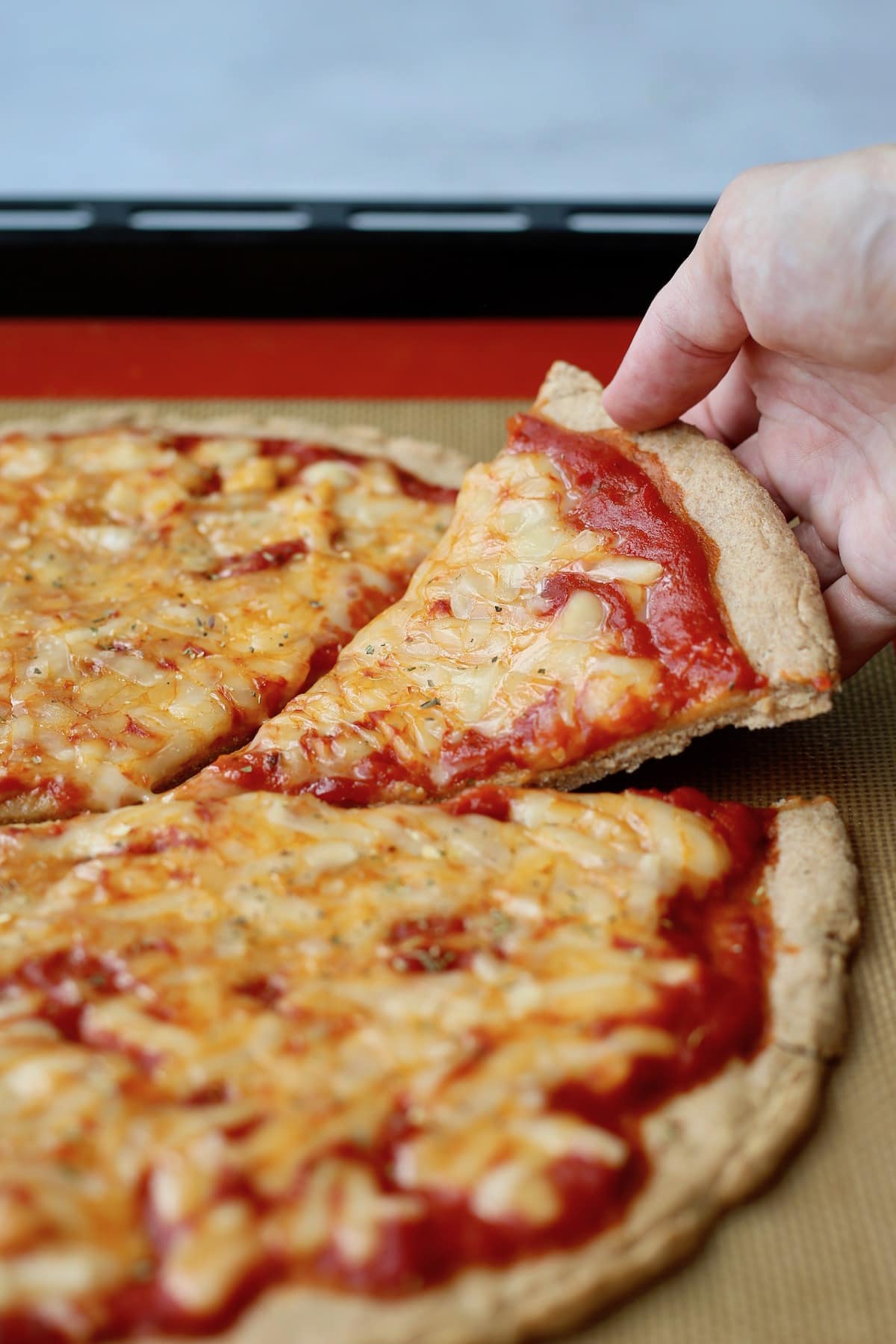 Jump To
We would choose homemade pizza over store-bought any day! However, not everyone has time to make homemade pizza dough from scratch. That's why I love this No-Yeast No-Rise Pizza Dough!
Made with whole wheat flour and requiring minimal hands-on-time, this pizza dough recipe makes healthy pizza on a weeknight possible!
Top this whole wheat vegan pizza dough with your favorite toppings and you'll be enjoying homemade pizza in no time!
Domino's vs The Conscientious Eater Ingredients Comparison!
Because homemade pizza is usually so time consuming, most people just opt for take-out or delivery.
I don't blame them!
You get your pizza fix and don't have to do all the prep or waiting.
However, on the other hand, you're also getting loads more processed ingredients than you would if you made it at home. Oh and grease. We all know about the grease!
Domino's Deep Dish Pizza Crust Ingredients
In fact, I just googled the ingredients in Domino's Deep Dish Pizza Crust and found this list:
Enriched Flour (Wheat Flour, Niacin, Iron, Thiamine Mononitrate, Riboflavin Folic Acid), Water, Malt, Sugar, Whey, Malted Barley Flour, Yeast, Soybean Oil. Zzesty Blend: Butter Flavored Oil (Partially Hydrogenated Soybean Oil, Soy Lecithin, Artificial And Natural Butter Flavoring, Vitamin A Palmitate And BetaCarotene for Color), Imitation Parmesan Cheese (Water, Modified Food Starch, Casein And Or Caseinate, Partially Hydrogenated Soybean Oil, Cellulose Powder, Salt, Sodium Phosphates, Stabilizers [Mono And Diglycerides, Guar Gum, Carrageenan], Natural Flavor, Lactic Acid, Sorbic Acid [As A Preservative]), Onion And Garlic, Spices, Salt, Lactic Acid, Butter Flavor, Tomato Powder, Bell Pepper. Dextrose, Citric Acid, Extractive Of Paprika And Lemon And Orange Oil With No Greater Than 2% Calcium Silicate And/Or Soybean Oil Added to Prevent Caking.
Whatever happened to good, ol' pizza dough made with flour, yeast, water, salt and some spices?
That's what we're trying to get back to with this simple recipe.
Whole Wheat Vegan Pizza Dough Ingredients
All you need to make this whole wheat, vegan pizza dough is the following:
Whole wheat flour
Baking powder
Salt
Non-dairy milk
Olive oil
That's it! Plus, I'm sure most of you already have all these ingredients on hand in your pantry or fridge.
How to Make Pizza Dough Without Yeast
While I don't think you can beat the flavor and texture of yeasted pizza dough, I often don't care to spend the time preparing it.
That's why I love this no-yeast pizza dough!
It's quick and easy and gives you your pizza fix in a fraction of the time.
To make pizza dough without yeast, you can simply use baking powder. Baking powder is a leavening agent which will help your pizza dough rise in the oven. No yeast needed!
Substitutions for Milk and Oil in Pizza Dough
Non-dairy milk: use water!
Olive Oil: use applesauce!
I've done both of these substitutions and the crust still turns out well.
I think I've even used pumpkin purée instead of the oil and the crust was still delicious!
How to Make No-Yeast, No-Rise Pizza Dough
Step 1: Start by whisking together the dry ingredients including the whole wheat flour, baking powder and salt.
Step 2: Add in the non-dairy milk (or water) and olive oil (or applesauce) and stir until a dough forms.
Step 3: Knead the dough until all the flour as been incorporated and the dough becomes smooth.
Step 4: Form the dough into a ball and cover it with a dish towel to rest for about 10 minutes.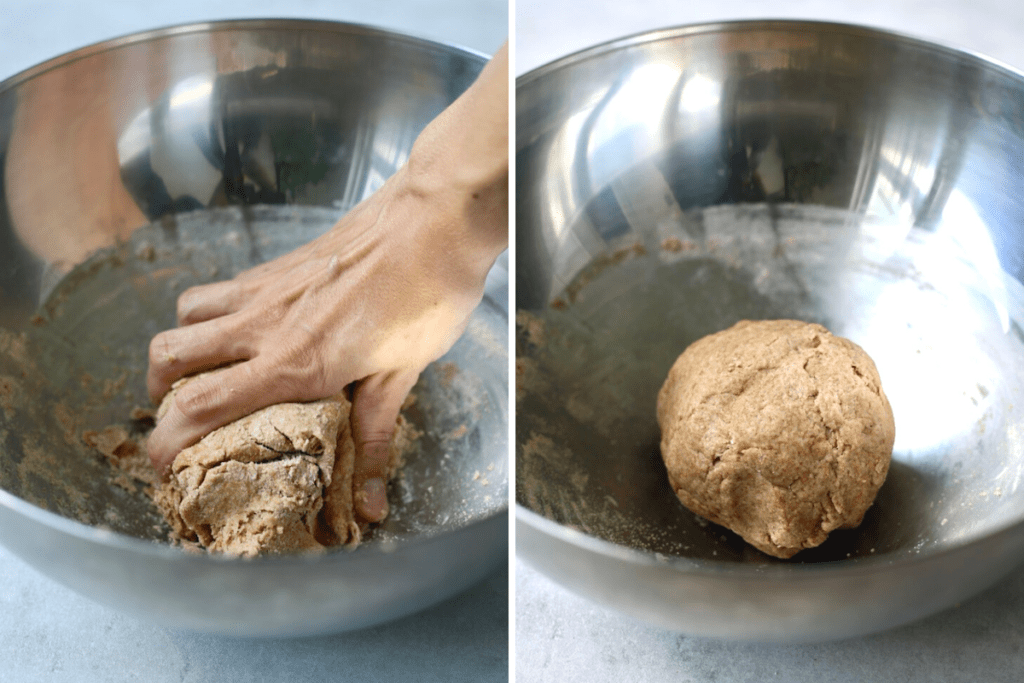 Step 5: Preheat your oven to 400°F / 205°C and line a baking sheet with parchment paper or a silicone baking mat.
Step 6: Roll the dough out into a 12 inch pizza, or whatever shape you desire.
Step 7: Poke holes all over the dough with a fork and then bake the dough plain for 8 minutes.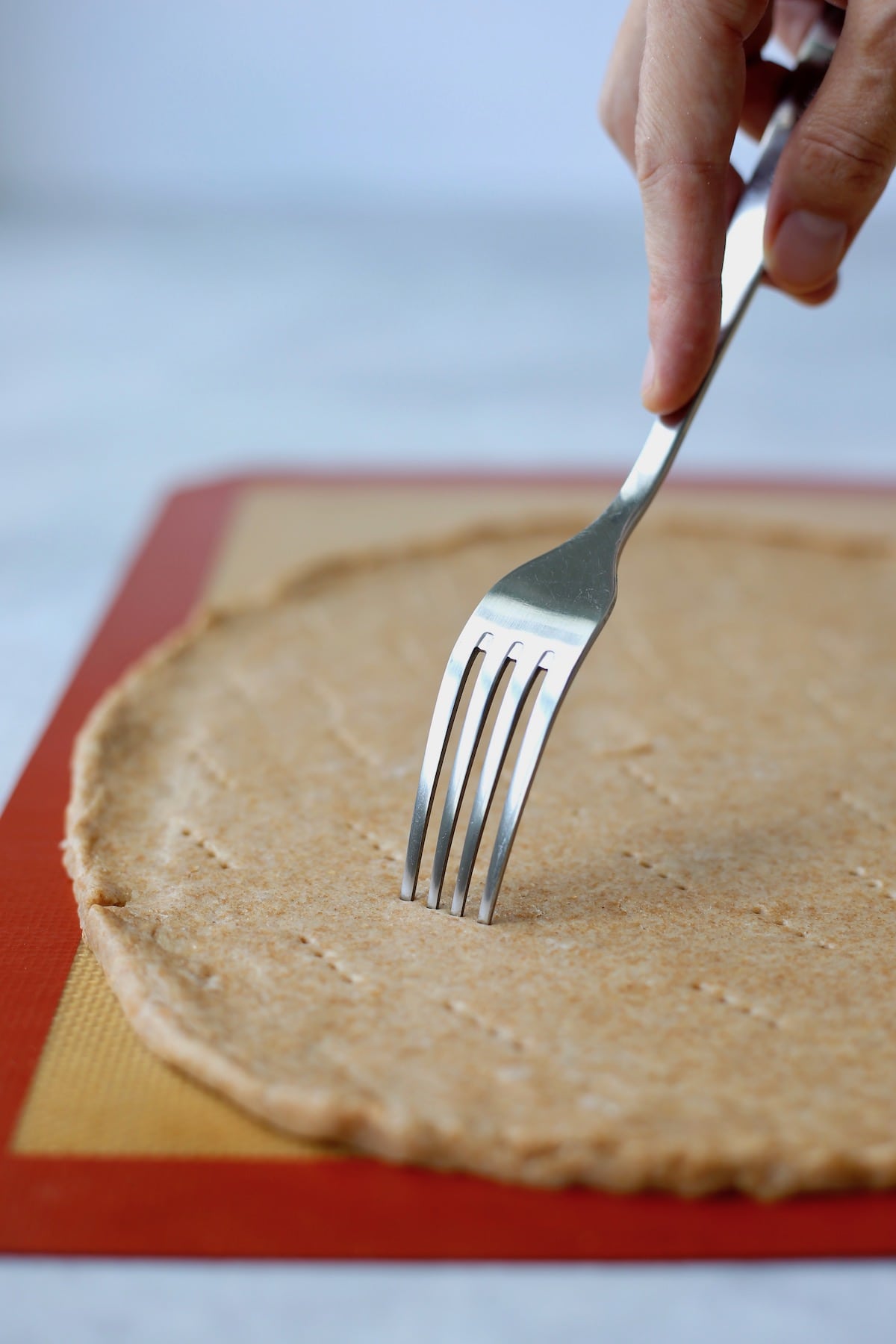 Step 8: After 8 minutes, remove the dough from the oven and add your toppings.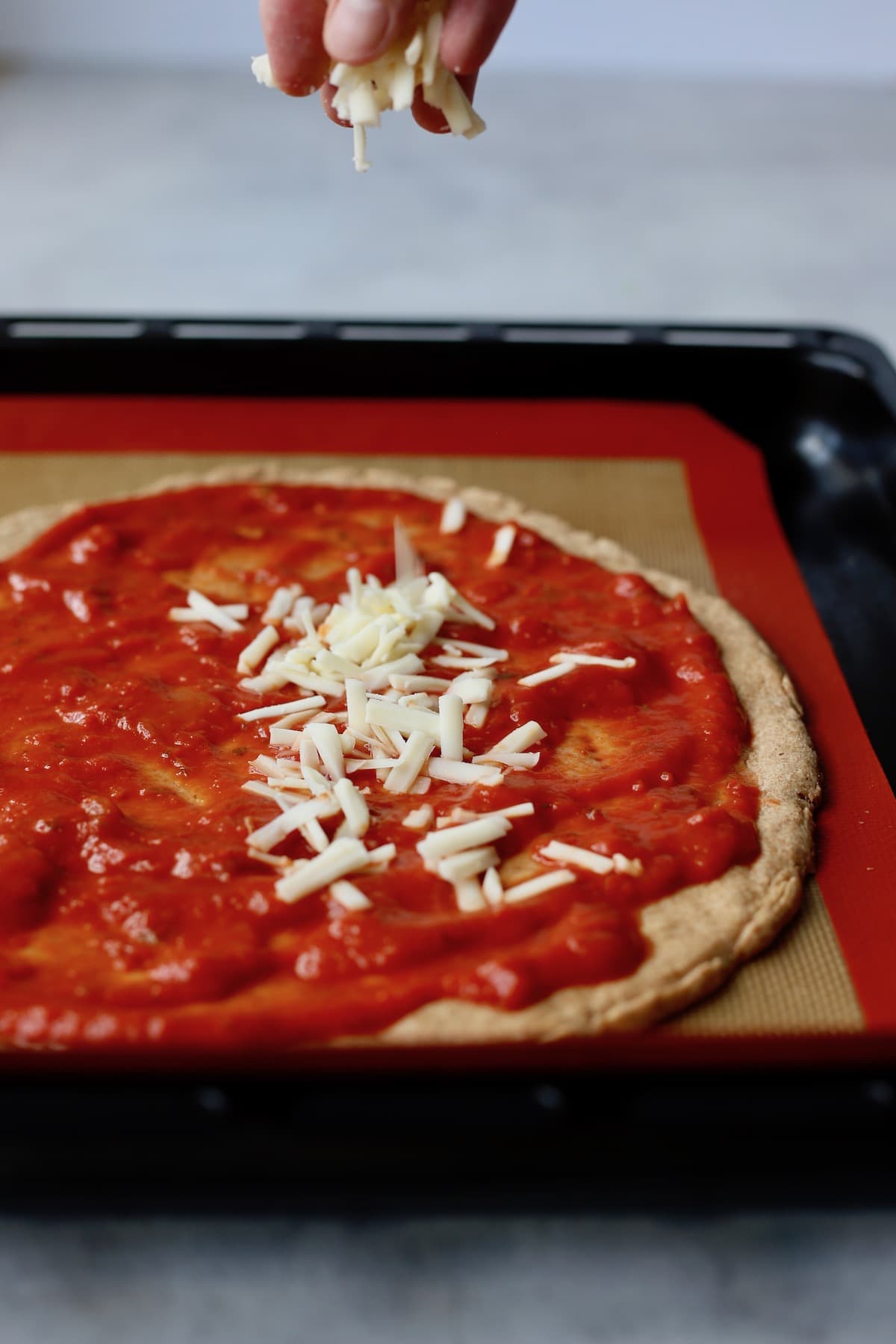 Step 9: Bake the pizza for another 15-22 minutes or until the cheese has melted and the dough is baked to your liking.
Step 10: Slice and enjoy!
Vegan Pizza Topping Ideas
One thing I love about pizza is that you can create all kinds of unique, fun combinations with the toppings.
We personally love classic cheese pizza with a marinara base and mozzarella cheese topping, but if you're getting bored, try out some of the other toppings/combinations listed below!
Hummus, chickpeas and roasted veggies
Refried beans, corn and salsa
BBQ sauce and pulled jackfruit
Vegan Caesar dressing and salad (don't cook the salad, but add it after the base has baked!)
Pesto with sautéed peppers and mushrooms
Buffalo sauce with "chickn" strips and ranch
Alfredo sauce with asparagus and mushrooms
Breakfast pizza with tofu scramble and tempeh bacon
How to Reheat Leftover Pizza
If you have leftovers of this pizza (which I doubt you will) I recommend reheating any leftovers in the oven.
A microwave works, but usually makes the dough soft and wet.
Baking the pizza in the oven allows the crust to get a little crispy and browns the cheese beautifully!
Simply place the leftover slices of pizza on a baking sheet and place them in a 350F degree oven for a few minutes until warmed through and the cheese is bubbly!
Other Easy Bread Recipes
If you're in need of some other simple bread recipes, be sure to check out the recipes listed below.
They are all simple to make and will leave your house smelling amazing!
Recipe
Yield:

3 servings
Whole Wheat No-Yeast No-Rise Vegan Pizza Dough
This 5 ingredient, Whole Wheat No-Yeast No-Rise Vegan Pizza Dough is a quick, easy and healthy alternative to take-out pizzas that you can make any night of the week!
Ingredients
1 ⅓ cup whole wheat flour
1 teaspoon baking powder
½ teaspoon salt
½ cup non-dairy milk, unsweetened (or water)
2 tablespoons olive oil (or unsweetened applesauce)
Instructions
Preheat your oven to 400°F / 205°C.
Whisk together the dry ingredients then stir in the milk (or water) and oil (or applesauce) until a dough forms. If the dough is too dry add 1-2 teaspoons of water at a time until the dough comes together.
Knead the dough with your hands about 10 times and then form it into a ball. Cover the dough with a towel and let the dough rest for 10 minutes.
On a sheet of parchment paper or a non-stick silicone baking mat, roll the dough out into a 12 inch circle or divide the dough in half for two smaller pizzas.
Poke the dough with a fork and then bake it plain for 8 minutes. Remove the dough from the oven and cover with desired toppings. Return the pizza to the oven and bake 15-22 more minutes, or until the cheese has melted and the dough is cooked to your desired consistency. The amount of baking time will also depend on how thinly you rolled out your pizza dough.
Slice and enjoy!
Notes
*I've tried this dough using both combinations of oil and milk and applesauce and water and liked both!
Nutrition Information
Yield
3
Serving Size
2 slices
Amount Per Serving
Calories

282
Total Fat

11g
Saturated Fat

2g
Trans Fat

0g
Unsaturated Fat

9g
Cholesterol

3mg
Sodium

535mg
Carbohydrates

41g
Net Carbohydrates

0g
Fiber

6g
Sugar

2g
Sugar Alcohols

0g
Protein

8g
Nutrition information is a rough estimate provided by Nutrionix and should be used for informational purposes only.