Made with whole grain oats and chewy dates, these Easy Homemade Oatmeal Date Granola Bars are perfect for a quick and healthy snack on the go!
If you know me, you know I always have some granola bars or energy balls on hand for a grab-and-go snack and this is a fave!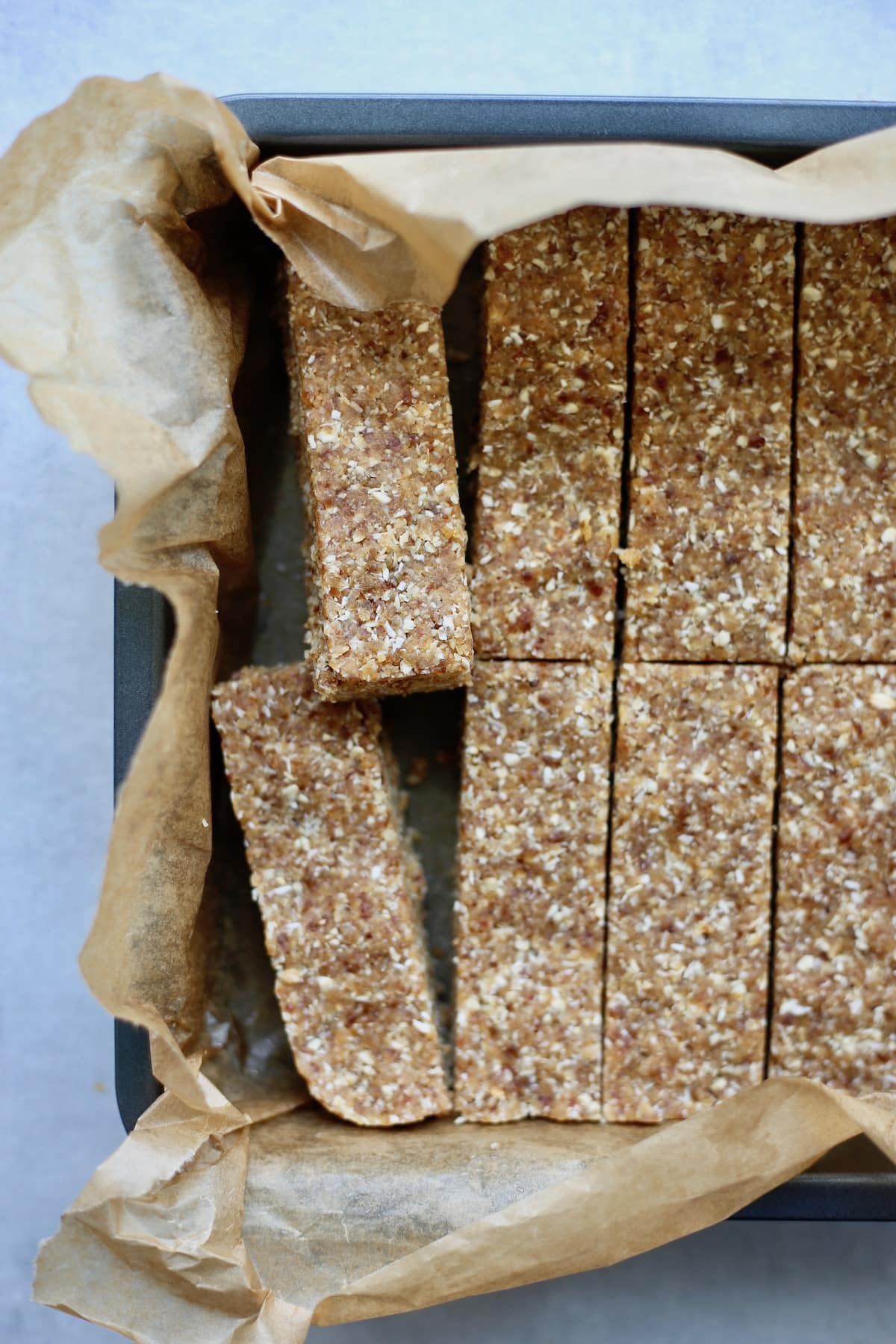 Jump To
While I love the convenience of store-bought granola bars, I'm ALL ABOUT having homemade granola bars on hand.
Seriously, what's not to love about a homemade granola bar?!
I love knowing that my homemade granola bars have been made with minimal ingredients and love, two things that should fuel us well throughout our busy days.
We are obsessed with these Homemade Chewy Popcorn Granola Bars, these Tahini Oatmeal Granola Bars and of course today's recipe for Oatmeal Date Granola Bars!
The think I love most about these granola bars is that they don't crumble easily like some homemade granola bars do.
These chewy date granola bars are a hearty, healthy snack or on-the-go breakfast.
They hold their shape well making them perfect for traveling and running errands!
Ingredients
For these homemade granola bars you'll only need 6 ingredients!
I'm sure most of these ingredients you'll probably already have on hand in your pantry.
How to make homemade granola bars
There are a number of ways that you can make granola bars at home.
Some recipes require no equipment or baking and take minutes to prepare. Those are your no-bake granola bars (or energy bites)!
Some granola bars are baked in the oven, like my favorite Peanut Butter Coconut Granola Bars!
Other granola bars are best made using a food processor. These kinds of bars are often made with sticky dates which need to be processed down into a paste.
For today's recipe, you'll need a food processor.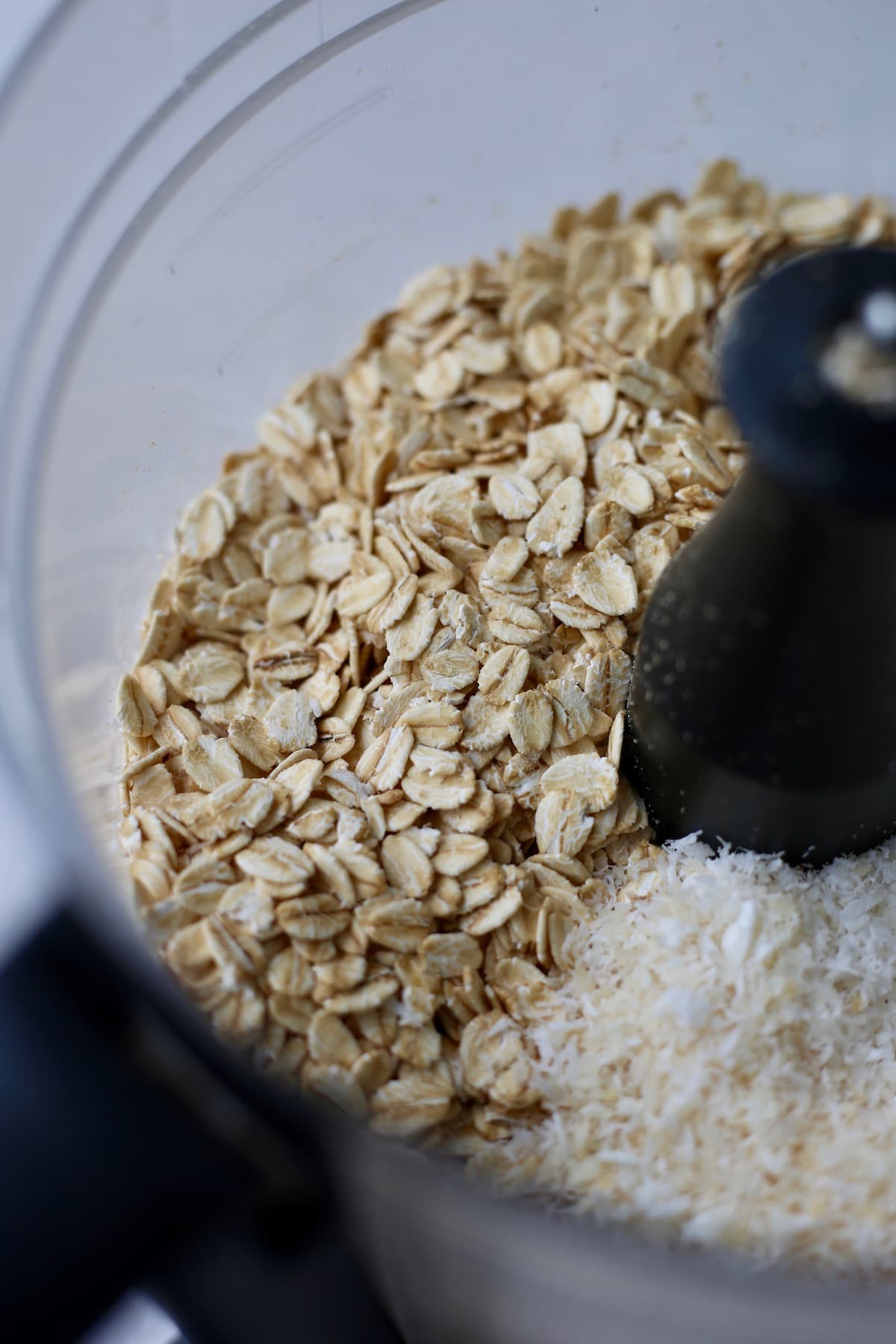 Step 1: Start by pulsing some oats, coconut and salt in a food processor until combined.
Step 2: Then you'll add in some drippy nut butter and sticky, pitted dates and process the mixture again until a crumbly dough form.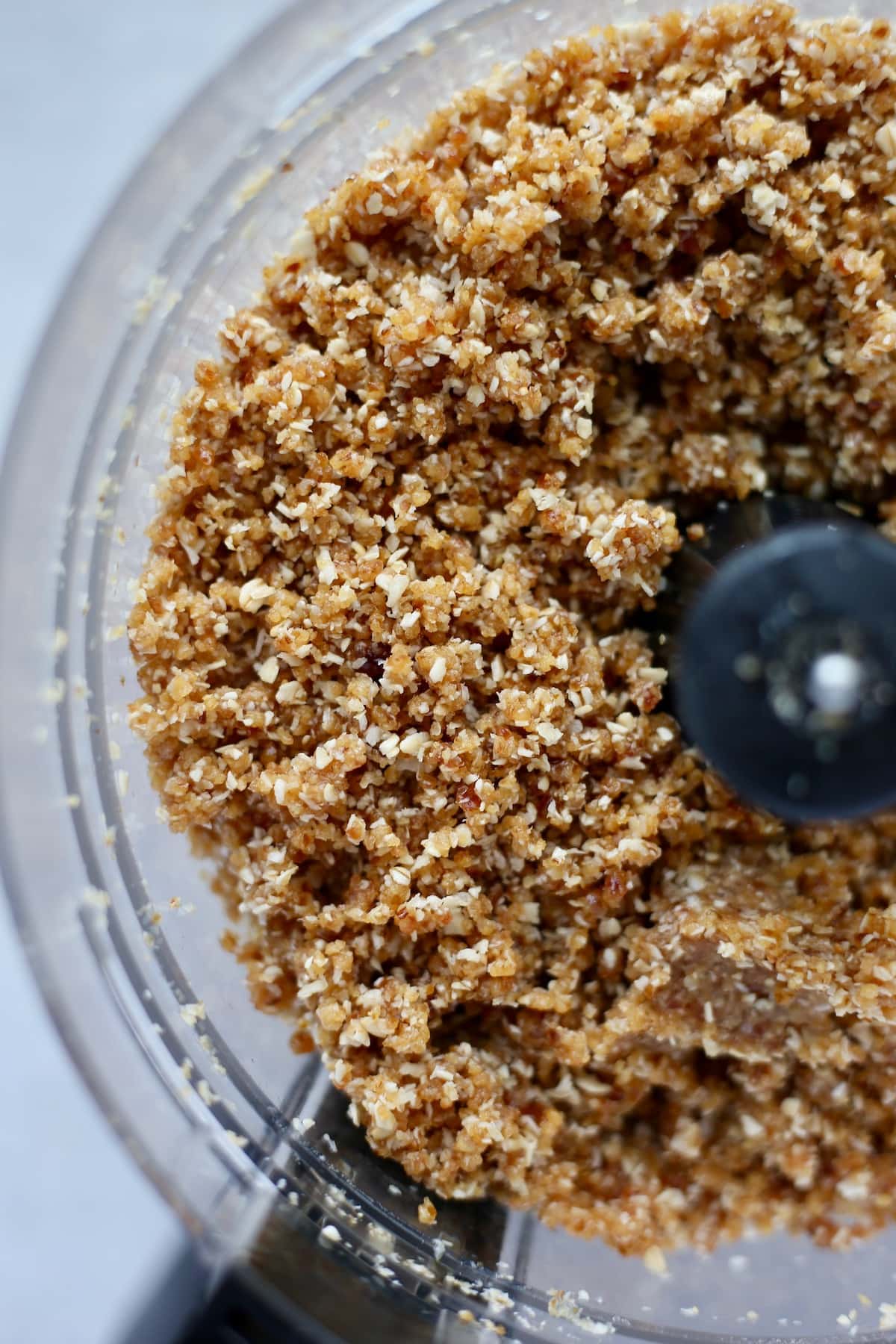 Step 3: The dough will still be a little dry, so you'll need to stream in some coconut oil while the processor is running until a sticky dough forms. You'll know the dough is ready when it sticks together when pressed between your fingers.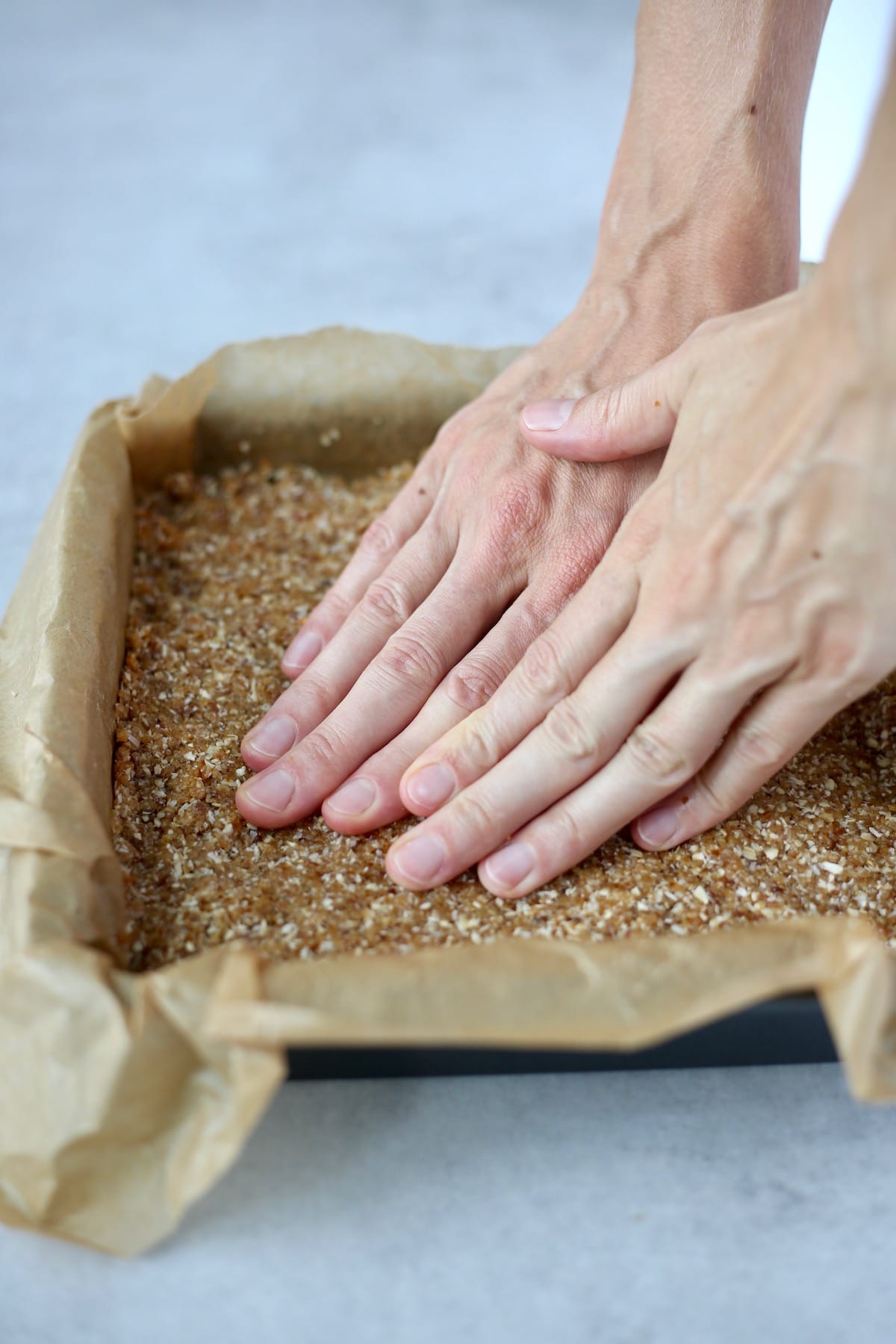 Step 4: Lastly, press the dough into a prepared 8x8 baking dish and let the dough sit in the fridge for about an hour until it has set.
Step 5: Cut the dough into any shape you desire and you've got a delicious, nourishing snack!
How do you get granola bars to stick together?
Like I mentioned above, I've found some homemade granola bars to crumble easily.
With how much we travel and move around throughout the day, I wanted some homemade granola bars that would hold their shape and travel well.
These granola bars are perfect for that!
The trick is using lots of sticky dates, nut butter AND coconut oil. Especially without drizzling in some coconut oil at the end, these granola bars would be dry and crumbly. The oil makes them moist and hold together.
YUM!
What are the healthiest granola bars?
"Healthy" is such a relative term.
However, for our family, when it comes to finding healthy granola bars, I care most about ingredients--which ones and how many.
When I made my own granola bars at home, I have full control of the ingredients I use.
If I need to buy store-bought granola bars, I almost always choose Larabars as they use very minimal ingredients and only whole foods!
But you do what is best for you and your family!
How long do homemade granola bars last?
Homemade granola bars will keep for different amounts of time, depending on what ingredients you use and how you store them.
These oatmeal date granola bars last for about a couple weeks for us when I store them in an airtight container in the fridge!
Storage
We go through homemade granola bars super quickly, so I usually store them in an airtight container in the fridge and we finish them off way before they go bad.
If you don't go through yours as quickly, then you can wrap the granola bars individually in plastic wrap and store them in a bag in the freezer for up to 2-3 months.
When you need a granola bar, simply remove one or two from the freezer the night before to thaw.
I really hope you enjoy these healthy, nourishing granola bars! If you like them, be sure to leave a 5 star rating by clicking on the stars in the recipe card. Also share them with your friends and family so they can enjoy them too!
More Delicious Granola Bar Recipes!
If you're digging these Oatmeal Date Granola Bars, I have a feeling you'll like these granola bars too!
📖 Recipe
Yield:

24 granola bars
Easy Homemade Oatmeal Date Granola Bars
Total Time:
1 hour
15 minutes
Made with whole grain oats and chewy dates, these Easy Homemade Oatmeal Date Granola Bars are perfect for a quick and healthy snack on the go!
Instructions
Line an 8x8 baking dish with parchment paper and set aside.
In a food processor, pulse the oats, coconut and salt a few times until combined.
Add in the nut butter and pitted dates and process until everything is broken down into a crumbly mixture.
Run the food processor again and stream in the coconut oil 1 tablespoon at a time until a sticky dough forms. It should be able to hold together when pressed between your fingers. You should have to use between 4-6 tablespoons.
Press the mixture firmly into a lined 8x8 baking dish. The mixture may feel a little oily, but the bars won't taste oily. They will just hold together really well!
Place the pan in the fridge for about 1 hour until the dough has set. Cut the dough into rectangles or squares. I get about 24 small rectangles.
Store the bars in an airtight container in the fridge for up to 2 weeks.
Notes
Any nut or seed butter should work.
I have only tried these bars with sticky Medjool dates!
You can always halve this recipe for fewer bars or bars that are thinner.

Nutrition Information
Yield
24
Serving Size
1 granola bar
Amount Per Serving
Calories

68
Total Fat

6g
Saturated Fat

4g
Trans Fat

0g
Unsaturated Fat

2g
Cholesterol

1mg
Sodium

27mg
Carbohydrates

3g
Net Carbohydrates

0g
Fiber

1g
Sugar

2g
Sugar Alcohols

0g
Protein

1g
Nutrition information is a rough estimate provided by Nutrionix and should be used for informational purposes only.