No matter how busy your are, you can enjoy healthy, delicious breakfast all week long with these 5 Make Ahead Overnight Oat Jars!
This post is also featured in my Easy Plant Based Breakfast Ideas For 2020 roundup.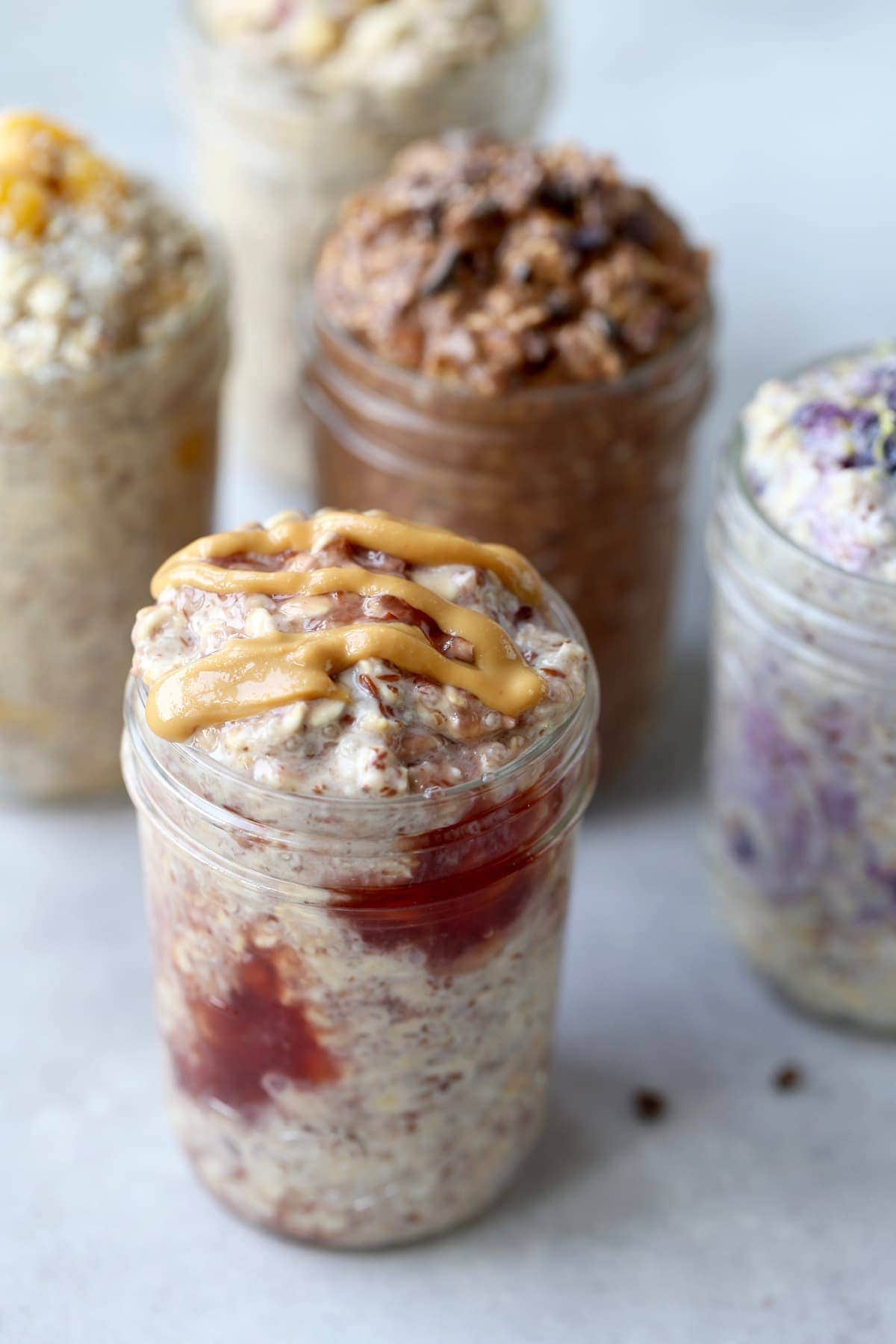 Where are my breakfast lovers at?! You probably know by now that I am a breakfast fiend and have only gone without breakfast a handful of times in my life. It's not a meal I like to skip and I don't see that changing anytime soon. I used to spend a lot of time making amazing breakfasts for myself and Brett before Harper was born. While breakfast is still a high priority for me, the amount of time I have to spend preparing a delicious, healthy breakfast has decreased greatly since becoming a mom. I'm all about meal prepping now, whether that's making a batch of my Zucchini Carrot Oatmeal Breakfast Muffins or preparing overnight oats in the evening for all three of us to enjoy the next morning. I've recently started combining the two methods and have been meal prepping a few days of overnight oats for us to enjoy over the course of a week! It's made breakfast time so stress-free and delicious.
Today I want to share with you my simple method for meal prepping 5 different overnight oats flavors for you to enjoy for breakfast throughout the week. It's a wonderful way to make your weekday mornings run more smoothly and it also gives you something to look forward to even on the busiest of mornings! I love making a few different flavors, but you could make things extra simple and just make 5 servings of the same flavor. If you have lots of kids, you could easily double or triple this method so that everyone has a healthy breakfast waiting for them in the morning, no matter what their schedule looks like.
Jump to: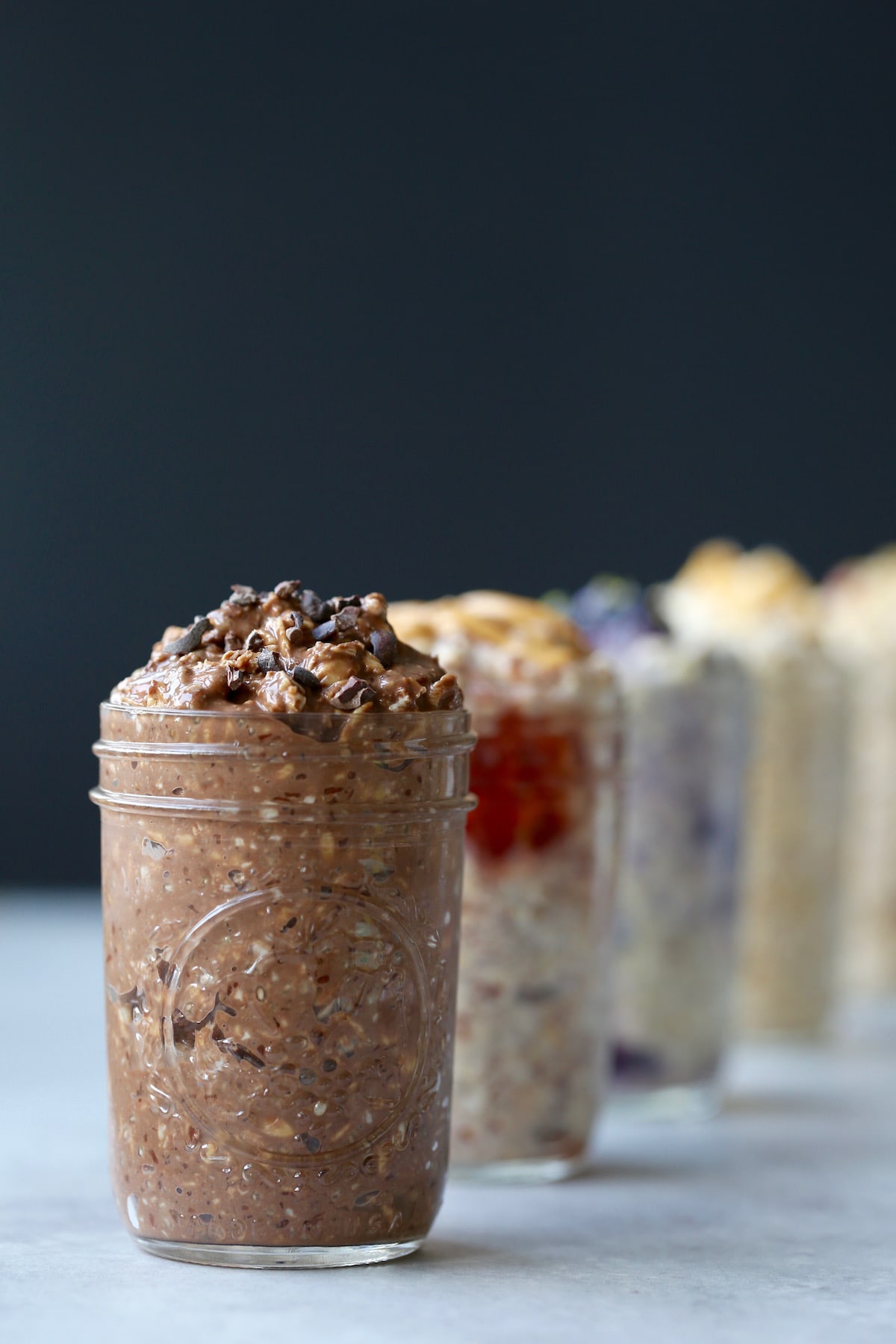 What are overnight oats?
If you still don't know what overnight oats are (seriously, where have you been?!), you're in for a real treat! Overnight oats are basically un-cooked oats that are soaked overnight in liquid with a few other ingredients. This results in cold, creamy oats that are ready for you when you wake up, can be taken on the go and can be topped with whatever you want! When you prepare the oats the night before you can also determine what flavor you want your overnight oats to be. You can do this by adding in different spices, flavored milks, fruit purees, and mix-ins such as fresh and dried fruits, nut butters, nuts, seeds, cacao nibs or even chocolate chips! The combinations are endless and I'll be sharing some of my favorite flavor combinations below!
How do you make Overnight Oats?
There are a few different ways to make overnight oats. Technically, you could just soak some oats in water overnight or until soft. Most people, however, like to include chia seeds and then soak the oats in milk or a combination of milk and yogurt. My go-to basic overnight oats recipe is to combine 1/2 cup rolled oats and 1 tablespoon of chia seeds in a jar. Then I pour in 1 cup of non-dairy milk and stir everything together until well combined. To this basic recipe I add different spices, fruits and mix-ins to make whatever flavor I'm craving!
In order to meal-prep multiple jars of overnights oats, you can either make a large batch of basic overnight oats and then divide that batch among multiple jars before stirring in your mix-ins. Alternatively, you can make each flavor individually from the start, placing 1/2 cup of oats, 1 tablespoon of chia seeds, 1 cup of liquid and your mix-ins into each individual jar, stirring well until everything is combined. .
Do you eat overnight oats hot or cold?
I almost always eat my overnight oats cold, but you can also reheat them either in the microwave or on the stove top to enjoy them warm. It's really up to you! Just be aware that since the oats have already soaked for hours in the fridge overnight, the texture may be softer than if they were prepared in the morning.
Are Overnight Oats Vegan?
Yes! Overnight oats can easily be made completely vegan. All you have to do is soak the oatmeal in either non-dairy milk, non-dairy yogurt or a combination of both. It's as easy as that to make vegan overnight oats.
Different Overnight Oat Flavors
I love to think through my favorite baked goods, sweet drinks and desserts for inspiration on different overnight oats flavors to experiment with. I'll obviously be sharing some specific recipes farther down, but here I'll also list out some fun flavor ideas for you to get creative with!
Pumpkin Pie
Banana Bread
Chunky Monkey
Coffee Cake
Zucchini Bread
Matcha Latte
Cinnamon Roll
German Chocolate Cake
Pina Colada
Apple Pie
Mocha
Hot Chocolate
Chai Tea Latte
Espresso
Coconut
Cookie Dough
Okay, you get the picture. There are so many amazing flavor options to keep your mornings fun and exciting. Don't be shy and get creative with what add-ins you choose!
Below I'll be sharing 5 different prepare-ahead overnight oats flavors for busy mornings. Be sure to leave a comment down below letting me know if you give this breakfast meal prep a try. Share which flavor was your favorite (we LOVE the lemon blueberry) and give me more ideas for flavors to try! Also, be sure to rate this post and share it with other busy breakfast lovers!
Help The World Eat More Plants!
---
5 Make-Ahead Overnight Oats Recipe Photos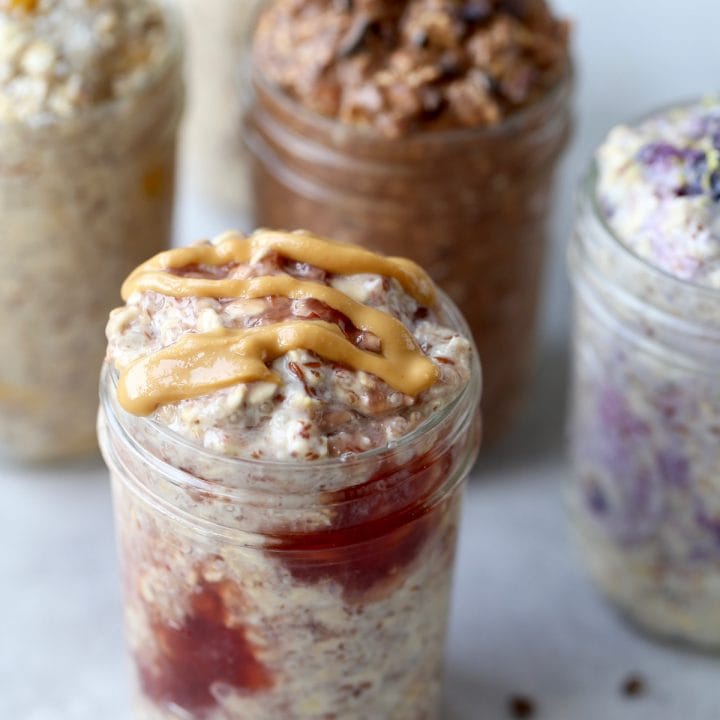 How to Meal Prep 5 Amazing Overnight Oat Jars
No matter how busy your are, you can enjoy healthy, delicious breakfast all week long with these 5 Make Ahead Overnight Oats Jars!
Ingredients
BASE RECIPE:
2 1/2 cups rolled oats
4 cups non-dairy milk*
MANGO COCONUT:
1 tablespoon desiccated coconut (or coconut cream)
1/2 mango, cut into small pieces (or puréed)
A dash of cinnamon
A dash of ground ginger
LEMON BLUEBERRY:
Zest of half a lemon
2-3 teaspoons maple syrup
Handful of fresh or frozen blueberries
PB&J:
1 1/2 tablespoons strawberry jam
Day of topping: 1 tablespoon peanut butter
DOUBLE CHOCOLATE:
2-3 teaspoons liquid sweetener
CINNAMON APPLE:
1/2 apple, grated
A dash of cinnamon
Day of topping: chopped walnuts
Instructions
In a large mixing bowl, stir together the rolled oats and chia seeds. Add in the non-dairy milk and stir to combine. Allow the mixture to sit for about 10 minutes in order to thicken up. Stir the oatmeal mixture one more time before dividing it evenly among 5 jars.
ALTERNATIVELY, stir together 1/2 cup of rolled oats, 1 tablespoon of chia seeds and 3/4-1 cup of non-dairy milk in 5 separate jars.
Next, to each jar stir in the ingredients needed for each flavor, excluding the "day of toppings" which you'll add the morning you eat that flavor.
Seal the jars and store them in the fridge for up to 5 days!
Notes
*For a cheaper version, you can do half milk and half water. The amount of liquid you use depends on how thick or runny you like your overnight oats. I like to use 1 cup per serving. Or in this case all 5 cups for 5 make-ahead portions!
**For even more overnight oat recipes be sure to check out this post on 10 Vegan Overnight Oats Recipes!
Nutrition Information:
Yield:

5
Serving Size:

1
Amount Per Serving:
Calories:

263
Total Fat:

7g
Saturated Fat:

3g
Trans Fat:

0g
Unsaturated Fat:

4g
Cholesterol:

16mg
Sodium:

95mg
Carbohydrates:

38g
Net Carbohydrates:

0g
Fiber:

5g
Sugar:

10g
Sugar Alcohols:

0g
Protein:

12g
Nutrition information is for the base recipe. It is a rough estimate provided by Nutrionix and should be used for informational purposes only.