No matter how busy your are, you can enjoy a healthy, delicious breakfast each day of the week with these vegan overnight oats recipes. With 5 different flavor variations and minimal prep time, you'll be set with a unique, healthy breakfast all week long.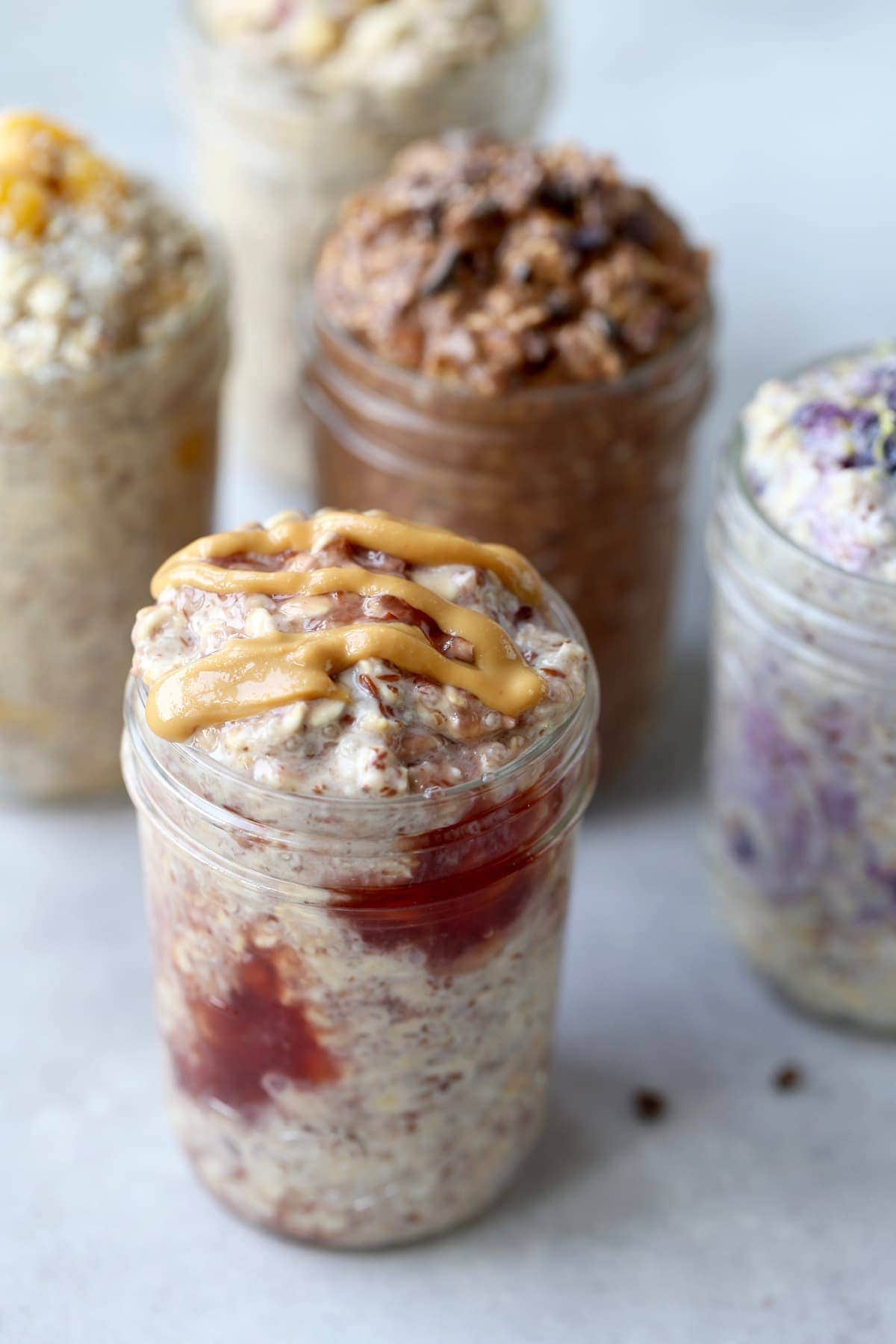 You probably know by now that I am oatmeal-obsessed. I'm especially happy when I'm enjoying a pre-made, creamy bowl of overnight oats. Overnight oats really are the best breakfast. Some of my favorite overnight oats recipes are Key Lime Pie Overnight Oats, these Vanilla Protein Overnight Oats with Zucchini, decadent Cookie Dough Overnight Oats and these unique, but delicious Vegan Golden Milk Overnight Oats!
Jump To
Why You'll Love These Recipes!
You can make all of these 5 vegan overnight oats flavors ahead of time so that they are ready and waiting for you when you wake up in the morning. You'll have a different flavor of breakfast all week long without much effort!
The flavor combinations are endless when it comes to overnight oats. Today I'll just be sharing 5 flavor variations with you, but use your creativity and taste preferences to make whatever flavors you want.
Overnight oats are not only delicious, but a balanced way to start the day. I'm full for hours after a batch of overnight oats and hopefully you too will feel satisfied after trying one of these vegan overnight oats recipes!
For basic, plain overnight oats, you'll only need 3-4 pantry staple ingredients. It doesn't get much easier than that.
It's super easy to double, triple or quadruple overnight oats depending on the number of people you'll be serving.
Ingredients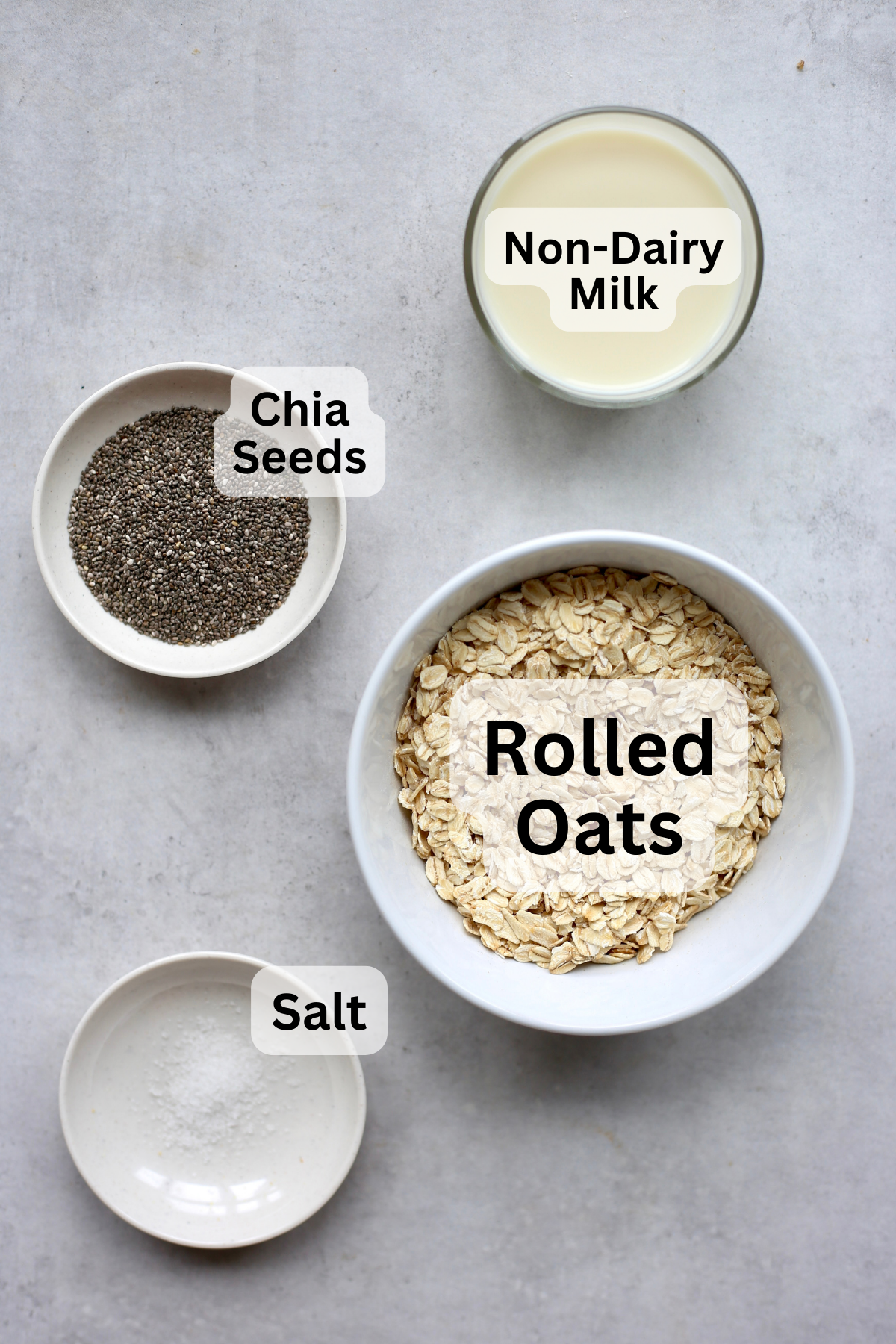 Rolled Oats - Rolled oats are lightly processed oat groats and I think they result in the best texture of vegan overnight oats. You can find rolled oats at almost every grocery store.
Chia Seeds - I love using chia seeds in my overnight oats as they soak up a lot of liquid and make overnight oats super thick and creamy.
Non-Dairy Milk - Any non-dairy milk will work well in this recipe. Homemade almond milk or homemade oat milk would be delicious. If you don't have time to make your own milk, store-bought oat, almond, soy or cashew would all be amazing as well.
Substitutions
Oats - While I love the texture that rolled oats provide in overnight oats, you can also use quick oats if that is all you have on hand. However, quick oats will result in a slightly goopier texture and you may need to add more non-dairy milk. I've heard that steel cut oats also work, but I've never tried it before! Don't use oat flour.
Chia Seeds - For me personally, chia seeds are vital for overnight oats as they add a nice tapioca pudding-like texture. However, not everyone uses them. If you choose to omit the chia seeds you won't need as much milk. You could also substitute them for flaxseeds (ground or whole) or pumpkin seeds, but the texture won't be the same.
Basic Vegan Overnight Oats Recipe
½ cup rolled oats
1 tablespoon of chia seeds
Pinch of salt
1 cup of non-dairy milk
In a jar, stir together the rolled oats and chia seeds. Pour in the non-dairy milk and stir everything to combine. To this basic recipe I add different spices, fruits, sweeteners and mix-ins to make whatever flavor I'm craving!
Variations
Peanut Butter and Jelly - Stir some of your favorite jelly into a basic batch of overnight oats. The next morning, right before serving, add a drizzle of peanut butter on top.
Lemon Blueberry - Add a handful of blueberries (fresh or frozen is fine!), some lemon zest and a touch of maple syrup to a basic batch of overnight oats. Allow everything to sit overnight.
Double Chocolate -Add some cocoa powder , a touch of maple syrup and some cacao nibs (or chocolate chips) to a plain batch of overnight oats.
Cinnamon Apple - Simply add some shredded or chopped apple, cinnamon, and a touch of maple syrup to a basic batch of overnight oats and allow the flavors to meld together overnight in the fridge. The next day, top the oats with more apple, some chopped walnuts and more cinnamon!
Mango Coconut - Stir some desiccated coconut or coconut cream into a batch of plain overnight oats. Additionally, add in half of a fresh mango (chopped) and some ground cinnamon and ground ginger!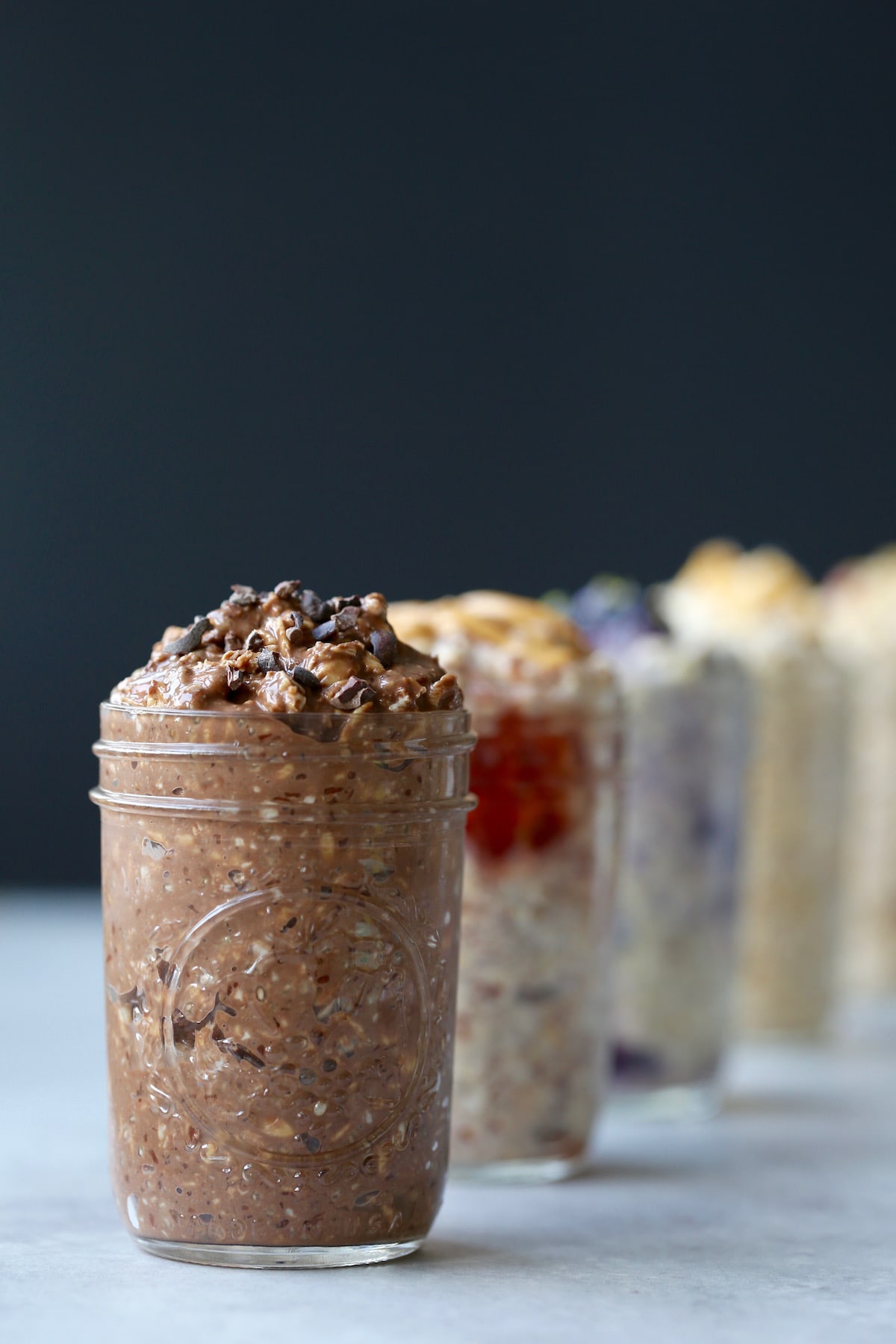 How to Make 5 Flavors of Vegan Overnight Oats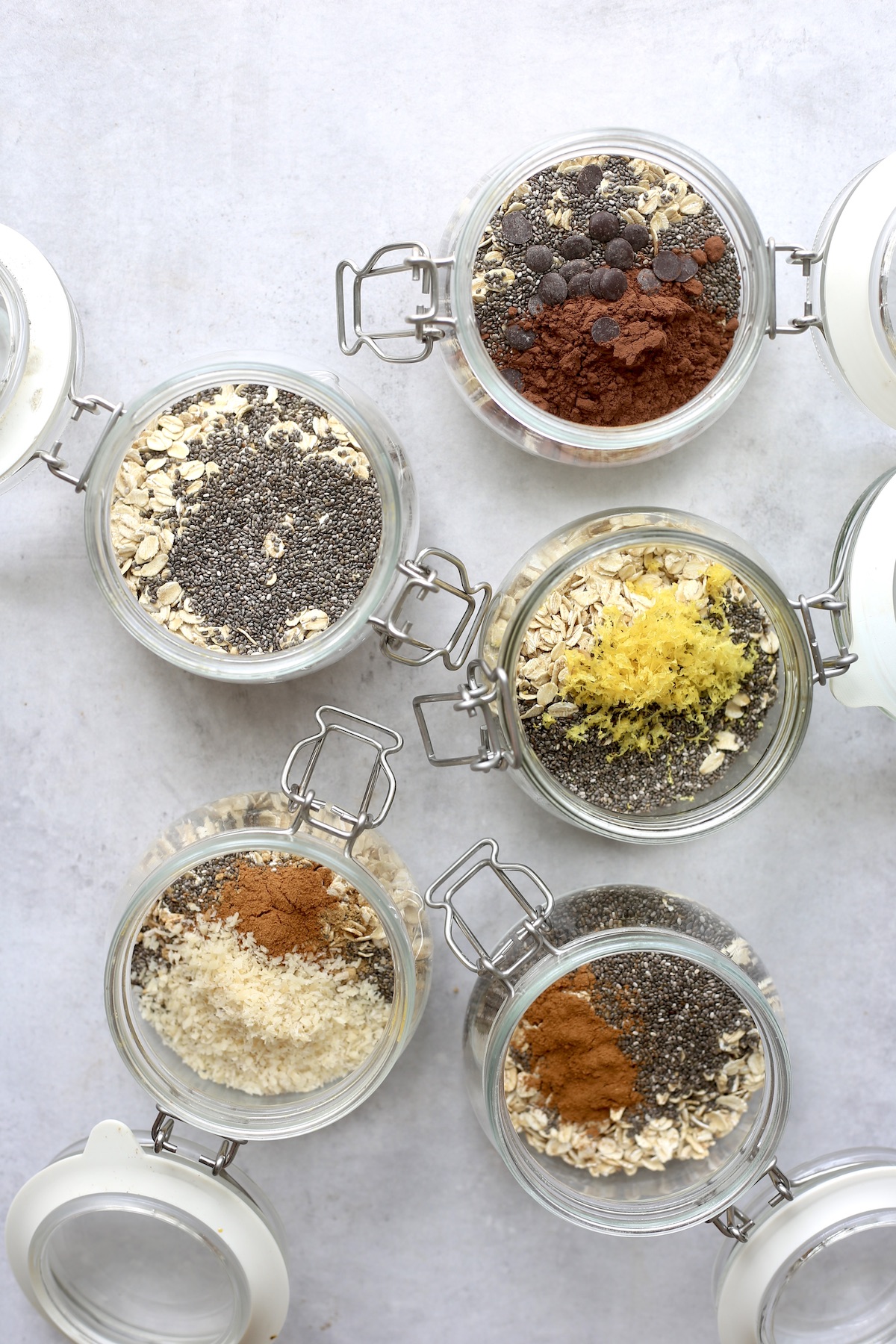 Step 1: Add the rolled oats, chia seeds, pinch of salt and dry flavorings to each mason jar. Stir well to evenly distribute the chia seeds.
Step 2: Add in any mix-ins that can soak overnight.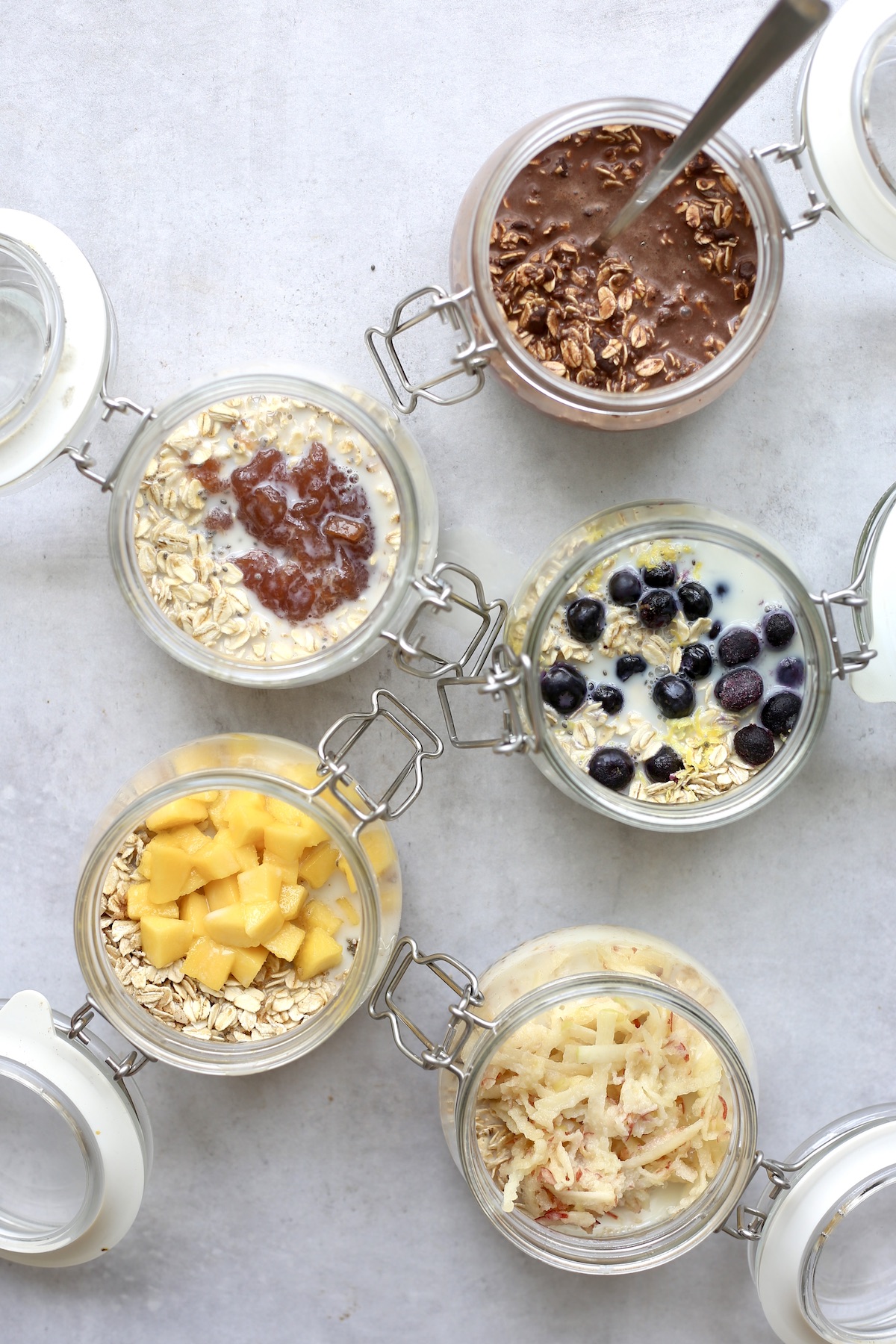 Step 3: Add in the non-dairy milk, stirring right away so that the chia seeds don't get stuck in clumps.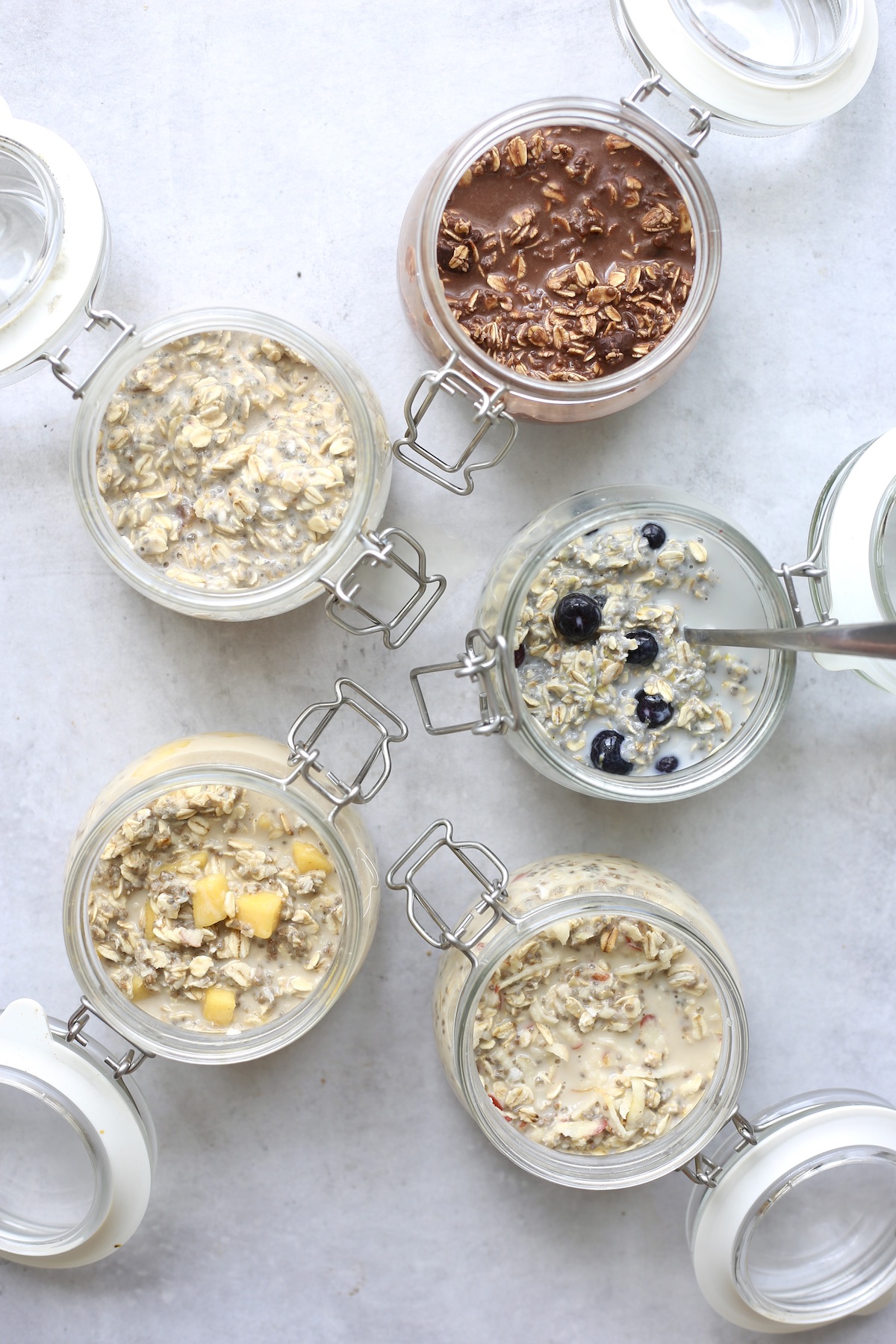 Step 4: Add more non-dairy milk if some of vegan overnight oats look too dry or thick. Then seal the jars and store them in the fridge overnight.
Step 5: Before enjoying a serving of overnight oats, stir the oats well and add more non-dairy milk if necessary to loosen up the oats. Add any "day-of" toppings and dig in!
Expert Tips
In order to meal-prep multiple jars of overnights oats you can use one of two methods. You can make a large batch of basic overnight oats and then divide that batch among multiple jars before stirring in your mix-ins. Alternatively, you can make each flavor individually from the start. Place the rolled oats, chia seeds, salt, liquid and mix-ins into each individual jar, stirring well until everything is combined.
Be sure to hold off on adding and fresh fruit, such as bananas, or crunchy toppings, such as chopped nuts or granola, until right before enjoying. Bananas oxidize and go brown once they are opened and chopped nuts would turn soggy.
Right after I add the non-dairy milk to a jar, I stir everything right away. If you add milk to all 5 of your jars before stirring, the chia seeds in the first jars you added milk to may start to clump together.
Recipe FAQs
What are overnight oats?
Overnight oats are basically un-cooked oats that are soaked overnight in liquid with a few other ingredients. This results in cold, creamy oats that are ready for you when you wake up, can be taken on the go and can be topped with whatever you want!

Are overnight oats vegan?
Yes! They can easily be made completely vegan. All you have to do is soak the oatmeal in either non-dairy milk, non-dairy yogurt or a combination of both. It's as easy as that to make vegan overnight oats.

How do you make Vegan Overnight Oats?
Technically, you could just soak some oats in water overnight or until soft. Most people, however, like to include chia seeds and then soak the oats in milk (or a combination of milk and yogurt) overnight until soft and creamy.

Do you eat overnight oats hot or cold?
I almost always eat my overnight oats cold, but you can also reheat them either in the microwave or on the stove top to enjoy them warm. Just be aware that since the oats have already soaked for hours in the fridge overnight, the texture may be softer than if they were prepared in the morning.

Can you use quick oats to make overnight oats?
Yes, you can use quick oats to make overnight oats. Although I prefer to use old-fashioned rolled oats as they hold their shape better.

Can you use steel cut oats to make overnight oats?
I have yet to try it personally, but I have seen recipes using steel cut oats to make overnight oats. If you do use steel cut oats you will probably need more liquid and to allow the oats to soak for a longer period of time.

How long do overnight oats last in the fridge?
I usually keep my overnight oats for up to 4 days. If you make a batch with fruit such as mashed banana, however, you'll want to eat them within 24 hours as the banana will oxidize and turn brown.

Are oats gluten-free?
To ensure that your oats are gluten-free, be sure to buy certified gluten-free oats. While oats are technically gluten free, they are sometimes processed on equipment that has also processed gluten and can therefore become contaminated.

Love this recipe? Please leave a 5-star 🌟🌟🌟🌟🌟 rating in the recipe card below & a review in the comments section further down the page.
📖 Recipe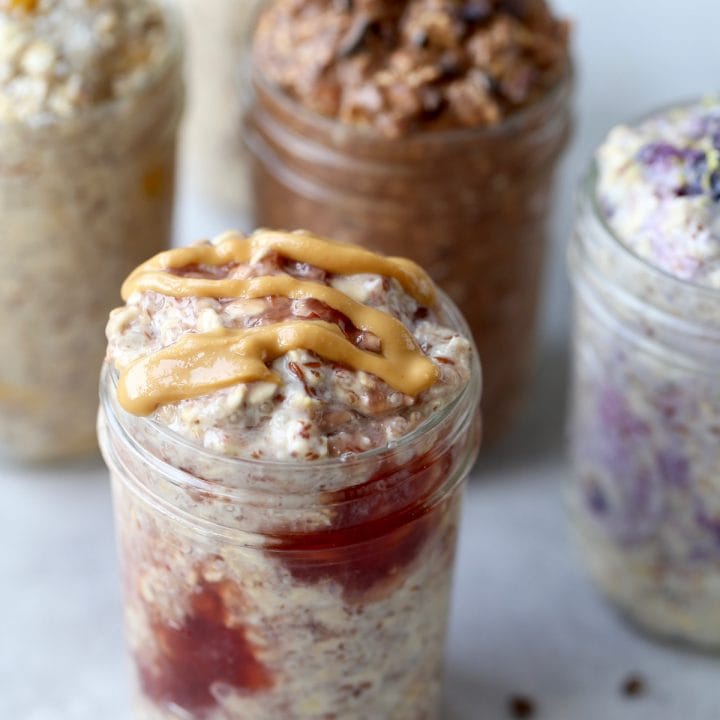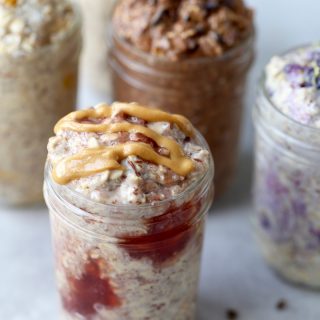 How to Meal Prep 5 Amazing Overnight Oat Jars
No matter how busy your are, you can enjoy healthy, delicious breakfast all week long with these 5 Make Ahead Overnight Oats Jars!
Ingredients
MANGO COCONUT
2

tablespoons

desiccated coconut

or coconut cream

½

mango

cut into small pieces (or puréed)
LEMON BLUEBERRY
Zest of half a lemon

2-3

teaspoons

maple syrup

Handful of fresh or frozen blueberries
PB&J:
1 ½

tablespoons

strawberry jam

Day of topping: 1 tablespoon peanut butter
CINNAMON APPLE
½

apple

grated

Day of topping: chopped walnuts
Instructions
To 5 different

mason jars

, combine ½ cup of

rolled oats

, 1 tablespoon of

chia seeds

, a pinch of salt and ¾-1 cup of non-dairy milk. If you want thicker overnight oats, just use ¾ cup of milk.

Next, to each jar stir in the ingredients needed for whichever flavor you desire, excluding the "day of toppings" which you'll add the morning you eat that flavor.

Seal the jars and store them in the fridge for up to 5 days!
Nutrition
Calories:
263
kcal
Carbohydrates:
38
g
Protein:
12
g
Fat:
7
g
Saturated Fat:
3
g
Polyunsaturated Fat:
4
g
Cholesterol:
16
mg
Sodium:
95
mg
Fiber:
5
g
Sugar:
10
g