Using just four basic ingredients and minimal hands-on time, you can make freshly baked, whole wheat artisan bread right in the comfort of your own home!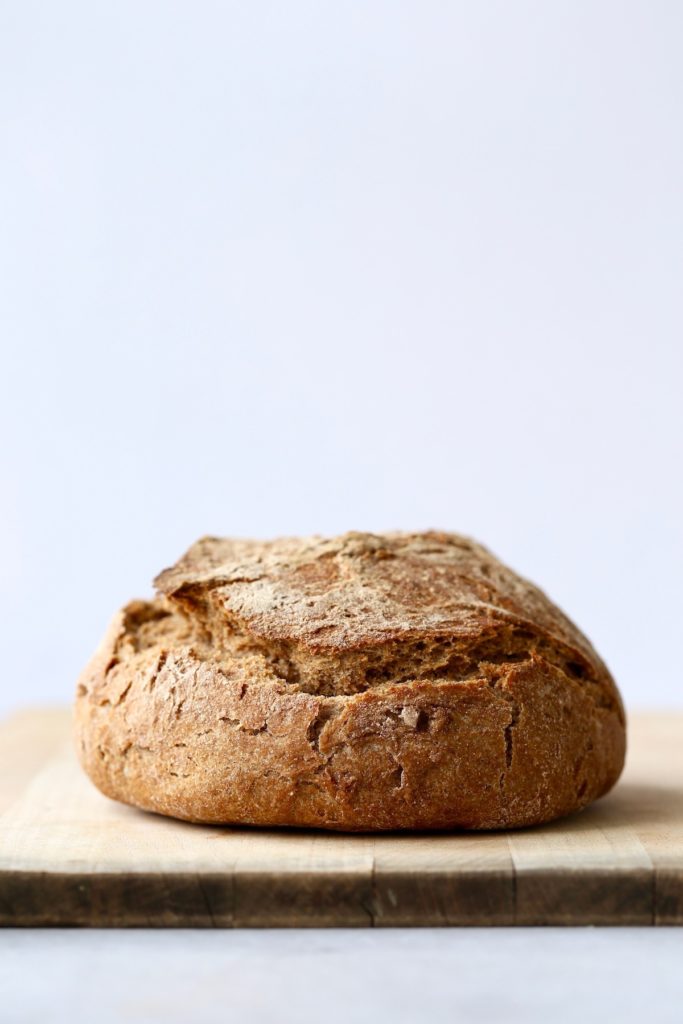 With so much more time being spent at home right now due to self-isolation, I'm pretty sure everyone is getting into baking homemade bread. While bread looks different depending on someone's country and culture, there is something so universally comforting about fresh bread straight out of the oven or off the skillet. I've definitely been making my fair share of homemade bread lately and thought I would show you how to make this easy artisan whole wheat bread in case you too had the itch to bake some bread.
My mom was the first one to introduce me to the simplicity and beauty of homemade artisan bread. The recipe she showed me years ago was basically this exact recipe, but just using white flour. Today I'll show you how I make it using entirely whole wheat flour, but you can honestly use a mix of both white and wheat flour.
What is artisan bread?
There isn't an actual definition for artisan bread, at least that I'm aware of, but it basically is a loaf of bread that has a crusty exterior and a short shelf life. It also typically requires a longer fermentation/rising time compared to other breads that are baked in a loaf pan.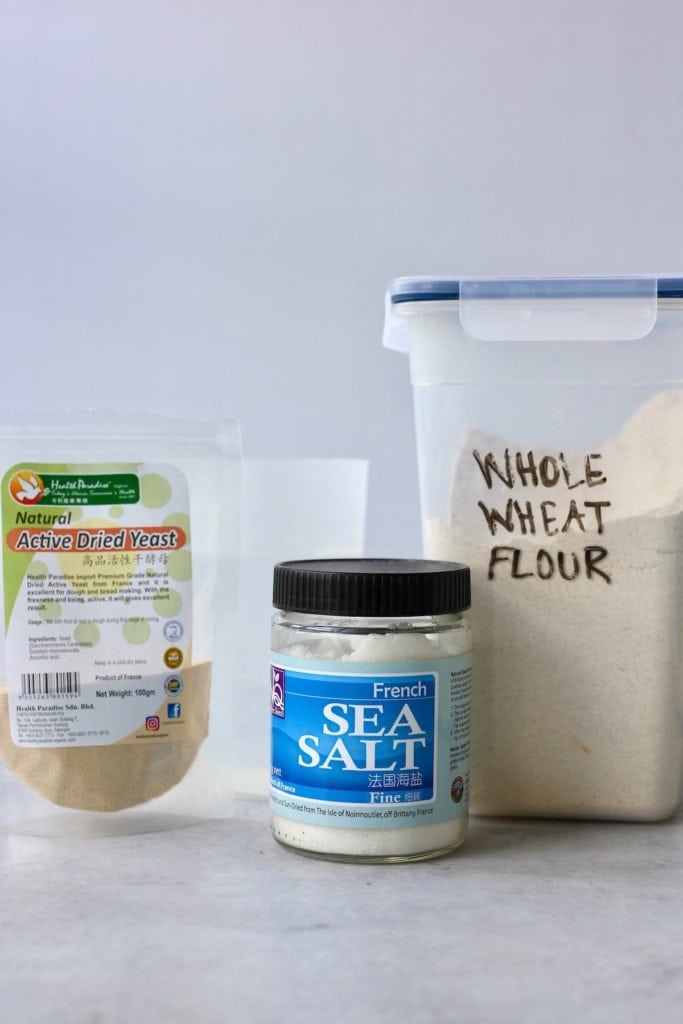 Ingredients you'll need to bake whole wheat artisan bread
Baking bread used to intimidate me so much, but it honestly couldn't be easier. To make this whole wheat artisan bread, all you'll need are the following 4 ingredients:
Whole wheat flour
Salt
Water
I don't know about you, but I get so excited about bread made with minimal ingredients! If you don't want to use all whole wheat flour, you can also do a mix of both white and whole wheat flour.
Equipment you'll need to make artisan bread at home
You don't need much to make this artisan bread. I personally don't even have everything that you're technically supposed to use to make artisan bread! To make the dough you'll need a large mixing bowl, some measuring cups and spoons and a wooden spoon. Once you've made the dough, you'll need to cover it with some plastic wrap. Then to bake the dough you'll need a dutch oven.
Good news! If you don't have a dutch oven like me, you can also use an oven-safe pot with a lid ( one that can withstand 475F/250C degrees) or even two taller round cake pans stacked on each other. That's the method I use and it works great!
How to make whole wheat artisan bread (with step-by-step instructions)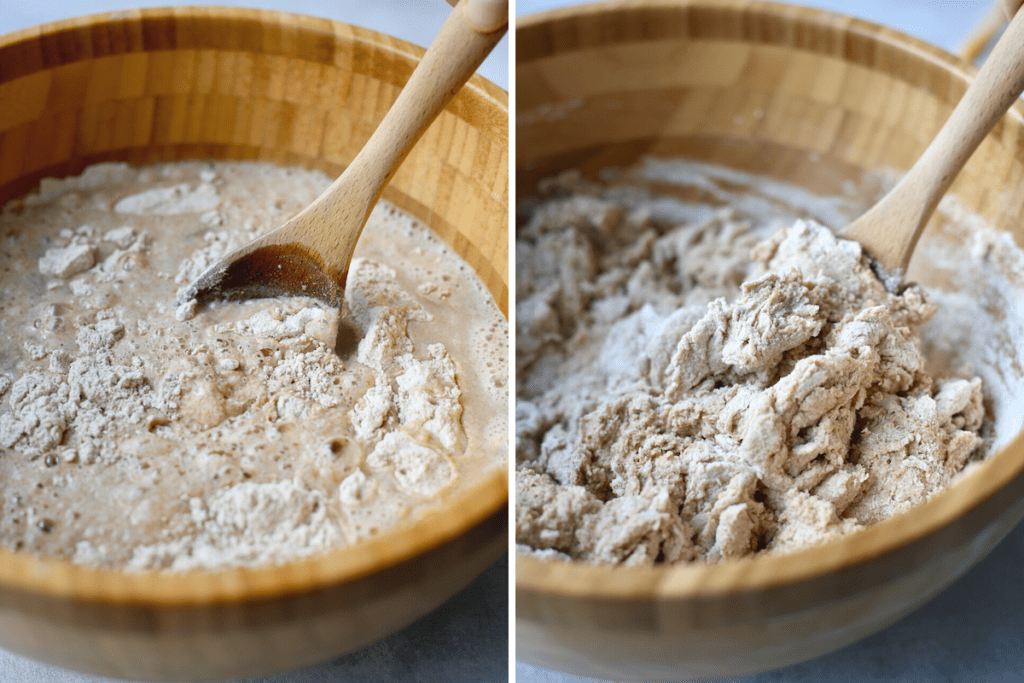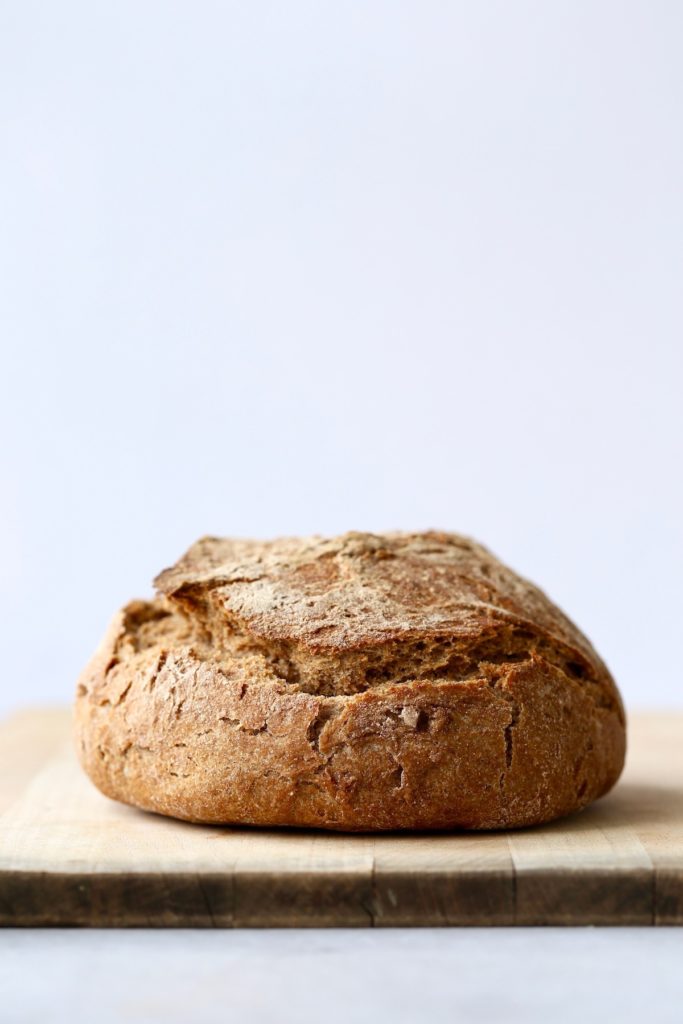 Best ways to eat artisan bread
Artisan bread, especially this whole wheat version, is heartier and denser than your traditional sandwich loaf. For those reasons, we love to pair a slice or two with soup. It also makes for great open face toasts or as a base for bruschetta. I find it's not the greatest bread to use for sandwiches as using two slices may overpower your sandwich fillings and make a sandwich hard to eat.
How to store artisan bread
Artisan bread tastes best the day you bake it. However, unless you have a large family, I doubt you'll get through a whole loaf in one day. I personally just store any leftovers in a sealed container or bag in the fridge for a couple days. You can also slice it, wrap it and freeze it for later use. If freezing this bread, just remove the amount of slices you need and toast them in a toaster, straight from frozen.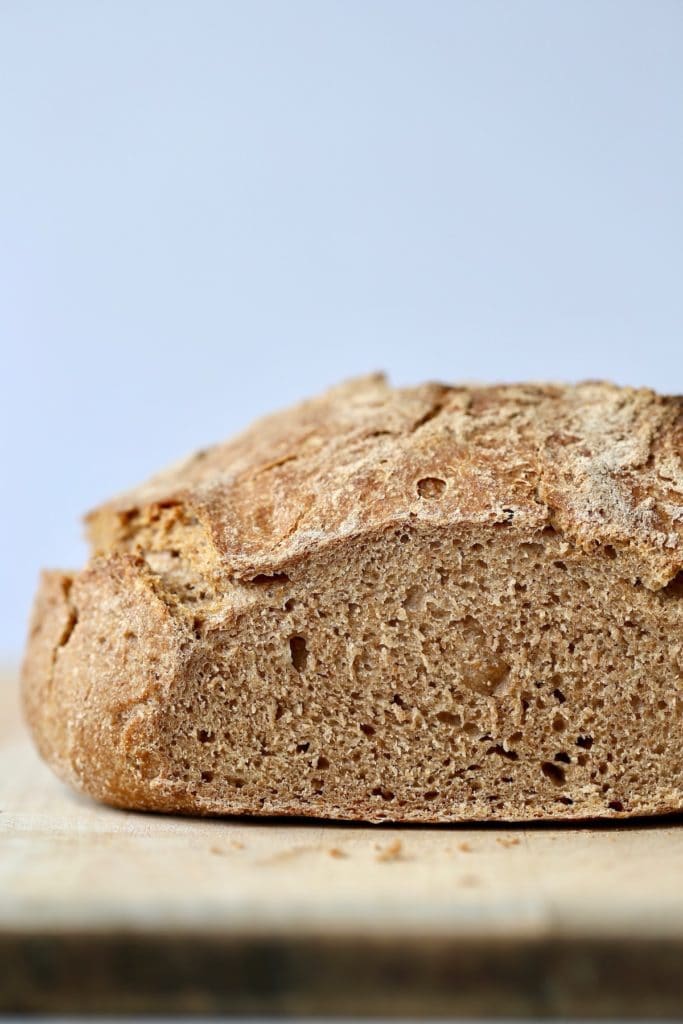 Other simple bread recipes:
If you give this simple bread recipe a try, please let me know your thoughts down below! Share the recipe with others and be sure to leave a star rating by clicking on the stars in the recipe card.
4 Ingredient Whole Wheat Artisan Bread
Prep Time:
12 hours
10 minutes
Total Time:
12 hours
55 minutes
Using just four basic ingredients and minimal hands-on time, you can make freshly baked, whole wheat artisan bread right in the comfort of your own home!
Ingredients
4 cups whole wheat flour*
2 teaspoons salt
3/4 teaspoon active dry yeast
2 cups room temperature water
Instructions
In a large mixing bowl, whisk together the flour, salt and yeast.
Pour in the room temperature water and stir until a uniform dough comes together. You may need to use your hands. Form the dough into a rough ball and place it in the bottom of the same bowl you made the dough in. Cover the bowl with plastic wrap and let it sit on the counter for 12-18 hours. I usually make the dough in the evening and let it rise overnight while I sleep.
A little bit before you are ready to bake the dough, preheat your oven to 475F/250C and place a dutch oven** inside the oven to preheat as well. Once the oven has preheated and the dutch oven is hot, carefully remove the pot from the oven and take the lid off.
Using floured hands, remove the risen dough from the bowl and form it back into a rough ball. Place it on some baking paper and drop it into your hot dutch oven. Cover the dutch oven with the lid and place it into the oven.
Bake the bread for 30 minutes with the lid on. Then remove the lid and allow the bread to bake another 15 minutes or until golden and crusty on the outside.
Remove the pot from the oven and carefully remove the bread from the dutch oven. Place it on a wire rack to cool.
Slice and enjoy!
Notes
*You can use a mix of whole wheat and white flour.
**See the section "Equipment you'll need to make artisan bread at home" for dutch oven alternatives.
Nutrition Information
Yield

12
Serving Size

1
Amount Per Serving
Calories

137
Total Fat

1g
Saturated Fat

0g
Trans Fat

0g
Unsaturated Fat

1g
Cholesterol

0mg
Sodium

355mg
Carbohydrates

29g
Fiber

4g
Sugar

0g
Protein

5g
Nutrition information is a rough estimate provided by Nutrionix and should be used for informational purposes only.