This post on authentic and easy Chinese 8 Treasure Soup Recipe (八宝粥) has everything you need including links to hard to find Chinese ingredients on Amazon! Ba Bao Zhou is also known as "eight treasure congee" or "eight treasure porridge".
This post is super exciting for me because it marks the first authentic Chinese recipe that I'm sharing on my blog: 8 Treasure Soup!
Also known as 八宝粥, Ba Bao Zhou, "8 treasure congee" or "8 treasure porridge".
I've been living in China for over a year now and my friends are now fully aware that I love to cook.
Whenever I go out to dinner with friends or attend a party at someone's house, I'm always asking questions about how the food was prepared, what ingredients were used, what those ingredients are called and where I can buy them.
I recently learned how to make this 8 Treasure Soup from a friend and today I'm going to walk you through how to make it!
What is 8 Treasure Soup? (八宝粥)
The first time I had Ba Bao Zhou was at a dinner potluck that my friend hosted.
She made a big pot of this soup (or congee) and it was one of the most delicious, sweet, creamy soups I've ever had.
I was hooked at first bite!
I asked her about the ingredients and planned to make it soon after the party, but it wasn't until just last week that I had her come to my house and show me how to make this amazing soup in person.
8 Treasure Soup is actually more of a porridge or congee.
It calls for 8 main ingredients, but in reality, it's super adaptable and you could make it with as little as 3 or 4 ingredients.
My Chinese friend kept telling me, "It's up to you!"
We measured everything by handfuls and she told me I could even add other ingredients, such as sweet potato, depending on my preference.
But for today I'll tell you the 8 authentic ingredients that are used to make 8 Treasure Soup (八宝粥), and this list doesn't include the sugar that you also add that to make it sweet and irresistible.
The 8 Ingredients of 8 Treasure Soup (八宝粥)
Below I've listed out the 8 ingredients you'll need to make Ba Bao Zhou, except for water and sugar:
2. Black Rice
3. Glutenous Rice
4. Peanuts
5. Dried Lily Slices (百合)
6. Dried or Fresh Chinese Yam (山药)
7. Lotus Seed (莲子)
8. Chinese Pearl Barley (苡仁)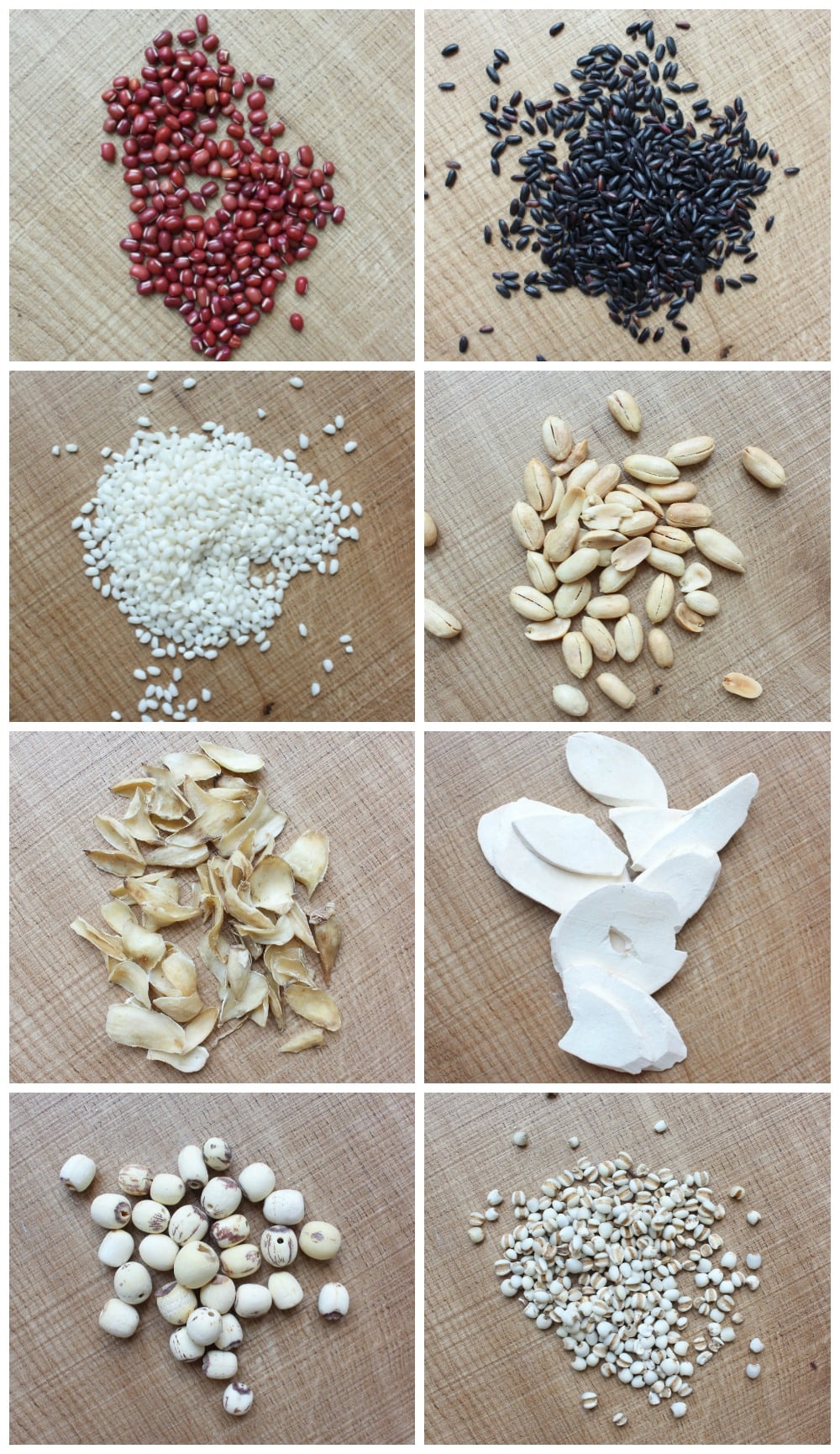 I know the last 4 of these ingredients are really unique, but the good news is that you don't have to use them!
Just like I said, this recipe is super adaptable and could be made with just the first 4 ingredients. But if you did want to try the fully authentic recipe, I was able to find all the ingredients on Amazon!
The last two ingredients you'll need are LOTS of water and sugar.
This soup isn't 8 Treasure Soup without sugar. It needs to be sweet.
My Chinese friend had me buy the block of red sugar that you see in the picture below, but I used Coconut Sugar when I re-made it at home and it turned out deliciously!
I'm sure any liquid sweeteners would be delicious as well.
How to Make 8 Treasure Soup (八宝粥)
Once you have all the ingredients on hand, this soup couldn't be easier to make.
Step 1: Soak all of the ingredients, except for the glutinous rice, for about 8 hours.
Step 2: Drain the soaked ingredients, put them in a pot with tons of water, and allow everything to boil down into a thick, sweet soup.
It's that easy! It just takes some time.
How to Store Leftover Ba Bao Zhou
This soup stores just like any other leftover soup
I like to place the leftovers in an airtight container and store it in the fridge for up to 5 days.
Thankfully, this soup tastes amazing cold too!
For a more comforting meal, however, feel free to warm it up on the stove top until heated through.
Potential Recipe Adaptation
Even just using the first 4 ingredients and some sugar would make a delicious version of this Authentic Chinese: 8 Treasure Soup (八宝粥).
Feedback
If you are brave and give this recipe a shot, I would LOVE to know! Leave a comment letting me know your thoughts or take a picture and tag #theconscientiouseater on Instagram so I can see your creation!
And don't forget to rate this recipe in the recipe card!
📖 Recipe
Authentic Chinese: 8 Treasure Soup
Impress your Chinese friends with this authentic and easy Chinese 8 Treasure Soup (八宝粥) using all delicious, Chinese ingredients!
Instructions
After 8 or so hours, drain and rinse the soaked ingredients and place them in a large sauce pan.

Add in the glutenous rice and 8-9 cups of filtered water, stir, and bring everything to a boil

Continuing boiling/simmering the ingredients on high heat for 1 - 1.5 hours, stirring occasionally and being careful to not let the water or foam overflow. The bigger your pan the less you have to monitor the soup.

You'll know the soup is ready once most of the water has been absorbed by the ingredients and a thick porridge has formed.

Once thickened, add in about ¼ cup of sugar, or more to taste and allow it to dissolve before serving.

Serve warm.
Notes
This soup can be easily doubled.
You can also pick and choose which ingredients you want or add in other ingredients that you think would go well.
If you use less than 8 ingredients, you may need to reduce the amount of water you use.
Nutrition
Calories:
103
kcal
Carbohydrates:
16
g
Protein:
3
g
Fat:
3
g
Saturated Fat:
1
g
Polyunsaturated Fat:
3
g
Sodium:
201
mg
Fiber:
2
g
Sugar:
2
g
Did you enjoy this post? Check out a couple of my other China-related posts here: