If you've never made bagels before, I hope this post gives you the confidence you need to give them a go. If I can do it, so can you!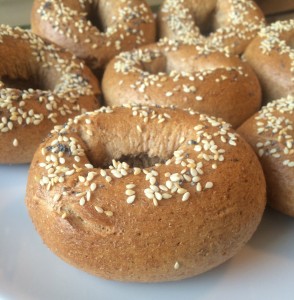 Have you ever made your own bagels? If so, kudos to you!
Seriously. I'm impressed. The thought of making homemade bagels never even crossed my mind until recently...as in a month ago.
I thought the way bagels got their hard, glossy shell was from a really intensive process that normal human beings couldn't replicate. How wrong was I?!
Bagels are not hard to make at all! Anyone can make them and you'll love being able to enjoy fresh, homemade bagels made from your own hands. Every time I sliced open one of these bagels that I made I couldn't help but say, "I made these!" Brett eventually just ignored me. 
If you've never made bagels before, I hope this post gives you the confidence you need to give them a go. If I can do it, you can do it. Feel free to be creative with this recipe too! Try adding in some grated garlic and onion. Or instead of sprinkling them with sesame seeds, poppy seeds and salt (like I did), top them off with a mixture of cinnamon and sugar for a sweet bagel. Get creative and then tell me how they turn out!
How To Make Homemade Whole Wheat Bagels
Follow the steps below to make your own Homemade Whole Wheat Bagels:
Homemade Whole Wheat Bagels!
Prep Time:
1 hour
10 minutes
Total Time:
1 hour
35 minutes
If you've never made bagels before, I hope this post gives you the confidence you need to give them a go. If I can do it, you can do it!
Ingredients
1 ½ cups warm water*
2 ¼ teaspoons active dry yeast
4 cups whole wheat flour
2 tablespoons pure maple syrup
2 teaspoons salt
4 teaspoons sugar
Optional: sesame seeds, poppy seeds or sea salt for topping
Instructions
Place the warm water and yeast in a bowl and allow the yeast to dissolve completely. Set aside.

Combine the flour, syrup, salt and sugar in the bowl of a stand mixer fitted with the dough hook attachment. Pour in the yeast mixture, making sure all of the yeast gets into the mixing bowl.

Mix on low until there isn't much loose flour left and a dough looks shredded (about 2 minutes).

Increase the speed to medium and continue mixing until you get a smooth, stiff, elastic dough (about 8-9 minutes). If the dough starts separating into 2 sections or gets stuck on the hook, stop the machine and push the dough down to the bottom of the bowl.
Form the dough into a ball and place it in a large bowl coated with oil. Turn the dough in the bowl so that it gets coated with oil. Cover the bowl with a damp towel and set it in a warm place for it to rise. This will take about 20 minutes. You'll know it's ready when it gets slightly larger and the dough slowly springs back when you press it with your finger. It won't double in size!

Preheat your oven to 425 degrees and place a rack in the middle. Fill up a large saucepan with water and bring it to a boil. Once it boils, reduce the heat to medium low so that the water is at a simmer. Cover the pot with a lid until your ready to boil the bagels.

Get out 3 baking sheets. Line 2 with parchment paper or a silicone baking mat for baking the bagels and place a wire cooling rack over top of the third. This rack will allow the bagels to drip off excess water after they have been boiled.

Turn the dough onto a dry surface and divide it evenly into 12 equal pieces. Keep the dough your not working with covered with a damp towel so that it doesn't get too dry.
Roll each piece of dough into a 9 inch log. Then wet the ends with a little water and overlap the ends by about 1 inch and press to join. Make sure the dough is securely joined together before placing the bagel on a plate or baking sheet. Cover the finished bagels with another damp towel and repeat the process with the remaining pieces of dough until you have 12 bagels.

Once you have finished forming all of your bagels you are going to boil them 3-4 at a time. Do this by placing 3-4 bagels into the simmering water and let them cook on each side for about 30 seconds. They will sink to the bottom of the pot at first and slowly begin to rise over the course of the minute. Don't forget to flip them over after 30 seconds! Remove the bagels with a fine-mesh strainer. Place the boiled bagels onto the wire drying rack and press your desire topping onto the top of the bagels while they are still wet. Continue this process until all of the bagels have been boiled and garnished with optional toppings.

Place the bagels onto the parchment lined baking sheets about 1 inch apart and bake for 15 minutes. Then rotate the pans and continue baking the bagels until they are golden brown on top, about 10 more minutes.

Remove the bagels from the oven and let them cool on a rack for at least 20 minutes so that the inside can finish cooking.

Store in a zip-lock bag for about a week or slice and freeze!*
Notes
*You don't want your water to be too hot to touch or else it will kill the yeast.
*To warm up the frozen bagels, simply place them into a toaster straight out of the freezer.
Nutrition Information
Yield

12
Serving Size

1
Amount Per Serving
Calories

167
Total Fat

2g
Saturated Fat

0g
Trans Fat

0g
Unsaturated Fat

2g
Cholesterol

0mg
Sodium

404mg
Carbohydrates

33g
Net Carbohydrates

0g
Fiber

5g
Sugar

4g
Sugar Alcohols

0g
Protein

6g
Nutrition information is a rough estimate provided by Nutrionix and should be used for informational purposes only.