This simple Vegan Sweet Chili Sauce takes seconds to make and adds the perfect balance of sweet and spicy to any recipe!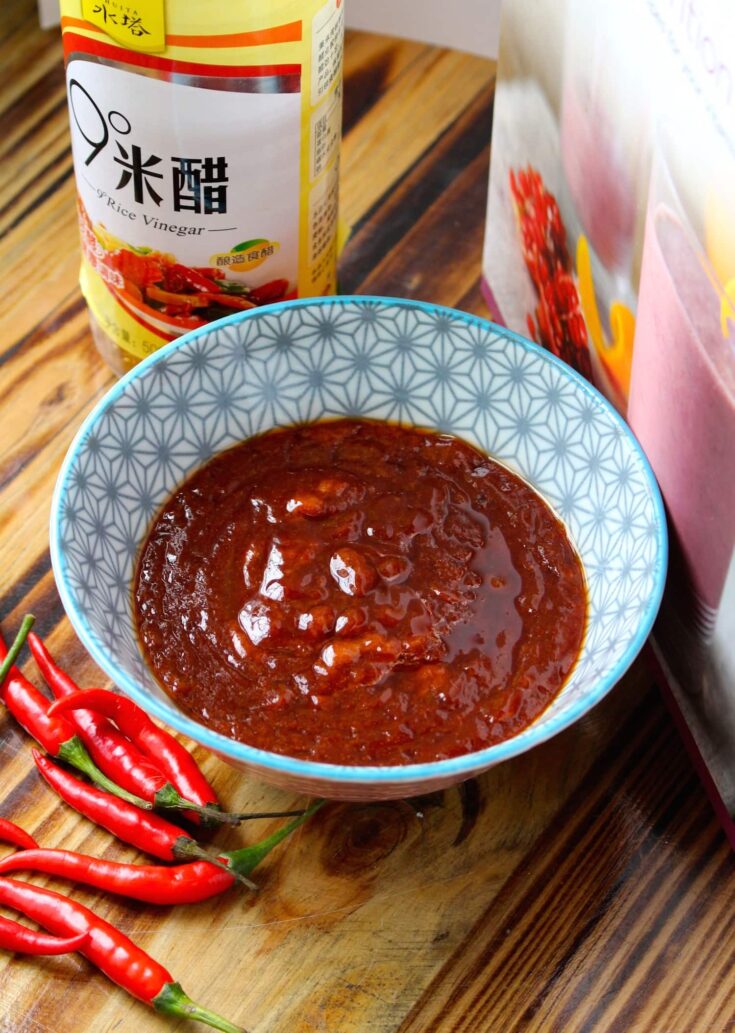 Brett and I are pretty much celebrities here. Not that we've ever known what it feels like to be a celebrity, but it sure feels like it sometimes. Almost everywhere we go we are stared at, talked to, or pointed at and sometimes people even try to secretly take our picture. Or sometimes they're very blatant about it.
One of my favorite memories since we moved here happened when Brett and I were running at our favorite nature park with a friend of ours. We had just started our run and were chatting with our friend, when we ran past an older, Chinese man who looked as if he had jumped out of a National Geographic magazine. He had on khaki pants, suspenders, and a floppy khaki hat and he was holding a ginormous camera. As soon as we ran by him he grinned from ear to ear and started to run beside us, twisting his body in hopes that he could snap a picture of us running. We couldn't help but smile and laugh along with the man. His smile and dedication were precious!
Unfortunately for the older man, he wasn't fast enough (or young enough) to keep up with our pace while also attempting to lift his massive camera, but man did he try! We were so in love with his smile and determination that we decided to stop running to allow him to get in front of us. Once he was far enough ahead and had set up his camera, we started running towards him again. We acted super cheesy, pretending like we were in a photo shoot, and ran past him with big smiles on our faces. When we looked back, he was smiling and giving us a big thumbs up. Looks like he got the photo he wanted!
I'm not sure getting stared at or getting our picture taken by random strangers will ever feel normal, but other things about living here in China are getting easier. Brett and I are heading into week four of our language classes and are starting to speak more freely in Chinese with people. I also feel like I'm able to find my way around the markets and have started to branch out and try some new-to-me produce. There are still so many types of fruits, vegetables, mushrooms, tofus, sauces, and fresh noodles that I've never seen before, but I'm hoping to gradually try them all! Spices are also abundant here, especially different types of chilies and peppercorns.
While Brett and I love spicy food, it can still be nerve-racking to cook with a chili you've never seen before. So for today we're sticking with a recipe that uses a familiar chili, but also a chili that I haven't cooked with much before: Hot Chili Peppers.
The recipe for this Vegan Sweet Chili Sauce was inspired by my new Vitamix cookbook! Since rice is our staple dinner food as of lately, I've been on the lookout for simple sauces to keep in the fridge that we can add to our plain rice, potatoes, and veggies at night for a more flavorful meal. This sauce is also perfect for noodle dishes or as a dip for homemade spring rolls. It lasts for quite a long time in the fridge and can even be frozen for later use. It is the perfect balance of sweet and spicy and requires very few ingredients to make. For my version of this sauce, I substituted the castor sugar for coconut sugar and reduce the amount by a couple tablespoons. I also added in an extra tablespoon of tomato paste and used lemon juice instead of lime juice. Delicious!
I hope you give this simple, fat-free Vegan Sweet Chili Sauce a shot. If you do, let me know by posting a picture on Instagram and tagging me (@theconscientiouseater), or by leaving a comment below!
Is sweet chili sauce vegan?
Yes! As long as the sweet chili sauce is not made with fish sauce, all of the ingredients commonly found in sweet chili sauce are vegan-friendly. Unless, of course, it is it vegan fish sauce!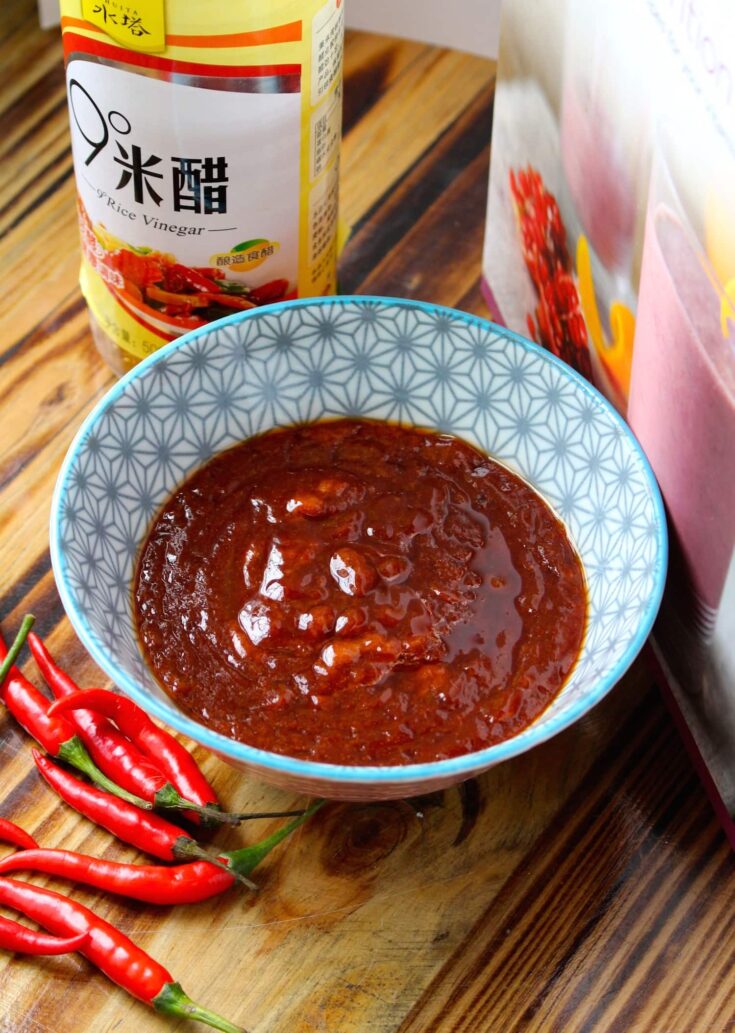 Yield:

1 cup
Vegan Sweet Chili Sauce
This simple Vegan Sweet Chili Sauce takes seconds to make and adds the perfect balance of sweet and spicy to any recipe!
Ingredients
2 tablespoons tomato paste
6 tablespoons rice vinegar
6 tablespoons coconut sugar
2 red hot chilies, deseeded and coarsely chopped
2 cloves garlic, coarsely chopped
1 tablespoon lemon juice
Instructions
Place all of the ingredients into a high speed blender or a small food processor and process until smooth.
Add to noodles or rice or use as a dip for spring rolls.
Store leftovers in the fridge for up to a week.
Nutrition Information
Yield
8
Serving Size
⅛ cup
Amount Per Serving
Calories

57
Total Fat

0g
Saturated Fat

0g
Trans Fat

0g
Unsaturated Fat

0g
Cholesterol

0mg
Sodium

7mg
Carbohydrates

13g
Net Carbohydrates

0g
Fiber

1g
Sugar

12g
Sugar Alcohols

0g
Protein

1g
Nutrition information is a rough estimate provided by Nutrionix and should be used for informational purposes only.