I'm sitting here about to write about our time in Switzerland and I just can't help but feel so incredibly thankful. I'm so used to traveling that I sometimes don't think twice about the places I get to go and the things I get to see. But really...I just went to Switzerland?! And earlier this year I got to go to Thailand, Cambodia, and Vietnam!?! And that's just this year!!
I never want to take for granted the countries I get to travel to or the experiences I get to have while overseas. Yes, my previous job required me to travel all over the world and now that I live in China it's so easy to get to different countries, but still. What a blessing travel is and I just want to always have an attitude of thankfulness.
Okay, mushy rant over.
Let's talk about this beautiful country, shall we?
On our trip from America back to China, Brett and I stopped in Switzerland for two days. The first day was spent in Luzern, where we went on a beautiful boat ride and hike, all while running on only 1 hour of sleep! Below are some pictures from Luzern and then after that I'll share with you what I ate in Zurich, the second city we went to!
Breakfast
Breakfast the second day was eaten at our hotel in Luzern before hoping on the train to head to Zurich. If you didn't know, Switzerland is crazy expensive. As in, I almost would rather not eat than spend that much money on food...almost.
Since Switzerland is so expensive, we took advantage of the free breakfast our hotel offered. I had an unpictured banana, orange, and three pieces of bread with jam and some tea on the side. Considering I'm not a picky eater, it was simple but delicious and somehow held me over for a few hours until lunch.
The train ride to Zurich was a little under an hour and we arrived around 11 AM. We lugged our bags about 1 mile to our hotel, sat for a few minutes and then headed back out for the day. The days before and the days after our trip were rainy and dreary, but God blessed us with absolutely gorgeous weather the two days we were there. YAY!
Lunch
Every time I travel to a new country or city, I always look up vegan restaurants. I found a restaurant called Les Gourmandises de Miyuko, which had amazing reviews, was so incredibly cute, and had a unique Japanese flare. The restaurants wasn't entirely vegan, but they had tons of vegan options including lots of desserts.
For our lunch--after much thinking and help from our waitress--Brett and I both ordered sandwiches and then also split the most amazing Broccoli, Cauliflower, and Potato Soup, which I knew I had to recreate after just one bite. (Good news: I did and will be sharing the recipe soon!). Our lunch was absolutely amazing! My sandwich had baked tofu, cucumber and a delicious spread on it and the bread with hearty and crusty on the outside and soft on the inside. Europe really knows how to do bread. On the side of our sandwiches, we also were given the most delicious, creamy and rich Chocolate Mousse jars with mango and passionfruit jam. Those little jars of goodness contained the best mousse I've ever eaten and the fruity, zesty jam complemented the rich chocolate so well.
Of course we also had to have dessert. There were so many vegan options it was hard to choose, but thankfully Brett and my top two choices were the same so we split them. We ordered a Matcha Chocolate Cake and a Pineapple Streusel.
Wow, oh wow.
The Matcha Chocolate Cake was just the perfect richness and the matcha wasn't too overpowering. It was covered in a hard chocolate coating that just melted in your mouth. I will say though, that the Pineapple Streusel was my favorite. It may have been one of the best desserts I've ever eaten! It was moist and sweet and subtly fruity and the topping was rich, crumbly and just melted in my mouth! Ah, I want another serving right now! I hope to recreate something similar as well in the near future.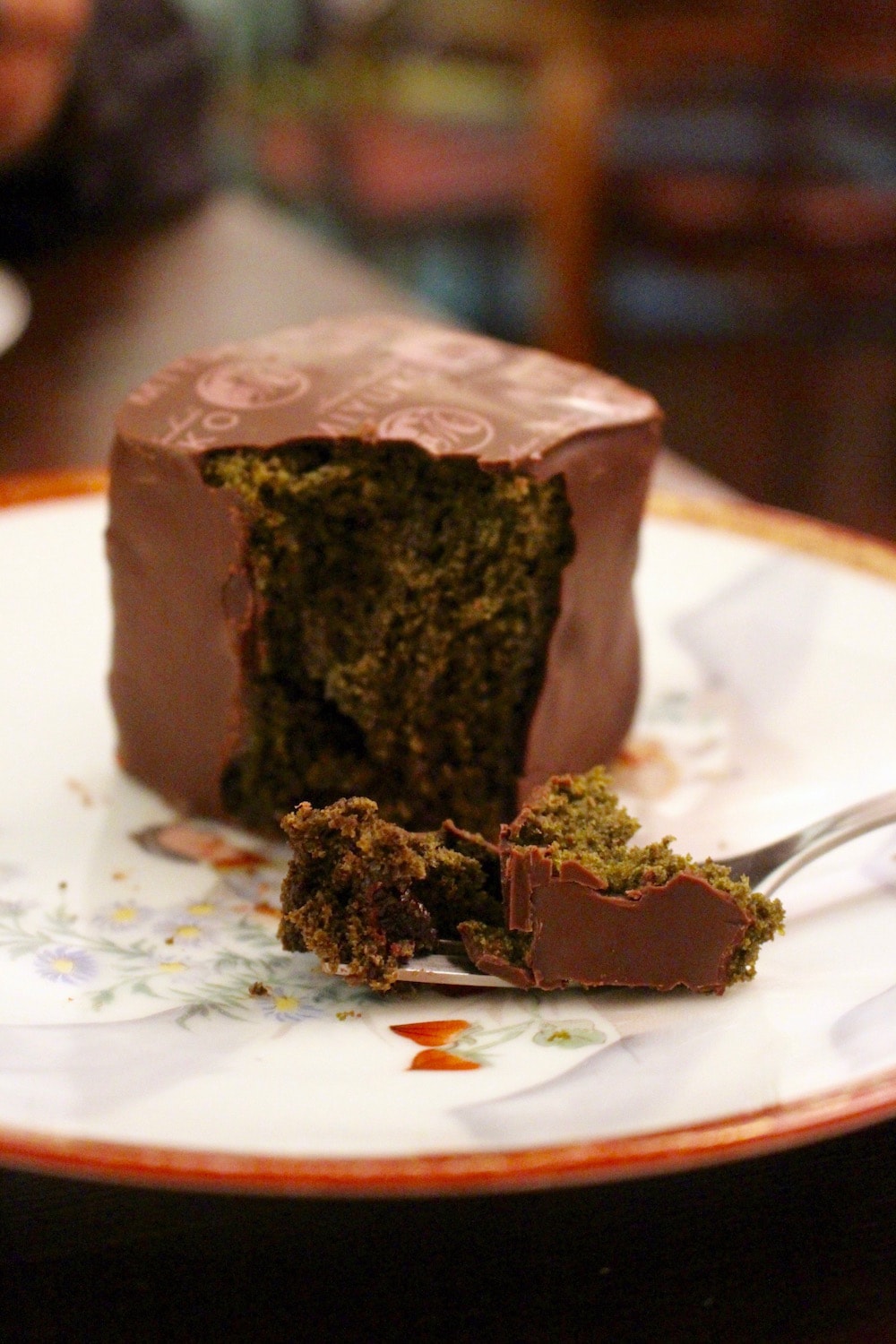 After lunch, I felt perfectly satisfied. Europe, thankfully, does smaller portion sizes than America and China, so I find I don't feel super stuffed after eating out there, even when our meals include two desserts at the end!
We ended up walking around a good portion of the city and just took in the scenery and architecture. We walked along the water and also found some beautiful, green parks to meander through. We walked and walked until we decided to head back to our hotel to rest a bit, grab our kindles, and head back out to read outside.
Before dinner we hung out at a beautiful park for about an hour and a half, just reading, people watching, and well, napping. Jet lag is for real!
Dinner
Again, by looking on-line, I found out about a Vegetarian, mostly vegan restaurant called Hiltl. Even on Instagram a bunch of people recommended it to me and after stopping in to check it out we were sold! There were so many incredible options to choose from including curries, marinated veggies, salads and beans, breads, faux meat, falafel, pastries, different kinds of rice and flavored grain salads, pasta, etc. It was a little overwhelming at first, and because of how expensive everything is in Switzerland we were a afraid of how much we'd spend at a pay-by-the-pound buffet. Thankfully, I was able to take small portions of lots of things and I didn't do too much damage. (I can't say the same for Brett though!)
On my plate, if I can remember, I got some spinach (boring!), beet salad, pasta salad with tofu, and thai faux meat salad, some kind of curry, marinated artichokes and mushrooms, a stuffed grape leaf, couscous salad, a piece of falafel, a curry stuffed pastry, a large lentil cracker, and vegan tofu pad thai. YUM!
Dessert
We ended up walking 14 miles total this day, which meant we needed lots of fuel:) To finish off the night we went to another vegan restaurant called Vegelateria where I got a waffle cone with Chai gelato on top and Chili Chocolate on the bottom. The Chai was good, but the Chili Chocolate was absolutely incredible. It was so rich and sweet and creamy and then left the perfect burning sensation in my throat from the chili. So good!
We walked about 2 more miles after our ice cream, took in the nighttime sites, and then crashed in bed!
And that's everything I ate in Zurich, Switzerland! I love doing these posts, especially when I travel, to show that you can eat plant-based food anywhere! Yes, they might not be the healthiest, but everything in moderation right?

I hope you're inspired to check out some vegan restaurants near you!
TELL ME:
Have you ever been to Switzerland?
Do you like buffets?
When eating ice cream, cone or no cone?
Eat Consciously,
Faith