After eating ALL THE FOOD in Singapore, I figured our first day back home in KL would be a great time to challenge myself to eat a raw vegan diet for a day. I'm not saying I felt the need to "detox" after our vacation (I'm not about that), but I am saying that my body was craving produce-rich, wholesome, refreshing meals.
I didn't really plan well for this themed day of eating, but after a morning trip to the grocery store, it ended up being pretty delicious and I was able to discover some new, simple recipes that I want to incorporate into my weekly meals more often. Okay, let's see what I ate!
Breakfast:
The night before, I prepped some vanilla chia pudding. I basically made my 4 ingredient chocolate chia seed pudding, but just left out the cocoa powder. After sitting overnight in the fridge, my chia seed pudding was perfectly thick and creamy. I topped mine with mango, chopped walnuts and desiccated coconut. Yum!
Lunch:
For lunch I whipped up some rawnola by blitzing together some walnuts, pecans, dates cinnamon and sea salt in my food processor until a crumbly, sticky mixture formed. We sprinkled this on a berry chocolate smoothie (containing frozen banana, raw zucchini, berries and almond milk) along with more banana, pumpkin seeds and hemp seeds.
While this was delicious, I never feel fully satisfied after having a smoothie or smoothie bowl. I'm such a starch girl!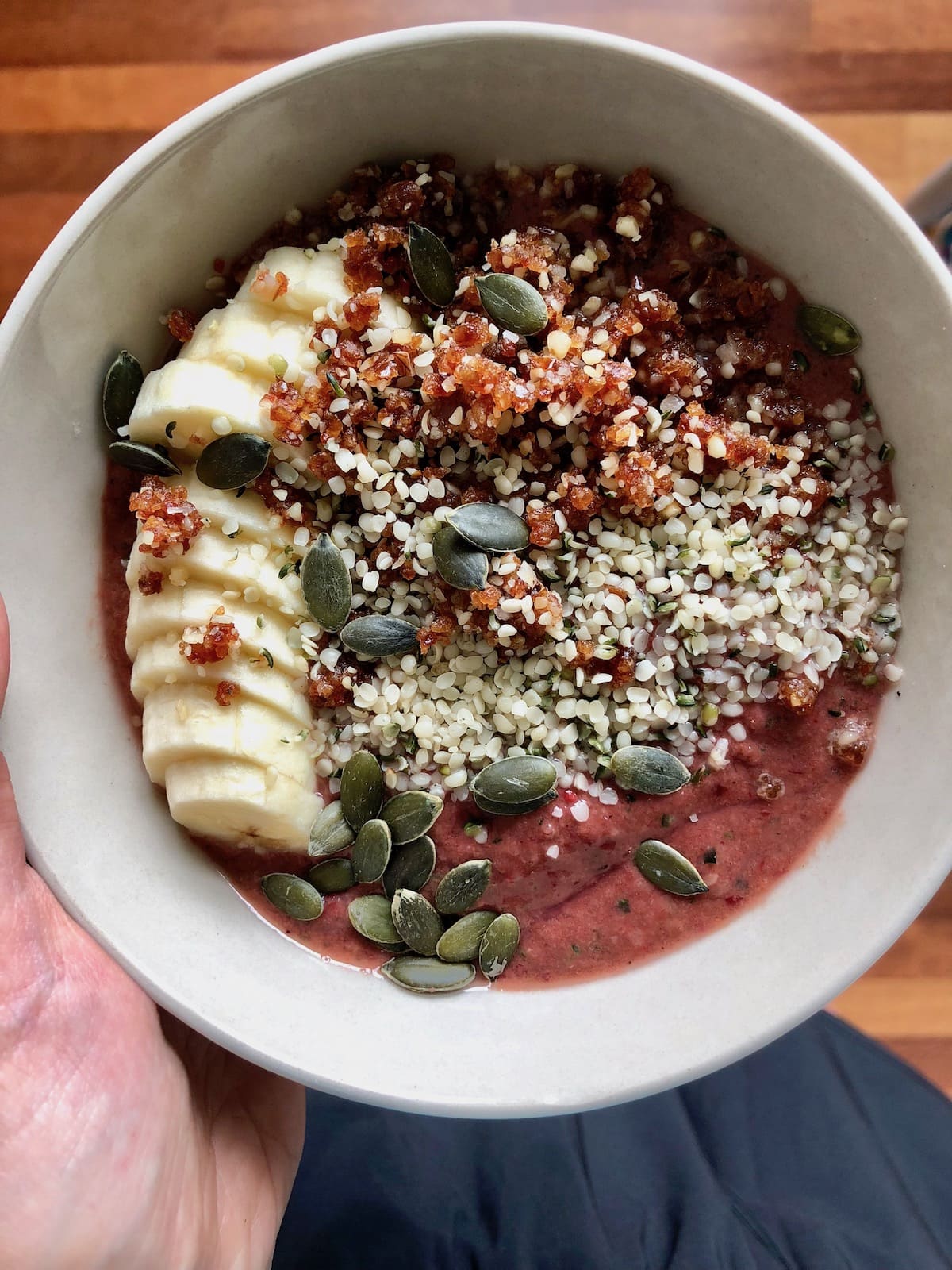 Dinner:
I was worried dinner would be boring and unsatisfying, but after some research on the internet, I came up with a pretty delicious meal. I made a creamy avocado dressing using 2 avocados, a large handful of cilantro, 1 garlic clove, juice of ½ a lemon and salt. So simple but delicious! Then for some protein and sustenance I made some raw walnut mince by mincing together ¼ cup of walnuts and one oil-packed sun-dried tomato. I then stirred in a dash of cumin, garlic powder and sea salt. This was amazing and definitely something I'll include in our meals more often. To complete the meal, I put the avocado dressing and walnut mince on top of a bed of lettuce with shredded carrot and chopped tomatoes. This was amazing once it was all mixed together!
I don't know if it was because of the raw food or something completely unrelated, but I was pretty hungry all day. I had a hard time thinking of satisfying snacks. One piece of fruit doesn't usually satisfy me as a snack. Fruit with nut butter, on the other hand, is super delicious and satisfying to me, but nut butter isn't technically raw so I tried to go without it for a day. I know I nibbled on stuff throughout the day, but I honestly can't remember what I ate!
Anyways, this was a delicious day of food and it forced me to eat more fruit than normal which felt good after a weekend of rich, restaurant-prepared meals.
Do you ever eat full raw meals? If so, that do you eat?