Made with just four ingredients and cooked in a pressure cooker, this Basic Seitan Recipe couldn't be easier to make and comes together in less than 30 minutes!

When I first decided to adopt a plant-based diet, I never thought I'd venture into the realm of faux meats. I probably didn't even know what products like tempeh or seitan were in the beginning, and I'm not even sure if I had ever cooked tofu before. I believe it was through visiting restaurants and traveling that I first discovered faux meat and cheese products like seitan. Thankfully the amount of plant-based meats, cheeses and milks in America and other countries are starting to expand dramatically and that's super exciting and will people more easily transition to a plant focus diet if they desire.
Today I want to share with you the easiest Basic Seitan Recipe. And by basic, I really mean basic. The spices I used for this recipe are just garlic powder and salt, but if you know what recipe you'll be using this seitan in after it's cooked, feel free to add in extra spices that will pair well with your recipe.
My hopes is that after reading this post, you'll be less intimidated by faux meats and will have some new inspiration for your next meal! I love using my pressure cooker to cook seitan, but there are other methods for cooking seitan too.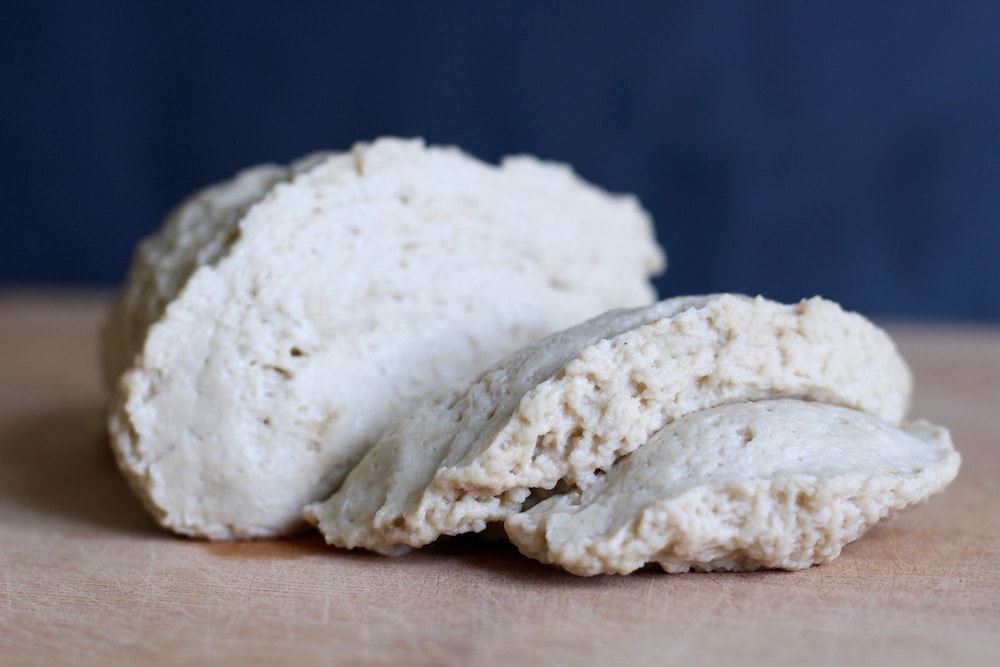 The dough for this Basic Seitan Recipe comes together in seconds...literally seconds. In a bowl you just mix together the dry ingredients. Then once you add in the water and start stirring, you'll see a dense, squishy dough form in a matter of seconds. After a little bit of kneading you'll be ready to cut up your seitan and cook it.
I absolutely love my pressure cooker for so many reasons, but especially when it comes to cooking seitan. By using a pressure cooker you don't have to monitor the seitan as it cooks and I find that my pressure cooker creates perfect seitan every time. But like I mentioned above, if you don't have a pressure cooker you can easily simmer (not boil) the seitan in a mixture of veggie broth, soy sauce and water for about 45 minutes. 
Please let me know if you try out this Basic Seitan Recipe or if you have any tips or tricks for how to cook Seitan without a pressure cooker.
📖 Recipe
Basic Seitan Recipe
Made with just four ingredients and cooked in a pressure cooker, this Basic Seitan Recipe couldn't be easier to make and comes together in less than 30 minutes.
Instructions
In a mixing

bowl

, whisk together the dry ingredients.

Add in the ¾ cup of water and stir the mixture together. A squishy dough will come together immediately, but just keep stirring until all the dry ingredients are incorporated into the dough.

On a cutting board, knead the dough for about 3-5 minutes until you press your finger into the center and the dough bounces right back.

Chop the dough into bite-size pieces and place them in an even layer on the bottom of your

pressure cooker

.

Pour water into the bottom of your pressure cooker until water is almost covering the top of the seitan pieces. It's okay if some of the seitan is still above the water line.

Cover your pressure cooker and cook the seitan on the manual or meat setting for 16 minutes.

After 16 minutes, release the pressure and remove the pressure cooker lid.

The seitan will have expanded so feel free to cut the seitan chunks into smaller bite size pieces.

Use the seitan in stir fries, curries, or on top of pizza.
Nutrition
Calories:
45
kcal
Carbohydrates:
2
g
Protein:
9
g
Fat:
0.2
g
Saturated Fat:
0.03
g
Polyunsaturated Fat:
0.1
g
Monounsaturated Fat:
0.02
g
Sodium:
237
mg
Potassium:
16
mg
Fiber:
0.1
g
Sugar:
0.01
g
Vitamin C:
0.004
mg
Calcium:
18
mg
Iron:
1
mg