Loaded with flavor and color, these adaptable Vegetarian Taco Bowls with walnut meat are a great mix-and-match meal that the whole family will enjoy!
Buddha bowls and vegan burrito bowls make a appearance regularly at our dinner table. I love them because they are a delicious way that I can get my family to eat the rainbow. My family loves them because they can choose which toppings they want on their bowl. Today I'm sharing our current favorite bowl recipe which is for vegetarian taco bowls with walnut meat! The walnut meat is super easy to prepare and we often pair it with steamed white rice for the base. Outside of those two staples, you can top these bowls with a number of sauces and toppings such as cilantro lime sauce, vegan nacho cheese sauce, homemade salsa, 3 ingredient guacamole, chipotle roasted cauliflower and fresh herbs. Yum!
Jump To
Why You'll Love This Recipe!
You'll be loading up with tons of plant-based nutrients when you enjoy one of these vegetarian taco bowls. The white rice and walnut meat make the perfect base for lots of roasted veggies, fresh salsa, creamy sauces and so much more!
These taco bowls are very adaptable, making them a hit with the entire family. I love to serve everyone a base of rice and walnut meat and then place all of the other toppings and condiments in the center of the table for everyone to choose from. Kids especially love to build their own taco bowls!
All of the components of these vegan taco bowls are easy to meal prep as they keep well in the fridge for 3-4 days. Lunches just got easier!
Ingredients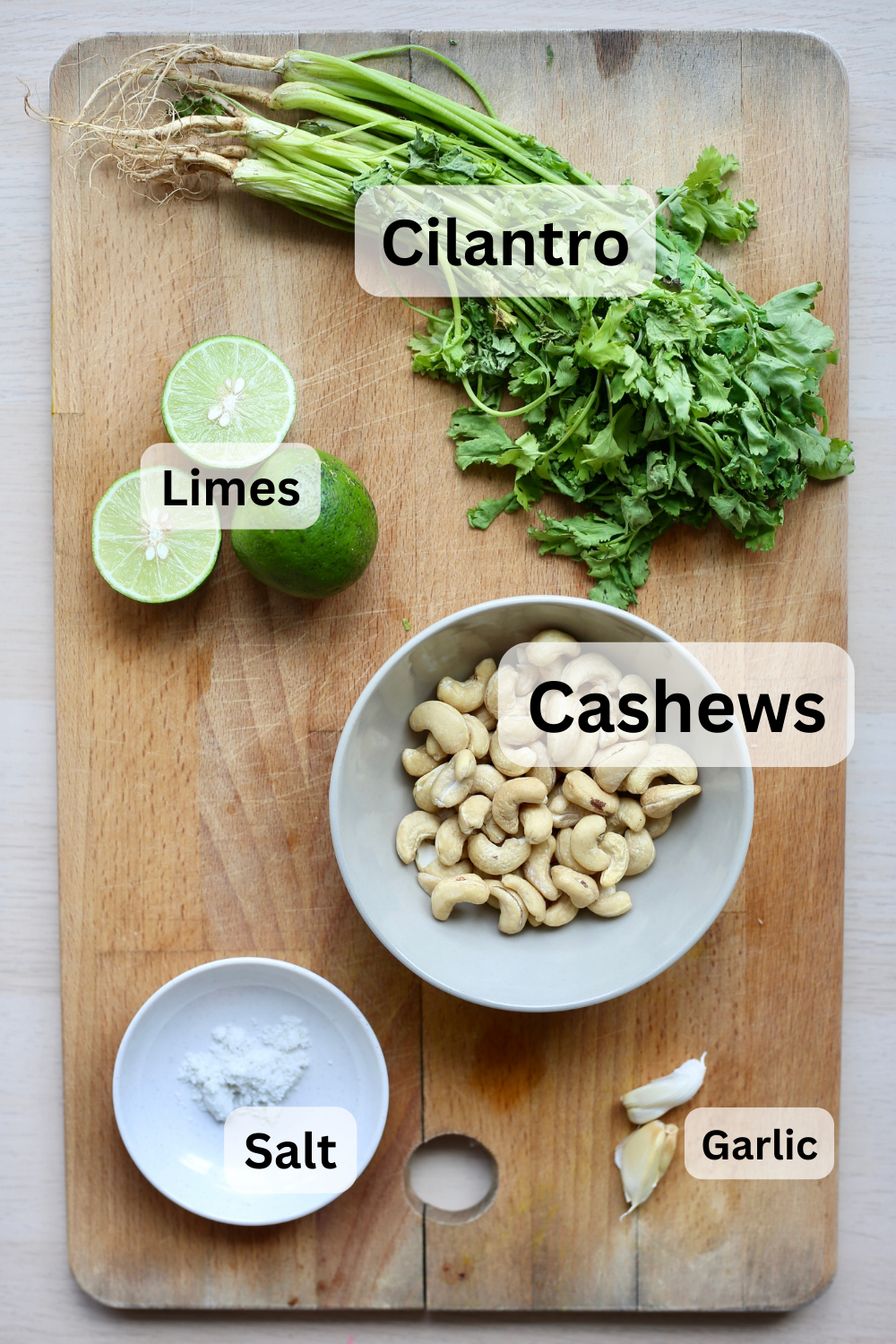 Rice and/or chopped Lettuce - Really any base you enjoy works for these bowls. Brown or white rice, romaine or ice burg lettuce, quinoa, etc. all pair deliciously with the other toppings in this recipe.
Walnuts - Walnuts make up the base of the walnut meat for these vegetarian taco bowls. I always have walnuts in bulk in my freezer so I can whip up this walnut meat quickly.
Black Beans - You'll be processing the walnuts with black beans and spices to create the walnut meat for these taco bowls. You can cook your black beans from dry or use a can of black beans, which is what I do!
Cashews - In my opinion, the best part of these taco bowls is the cilantro lime sauce that you drizzle on top. To make this sauce, you'll be using a base of raw cashews. Just like the walnuts, I always have raw cashews stored in my pantry to make delicious, creamy sauces.
Cilantro - Fresh cilantro is a key ingredients for the cilantro lime sauce that you'll be making for these taco bowls. I love adding in an entire bunch of cilantro for lots of color and flavor!
Limes - I know you can buy jarred lime juice, but if possible, use fresh lime juice! It's so much better!
Tomato Paste - Rich tomato paste adds color and flavor to your taco meat. A little goes a long way! I love to buy the tubes of tomato paste as they keep for ages in the fridge.
Soy Sauce - Whenever I cook with soy sauce, I like to use the less-sodium soy sauce. You still get that delicious umami flavor without all the sodium. You can always add more salt as needed.
Spices - To make these vegetarian taco bowls, you'll need chili powder (the American spice blend, not ground up chilis) and cumin powder. Oh, and salt, of course.
See recipe card for full list of ingredients and quantities.
Variations & Substitutions
This recipe is basically a Mexican inspired buddha bowl, so you can get really creative. Choose you favorite base, swap out the protein even, add raw or cooked veggies, drizzle over your favorite sauce and sprinkling over whatever garnishes you have on hand.
How to Make Vegetarian Taco Bowls
Step 1: Preheat your oven and make the walnut taco meat. Process the onion and garlic in a food processor until finely minced.
Step 2: Add in the remaining ingredients for the walnut meat and pulse until combined, leaving some texture.
Step 3: Spread the mixture out on a greased baking dish, keeping everything mostly touching and together, but not too thick.
Step 4: Bake the "meat" for about 30 minutes, carefully flipping everything over half way through.
Step 5: While the "meat" bakes, cook some rice and make the cilantro lime sauce.
Place all of the ingredients in blender.
Step 6: Blend the cilantro lime sauce ingredients together until smooth. Taste and add more lime juice, salt, or jalapeños as desired.
Step 7: Build your vegetarian taco bowl! Start with your base of rice and/or lettuce. Add on the walnut meat and any leftover or freshly roasted veggies. Drizzle over the cilantro lime sauce and add some fresh salsa, cilantro...any of your favorite toppings and sauces!
Storage
If you have leftovers, store everything separately in airtight containers. All of the elements of these taco bowls should store well for 3-4 days, making for great leftovers!
Expert Tips
If you have some sauces and condiments pre-made or bought, this meal comes together in a flash! I also love to use leftover roasted veggies so that the only thing I have to bake is the walnut taco meat.
Give everyone the main components of the meal that you want them to eat and then let them choose their toppings or sauces! Giving kids some say in what they eat usually makes our dinners run more smoothly.
Store any leftovers in separate containers so that everything lasts longer.
Recipe FAQs
Can you make burrito bowls without meat?
Yes! There are so many vegetarian and plant-based protein sources that taste amazing in burritos and burrito bowls. Some of my favorites are black beans, walnut meat and tofu sofritas/taco tofu crumbles.
What vegetables are good in burritos and burrito bowls?
Whenever I made burritos or burrito bowls, I love to sauté colorful bell peppers and onions together. Roasted cauliflower, shredded lettuce, and/or roasted sweet potatoes are also delicious in burritos and bowls. However, use whatever vegetables you love best!
What is in a burrito bowl?
Burrito bowls basically are burritos served without the tortilla in a bowl. We like to start with a base of rice and/or shredded lettuce. Then we add a plant-based, Mexican inspired protein source, sauteed peppers and onions, salsa, guac and/or dairy-free cheddar cheese or sour cream. Burrito bowls are the perfect hosting dish as everyone can make their bowl how they prefer.
What to Pair with these Vegetarian Taco Bowls!
Love this recipe? Please leave a 5-star 🌟🌟🌟🌟🌟 rating in the recipe card below & a review in the comments section further down the page.
📖 Recipe
Vegetarian Taco Bowls with Walnut Meat
Loaded with flavor and color, these adaptable Vegetarian Taco Bowls with walnut meat are a great mix-and-match meal that the whole family will enjoy!
Ingredients
1.5

cups

White rice

Romaine

chopped

1

head

cauliflower

1

tablespoon

olive oil

salt and pepper

1

batch

Walnut Taco Meat

1

batch

Cilantro Lime Sauce

Salsa

Homemade or Store-bought

Fresh cilantro, pickled jalapeños, etc.

optional
Instructions
Preheat your oven to

375

°F

and get out two baking sheets.

Cut your cauliflower into florets and place them on a lightly greased baking sheet. Drizzle them with olive oil and use your hands to rub the oil onto all of the florets. Spread them out into an even layer and sprinkle well with salt and pepper. Place them in the oven with the walnut meat. I like to have one sheet towards the top of my oven and one towards the bottom. Then halfway through baking I switch which sheet is on bottom and which is on top for even baking.

Once the taco "meat" and cauliflower is in the oven, start cooking your rice. Cook the white rice with 3 cups of water and a pinch of salt, either in your rice cooker or using stove-top directions.

Once the rice is cooking, prepare the cilantro lime sauce by placing all of the ingredients into a blender and blending until smooth. Taste and adjust the salt or lime juice as desired.

Prepare any other fresh ingredients you desire, such as chopped lettuce, fresh cilantro, pickled jalapeños, etc.

Once the walnut meat and cauliflower are done roasting and your white rice has steamed, create your vegetarian taco bowls. Start with a base of rice and add on the walnut meat and roasted cauliflower. Drizzle over the cilantro lime sauce and add any other toppings you desire. Dig in!
Notes
- This recipe is really adaptable, which is why I love it! If you don't have time to make walnut meat, just season and warm up some canned black beans. Instead of roasting cauliflower, use up any leftover roasted veggies you already have on hand. If cilantro isn't your favorite, drizzle over your favorite sauce.