Light and cakey and full of pumpkin spice seasoning, this Pumpkin Baked Donut Recipe is sure to be a crowd pleasure this fall season!
Jump to:
Fall Traditions
Fall has arrived and I'm so excited for the cooler weather, hearty stews and pumpkin spiced treats that come along with this holiday season. It was actually incredibly hot when we first arrived back in China a couple weeks ago, but as soon as September hit, the temperature dropped and it's been rainy and dreary ever since. We've added more blankets to our beds and will probably have to start heating Harper's room with a space heater due to there being no central heating in our apartment. The cooler weather also has gotten me so excited for our first holiday season together as a family of three. Let the traditions begin! Brett and I have been pretty chill about holidays since we got married, but now that Harper has joined our family, I'm so excited and motivated to start some family holiday traditions together.
A New Fall Tradition
These Glazed Pumpkin Baked Donuts are definitely going to be a part of our fall traditions as they are so incredibly delicious! Harper won't be having any this year, but maybe in a few years time she'll be enjoying these pumpkin donuts alongside Brett and I. Until then, more for us parents!
Are Donuts Vegan?
Thanks to the plant based trend sweeping the nation, it has become easier and easier to find vegan donuts in most major cities. Traditional donuts usually contain milk, eggs, butter and yeast and are deep fried in oil. While those ingredients aren't vegan friendly, it IS possible to make vegan donuts and they are just as tasty in my opinion. All you have to do is make a few substitutions and you are good to go!
For example, in this Pumpkin Baked Donut Recipe, I omit the eggs and use non-dairy milk. Instead of frying, I bake these donuts using my favorite donut baking pan, which cuts down on the amount of oil traditionally used in making fried donuts. That means I can eat more in one sitting, right?! The pumpkin puree acts as a binding agent instead of using eggs and the baking powder causes these baked donuts to rise and become light and fluffy.
Glaze Recipe
I love jazzing up these Pumpkin Baked Donuts by adding a simple glaze using just powdered sugar and non-dairy milk. If you don't have any powdered sugar on hand, you can make it with just two simple ingredients! Just blend 1 cup of sugar and 1 tablespoon of corn starch together in a high speed blender until a fine, powdered sugar forms. I do this all the time in China and it works like a dream! After topping these pumpkin donuts with the simple sugar glaze, I like to make them extra special by piping on some chocolate hazelnut butter. Chocolate and pumpkin pair beautifully together in my opinion. You could even sprinkle some crushed pecans on top for another level of decoration!
I really hope you like these Pumpkin Baked Donuts as much as we do!
Process Shots
Step 1: Add wet ingredients to the dry ingredients and stir until combined
Step 2: Carefully transfer the batter to a "piping" bag
Step 3: Pipe the pumpkin donut batter into your greased donut pan
Step 4: Bake the donuts until golden brown and allow them to cool on a wire rack
Step 5: Dip the cooled donuts into your powdered sugar glaze
Step 6: Drizzle the donuts with Chocolate Hazelnut Butter if desired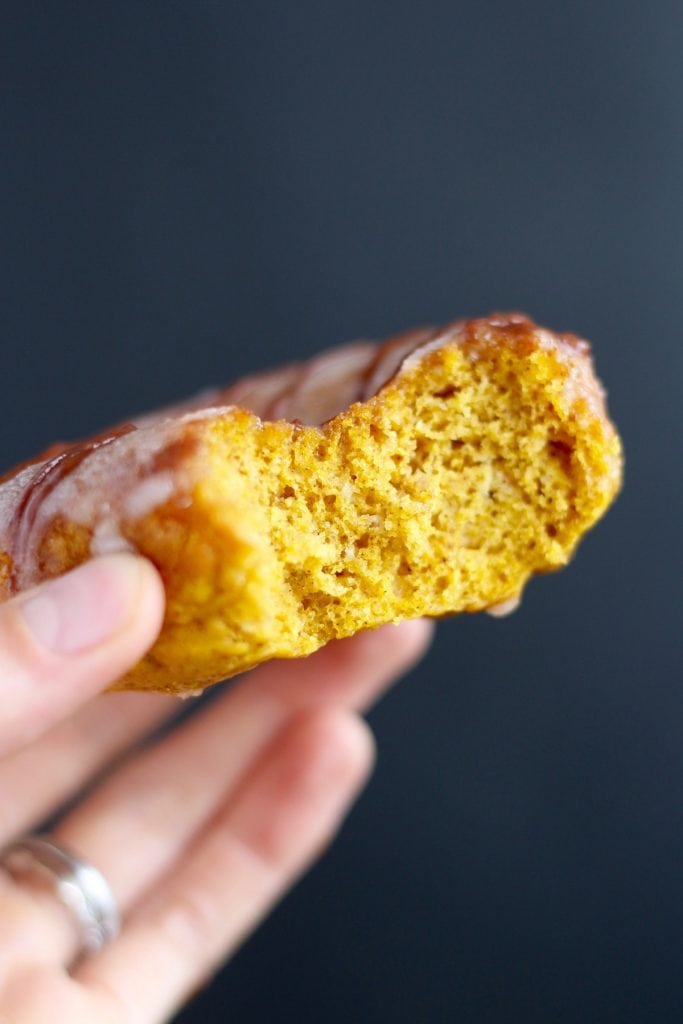 Step 7: Enjoy!
Please let me know if you give these Pumpkin Baked Donuts a try and what you think! Leave a comment down below, rate the recipe and be sure to share it with others! If you do make these donuts, be sure to take a photo of the final product and tag @theconscientiouseater on Instagram so I can see your final creation!
Help The World Eat More Plants!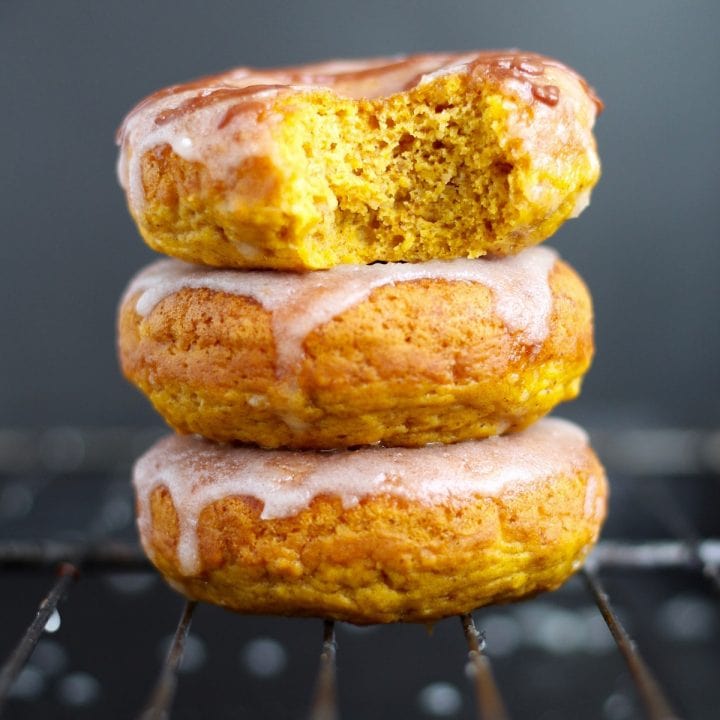 Pumpkin Baked Donut Recipe (Vegan)
Light and cakey and full of pumpkin spice seasoning, this Pumpkin Baked Donut Recipe is sure to be a crowd pleasure this fall season!
Ingredients
DONUT
1 cup flour
1/4 cup sugar
2 teaspoon baking powder
1 teaspoon pumpkin pie spice
pinch salt
2 tablespoons oil
1/2 cup non dairy milk
GLAZE
1 cup powdered sugar
1-2 tablespoons non-dairy milk
CHOCOLATE DRIZZLE (optional)
2 tablespoons chocolate hazelnut butter*
water to thin
Instructions
Preheat your oven to 375℉ and grease a 6 donut pan and set it aside.
In a mixing bowl, combine all the dry ingredients, from the flour to the salt.
Add in the oil, pumpkin puree and non-dairy milk and stir to combine.
Place a plastic gallon bag into a cup (see photos) and spoon the pumpkin donut batter into the plastic bag. Twist the top of the plastic bag so that all of the batter is concentrated in one corner of the plastic bag.
Cut the end off of the plastic bag and pipe the donut batter evenly among the 6 donut rounds. Gently bang the pan against something soft to even out the top of the batter.
Bake the donuts for 15-18 minutes or until risen and slightly golden brown.
Allow the donuts to cool for about 10 minutes in the pan before removing them and placing them on a wire rack to cool completely.
While the donuts are cooling, prepare the glaze. Place 1 cup of powdered sugar into a bowl and add in 1 tablespoon of non-dairy milk and stir well. Continue adding 1 teaspoon of milk at a time until you get a runny, but thick glaze.
Dip the donuts into the glaze one at a time and place them back on the wire rack, glazed-side up.
If desired, prepare the chocolate drizzle by adding a little bit of water some some chocolate hazelnut spread and mixing until a drizzle-able consistency forms. Using a spoon or the piping method used above, drizzle the glazed pumpkin donuts with the chocolate hazelnut spread.
Enjoy!
Recommended Products
Nutrition Information
Yield

6
Serving Size

1 donut
Amount Per Serving
Calories

252
Total Fat

5g
Saturated Fat

1g
Trans Fat

0g
Unsaturated Fat

4g
Cholesterol

2mg
Sodium

198mg
Carbohydrates

48g
Fiber

2g
Sugar

29g
Protein

4g
Nutrition information is a rough estimate provided by Nutrionix and should be used for informational purposes only.