These low-fat Homemade Spring Rolls with Low Calorie Peanut Sauce are easy to make and delicious when dipped in this rich and creamy peanut sauce!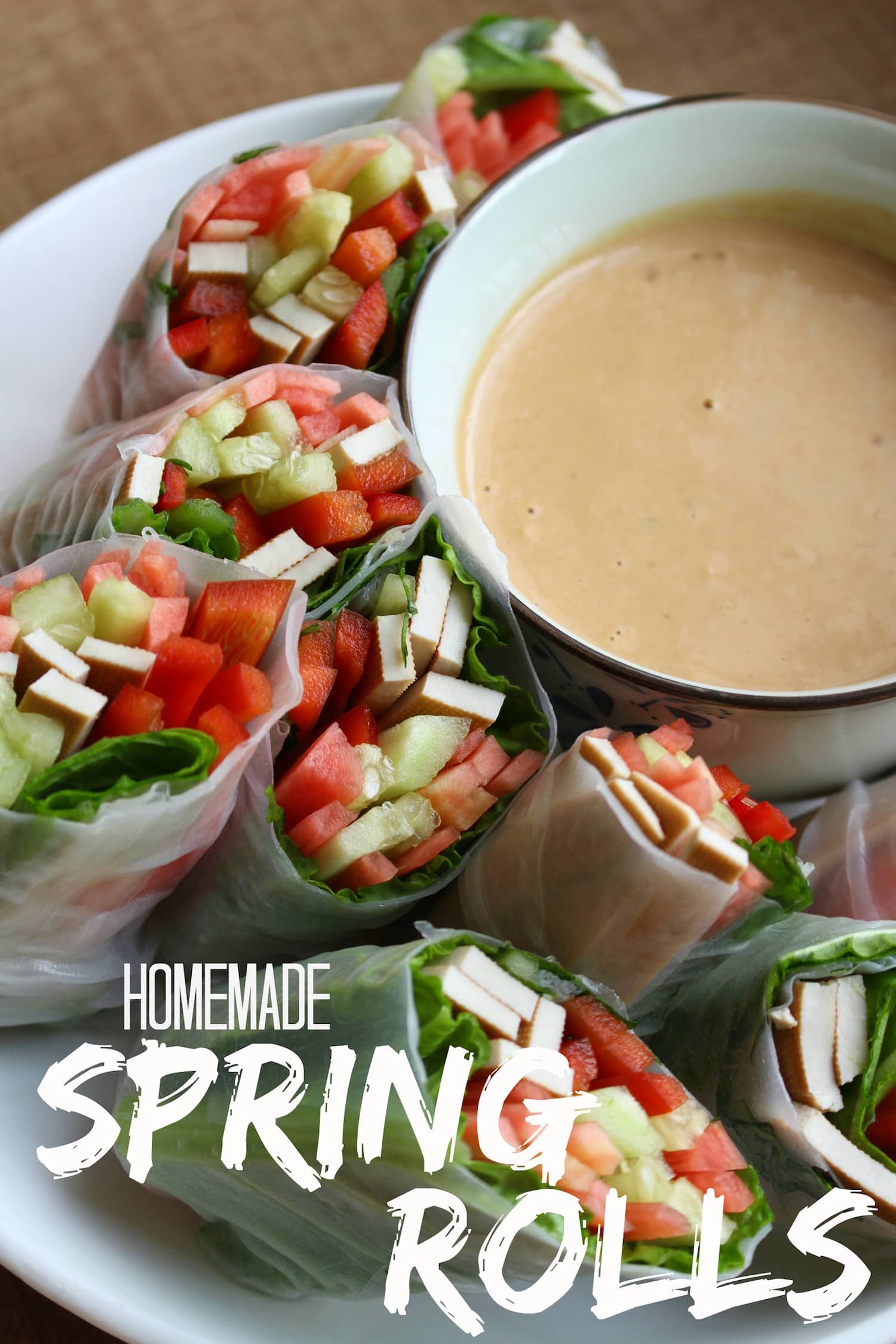 Jump To
Life in China
You know you're starting to adapt to life in China when you...
Wear the same outfit 2 or 3 days in a row.
Eat more cooked vegetables than raw.
Use the squatty potty in your house more than the western toilet.
Add chili to everything.
Cross the street in front of oncoming traffic.
Drink lots of tea throughout the day.
Eat rice or noodles at most of your meals.
Buy lots of stuff off Taobao.
Spit in public (okay, so I've only done this once and it still felt rude!)
Own a soy milk machine.
Buy produce at the market everyday.
Enjoy walking everywhere.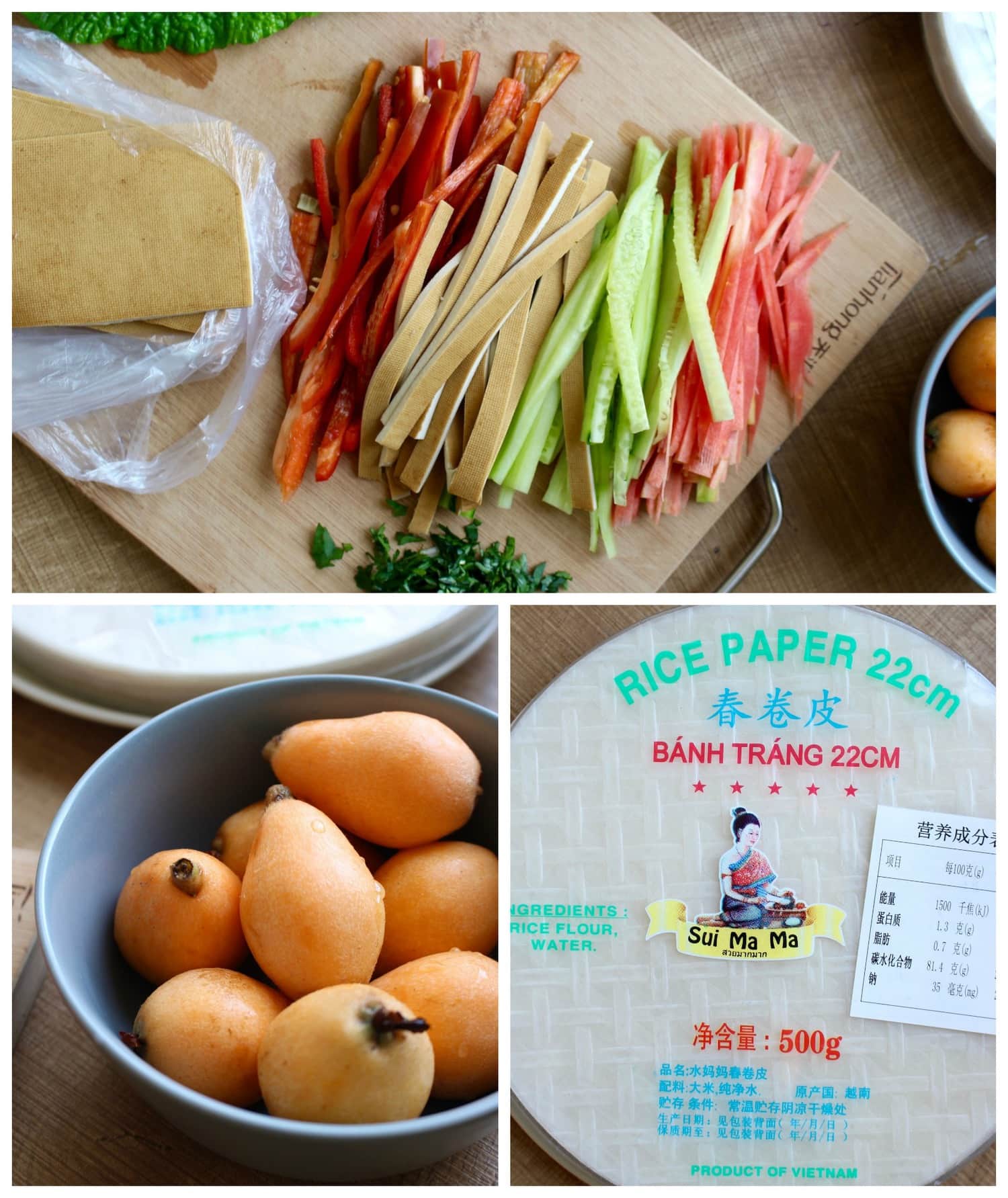 It's been slow and mostly subtle, but in lots of little ways my daily habits are starting to look more and more like those of the locals here. Since the beginning Brett and I have loved living here, but we were still very much outsiders. Now however, even though we definitely still stick out like sore thumbs (and that may never change), we have adapted little things in our lives to make us blend in a little more. Most of these changes haven't been made consciously, but they've just sort of...happened. When everyone around you is living in a similar way, it's easy to follow suit.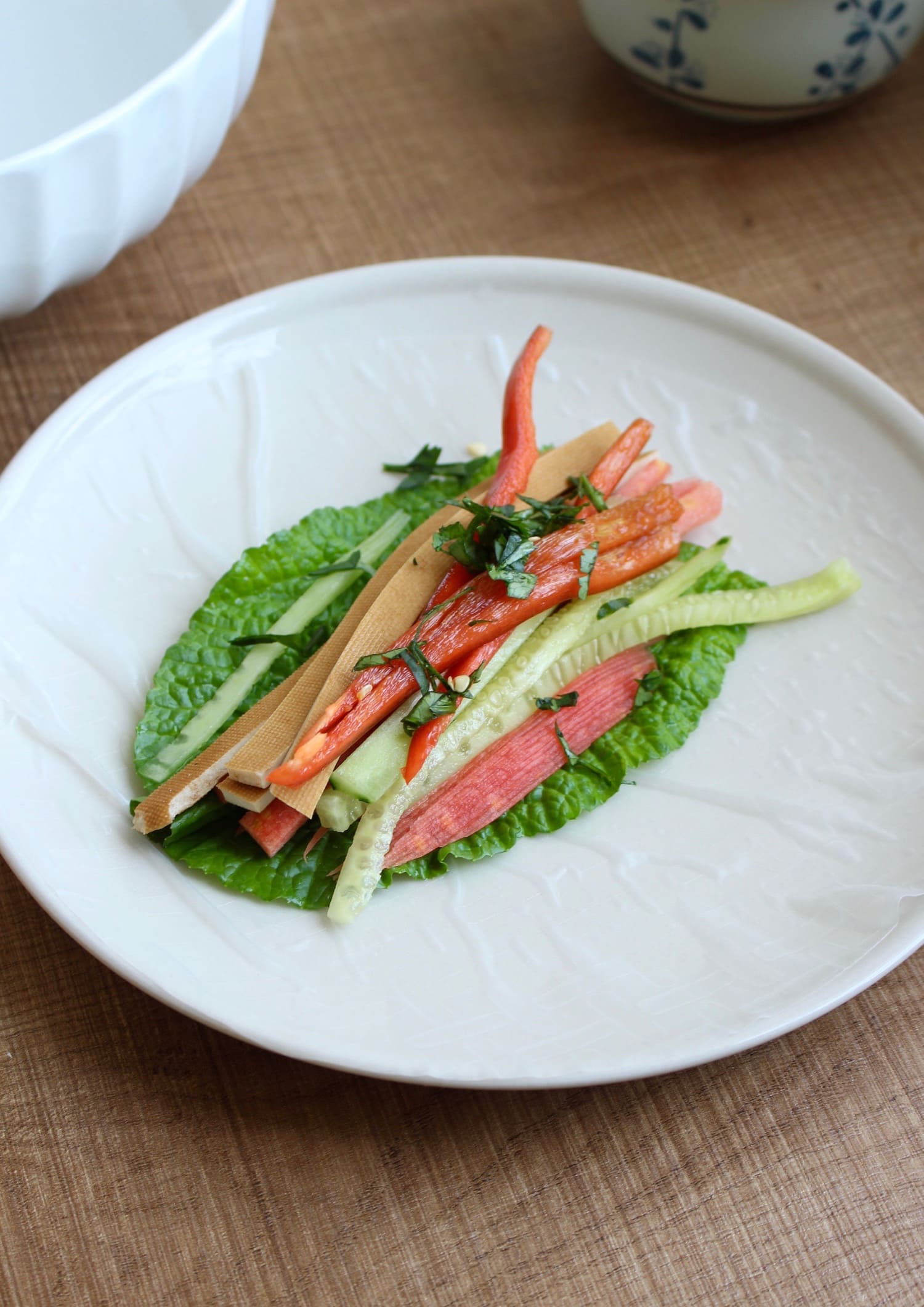 Craving Raw Veggies
Like I mentioned in the list above, I've definitely been eating more cooked vegetables than raw, especially now that it's wintertime. I'm overall fine with that, knowing that during the summer I'll start craving more raw veggies again, but I am looking for more exciting ways to include raw vegetables into my life occasionally. Salads aren't very exciting to me at the moment, hence the need for these Homemade Spring Rolls with Low-Fat Peanut Sauce.
Oh yum!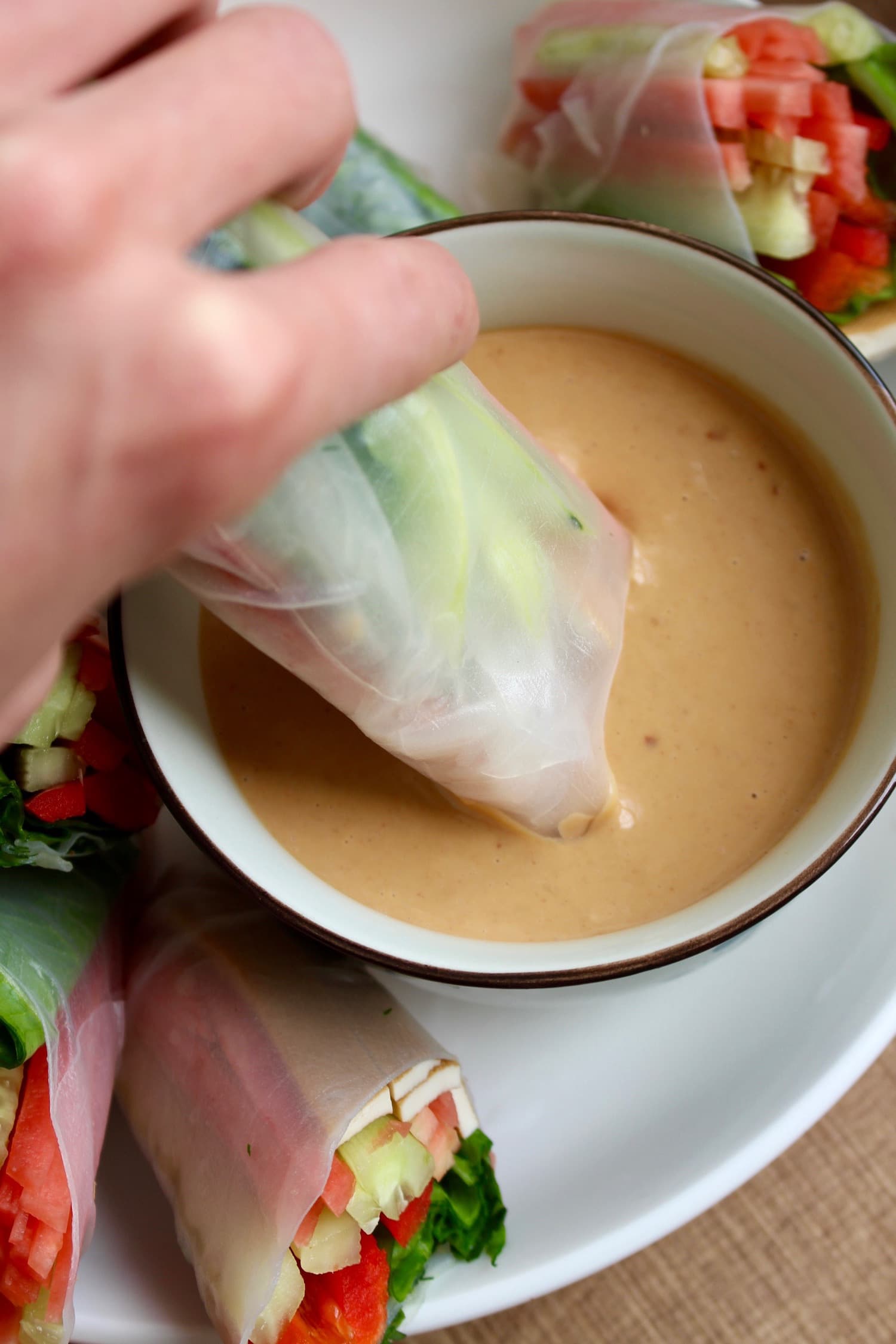 Low Calorie Spring Roll Sauce
The low-fat, low calorie peanut sauce for these spring rolls definitely takes them to the next level. I made the low calorie spring roll sauce with peanut flour instead of peanut butter and I love how the flour makes the sauce a little less dense. Drench away! Sweetened with a touch of maple syrup and made zesty with fresh ginger, you can't go wrong with this sauce.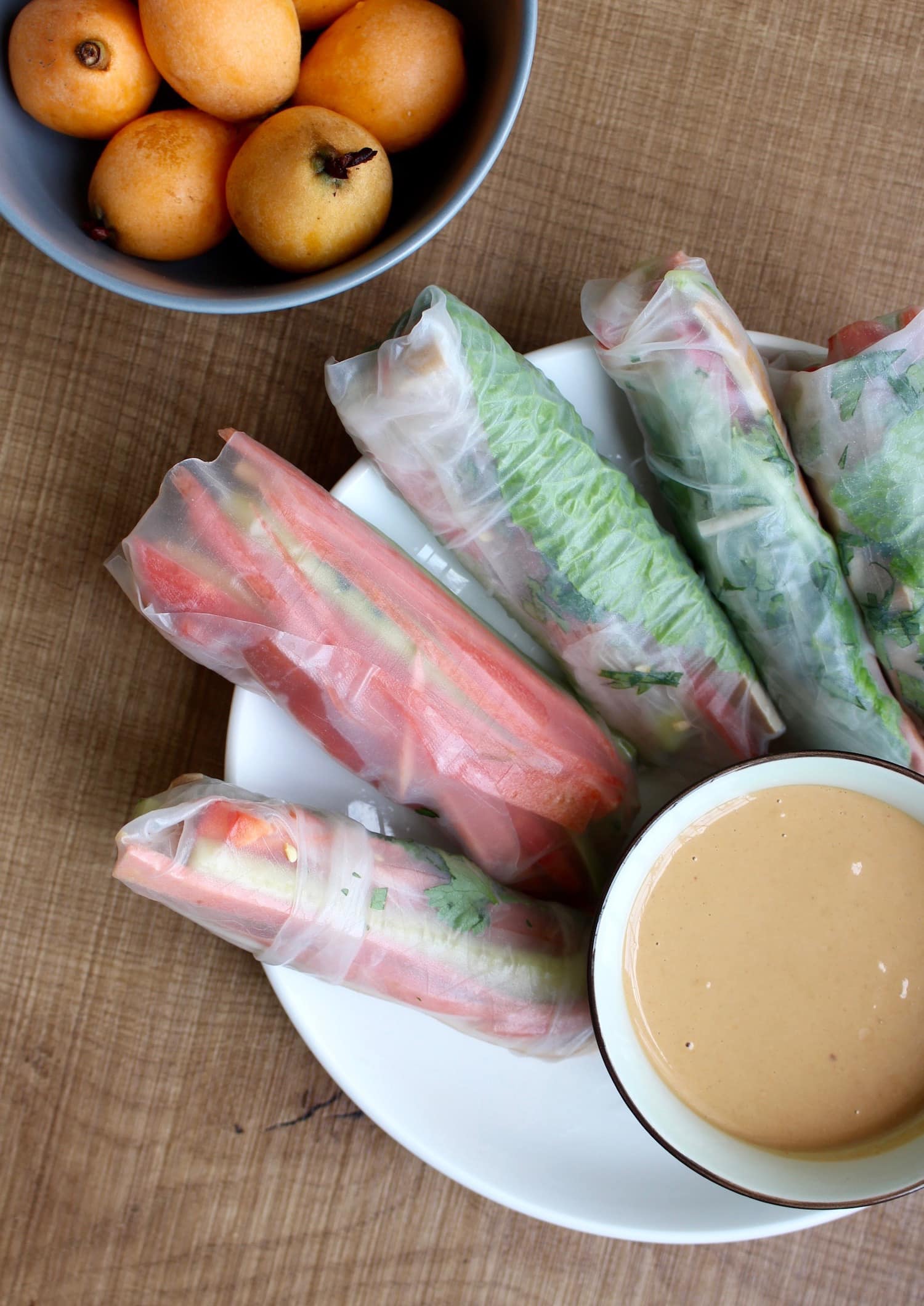 Variations
Another wonderful thing about spring rolls is that you can fill them with whatever you like. They're so easily adaptable, which is perfect for all kinds of taste preferences. We love ours with lettuce, julienned carrots, bell pepper, cucumber and dried tofu. Oh and cilantro!
Let me know if you try out these Homemade Spring Rolls with Low-Fat Peanut Sauce! And if you love peanut butter as much as we do, then you'll probably love this African Peanut Stew and my creamy sweet potato curry with peanut butter!
📖 Recipe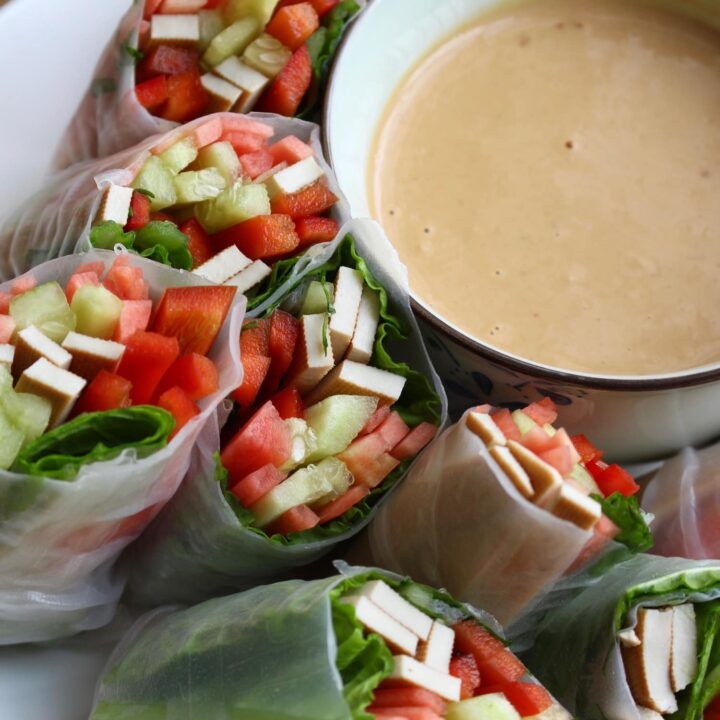 Homemade Spring Rolls with Low-Fat Peanut Sauce
These light and fresh Homemade Spring Rolls with Low-Fat Peanut Sauce are easy to make and couldn't be more delicious when dipped in rich and creamy peanut sauce!
Ingredients
Spring Rolls
Lettuce

Your favorite vegetables

julienned*

Dried tofu

sliced

Cilantro

minced
Instructions
To start, prepare your peanut sauce by whisking all of the peanut sauce ingredients together in a bowl. Set aside.

To prepare your spring rolls, fill a large shallow bowl or plate with warm water and have your rice paper wrappers, vegetables and tofu close by. Submerge the rice paper into the warm water for about 5-10 seconds until it starts to soften. Then lay the paper down on another plate and place a piece of lettuce. some of each vegetable, and the tofu in the middle of the paper. Just like a burrito, roll the spring roll up by starting with the end closest to you, folding over the sides, and rolling it over to seal. Set the spring roll aside and repeat the process until all your vegetables are used up or you have enough spring rolls.

Serve the spring rolls with the peanut dipping sauce and enjoy!
Notes
*My favorite vegetables to use are carrots, cucumbers, and sweet bell pepper!
Nutrition is for peanut sauce only.
Nutrition
Calories:
87
kcal
Carbohydrates:
9
g
Protein:
6
g
Fat:
3
g
Saturated Fat:
0.5
g
Polyunsaturated Fat:
1
g
Monounsaturated Fat:
2
g
Sodium:
292
mg
Potassium:
254
mg
Fiber:
3
g
Sugar:
3
g
Vitamin A:
37
IU
Vitamin C:
0.5
mg
Calcium:
31
mg
Iron:
1
mg