These plant-based breakfast recipes are easy to make, healthy, and require minimal effort and time, making them perfect for a quick weekday breakfast, a special weekend brunch, or meal-prepped for an entire week!
Jump To
Today I'd like to share a bunch of easy plant based breakfast ideas with you all! People have such a wide variety of preferences for their typical breakfast, so I'm sharing a wide variety of plant based breakfast recipes! I guarantee you'll find vegan breakfast recipe inspiration!
🌾 Oatmeal
Oatmeal has been a staple in my life for years! It fills me up and satisfies me more than any other breakfast food! What I love most about oatmeal is that it comes in a few different forms (steel-cup, rolled, quick cooking, etc.) and can be prepared in so many different ways. From stove-top oats to overnight oats, baked oatmeal to breakfast cookies, you'll never get bored experimenting with different cooking styles and flavors of oatmeal.
So many of my oatmeal creations are inspired by other foods like zucchini bread, carrot cake, Mexican hot chocolate, etc. If you love oatmeal, but feel stuck in a rut, check out some of the plant based oatmeal ideas below!
Stove-Top Oatmeal
I find stove-top oatmeal so basic that I've rarely shared how to make it on my blog!
My go-to, basic stove-top oatmeal recipe is
Then to that base recipe I usually add in a super ripe mashed banana for sweetness and different spices depending on what I'm feeling.
For chocolate oatmeal, I'll whisk in some cocoa powder.
For pumpkin oatmeal, I'll stir in some pumpkin puree and pumpkin pie spice.
For zucchini bread oatmeal, I'll add in some shredded zucchini, raisins and walnuts. Get creative!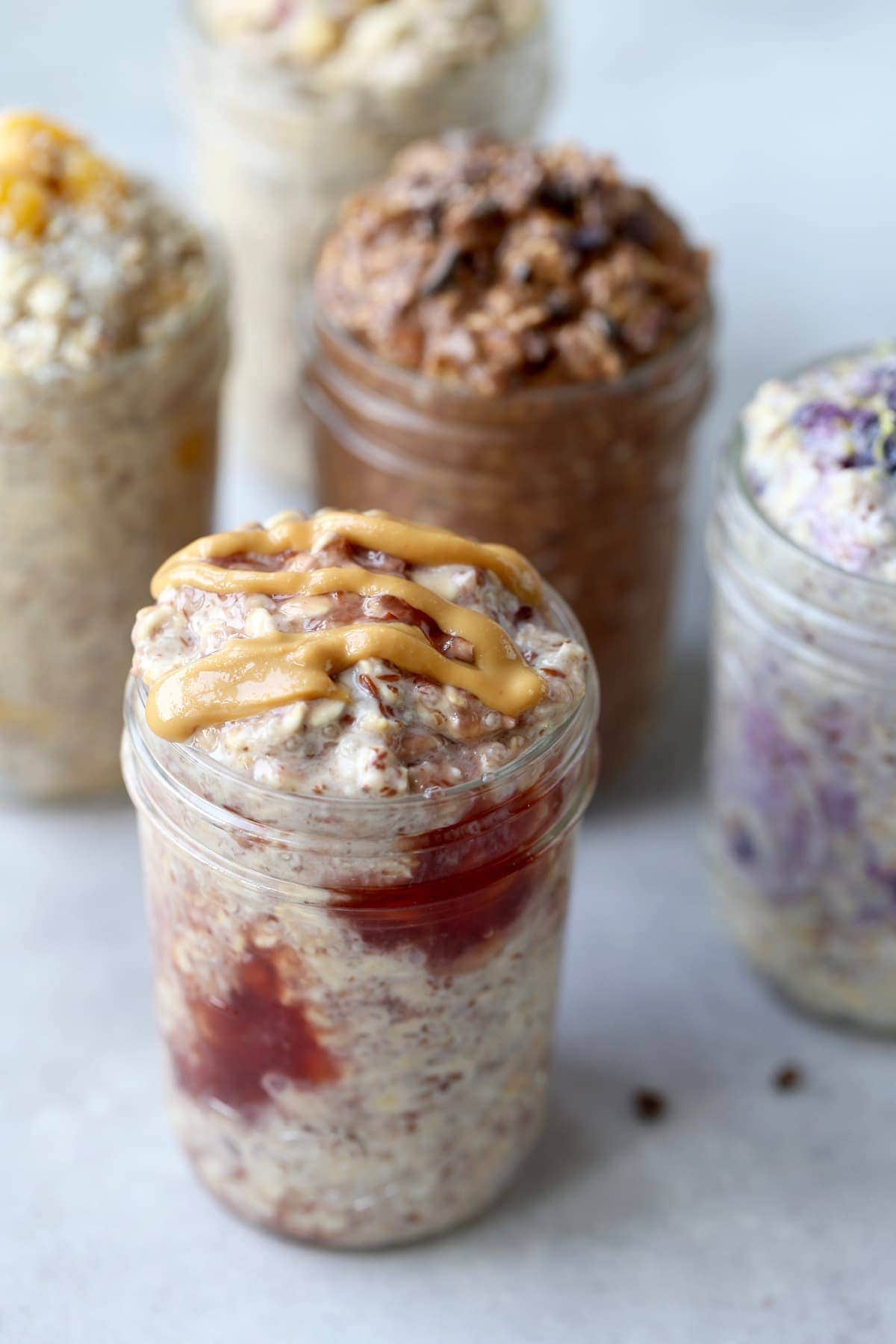 🫙 Overnight Oats
Overnight oats, unlike stove-top oats, are not cooked, but instead are soaked overnight in milk or a mixture of milk and yogurt.
I love to eat my overnight oats cold, straight out of the jar I made them in. If cold oats aren't your thing, you can also heat them up for a quick, warm breakfast.
Here are some of my favorite overnight oat recipes!
If you love to meal prep, I have an entire post sharing how to make 5 different overnight oat recipes you can meal prep! I share my favorite overnight oat flavors including
double chocolate
mango coconut
lemon blueberry
cinnamon apple
peanut butter & jelly
Baked Oatmeal
I LOVE cake. Which is why I also love baked oatmeal.
Baked oatmeal is great for a number of reasons. One batch can provide several servings. So if you have a large family or want to make a few days worth of breakfast in one session, baked oatmeal is the way to go. Plus, it stores and packs well making it perfect for school or lunch breakfasts on the go! Below are some of my favorite baked oatmeal recipes.
🥤 Smoothies
Smoothies are another easy plant based breakfast food that you can adapt to your tastes. They're great for sneaking in some veggies and they travel well.
I almost always use frozen bananas as a base, then add in different fruit, berries, greens, nut butters, etc. to make them more filling. If you're like me and you like to chew your food, you can also pour your smoothie into a bowl and add a bunch of toppings to create a smoothie bowl!
Check out my: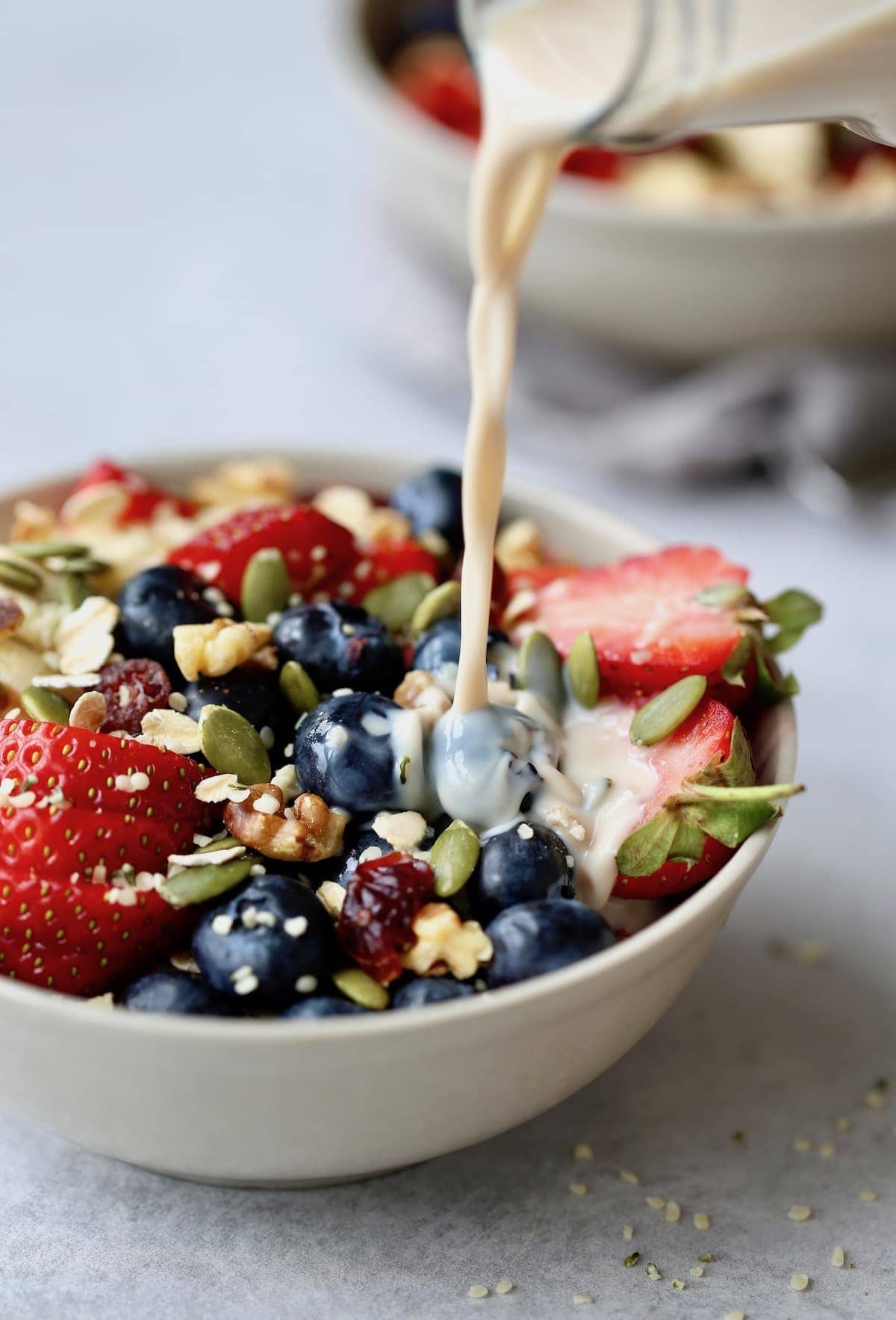 🥣 Cereal
I've mentioned this many times before, but I used to be cereal-obsessed. Now I prefer to stay away from store-bought cereals because of how many extra ingredients they contain.
But, occasionally, I still get a cereal craving.
When that happens I usually eat one of the following: Fruit Cereal, Homemade Bran Flakes, or one of my homemade granolas. It's rare, but I still do eat some store-bought cereal, bit I make sure it has a very small list of ingredients. Of course, I always add sliced banana and berries on top!
Here are some of my favorite homemade granola recipes:
And you can't have cereal without chilly, non-dairy milk! I love to make my own non-dairy milk when I can. It's super-easy and is often affordable depending on what kind of milk you're making and where you buy your ingredients. Below I'll share my favorite homemade, non-dairy milks that pair perfectly with cereal!
🍞 Toast
Toast has become quite popular recently, and I can see why! It such a quick meal option and you can use whatever toppings you want. Two of my favorite kinds of toast are avocado toast and peanut butter banana toast. You can see some other Creative Plant-Based Toast Ideas here!
When it comes to making my ideal plate of toast, I'm all about starting with good-quality bread. I love to make my no-knead whole wheat sandwich bread!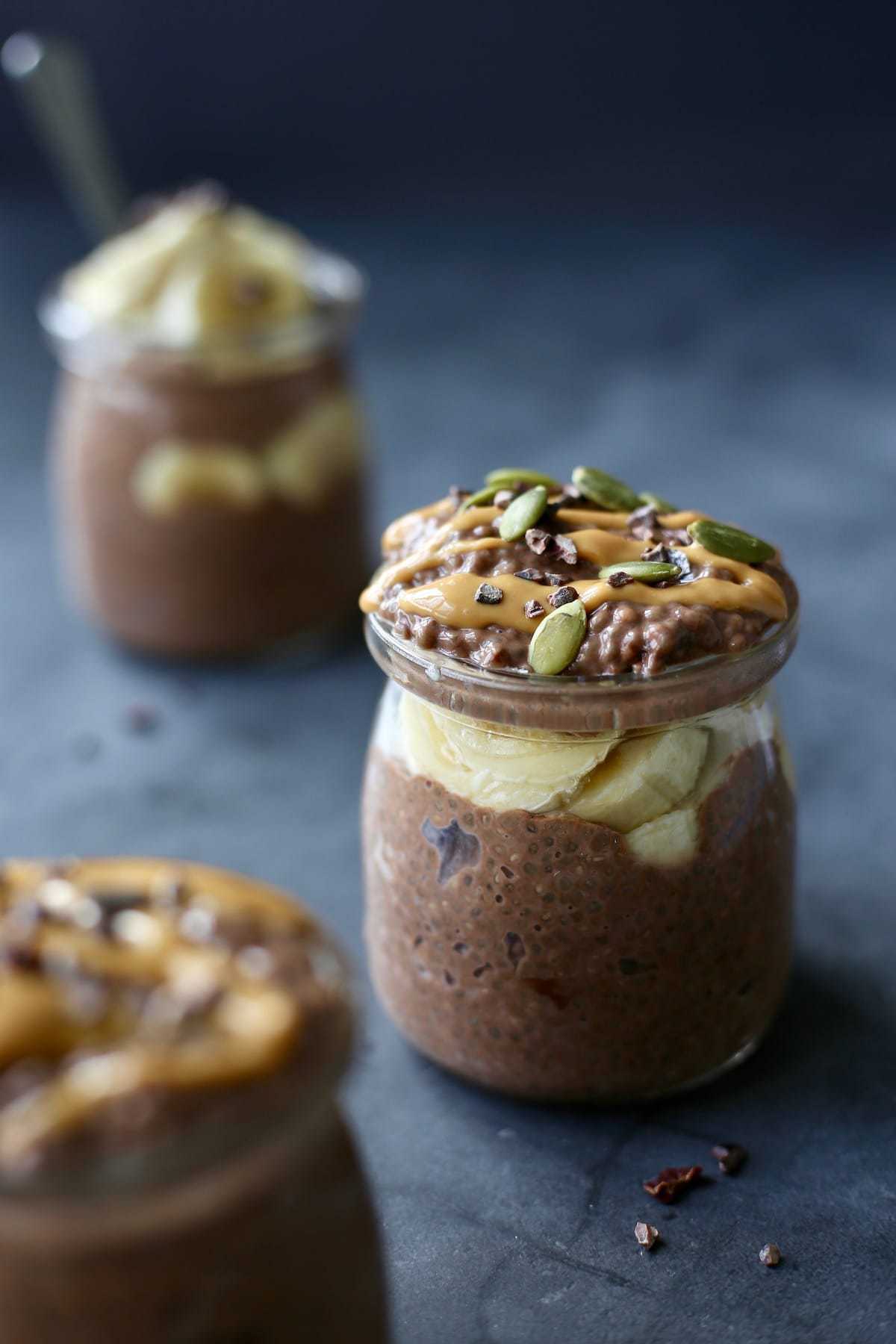 🫙 Chia Seed Pudding
Chia Seed Pudding is a great make-ahead meal that you can make the night before and have all ready to eat first thing in the morning when you wake up. A basic ratio for making Chia Seed Pudding is to mix 3-4 tablespoons of chia seeds with 1 cup of liquid. Use three tablespoons if you like a thinner pudding and use four if you like your pudding on the thicker side! If you're adding in any extra ingredients, then you'll need to increase the liquid to about 1 ¼ cups. Here is my favorite 4 Ingredient Chocolate Chia Seed Pudding recipe!
🍨 Banana Ice Cream
Banana Ice Cream is something I choose for breakfast when I feel like my body wants something super simple. Eating a mono-meal consisting of just one ingredient is a great way to give my body a break from having to digest a bunch of different foods all at one time.
Plus, ice cream for breakfast?! Don't mind if I do!
How To Make Banana Ice Cream
To make Banana Ice Cream, simply slice and freeze some really ripe bananas overnight. In the morning, place the frozen banana slices into a high-speed blender or food processor and process until smooth.
Feel free to add cacao or cocoa powder for chocolate ice cream or berries for a more fruity treat.
For some added texture and staying powder, top your ice cream with granola, nuts and seeds or more fruit!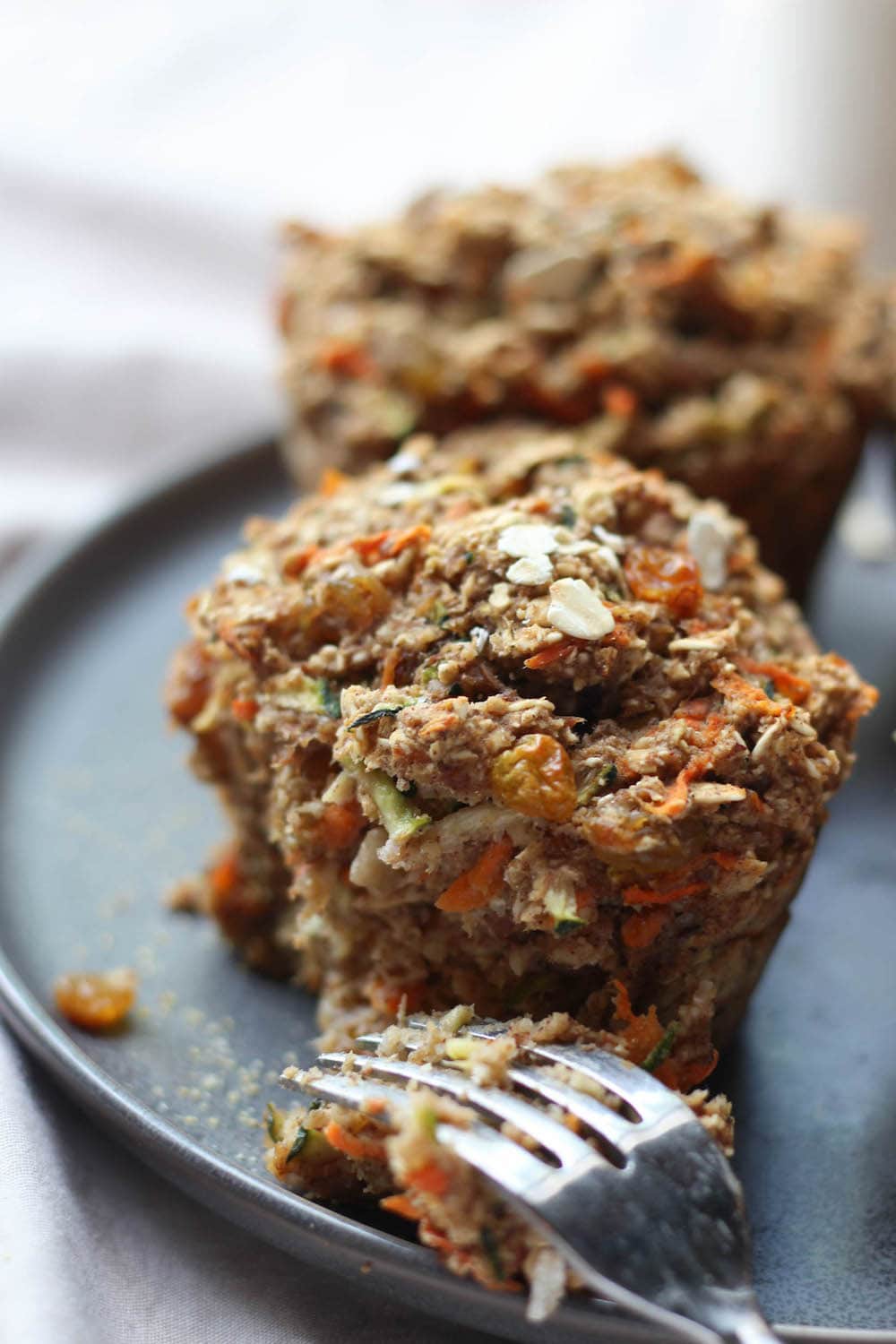 🥐 Baked Goods
If you're someone who doesn't have a lot of time in the morning or who wishes they could eat breakfast at a coffee shop every day, baked goods are perfect for you! They're easy to make ahead, they store wonderfully and they make for great grab-and-go portable meals. By making your own at home you can make large batches to last for a while, control the ingredients, and fill them with healthy fats and fiber to keep you full. Check out my favorite breakfast baked-goods below!
🚗 Energy Bites & Granola Bars
You can't get a more perfect, packable breakfast than energy bites and granola bars. They are perfect for meal prepping at the beginning of the week, keep well for days (even weeks!) in the fridge and pack well for quick on-the-go breakfasts. We of course also love to have energy bites and granola bars for snacks...even dessert too! My favorite go-to recipe is my 5 Ingredient Adaptable Granola Bar (we ALWAYS have these in our fridge!) You can either roll the dough into balls or press it into a sheet and cut it into bars. Use whatever nut butter, sweetener and add-ins you desire! Below are some of my other favorite energy bite and granola bar recipes:
🥞 Pancakes
Pancakes have always been considered a breakfast treat in my mind until recently. Lately I've been whipping up pancake batter in my blender and enjoying these 2 Ingredient Oatmeal Banana Blender Pancakes as a mid-week breakfast. Pancakes store really well in the fridge and can be reheated in a toasted. They also freeze well, so make extra when you can! Pancakes don't always have to be sweet either. If you're looking for a more savory breakfast, check out my Savory Chickpea Flour Falafel Pancakes! I've listed more of my favorite pancake recipes below:
🌯 Savory
While I've always gravitated towards sweet breakfasts, every once in a while only savory will do.
Plus, I know there are a lot of you out there who are looking for savory, plant-based breakfast ideas!
Tofu scramble is a great scrambled egg substitute and pairs perfectly with some crusty bread. Put tofu scramble in a tortilla with some black beans, salsa and guac and you've got delicious, filling vegan breakfast burrito.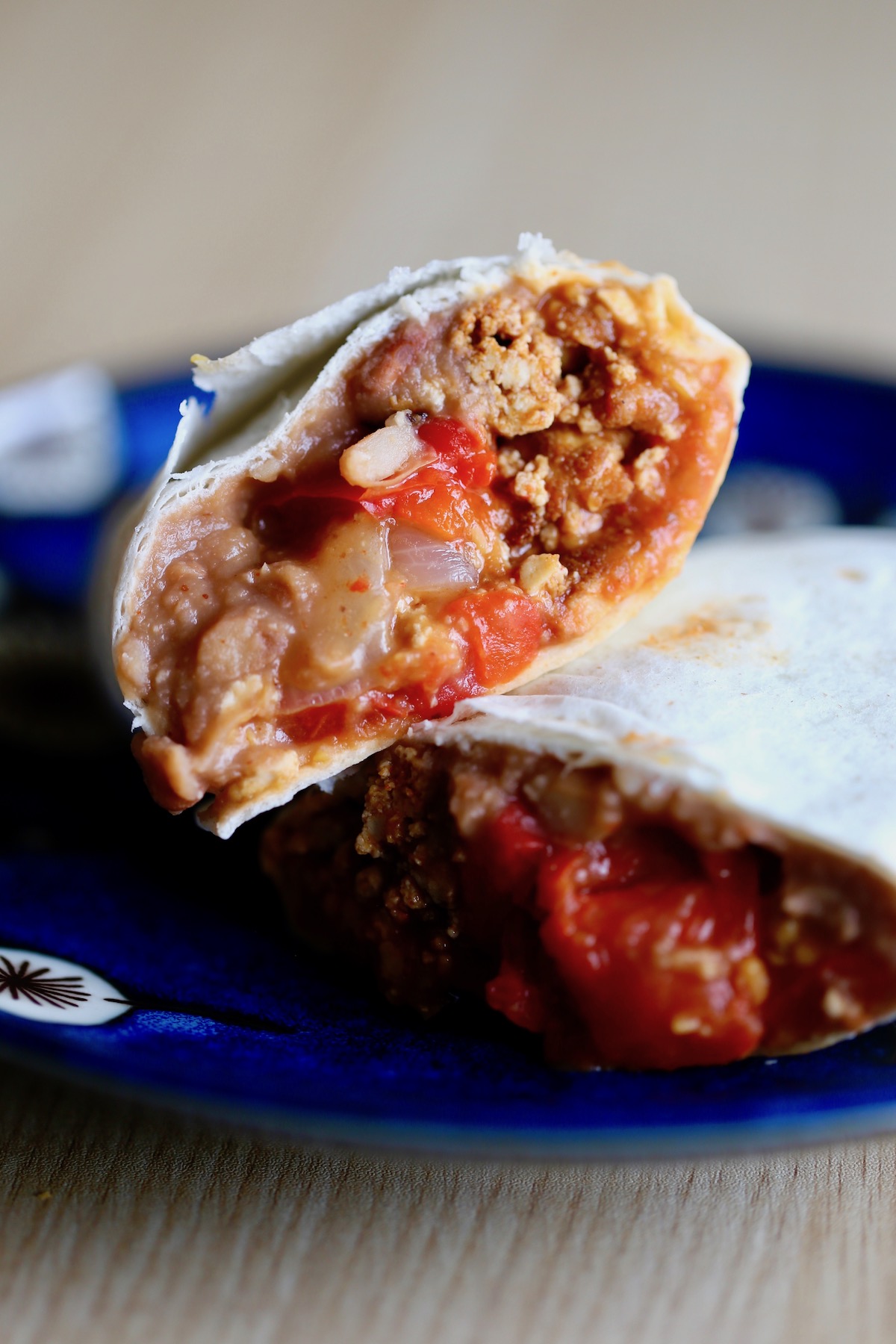 My savory chickpea flour falafel pancakes drizzled with tahini and served with sautéed mushrooms and chopped tomatoes are amazing!
Avocado toast is always a winner in my book. I especially love it when I spread a thin layer of marmite underneath the avocado and add chopped tomatoes or sautéed mushrooms to top. YUM! Even if you don't like marmite (or Vegemite) you'll love this combination.
An everything bagel with herby cream cheese is also a delicious, savory breakfast. Add some slices of marinated tofu or tempeh bacon, and you've got a delicious vegan breakfast sandwich!
🍌 Fruit
This plant-based breakfast idea is pretty self-explanatory. Sometimes when I'm in a time crunch or just want something light and refreshing, I'll just eat fruit. Usually my body does better with more fiber and protein in the morning, but every once in a while a juicy melon just sounds amazing.
Grab a couple bananas or enjoy a juicy cantaloupe or watermelon when you don't want to think about making anything for breakfast!
I hope that all of these plant-based breakfast ideas don't overwhelm you, but instead inspire you to try something fully plant-based this week for breakfast!
❓ Plant-Based Breakfast Ideas FAQ
Can you eat eggs on a plant-based diet?
The term plant-based is typically synonymous with vegan. Vegans do not eat animal products. Eggs come from chickens, so they would not be included in a plant-based diet.
What do you recommend for a plant based breakfast on the go?
Energy bites and granola bars are good options because of their portability. They can be made in advance in large batches. Overnight oats and chia seed puddings also transport well if stored in a mason jar. Additionally, smoothies are quick and easy to take on the go.
What plant-based breakfast options are high in protein?
Tofu Scrambles are high in protein, as well as chia seed pudding and breakfast burritos loaded with black beans, whole grains and tofu scramble. Plant-based protein powder is also an easy way to add more protein to your overnight oats, chia seed puddings and smoothies.
What plant-based breakfast options are high in fiber?
Chickpea flour is high in fiber and can be used in pancakes and banana breads. Vegetables can also be added to oatmeal and overnight oats recipes.
What plant-based breakfast options are high in iron?
Adding chia seeds, hemp seeds, pumpkin seeds and/or dried fruit to your oatmeal, overnight oats and smoothies will give them an iron boost. Chickpea flour is also high in iron and can be used in pancakes and banana breads.
What plant-based breakfast options are high in B12?
Adding nutritional yeast to any savory breakfast will give you a boost in B12. Some store bought breakfast cereals and oatmeals are also fortified with B12.
Ready to move on to lunch?
Check out my "mix & match method" for creating and meal prepping infinite vegan bento box lunch ideas for school and work!