This post contains affiliate links to products that I have used and I think you'll love! Clicking on an affiliate link will not cost you any extra and it will give me a little commission to help me run this site!
Mornings are my favorite. I love that I often get an hour or so to myself before Brett wakes up to read and think. I love feeling the sun grow warmer through the window as I sit on the coach. I love how alert my brain is and how I'm most productive and creative right after I wake up. And of course I LOVE breakfast food! 
I rarely eat the same exact meal twice in a row when it comes to breakfast. Yes, I may eat oatmeal two days in a row, but I'm always switching up the spices, fruit, and toppings I use. If I eat a lot of smoothies one week, the base may be bananas, but the other fruit and greens I add are always changing. I love how easy it is to be creative with breakfast foods, while I'm not having to spend hours in the kitchen. 
Today I thought I'd share a ton of Easy Plant-Based Breakfast Ideas with you all. All of the pictures below are of breakfast creations I've made on a typical weekday. They're quick, nutritions, healthy, and delicious and leave me feeling satisfied and happy. While I know everyone is so different in what food sits best in their stomachs and gives them the most energy first thing in the morning, I hope one of these Easy Plant-Based Breakfast Ideas will give you some new breakfast inspiration! 
Oatmeal:
Oatmeal has been a staple in my life for years. It fills me up and satisfies me more than any other breakfast food. So many of my oatmeal creations are inspired by other foods like Zucchini bread, carrot cake, Mexican hot chocolate, etc. If you love oatmeal, but feel stuck in a rut, try whisking in a banana for sweetness and then adding in shredded zucchini or carrots or cacao powder for a chocolate fix. Mix up your toppings by using different fruit, nut butters, seeds, dried fruit, and spices.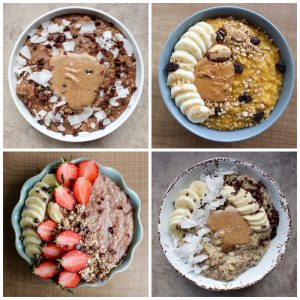 Smoothies:
Smoothies are another easy breakfast food that you can adapt to your tastes. I almost always use frozen bananas as a base, but then add in different fruit, berries, greens, nut butters, etc. to make them more filling. As seen in the first picture of this post, you can also pour your smoothie into a bowl and add a bunch of toppings to it. This is a great option for me because I like to eat my food more than just drink it, so getting to use a spoon and actually scoop something up works better for me. Check out my Refreshing Green Smoothie or Chocolate Smoothie with Frozen Cauliflower!
Cereal:
I've mentioned this many times before, but I used to be a cereal addict. Now I prefer to stay away from store-bought cereals because of how many extra ingredients they contain, but occasionally I still get a cereal craving. When that happens I usually eat one of the following: Fruit Cereal, Homemade Bran Flakes, or store-bought cereal with a very small list of ingredients. And of course, sliced bananas and berries are almost always involved!
Toast:
Toast has become quite popular recently, and I can see why! It such a quick meal option and you can use whatever toppings you want. Two of my favorite kinds of toast are avocado toast and toast smeared with nut butter and topped with sliced banana and granola. You can see some other Creative Plant-Based Toast Ideas here!
Chia Seed Pudding:
Chia Seed Pudding is a great "prepare ahead" meal that you can make the night before and have all ready to eat first thing in the morning when you wake up. A basic ratio for making Chia Seed Pudding is to mix 3 tablespoons of chia seeds with 1 cup of liquid. If you're adding in any extra ingredients, then you'll need to increase the liquid to about 1 1/4 cups.
When you first make your pudding, mix it a few times every couple of minutes to ensure that the chia seeds don't clump together. Then you can stick it in the fridge overnight or for a few hours to allow the chia seeds to gel up and expand. Add sweetener to taste and whatever toppings you fancy and you've got a nutritious, filling breakfast to keep you going all morning! Below is a simple recipe for Chocolate Chia Seed Pudding!
Chocolate Chia Seed Pudding
This simple and delicious Chocolate Chia Seed Pudding can quickly be prepared at night so that your breakfast is all ready to go in the morning!
Author:
Faith VanderMolen
Ingredients
3 tablespoons chia seeds
1¼ cup non-dairy milk
2 teaspoons cacao powder
sweetener to taste
Optional toppings: chopped nuts, fruit, cinnamon, etc.
Directions
The night before you want to eat this pudding, mix together all of the ingredients until combined in a bowl or large mug. Wait about 5 minutes before giving the pudding a quick stir to ensure that the chia seeds didn't clump together.
Cover the pudding and store it in the fridge overnight.
In the morning top it with whatever toppings you want!
Overnight Oats:
Overnights oats are a great option for people that love oatmeal but don't always have the time to make hot oatmeal in the morning. It's similar to Chia Pudding when it comes to preparation, except instead of all chia seeds you use oatmeal as well. If you're looking for some easy overnight oat recipes, check out my Healthy Cookie Dough Overnight Oats or Brownie Batter Protein Overnight Oats!
Banana Ice Cream:
Banana Ice Cream is something I choose for breakfast when I feel like my body wants something super simple. Eating a mono-meal consisting of just one ingredient is a great way to give my body a break from having to digest a bunch of different foods all at one time. Plus, ice cream for breakfast?! Don't mind if I do. 
To make Banana Ice Cream, simple freeze some really ripe bananas pieces overnight. In the morning, place the frozen banana chunks into a high speed blender or food processor and process until smooth. Feel free to add cacao or cocoa powder for chocolate ice cream or berries for a more fruity treat.
Baked Goods or Energy Bites:
If you're someone who doesn't have a lot of time in the morning, or who doesn't like to eat much right when you wake up, homemade muffins and energy bites are a great option. They're easy to grab and are easily portable. By making your own at home you can make large batches to last for a while and also fill them with healthy fats and fiber to keep you full for a while. Check out my Zucchini Carrot Oatmeal Breakfast Muffins and these Chocolate Pecan Prune Energy Bites for some inspiration!
Fruit:
This plant-based breakfast idea is pretty self explainable. Sometimes when I'm in a time crunch or just want something light and refreshing, I'll just eat fruit. Usually my body does better with more fiber and protein in the morning, but every once in a while a juicy melon just sounds amazing. Grab a couple bananas or enjoy a juicy cantaloupe or watermelon when you don't want to think about making anything for breakfast!
Pancakes:
Pancakes have always been considered a breakfast treat in my mind until recently. Lately I've been whipping up pancake batter in my blender and enjoying pancakes as a mid-week breakfast. While my Whole Wheat Vegan Banana Pancakes will always be my favorite, these 2 Ingredient Oatmeal Banana Blender Pancakes are even more simple to make!
I hope that all of these Plant-Based Breakfast Ideas don't overwhelm you, but instead you feel inspired to try something new or fully plant-based this week for breakfast!
Eat Consciously,
Faith