Ah Tokyo!
At the beginning of this month, Brett, our friend and I went to Tokyo for two, short days to explore for a weekend. Even though we only had 2 days in the city, I felt like we got to experience a fair amount of the culture and cuisine. Since we knew we didn't have time to get out of the city much, my two main goals quickly became 1.) eat sushi and 2.) drink a matcha latte. Thankfully I easily accomplished both of my goals while simultaneously getting to walk tons of miles and take in some pretty amazing sites.
We got into Tokyo late on Friday night and just had enough time to check into our hostel and walk around outside for a bit to find some dinner. The next morning we slept in a little (Brett and I did our Chinese language review) and then we headed out to take on the day.
We started at a touristy street in Asakusa that was lined with lots of shops and food venders and later spit us out at a temple. The temple was crowded with lots of people either admiring the art work of the paintings and architecture or actually worshipping/trying to receive different blessings from the various gods inside.
Along our walk we happened upon a little cafe which had soy milk lattes. So we rested for a bit and I got to check off one the items off my list. My latte was sweet, earthy and everything I hoped for!
Before we got to Tokyo I literally thought sushi would be everywhere. In vending machines, on street stands, etc. But it was actually harder to find sushi than we thought. Eventually we found a restaurant that had vegan sushi rolls as well as more elaborate rolls for Brett and our friend to try. I got a pickled radish roll and a cucumber roll, both of which were simple but so delicious.
Since sushi is so light, after lunch we walked back to the tourist street to get some desserts that we spied earlier that morning. I had my eyes set on some sugar coated Japanese Sweet Potatoes and they were so amazing! Starchy, hearty and so sweet! I really need to dip my sweet potatoes in sugar more often.
Since we don't have many good clothing shops in our city in China, my friend and I ended up doing some shopping in the Ginza shopping district later that night. The weather was crisp and beautiful and the tall buildings looked beautiful with the sunset.
Dinner for me ended up being around 11 PM in our hostel (Subway for the win). I actually had a harder time finding vegan food in a lot of the restaurants/food stands than I thought I would. A lot of the meals use fish sauce or broth or have tempura vegetables which are battered in egg. To hold me over for such a long time I had a Matcha Mochi which was amazing. I definitely recommend tying out different mochi flavors if you ever make it to Tokyo. They're sweet sticky rice cakes that are often filled with red bean paste or different fillings.
The second day we left our hostel a little earlier and made our way to the most amazing Starbucks Brett or I have ever seen in Harajuku. It had an outdoor patio and we enjoyed some coffee outside while people watching all the different Japanese fashion styles and listening to Christmas music.
After our coffee we made our way to a popular fashion/food street called Takeshita where Brett and our friend got some Crepes and I got some amazing black tea boba tea.
From Takeshita street, we walked to a beautiful outdoor park called Yoyogi Park. The weather couldn't have been better and we enjoyed the shady trees and random art work/statues along the way. Our walk lead us to another shrine (Meiji Shrine) where a traditional wedding was taking place. We loved getting to see the beautiful people dressed in their traditional wedding attire, especial two precious girls.

Before heading to the airport for our evening flight, we went to Ain Soph Ripple (Kabukicho) for some amazing vegan burgers and cheese fries. I don't think I've had a more delicious vegan burger in my life! We all got the basic vegan cheeseburgers which came with two kinds of cheese. On the side we got cheesy fries. I also got a double chocolate chip muffin to go which tasted amazing our our flight later that night. I highly recommend going to Ain Soph Ripple if you go to Tokyo!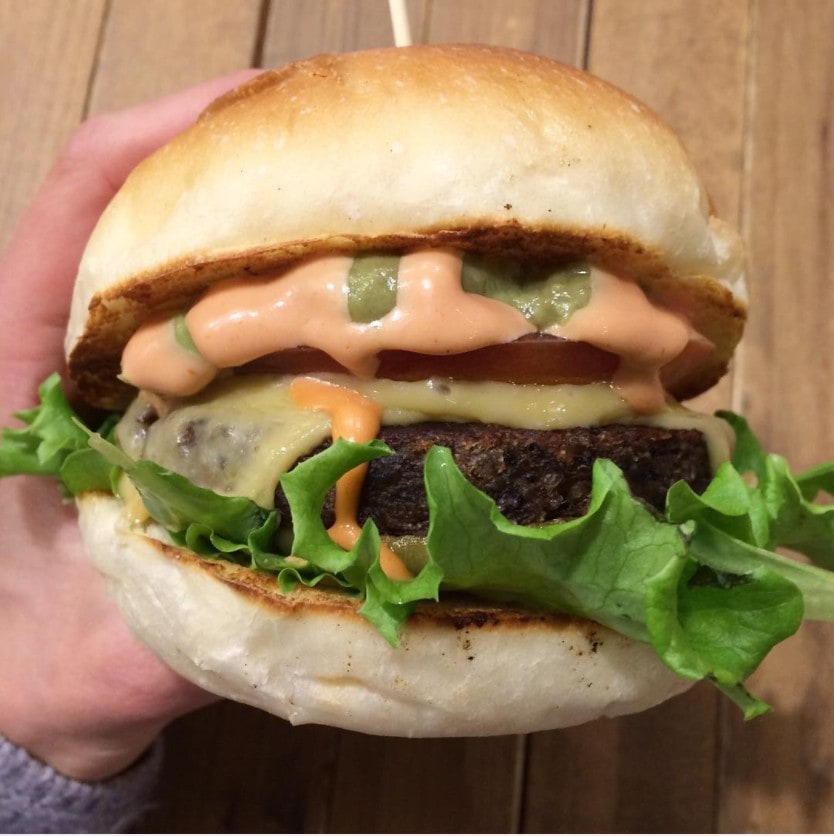 That's about everything we were able to squeeze into our short time in Tokyo. Please let me know if you've ever been and what you loved most about Tokyo, because we plan to go back!
Below is a little video I put together of some of the sights we got to see!