Made with just 5 ingredients, this Vegan Irish Soda Bread Recipe is the perfect way to get a hearty, delicious bread on the table in minutes!
There is nothing better than homemade bread.
The smell, the taste, the texture...it just can't be beat!
While we love my No-Knead Whole Wheat Vegan Sandwich Bread and this 4 Ingredient Artisan Bread, sometimes, I don't have the time to whip up a yeasted bread recipe.
That's why I love this simple Vegan Irish Soda Bread recipe!
This soda bread, or soda farl recipe, doesn't require any yeast or rise time and only requires 5 ingredients and a few minutes to cook on each side.
From start to finish you can have fresh, Irish soda bread on the table in less than 25 minutes!
Jump To
Why is soda bread called soda bread?
Soda bread is a type of quick bread that uses baking soda instead of yeast as a rising agent. Traditionally, soda bread only requires 4 ingredients: flour, baking soda, buttermilk and salt, but other ingredients can be added including dried fruit, eggs, butter or nuts. The buttermilk in the batter reacts with the baking soda, creating tiny bubbles of carbon dioxide which causes the bread to rise. Soda bread is a great beginner recipe as it doesn't require much experience or take long to prepare.
Is sourdough the same as soda bread?
Both sourdough and soda bread are similar in that they contain lactic acid. However, the source of their lactic acid is different. Sourdough gets its lactic acid from yeast, while soda bread gets it from buttermilk. Soda bread is more mild in flavor and is closer to a biscuit in texture. Sourdough is more sour and has a chewy, moist texture.
While I LOVE sourdough, it is more time consuming to make than soda bread, which takes only a few minutes to prepare. Thankfully they are both delicious!
Soda farls vs. soda bread
You may have heard of something called soda farls and wondered if they were the same thing as soda bread. Yes, soda farls are soda bread with just a few minor differences. Soda farls simply refers to soda bread that has been flattened, cut into quadrants or fourths (farls!) and cooked on a griddle or skillet. Soda bread is usually kept in one large loaf, scored on the top with a knife and baked in the oven.
How to Make Irish Soda Farls (with Step-by-Step Instructions)
The type of soda bread I'm showing you how to make today is called soda farls. If you're looking for a quick, beginner bread recipe, start with soda farls! This recipe only requires four ingredients and cooks quickly on a skillet. Simply follow the step-by-step instructions below!
Step 1: Create buttermilk by whisking together the vinegar and non-dairy milk. Set it aside.
Step 2: In a mixing bowl, whisk together the dry ingredients, including the flour, baking soda and salt.
Step 3: Next add in your buttermilk a little at a time until a thick, dough forms.
Step 4: Heat a skillet over medium/low heat and dust the skillet with a little flour to keep the bread from sticking.
Step 5: Knead the dough slightly before flattening it into a circle with a rolling pin or your hands. Cut the circle into quarters for more traditional farls or 8ths for smaller pieces of bread.
Step 6: Cook the segments on the skillet for 5-10 minutes on each side, depending on the temperature of your pan. You want the outsides to be golden and the middle to be cooked through. You can always use a skewer to check the center! If the outside is getting too brown/burnt, turn down the heat so that the center can cook through.
Step 7: Cut the soda bread or farls in half and serve warm with non-dairy butter, jam or a bowl of soup!
How to make vegan Irish soda bread
Vegan soda bread is as easy to make as regular soda bread. You simply need to make homemade, dairy-free buttermilk. To do this, sour some non-dairy milk by whisking an acid into it. You'll need about 1 tablespoon of acid to 1 cup on non-dairy milk. I like to use apple cider vinegar as my acid and soy milk as my non-dairy milk.
What do you eat soda bread with?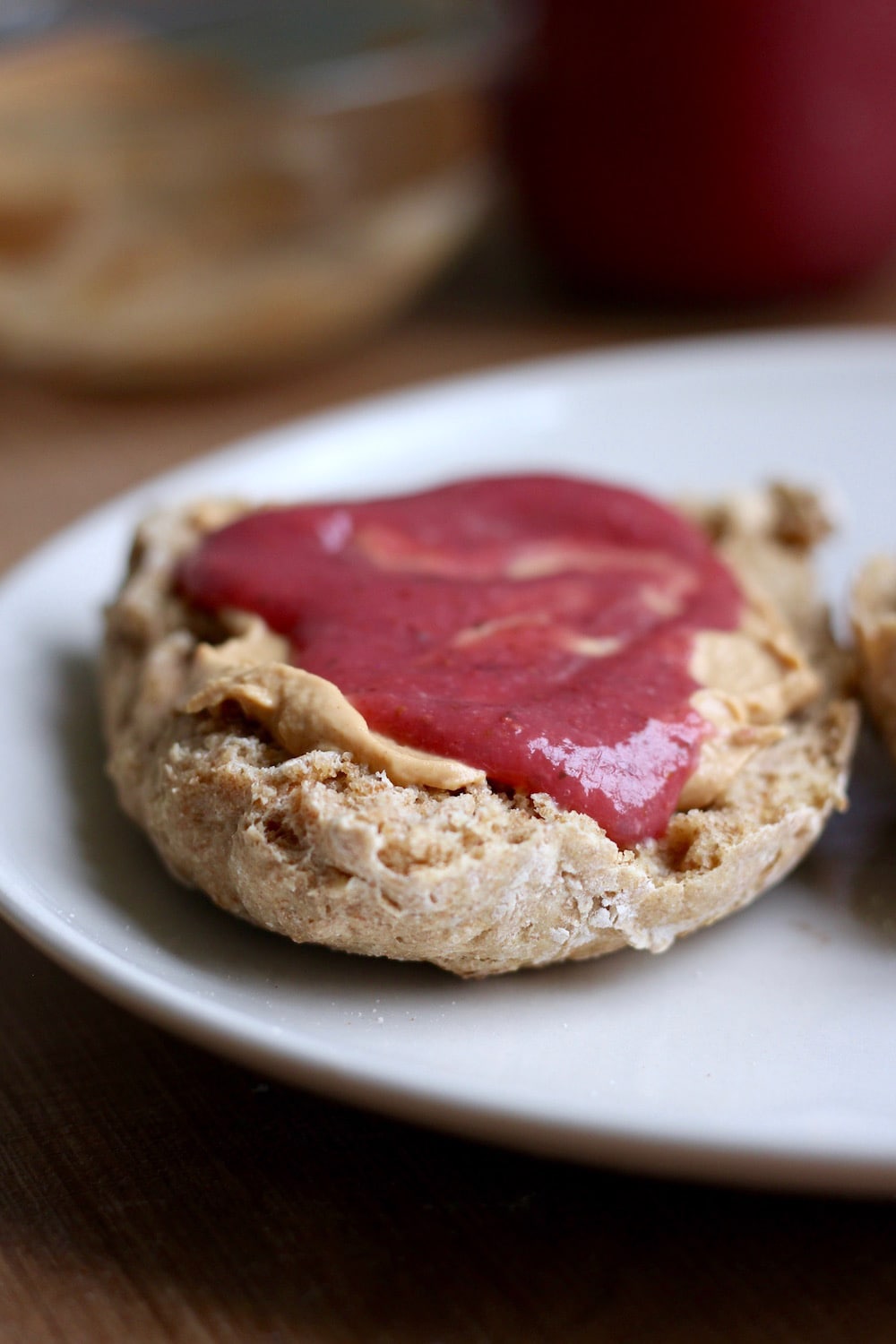 Think of soda bread as any other kind of bread. I love to cut my soda farl in half, toast it and smear it with peanut butter and jelly for a classic American flavor. It tastes fantastic with butter or cream cheese as well. Because it's a heartier bread, it also works perfectly dipped in a soup or stew.
How long does soda bread keep?
Soda bread tends to dry out quickly. It tastes best when eaten warm right after being removed from the oven or skillet. However, if you need to store it for a little bit, it's best to wrap it up or store it in an airtight container for only 3-4 days. You can also freeze it for 2-3 months!
I really hope you give this delicious and simple vegan soda bread recipe a try. If you do, please leave a comment down below or take a picture and tag #theconscientiouseater on Instagram so I can see your creation!
📖 Recipe
Vegan Irish Soda Farls
Made with just 5 ingredients, this Vegan Irish Soda Bread Recipe is the perfect way to get a hearty, delicious bread on the table in minutes!
Instructions
Preheat a skillet on medium to low heat.

Add 1 tablespoon of apple cider vinegar to a 1 cup measuring cup and then fill the rest of the cup up with non-dairy milk. Stir carefully and then allow the milk to curdle for about 5 minutes while you prepare the dry ingredients.

In a mixing bowl, whisk together the flour and salt.

Sift in the baking soda.

Make a well in the center of the dry ingredients and and pour in the prepared buttermilk.

Working quickly, mix the wet and dry ingredients together and knead very lightly until a dough forms.

Pour the dough out onto a lightly floured surface and form it into a circle about ½ inch thick.

Cut the circle into 4ths.

Sprinkle a little flour over the base of the hot pan and cook the farls for 6 to 8 minutes on each side or until golden brown.
Video
Nutrition
Serving:
1
farl
Calories:
170
kcal
Carbohydrates:
33
g
Protein:
5
g
Fat:
1
g
Saturated Fat:
0.1
g
Polyunsaturated Fat:
1
g
Monounsaturated Fat:
0.2
g
Sodium:
397
mg
Potassium:
102
mg
Fiber:
1
g
Sugar:
1
g
Vitamin A:
155
IU
Vitamin C:
3
mg
Calcium:
62
mg
Iron:
2
mg
If you enjoyed this recipe, be sure to check out the similar bread recipes below!