This No Knead Whole Wheat Vegan Sandwich Bread requires only 5 ingredients, minimal experience and tastes amazing. Anyone can make it!
Man, it feels good to repost the recipe for this No Knead Whole Wheat Vegan Sandwich Bread! I've been making this recipe for years and it was actually one of the first recipes I shared on the blog...4 years ago! Brett and I were still living in Florida and I was experimenting with making foods from scratch in anticipation of moving overseas one day. Now here I am, writing this post from China while a loaf of this No Knead Whole Wheat Vegan Sandwich Bread sits in our fridge!
The reason I'm reposting this recipe is because I often want to share this simple No Knead Whole Wheat Vegan Sandwich Bread recipe with others, but I usually hold back on doing so because the original blog post is cringe worthy to me now. The photos were taken with Brett's old point-and-shoot camera and the blog post doesn't even have a recipe card. Instead I shared how to make the recipe in a drawn-out way in between photos. Basically, I wanted an easy to follow, aesthetically pleasing blog post to share with others who might be interested in making their own homemade sandwich bread.
100% Whole Wheat Bread Recipe
I love this recipe for so many reasons. First of all, I find it so hard to find recipes for whole wheat items that solely use whole wheat flour. Usually I'll click on a recipe title "Whole Wheat _________," only to find that it's half whole wheat and half white flour. Now, I have nothing against white flour, but when I'm looking for a whole wheat bread recipe, I usually want it to be made with all whole wheat flour! I know using all whole wheat flour produces a denser outcome, but I personally love to eat breads that are made from entirely whole grains. I love the heartiness of whole wheat products and how they make me feel after eating them.
Other Whole Wheat Bread Recipes:
Maple Syrup Whole Wheat Chocolate Chip Cookies
Whole Wheat Cinnamon Raisin English Muffins
Whole Wheat Tortillas (Lightened Up!)
Homemade Whole Wheat Fig Newtons
Whole Wheat Lemon Yogurt Pancakes
Homemade Whole Grain Sesame Crackers
No Knead Bread Recipe:
The second main reason I love this No Knead Whole Wheat Vegan Sandwich Bread is because, well, it's no knead! You don't need a bread machine to make this bread. All you need is a mixing bowl, a wooden spoon and some patience. I think it's a great beginner bread recipe for anyone starting out making their own homemade bread. At least it was for me!
Below you'll see step-by-step photos of how to make this bread and I hope they give you the confidence to make a loaf yourself! If you give this No Knead Whole Wheat Vegan Sandwich Bread a try, I'd love to know what you think! Leave a comment, rate the recipe and share it with others!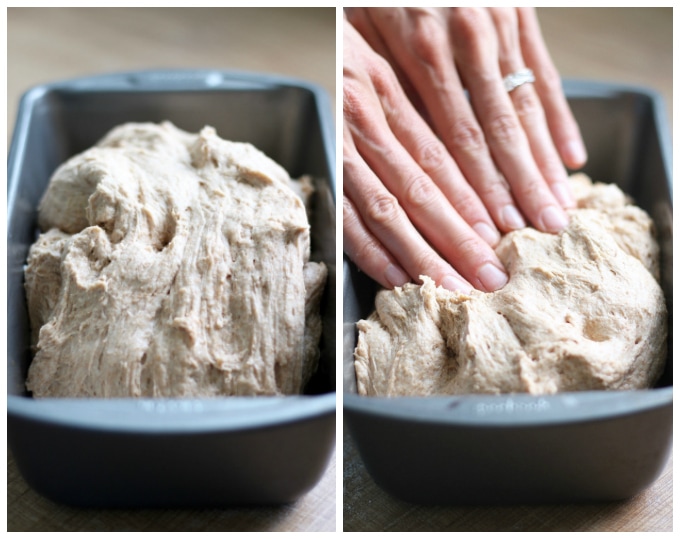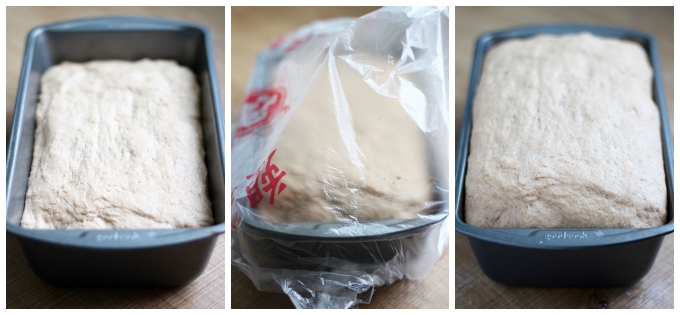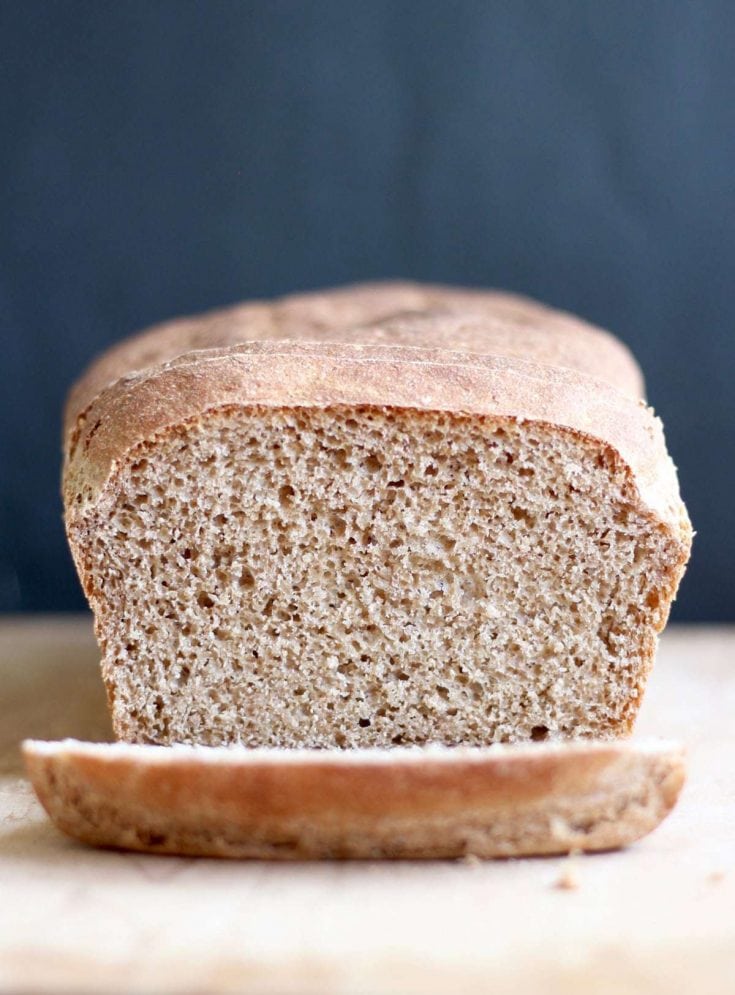 Yield:

1 loaf
No Knead Whole Wheat Vegan Sandwich Bread
Total Time:
4 hours
45 minutes
This No Knead Whole Wheat Vegan Sandwich Bread requires only 5 ingredients, minimal experience and tastes amazing. Anyone can make it!
Ingredients
2 cups warm water
2 tablespoons liquid sweetener (agave, maple syrup, honey, etc.)
1 ¼ teaspoon salt
Instructions
In a large mixing bowl, whisk together the warm water and liquid sweetener.
Sprinkle the yeast over the warm water and allow it to sit for 10 minutes until the yeast starts to activate and become foamy.
Once the yeast has activated, add in the whole wheat flour and salt and, using a wooden spoon, mix everything together until a sticky dough forms. Once a dough forms mix vigorously for about 1 minute.
Place a plastic bag over the bowl and allow the dough to sit in a warm place for about 1 ½ hours or until it doubles in size.
After 1 ½ hours, remove the plastic bag and mix the dough with the wooden spoon for about 30 seconds. Recover the bowl with the plastic bag and let it rise again for another 1 ½ hours or until it doubles in size.
Meanwhile, prepare your bread loaf pan by spraying it with cooking spray. Set it aside.
After the second 1 ½ hours, mix the dough for about 30 seconds to de-gas it and then scoop the dough out of the mixing bowl and place it into your prepared bread pan. Use your hands to spread the dough out so that it fills the whole pan.
Let the dough rise in the loaf pan for about 40 minutes or until 80-90% the size it will be when baked.
While the dough is rising in the bread pan, preheat your oven to 350℉.
Bake the bread for 40-45 minutes.
Let the loaf cool in the pan for about 30 minutes before transferring it to a wire rack to finish cooling.
Slice and enjoy
Notes
*Since this process is fairly time consuming, I like to make two loaves at a time. One loaf we eat throughout the week and the second loaf I slice and freeze for later.
Nutrition Information
Yield
8
Serving Size
2 slices
Amount Per Serving
Calories

182
Total Fat

1g
Saturated Fat

0g
Trans Fat

0g
Unsaturated Fat

1g
Cholesterol

0mg
Sodium

334mg
Carbohydrates

38g
Net Carbohydrates

0g
Fiber

6g
Sugar

1g
Sugar Alcohols

0g
Protein

7g
Nutrition information is a rough estimate provided by Nutrionix and should be used for informational purposes only.