Rolled oats, rich pecans and colorful pumpkin seeds get coated in a sweet, pumpkin mixture to create this crunchy and warming Vegan Pumpkin Granola!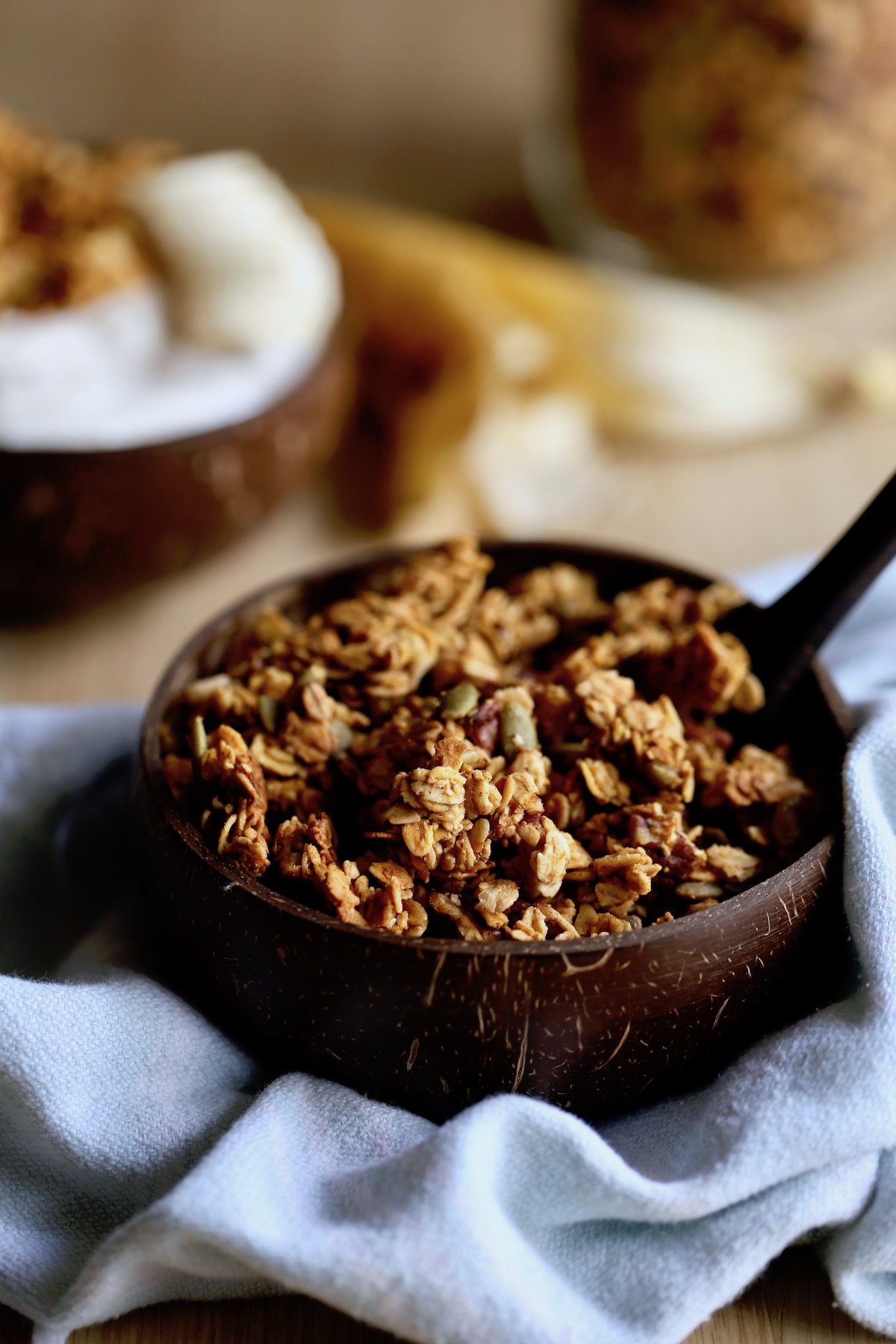 If you're looking for a fall-inspired breakfast that's perfect for meal prep, this Vegan Pumpkin Granola is just what you need!
We are a granola-obsessed-family, no matter what time of year it is.
I can eat my Dark Chocolate Granola all year round.
This Tahini Granola with Crunchy Clusters is always a hit.
In the cozier, fall months, I love to make this spiced pumpkin granola.
Basically if it's a vegan granola, we'll eat it!
Let me show you how to whip up this 8 ingredient, comforting pumpkin granola.
Ingredients for Vegan Pumpkin Granola
As I mentioned, this pumpkin granola recipe only requires 8 ingredients, many of which I bet you already have on hand in your pantry!
You'll need the following ingredients:
How to Make Your Own Pumpkin Pie Spice
Honestly, if you only have cinnamon on hand, you can just use that instead of the pumpkin pie spice called for in this recipe.
However, using a pumpkin pie spice mix adds a lot more depth of flavor and warming spices to your granola.
If you can't find pumpkin pie spice where you live, then you can easily make some yourself!
To make homemade pumpkin pie spice, simply combine the following ingredients in a sealable container:
Store this spice mixture at room temperature.
How to Make Pumpkin Granola
This pumpkin granola is as easy as any other granola to make.
Once you have you oven preheated and a large baking sheet with edges greased, you're going to mix together all of the dry ingredients in a large mixing bowl.
Then, if you're lazy efficient like me, you'll just add the pumpkin puree, coconut oil and maple syrup straight into the mixing bowl with the dry ingredients and stir everything together until well combined and all of the oat mixture has been coated in the sweet pumpkin mixture.
Dump the granola out onto your greased baking dish and spread it out into an thin, even layer.
I like to bake my granola for half of the time towards the top of the oven and then lower it to the lowest rack in the oven for the second half of the baking time.
I don't mix it.
Then, once the granola is golden, remove it from the oven and allow it to cool completely before storing it in an airtight container at room temperature.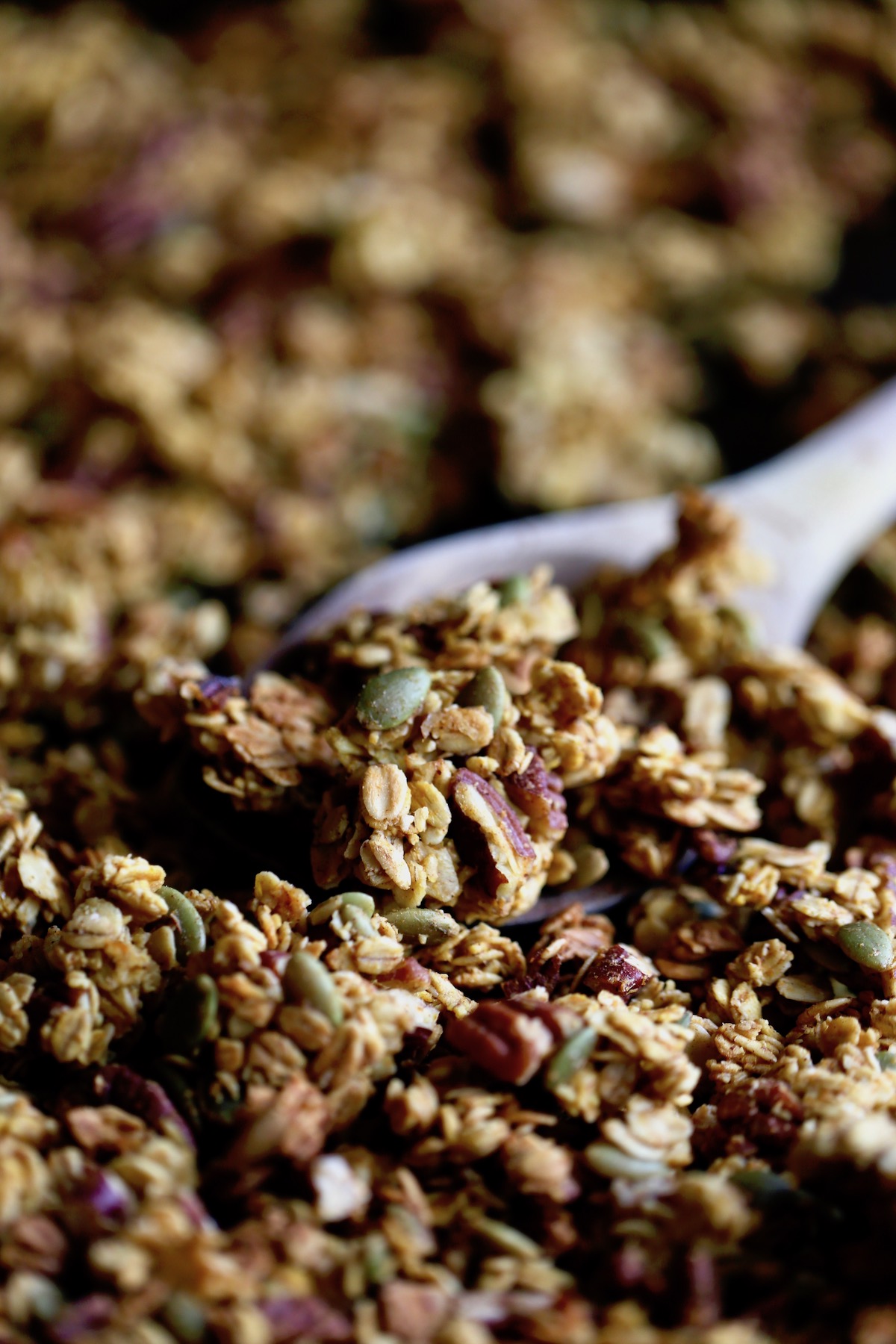 Tips to Making Extra Clustery Granola
If I'm having granola, I want it to have clusters.
Big, crunchy clusters!
Over the years of making my own granola, I've learned some tricks along the way to making extra clustery granola.
Let me share them with you!
You Need Fat and Sugar: I personally think adding a little oil and some kind of liquid sweetener to your granola is a must in order to get crunchy, clustery granola. The oil coats the granola and hardens once cooled, making the granola nice and crunchy. The sweetener, preferably a liquid sweetener, also coats the granola and creates a bit of a caramelized effect once cooled.

Let the Granola Cool COMPLETELY: As the granola cools, the oil will harden and the sugars will also harden, causing all the oats and nuts to get crunchy and stick together. If you break up the granola before it cools completely, you won't end up with those beautiful, delicious clusters, so be patient!
How to Store Homemade Granola
I personally just store my homemade granola in an airtight container or bag at room temperature.
As look as the temperature in your house doesn't get to hot and the granola doesn't sit in direct sunlight, it should keep well for up to a month!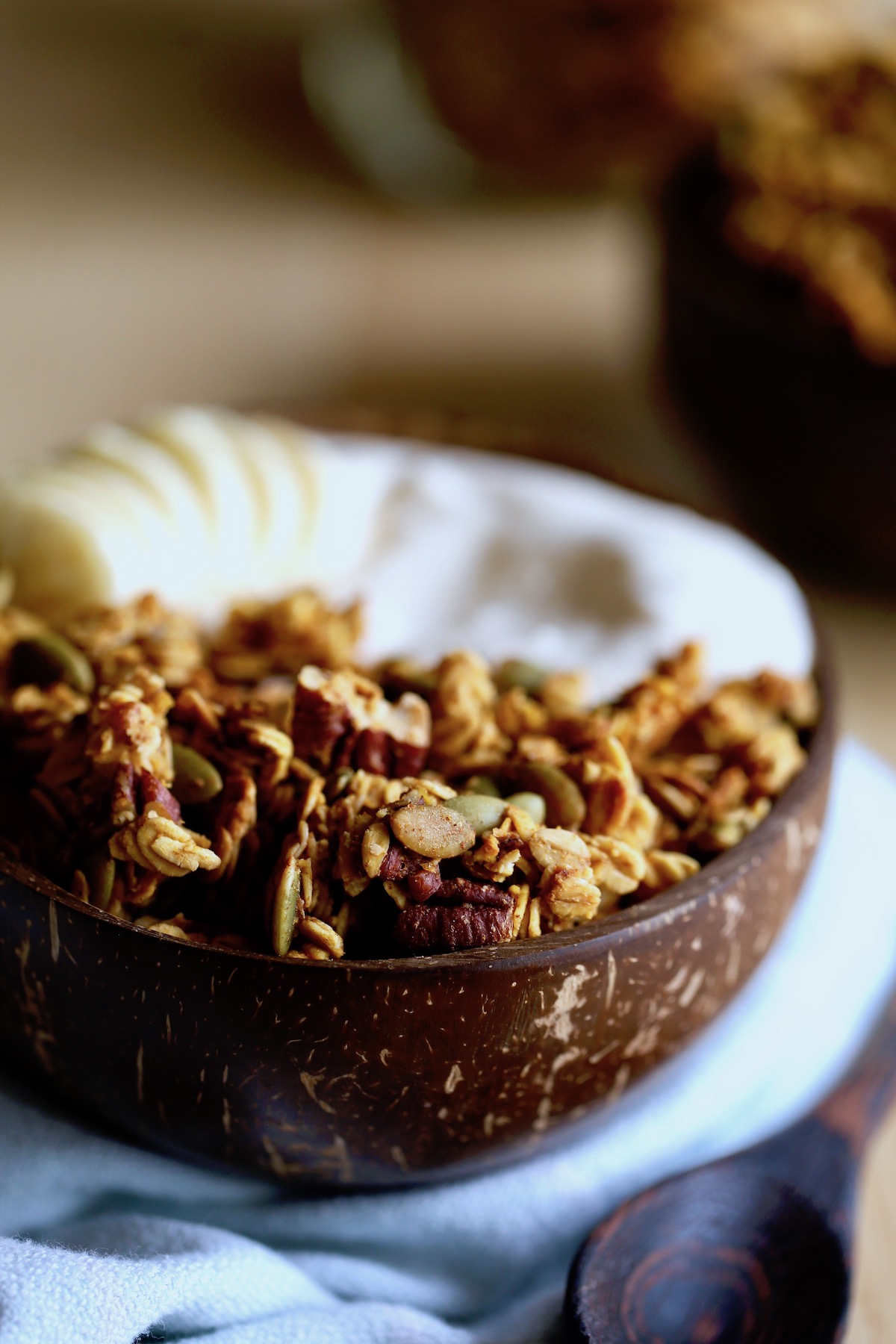 My Favorite Ways to Eat Granola
While I often just eat this vegan pumpkin granola by the handful straight from the bag, there are so many other ways you can enjoy homemade granola.
I'll list out some ideas below in case you need some meal ideas!
On top of yogurt with fruit
Mixed with other cereals for extra texture
On top of oatmeal for added texture
Mixed with fruit
Mixed into muffins
On top of pancakes or other baked goods
As a trail mix mixed with other nuts and dried fruit
As a "crumb topping" over warm cinnamon apples
I also think granola (or any food for that matter) tastes better when you eat it out of a beautiful dish.
We love using our Coconut Bowls whenever we're enjoying cold meals such as yogurt and smoothie bowls!
There are so many ways to enjoy granola, especially this vegan pumpkin granola, so I hope you make a batch!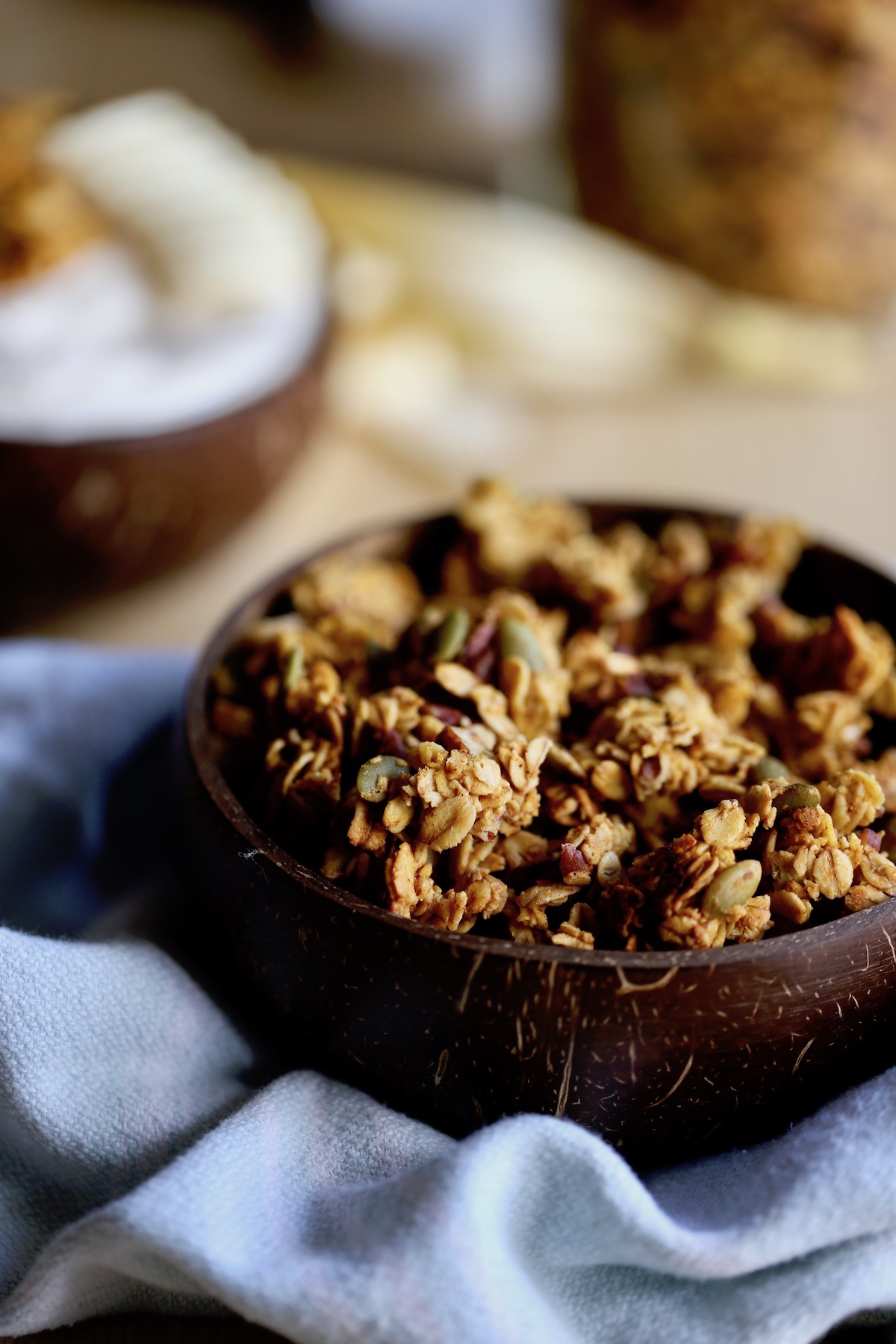 📖 Recipe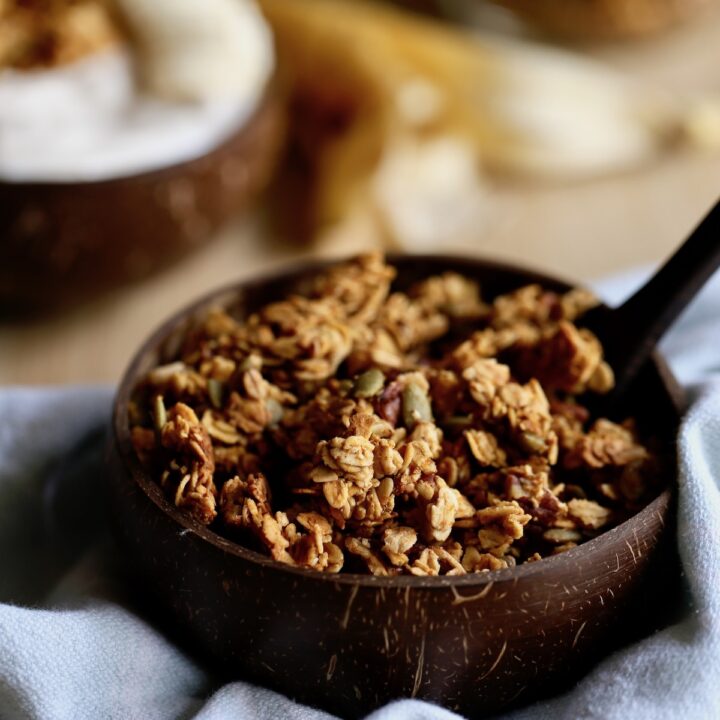 Pumpkin Granola
Rolled oats, pecans and pumpkin seeds get coated in a sweet, pumpkin mixture to create this crunchy and warming Vegan Pumpkin Granola!
Instructions
Preheat your oven to

350

°F

and grease a baking dish with cooking spray. Arrange your oven racks so that one is towards the bottom and one is towards the top.

Pour the mixture onto your greased baking dish and spread it out into an even, thin layer. Press it down with a spatula to make sure the mixture is sticking together.

Bake the granola for about 10 minutes on the top rack of your oven. Then, without stirring the granola, move it to the bottom rack to bake for another 10-15 minutes or until slightly golden brown.

Remove the granola from the oven and allow it to cool completely* before breaking it into clusters and storing it in an airtight container at room temperature for up to a month.
Notes
*Allowing the granola to cool completely is crucial for forming clustery granola. As the granola cools, the oat mixture sticks together and hardens to form crunchy clusters!
Nutrition
Serving:
0.5
cup
Calories:
271
kcal
Carbohydrates:
30
g
Protein:
5
g
Fat:
16
g
Saturated Fat:
6
g
Polyunsaturated Fat:
3
g
Monounsaturated Fat:
5
g
Trans Fat:
0.002
g
Sodium:
62
mg
Potassium:
209
mg
Fiber:
4
g
Sugar:
11
g
Vitamin A:
1278
IU
Vitamin C:
1
mg
Calcium:
42
mg
Iron:
2
mg