Enjoy a comforting meal with this creamy and hearty Vegan Mushroom Gravy over your favorite bowl of mashed potatoes or cauliflower.
Gravy is super easy to make dairy-free! And this vegan mushroom gravy is delicious!
Today's recipe Vegan Mushroom Gravy recipe requires only 8 ingredients and 25 minutes to make!
Serve it over mashed potatoes or cauliflower, or take it to all your holiday gatherings for a delicious, vegan side-dish
Seriously, why don't I make dairy-free gravy more often?!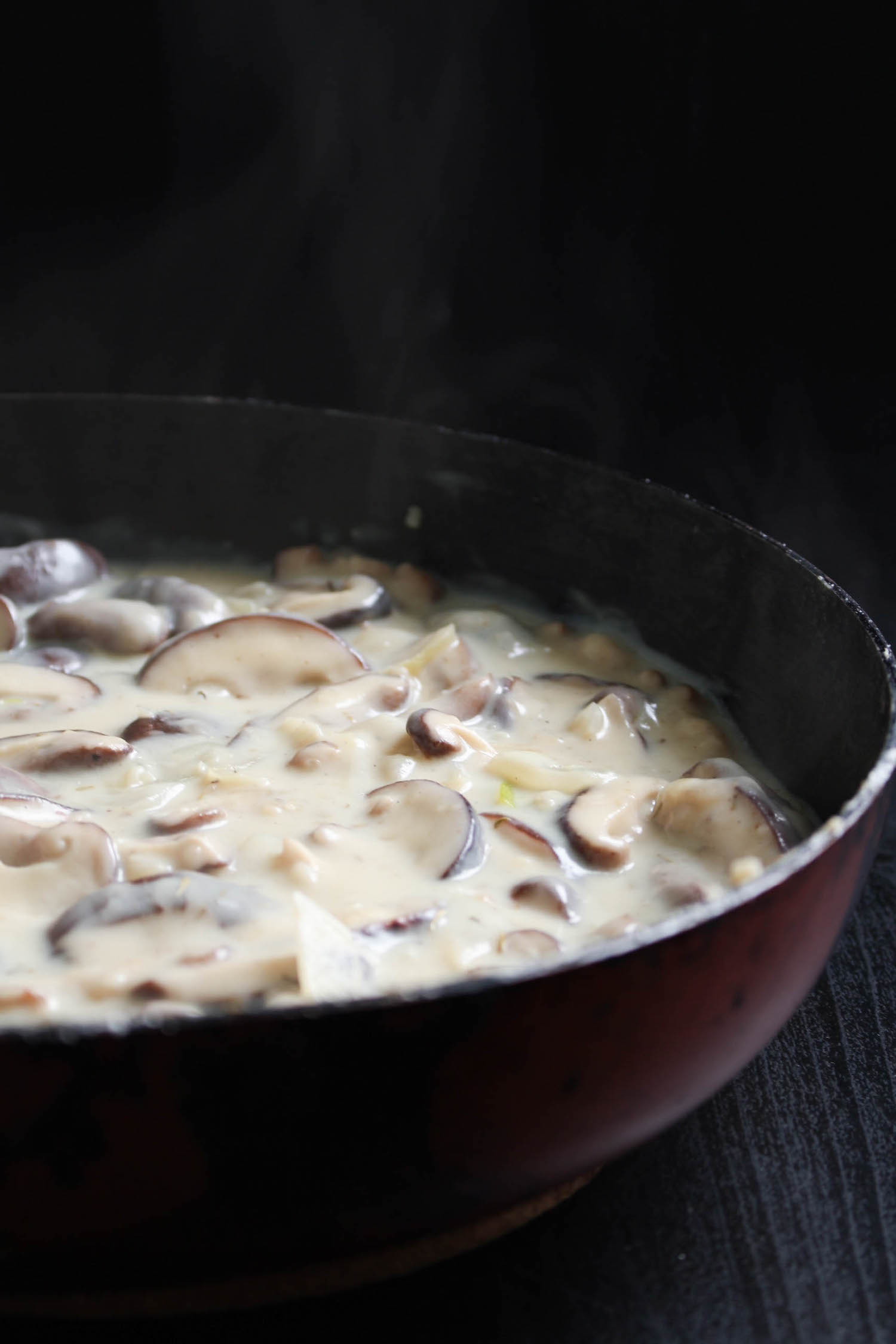 Ingredients
Did I mention this gravy only requires 8 ingredients?
And thankfully none of the ingredients are strange or hard to find.
I'll list out everything you need to make this mushroom gravy below:
Olive oil
Onion
Mushrooms
Flour
Soy milk
Salt
Pepper
Dried thyme
And that's it!
I bet you already have most of these ingredients on hand!
How to Make Gravy without Dairy
Usually gravy is made with meat drippings, a stock and seasonings.
You start by making a roux: combining a fat with flour to make a thick paste that will help to thicken whatever liquid you add to it.
Traditional gravy is usually made with butter and cow's milk, cream or meat broth.
However, it's not only possible, but it's easy to make dairy-free gravy!
To make gravy dairy-free, simply use a vegan fat source, such as olive oil, vegan butter, or another kind of oil.
Then, for your liquid you can use an unsweetened, unflavored non-dairy milk or vegetable stock.
The possibilities are endless so start experimenting today!
How Do You Make Gravy?
To make gravy, the process is fairly similar, even if the ingredients vary.
Start by melting your fat in a saucepan over medium heat.
Add in the flour and whisk until a thick paste forms.
Whisk in half of the liquid until smooth and combined.
Whisk in the remaining liquid until smooth.
Allow the liquid to heat and thicken for a few minutes, while whisking constantly.
Serve over your favorite protein or side dish!
What Do You Eat Gravy With?
Gravy pairs well with so many things!
Again, I really need to make it more often!
Below, I'll list out some of my favorite foods to serve with gravy.
Mashed potatoes
Mashed cauliflower
Steamed or roasted vegetables
Breaded vegan protein sources
Tofu or cauliflower "steaks"
Vegan meatloaf
Fries or chips
Rice
How to Store Leftover Vegan Gravy
As gravy cools, it thickens and develops a "skin" on the top.
Don't worry, simply thin it out with some more liquid or water and whisk the skin back into the gravy as you reheat it.
It'll be just as good as when you made it fresh, so definitely hang onto those leftovers!
Yield:

6 servings
Simple Vegan Mushroom Gravy
Enjoy a comforting meal with this creamy and hearty Vegan Mushroom Gravy over your favorite bowl of mashed potatoes or cauliflower.
Ingredients
3 tablespoons olive oil
½ onion, chopped
10 oz. sliced mushrooms
3 tablespoons flour
1 ½ cups soy milk
salt and pepper to taste
dried thyme
Instructions
Heat the olive oil in a saucepan over medium heat. Add in the onion and sauté in the olive oil until soft.
Add in the sliced mushrooms and sauté for about another 5 minutes or so until the mushrooms soften.
Sprinkle the flour over the onion and mushrooms and continue to cook and stir for about 3 minutes.
Stir in one cup of soy milk until smooth. Allow the gravy to thicken and then stir in the remaining soy milk and season with salt, pepper, and dried thyme.
Reduce the heat to medium low and allow everything to simmer until thickened to your desire, about 10 minutes.
Serve warm over mashed potatoes or cauliflower
Nutrition Information
Yield
6
Serving Size
1 serving
Amount Per Serving
Calories

116
Total Fat

8g
Saturated Fat

1g
Trans Fat

0g
Unsaturated Fat

6g
Cholesterol

0mg
Sodium

81mg
Carbohydrates

8g
Net Carbohydrates

0g
Fiber

2g
Sugar

3g
Sugar Alcohols

0g
Protein

3g
Nutrition information is a rough estimate provided by Nutrionix and should be used for informational purposes only.