Learn how to make the Best Homemade Almond Milk using minimal, whole food ingredients and simple step-by-step instructions!
Today I'm going to show you how to make the BEST Homemade Almond Milk. Yes, I know that's a big statement, but I truly am in love with this creamy, sweet almond milk and I hope that you'll love it as much as I do. Plus, once you master this homemade almond milk, you'll want to try out this homemade walnut milk recipe and even homemade cashew milk. Oh, and expert tip: don't throw the almond pulp away! Use that almond milk pulp to make these almond pulp brownie bites for a healthy snack!
I've known how to make almond milk for a long time now, but it's only just recently that I started making it on a regular basis. When Brett and I first returned to the states this past November in preparation to have Harper, I was so excited to not have to make homemade milk. In China, I usually use my Joyoung Soy Milk Maker to make soy milk and while I loved having homemade, natural non-dairy milk, I was so excited to have so many store-bought options to choose from. However, as I continued to buy non-dairy milk from the store, I soon realized that I don't really like store-bought non-dairy milks. A lot of them contain lots of extra add-ins and thickeners and when drunk on their own don't taste very good. So before we returned to China, I started making my own non-dairy milk again and I don't know if I'll ever be able to go back to store-bought milk. This simple, 4 ingredient Homemade Almond Milk really is the best almond milk I've ever had!
Jump To
How To Make Homemade Almond Milk:
Don't let homemade almond milk intimidate you. It really is a simple process that just requires thinking ahead in order to allow your almonds to soak overnight. Once you're almonds have soaked over night, all you do is strain them, place them in a blender with water, dates (if you wanted sweetened almond milk) and some salt and blend until smooth. Then, either using a nut milk bag or a nut milk/greek yogurt strainer, you separate the fresh, smooth almond milk from the almond pulp and voila! You have the Best Homemade Almond Milk!
Recipes With Almond Milk:
This Homemade Almond milk tastes amazing to me as is. I also love to use it to make cold brew almond milk lattes using my Toddy Cold Brew System. The combination of the Toddy cold brew and this homemade almond milk has saved me so much money, because I like it better than coffee shop iced lattes! Some other recipes with almond milk in them are listed below:
Healthy Cookie Dough Overnight Oats
Oil Free Double Chocolate Jumbo Muffins
Vanilla Protein Overnight Oats with Zucchini
Chocolate Smoothie with Frozen Cauliflower
Easy Dairy Free Iced Mocha Recipe
Other Homemade Nut Milk / Non-Dairy Milk Recipes:
In addition to homemade almond milk, I've also shared how to make lots of other non-dairy milks on the blog, including this Homemade Oat MilK Recipe, Homemade Walnut Milk, Homemade Cashew Milk, Homemade Soy Milk, Homemade Chocolate Oat Milk and even Homemade Cashew Milk Hot Chocolate! Be sure to check these recipes out if you're interested in starting to make your own non-dairy milk at home!
How To Make Homemade Almond Milk With Step-by-Step Photos: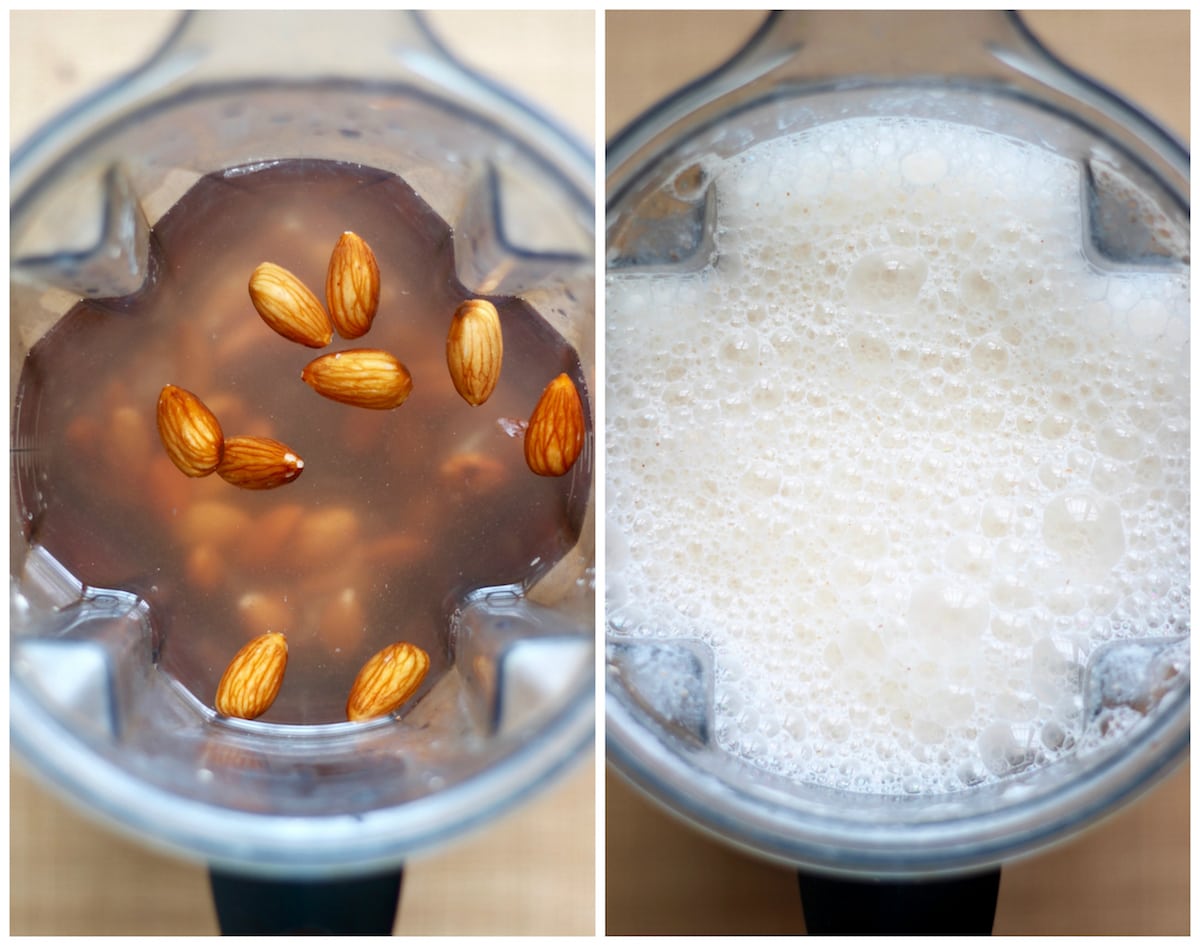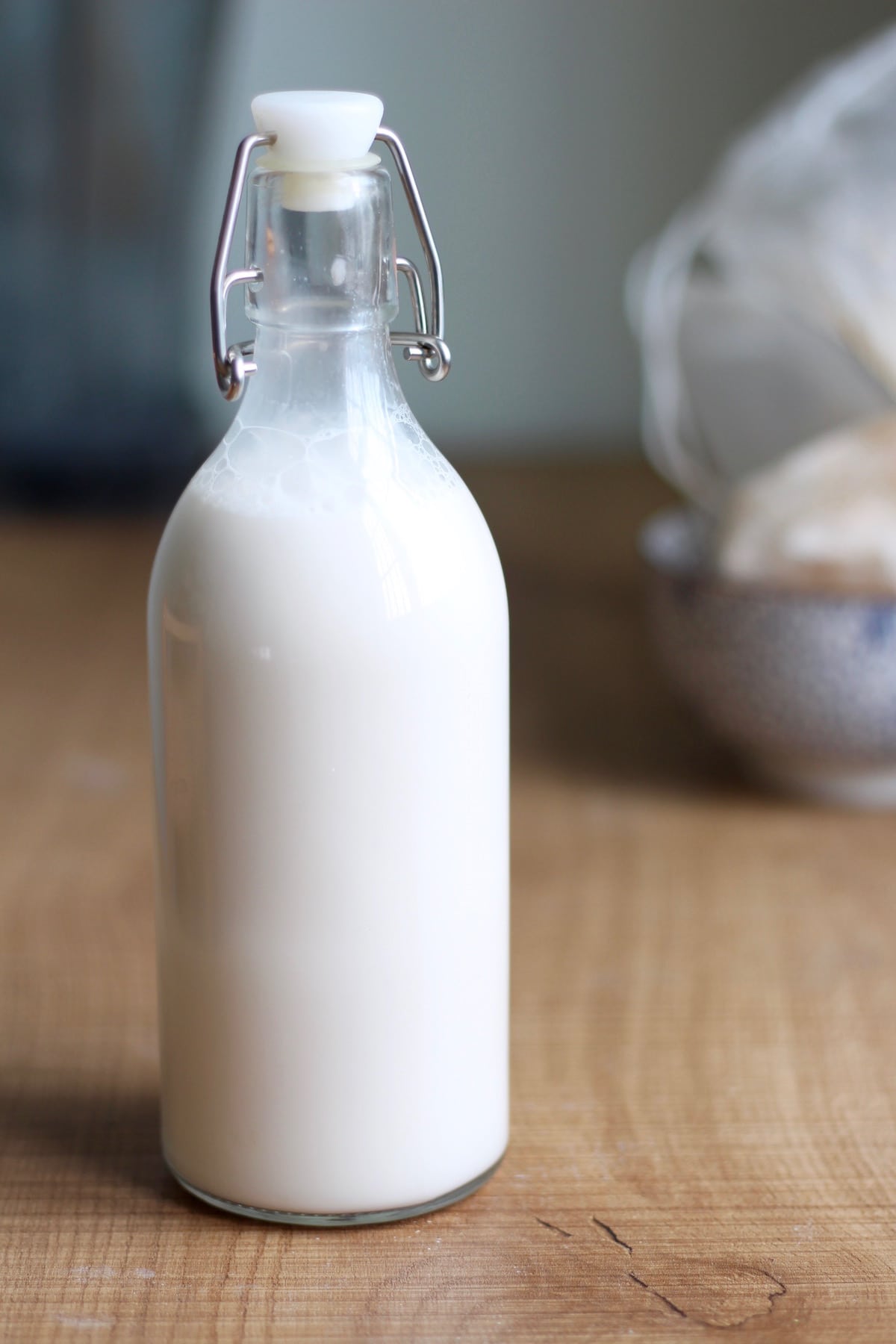 I'd love to know if you give this Homemade Almond Milk recipe a try! Be sure to comment down below, rate the recipe and share it with others! I also love to see photos on Instagram, so be sure to snap a photo of the final product and tag @theconscientiouseater on Instagram so I can see!
📖 Recipe
How to Make the Best Homemade Almond Milk
Learn how to make the Best Homemade Almond Milk using minimal, whole food ingredients and simple step-by-step instructions!
Ingredients
1

cup

raw almonds

soaked overnight

4

cups

filtered water

½

teaspoon

salt
Instructions
Place 1 cup of almonds into a container and cover them with water. Cover the container and place the almonds in the fridge to soak overnight.

Add in the remaining ingredients and blend on high for about 1 minute.

Using a

nut milk bag

over a bowl (or a nut milk/yogurt strainer), pour the blended almond milk into your nut milk bag and massage the bag until all the almond milk has strained out of the bag and all that is left in the bag is almond pulp.

Use a funnel to pour the fresh almond milk into a sealable jar and store the milk in the fridge for 4-5 days.
Notes
The almond milk will separate while sitting in the fridge, but just shake the almond milk before using.
Nutrition
Serving:
1
cup
Calories:
181
kcal
Carbohydrates:
10
g
Protein:
6
g
Fat:
14
g
Saturated Fat:
1
g
Polyunsaturated Fat:
4
g
Monounsaturated Fat:
9
g
Trans Fat:
0.004
g
Sodium:
242
mg
Potassium:
246
mg
Fiber:
4
g
Sugar:
5
g
Vitamin A:
1
IU
Vitamin C:
0.02
mg
Calcium:
85
mg
Iron:
1
mg