Ah, Seoul.
What a treat!
Brett and I spent 10 days in South, Korea at the beginning of the month and it was a wonderful break from language study and China. The first 5 days were spend on Jeju Island, a volcanic island off the coast of Korea. I'll share some photos from that part of the trip at the end of this post, but for now I want to share with you all the delicious, vegan food I ate during the second half of our trip in Seoul.
Other than exploring different sectors of the city and an afternoon reunion with old friend, Brett and I basically ate lots of food. It was amazing. We were so amazed by how Western Seoul was. We knew it would be, but it was quite the shock coming from our more rural, Chinese city. Some parts of Seoul were overrun by foreigners and even most of the Korea people at the restaurants spoke perfect English. People obeyed traffic laws and everything was so clean and orderly.
In regards to food, the options were endless. I would have needed so many more days to even get to all the restaurants on the small list of vegan restaurants I made before we left, let alone all the vegan restaurants that I had yet to hear about. But today I can at least share with you the ones I was able to visit and a list of other's that I wish I had been able to try.
Plant:
Plant Cafe was at the top of my list and I ended up eating there twice. It's a small restaurant off the Itaewon stop that only has three 2 person tables and one 6 person table. They have a small menu that rotates depending on the day and season, but the entrees that they do offer are well varied ranging from salads to sandwiches to pasta. They also have delicious drinks like kombucha, chai, cafe lattes and teas that you can sip while you enjoy one of their many vegan desserts. Both times we went they had over 5 cake flavors to choose from, muffins, walnut Oreo brownies and different kinds of cookies. I was in heaven!
It took us a while to find it, because it's down a smaller alley way and around a corner, but there was a sign that helped point the way!
The first time we ate at Plant Cafe I got the Mac & Cheese entree, which was a newer item on their menu, but so so so delicious. Brett got the African Peanut Stew and it was so flavorful and hearty. For dessert I got a Chocolate Cherry Cake and a Chai Tea, which Brett deemed the best chai he'd ever had and I wholeheartedly agreed.
The second time we went I ordered the Chickpea Mash Sandwich and it came with a side of the crispiest potato chips and the most amazing side salad. The sandwich came with sprouts and coconut cheese and was one of the best sandwiches I'd ever had. For dessert Brett and I both got another chai latte and split the Apple Caramel Cake and the Peanut Butter Chocolate Cake. We loved everything and couldn't decided which cake was better, because they were both decadent and delicious!
We also got some of the baked goods to go one time and tried out their Zucchini Chocolate Chip Muffins and Walnut Oreo Brownie. I had no complains and wish I could have tried the rest of the baked goods they had to offer.
Check out the photos below for a glimpse of the ambiance and food from Plant Cafe (sorry for the poor lighting in most of the photos!)
Ose Gye Hyang:
During our time in Seoul, we only ate a couple of Korean meals, one of which was at a fully vegan Korean restaurant called Ose Gye Hyang in Insadong. This restaurant was also a little hard to find, but with some help from the locals and google maps, we finally found it down a narrow alleyway. You have to take your shoes off when you enter and to eat you sit on cushions around low tables.
Brett wasn't too hungry so we ordered 1 fried dumpling appetizer for him and bibimbap for me. I had been craving bibimbap since we got to Korea and was so happy with what they served. Our food came in a matter of minutes and was a little untraditional, but came with lots of veggies and lettuce and so many fun sides like mock meats, sauteed greens and even a sweet apple salad. I loved getting to try all the different flavors and textures.
Vatos Tacos:
For our 4 year wedding anniversary, Brett and I went to Vatos Tacos, which is also in Itaewon (so many good restaurants are in Itaewon!). They had your typical Mexican food including tacos, burritos and chips and dips and had lots of vegan options as well. To start they give you free tortilla chips and two kinds of salsas, both of which were incredible. We also ordered an appetizer of guacamole which was maybe the best guacamole I've ever had.
For my main I had a salad which came with apple, veggies and candied nuts and a delicious asian dressing. I also ordered a Sangria, which was perfect, but since I rarely drink, I wasn't able to finish it.
If you love Mexican food, definitely check out Vatos. The atmosphere is so fun and lively!
Huggers:
Huggers is an amazing vegan burger joint also in Itaewon. Again, it's a little off the main road down some windy roads, but definitely work the walk. They had so many different burgers to choose from as well as sides, drinks and baked goods. Brett and I asked the waitress what most people order and she told us the double cheeseburger and the avocado pesto burger were customer favorites so we went with those and they did not disappoint! Every part of the burgers was spot on. The cheese, the caramelized onions, the pesto sauce, the veggies...they were all so perfect and paired beautifully together.
For dessert Brett and I split a Mocha Chocolate Doughnut which was more of a cake like consistency, but the flavor was amazing.
I loved everything about this restaurant and I would definitely try to make it here if you're ever in Seoul.
Other Restaurants:
So as you can see I didn't get to too many restaurants during our short stay in Seoul. I had a lot of other restaurants on my list that I wanted to try out and I even ran into another vegan at Plant that gave me a bunch of recommendations. Below is a list of quite a few other vegan restaurants that you can check out:
The Fat Caf - not fully vegan but has soy lattes
Jeju Island:
I also wanted to share a little about the 5 days we spent on Jeju Island as it was ½ of our vacation and so beautiful and so much fun. We had one of our girl friends traveling with us which made this part of the trip so much fun for me. The weather was thankfully beautiful during our 5 days on Jeju and we were able to be active throughout the time, which always feels good. We stayed in a hotel room that had a kitchen, so I ate almost all of my meals from the hotel. I lived off oatmeal, microwaved sweet potatoes and cereal. It was delicious and my digestion was on point! There weren't many vegan options at the restaurants on Jeju so I'm so thankful that we had a kitchen I could use.
Jeju island has lots of hiking trails and also some scenic areas around the island. Our first day there we walked around the island a lot and saw a beautiful waterfall and some of the gardens. We stopped and spend time in a lot of different coffee shops throughout the 5 days as well.
The second day was 1 of the 2 hikes we planned on doing and it took us most of the day. It was fairly warm outside by our hotel, but after the bus ride up the volcano, the temperature cooled down quite a bit. Not long after we started hiking, a beautiful sleet started to fall and it got snowier and snowier the farther up we walked. Eventually we were freezing, but having a blast enjoying the snowy view and taking pictures with locals. I don't have any photos to share from that hike, but Brett ended up doing the second hike (by himself) to the top of the volcano, so I'll share a photo from his time!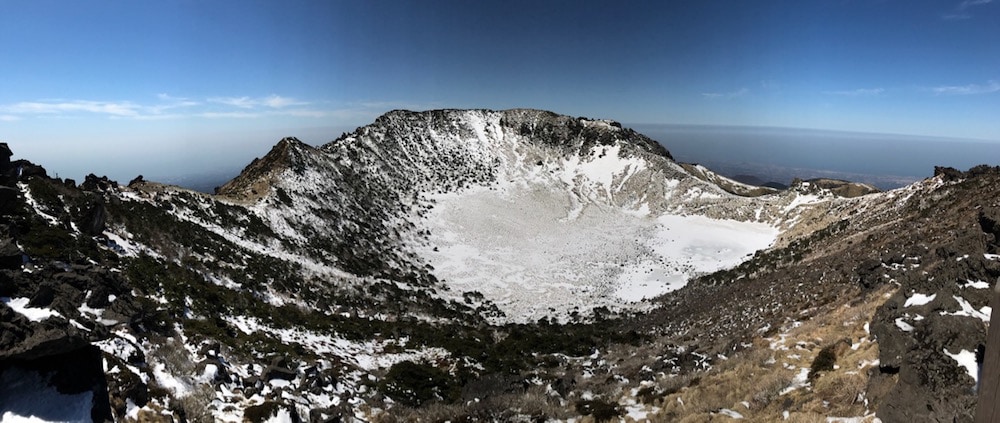 The day before we left we went and saw some of the geometrical rock formations that Jeju is known for. The day was absolutely gorgeous and the color of the water was so picturesque! All the photos I'm sharing from Jeju are from Brett's iPhone so he definitely gets all the credit!
I hope you all enjoyed this post and I'd love to know if any of you have been to South Korea or plan to go to in the future!
Eat Consciously,
Faith