These rich and gooey Vegan Toasted Coconut Chocolate Chunk Brownies have chewy coconut and melty chocolate infused in every bite, making for an amazing dairy-free dessert!
You're not going to believe me but...
...I think Chinese is easier than English.
Crazy right?! I never thought I say that, but the longer I study Chinese the more Chinese makes sense and the less English does. Yes, English isn't a tonal language, so it has that in its favor. Yet, English has so many irregular verbs and pronunciations. My teacher will often ask me a question about an English word or phrase and as I try to explain to her the correct answer I realize how nonsensical it seems. Let me share some funny--and to any nonnative English speaker--crazy sentences and pronunciations with you. I even found some of these sentences hard to understand at first! (I found these sentences here and here!)
The bandage was wound around his leg to cover his wound.
Startled, the dove dove into the bushes.
She shed a tear when she saw the tear in her dress.
A seamstress and a sewer fell down into the sewer.
After a number of Novocain injections, my jaw got number.
I spent last evening evening out a pile of dirt.
Since there's no time like the present, this is the perfect time to present the present.
So. Did you pick up on all the similar spellings but different pronunciations? Yeah, try explaining some of those inconsistencies to a non-English speaker. Hence the reason I'm not a teacher, especially an English teacher!
Chinese on the other hand is very logical in my mind. All Chinese characters (or syllables) have their own individual meaning, so when multiple characters (or syllables) are combined they make a completely new word. Let me give you some examples:
Cauliflower: spelled hua cai, means flower vegetable.
Flashlight: spelled shou dian tong, means hand electricity container.
Diarrhea: spelled la du zi, means pull belly
Phone: spelled shou ji, means hand machine
Laptop: spelled dian nao, means electric brain
See? Not to hard right? Of course, not all Chinese words are this simple to remember, but daily in class I'm learning new things about the Chinese language that makes me love it more. I feel so blessed to have this opportunity to study it! Now, if only I could be fluent...
Baby steps.
Another logical combination (wow, good segue Faith) is putting toasted coconut and chocolate chunks into brownies. Oh yes. These Vegan Toasted Coconut Chocolate Chunk Brownies are to die for! As you can see from my Vegan Toasted Coconut Chocolate Chunk Muffins, I'm on a big coconut and chocolate kick. They just pair so beautifully together. The recipe for these brownies is actually a spin off of Hot for Food's Brownie Bites. Instead of using vegan butter and cane sugar, I used coconut oil and coconut sugar. I also swapped out some of the white flour for spelt flour and added toasted shredded coconut instead of walnuts. Lastly, instead of chocolate chips I used a chopped up a chocolate bar, making for some large, gooey chocolate chunks all throughout these brownies.
The result: PERFECTION!
These are definitely the best brownies I've ever made and possibly ever eaten, so I really hope you try these out! If you do give these Vegan Toasted Coconut Chocolate Chunk Brownies a try, I'd love to know your thoughts! Leave a comment below or take a picture and tag #theconscientiouseater on Instagram so I can see your creation!
📖 Recipe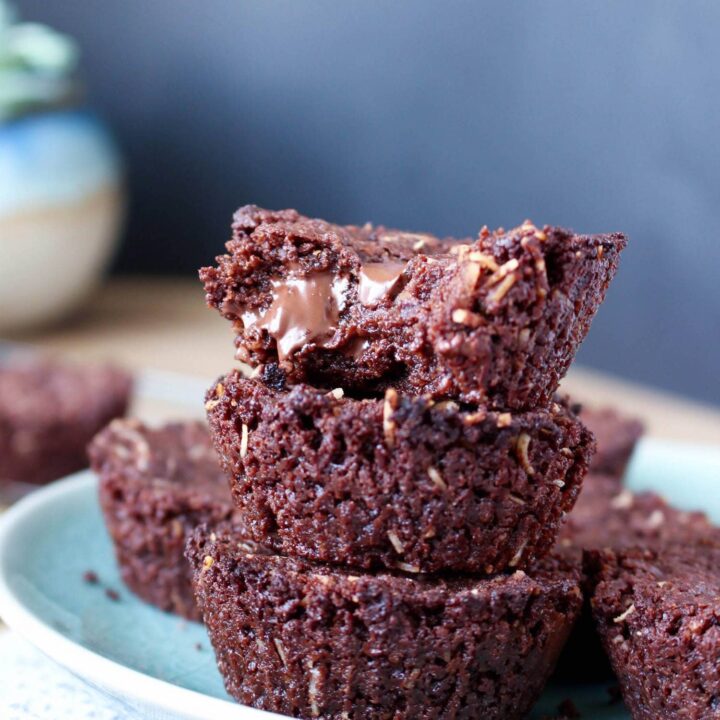 Vegan Toasted Coconut Chocolate Chunk Brownies
These rich and gooey Vegan Toasted Coconut Chocolate Chunk Brownies have chewy coconut and melty chocolate infused in every bite, making for an amazing dairy-free dessert!
Ingredients
2

flax eggs

2 tablespoons ground flax seed + 6 tablespoons water

1

cup

flour*

⅓

cup

cocoa**

½

cup

coconut oil

100

g

chocolate bar

divided***

¾

cup

coconut sugar

1

teaspoon

vanilla extract

½

cup

shredded coconut

toasted
Instructions
Pre-heat your oven to

350

°F

. Spray 12 muffin cups with cooking spray or line them with silicone muffin liners.

In a small bowl, xix together the ground flaxseed and water and set aside to thicken.

Prepare your chocolate bar by chopping it into chunks. You'll be melting half of the pieces and stirring in the remaining half towards the end of the preparation.

In a larger bowl, whisk together the flour and cocoa powder until smooth.

In a small sauce pan over low heat, melt the coconut oil. Once the coconut oil is melted, turn off the heat and add in ½ of the chocolate bar chunks. Stir until fully combined and smooth. Add the coconut sugar and vanilla extract to the oil and chocolate mixture and stir to combine.

Add the chocolate liquid into the flour and cocoa mixture, as well as the 2 flax eggs. Stir until just combined.

Fold in the remaining ½ of the chocolate bar chunks and the toasted coconut.

Add 2 tablespoon of batter to each muffin cup.

Bake for about 10-12 minutes, checking often towards the end of cooking as baking times may vary.

Allow the brownies to cool completely before removing from the pan and serving.
Notes
*I used a mix of spelt flour and white flour.
**You can also sub cacao powder for the cocoa powder.
***I love Lindt 90% dark chocolate!
Nutrition
Calories:
247
kcal
Carbohydrates:
28
g
Protein:
3
g
Fat:
15
g
Saturated Fat:
11
g
Polyunsaturated Fat:
1
g
Monounsaturated Fat:
2
g
Trans Fat:
0.003
g
Cholesterol:
0.3
mg
Sodium:
13
mg
Potassium:
137
mg
Fiber:
3
g
Sugar:
16
g
Vitamin A:
3
IU
Vitamin C:
0.04
mg
Calcium:
17
mg
Iron:
2
mg