With a classic chocolate chip cookie base and a fudgy, rich brownie topping, these Vegan Brookies will be the star dessert at any party! See more vegan brownie recipes here!
These Vegan Brookies are definitely the most decadent and delicious dessert recipe I've shared yet on my blog. 
They're epic.
I've made them for a few different occasions and they've received a resounding two-thumbs up review from all my friends. I mean, how could you not like two of the best desserts stacked on top of each other?!
Because Brett and I are often hosting friends at our house, I'm constantly trying to think of new desserts to serve our guests after dinner. It's great because 1.) I have so many opportunities to create new recipes for the blog and 2.) our guests help Brett and I not feel like we have to eat through batches of brownies and cookies on our own. It's a win-win situation
I honestly don't have much to say about these Vegan Brookies except that I wish I had made them sooner. They have a classic, chewy chocolate chip cookie base and the brownie topping is fudgy and rich. They are such a treat and I really hope you make them as soon as possible!
Really. Go make them.
Now.
But really, if you do give these Vegan Brookies a try, please let me know your thoughts! Leave a comment down below or take a picture and tag #theconscientiouseater on Instagram so that I can see your beautiful creation!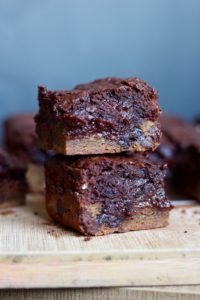 Vegan Brookies
With a classic chocolate chip cookie base and a fudgy, rich brownie topping, these Vegan Brookies will be the star dessert at any party!
Ingredients
CHOCOLATE CHIP COOKIE LAYER:
1/2 cup coconut oil
1 cup brown sugar
1/4 cup soy milk
1 tablespoon vanilla extract
2 cups flour
1 teaspoon baking powder
1/2 teaspoon salt
1/3 cup non-dairy chocolate chips
BROWNIE LAYER:
3/4 cup dairy free chocolate chips
1 cup flour
1/2 cup sugar
1 1/2 tablespoons cocoa powder
1 teaspoons baking powder
1/2 teaspoon salt
3/4 cup soy milk
1/4 cup oil
Instructions
Preheat your oven to 350 degrees Fahrenheit and line an 8x8 inch pan with parchment paper.
First make the chocolate chip cookies:
In a sauce pan, melt the coconut oil. Add in the brown sugar, milk and vanilla and stir until smooth.
In a separate bowl, whisk together the flour, baking powder and salt.
Pour the dry ingredients into the wet ingredients in the sauce pan and mix until combined.
Fold in the chocolate chips.
Evenly press the chocolate chip cookie batter into your prepared 8x8 inch pan and set aside.
Secondly make the brownies:
Melt 3/4 cup of chocolate chips over a double boiler or slowly in the microwave. Allow it to cool slightly.
In a separate bowl, whisk together the flour, sugar, cocoa powder, baking powder and salt.
Add the soy milk, oil and melted chocolate into the dry ingredients and stir until just combined
Evenly spread the brownie batter over the chocolate chip cookie base.
Bake the brookies for about 27-33 minutes. I found it hard to tell if the brownies were really cooked through, so I usually bake them on the longer end of the time spectrum. If you like super gooey brownies you can remove them sometime after around 27 minutes, but you'll need to allow them to cool completely to become harder before cutting.
After removing from the oven, allow the brookies to cool completely before removing them from the pan and cutting them into 16 squares.
Serve and enjoy!
Recommended Products
Nutrition Information
Yield

18
Serving Size

1 brookie
Amount Per Serving
Calories

277
Total Fat

13g
Saturated Fat

7g
Trans Fat

0g
Unsaturated Fat

5g
Cholesterol

0mg
Sodium

183mg
Carbohydrates

39g
Net Carbohydrates

0g
Fiber

1g
Sugar

22g
Sugar Alcohols

0g
Protein

3g
Nutrition information is a rough estimate provided by Nutrionix and should be used for informational purposes only.
This recipe is part of my Top 5 Vegan Brownies Series:
Fudgy Sweet Potato Brownies (20,000 shares on this one!)
Easy Vegan Tahini Brownies (my go-to)
The Best Peanut Butter Brownies (GF) – AHmazing!
Vegan Brookies
Vegan Zucchini Brownies – Whole grains and greens in a brownie? You bet!