Everyone knows that NYC has some amazing food! A person could live in this city for years, eat out every day, and still barely scratch the surface of all the different restaurants and cuisines available. Brett eats out more than I do (what can I say, I love a home cooked meal!), but whenever people come to visit we usually try out a few new places.
Two weekends ago my parents came to visit and this past weekend Brett's parents were here. We had two full days together and packed them full. We went to the 9/11 Museum and Memorial, walked the High Line, taste tested tons of vinegars at the Fill Station in Chelsea Market, and ate at my favorite falafel restaurant in Brooklyn, Kulushkät!
Here are some pictures of the food I ate and the scenes we enjoyed. Have a good Wednesday!
My amazing Mother and Father-in-Law!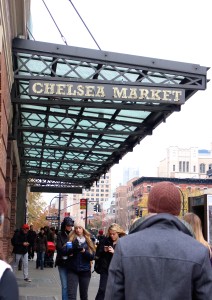 The Truffled Hummus Crepe from Bar Suzette in Chelsea Market. It had Black Truffle Chickpea Hummus, Fresh Vegetables, Market Greens and Truffle Oil.
If you live in NYC and like vinegar, oil and salts, you need to check out Fill Station at Chelsea Market! They sell all kinds of high quality flavors and allow you to taste test all of the different kinds. We left with a bottle of Fig Vinegar. It's amazing and just the smell of it makes me want to eat a ginormous salad drenched in it.
Kulushkät is currently Brett and my favorite place for falafel. I seem to be eating it a lot lately, but i just don't get sick of it! Kulushkät has some amazing flavors and combinations and if you live in NYC you have to check it out!
I got the Spicy Falafel Pita that comes with hummus, red cabbage, tahini, madboukha and skhug. What the heck are madboukha and skhu you ask? That was my question exactly...well, without the "heck." Madboukha is a spicy tomato relish and skhug is a green chili hot sauce. This pita had the perfect amount of spiciness and I enjoyed every bite! Sorry for the washed out photo.
Last but not least, every day Brett's parents were in town we finished our night off with a Homemade Almond Joy. Love these things!!

That's all I have for you today! Check out Jenn's blog Peas and Crayons for more meal and recipe ideas.
Do you live in NYC?
When you have guests do you mostly eat out or cook at home?