These Vegan Blueberry Muffins using whole wheat flour are hearty and full of sweet, juicy blueberries, making for the perfect breakfast or quick snack.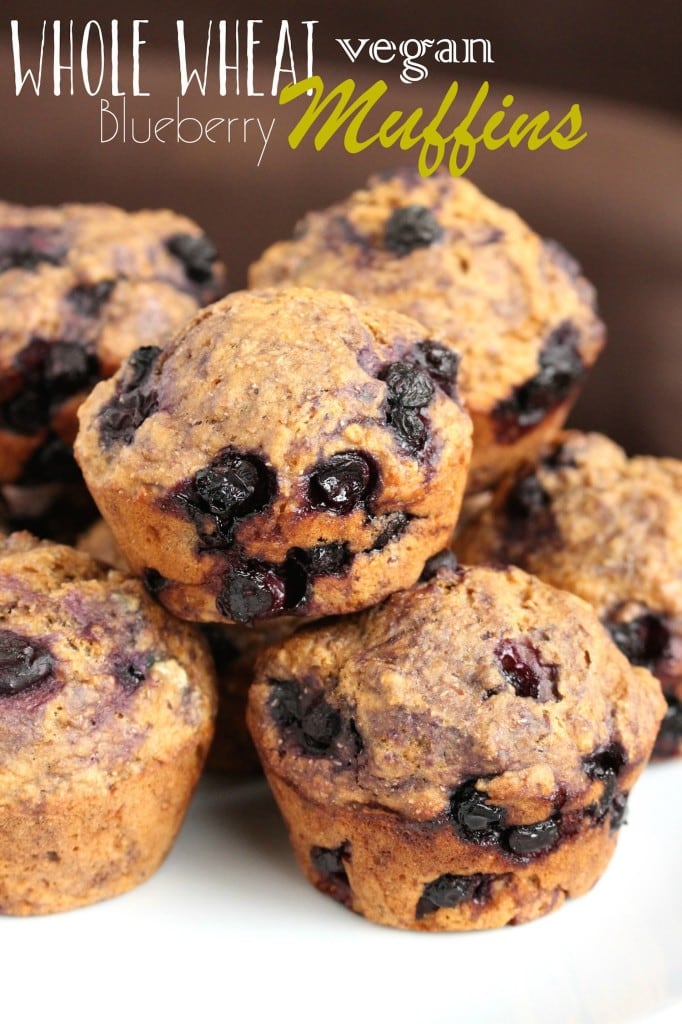 Question for ya:
Do you wives or moms (or anyone with a significant other/family) ever feel guilty if you don't have a healthy, well-balanced, home-cooked food prepared for your spouse or family? 
This is something I struggle with!
It's so important to me to have healthy food available for my family to eat so that they'll…well…eat healthy food.
My husband Brett has been so supportive of my plant-based diet and has grown a lot in his understanding of nutrition. But he still has a sweet tooth!
That's why these delicious vegan blueberry muffins are such a hit in our household.
Thankfully, in addition to being a healthier version of blueberry muffins, this vegan alternative is also super-easy to make.
Instead of being an isolated recipe in my repertoire, this is actually a flavor option from my one-bowl basic vegan muffin recipes series. There are a number of flavor combinations, but this vegan blueberry muffin recipes is by far our favorite.
One of the reasons I love this so much is not necessarily because I love muffins so much (although I do!), but because I have yet to have a failed batch. I've used all kinds of flours, sugars, non-dairy milks, and add-ins and while some might look different than others, each one has turned out deliciously.
If you're interested in my different muffin experiments, I encourage you to check out all the vegan muffin recipes here.
How to Make Vegan Blueberry Muffins
As I mentioned above, this recipe allows for a lot of experimentation without fear of failure. In this particular version of vegan blueberry muffins, I use whole wheat flour.
These muffins are low-fat, full of fiber and so simple to make. I can whip up a batch in less than 30 minutes.
The blueberries add a beautiful splash of color and a fruity pop of sweetness too. Yum! I hope you enjoy them as much as Brett, my kids, our friends and I do!
Vegan Blueberry Muffins (Whole Wheat)
These Vegan Blueberry Muffins are hearty and full of sweet, juicy blueberries, making for the perfect breakfast or quick snack.
Ingredients
2 cup whole wheat flour
3/4 cup coconut sugar
1 tablespoon baking powder
1/2 teaspoon salt
1 flax egg (3 tablespoons water + 1 tablespoon ground flaxseed)
1 cup non-dairy milk
1/4 cup applesauce
ADD-INS:
Instructions
Preheat your oven to 400 degrees and spray a muffin tray with non-stick cooking spray. Set aside.
In a small bowl, prepare your flax egg by whisking 1 tablespoon of ground flaxseed with three tablespoons of water. Set aside to gel while you prepare the rest of the batter.
In a large bowl, whisk together the dry ingredients (flour, sugar, baking powder and salt).
Add in the wet ingredients and mix until just combined.
Fold in the blueberries. Evenly divide the batter among the 12 muffin tins and bake for about 20-25 minutes until a toothpick inserted into the middle comes out clean. Allow the muffins to cool slightly before removing from the pan.
Store in an air-tight container outside of the fridge for a couple days or in the fridge for up to a week. Best when warmed slightly before serving.
Recommended Products
Nutrition Information
Yield

12
Serving Size

1
Amount Per Serving
Calories

146
Total Fat

2g
Saturated Fat

1g
Trans Fat

0g
Unsaturated Fat

1g
Cholesterol

17mg
Sodium

227mg
Carbohydrates

31g
Net Carbohydrates

0g
Fiber

3g
Sugar

15g
Sugar Alcohols

0g
Protein

4g