Learn how to make and use a flax egg using just two ingredients and simple step-by-step instructions.
If you're wanting to eat a more plant-based diet, then I know this post will be super helpful for you. Learning how to replace eggs in baking was one of the first things I learned how to do when I switched to a plant-based diet. Ain't nobody wanting to miss out on baked goods!!
Thankfully, it couldn't be easier to replace eggs in baking and today I'm going to share with you my favorite way to do so: by using a flax egg!
What is the purpose of eggs in baking?
Before we jump into how to replace eggs in baking, I think it's important to talk about the purpose of eggs in baking. Egg yolks provide fat and help emulsify foods, such as liquids and fats. They also provide richness and a velvety texture. Egg whites are amazing for creating foam that holds its shape and can create a light and airy texture. When used together, whole eggs provide both fat and richness as well as a lightness and leavening.
Due to eggs thick, goopy texture, they also help bind ingredients together so as to help keep baked goods from crumbling.
So as you can see, eggs can play many important roles in baking!
How to replace eggs in baking
Eggs can be used and cooked in a variety of ways, but today I'm going to specifically talk about how to replace eggs in baking. There are quite a few different egg substitutes that come in handy when baking, but they all have different pros and cons depending on what you're baking and what purpose eggs are supposed to play in the original recipe. Below I'll list out some great egg replacements and share their main purpose in baking
Flax egg: binding agent
Chia seed egg: binding agent
Fruit purees (applesauce, mashed banana, pumpkin puree, etc.): binding agent
Silken tofu: binding agent
Baking soda + acid: leavening agent
Aquafaba: leavening and binding agent
Yogurt: leavening agent
Obviously, if you use a fruit puree to replace eggs in baking, then the flavor of the fruit may come through in your baked good. I personally love to use a combination of a flax or chia egg plus baking soda and an acid. The flax egg helps bind all the ingredients together and the combination of the baking soda and an acid provides a light, fluffy texture.
Flax Egg Ingredients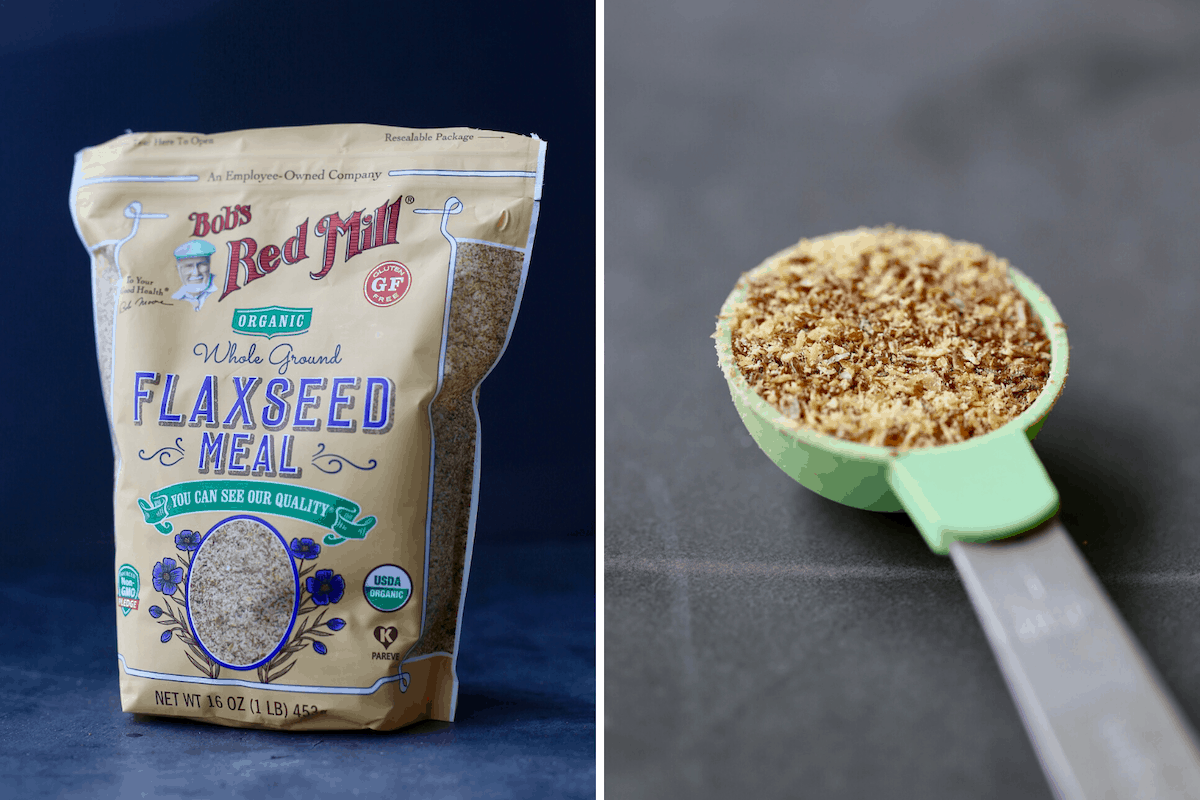 A flax egg consists of two simple ingredients:
1 tablespoon of ground flaxseed meal
3 tablespoons of water
How to make a flax egg
Making a flax egg is super simple. All you have to do is stir 1 tablespoon of ground flaxseed meal into 3 tablespoons of (preferably warm) water and let the mixture thicken for about 5 minutes.
The ground flaxseed meal will thicken as it sits in the water and will become a goopy, thick mixture which is perfect as a binding agent in recipes!
Step 1: In a small bowl, stir together 1 tablespoon of ground flaxseed and 3 tablespoons of (warm) water.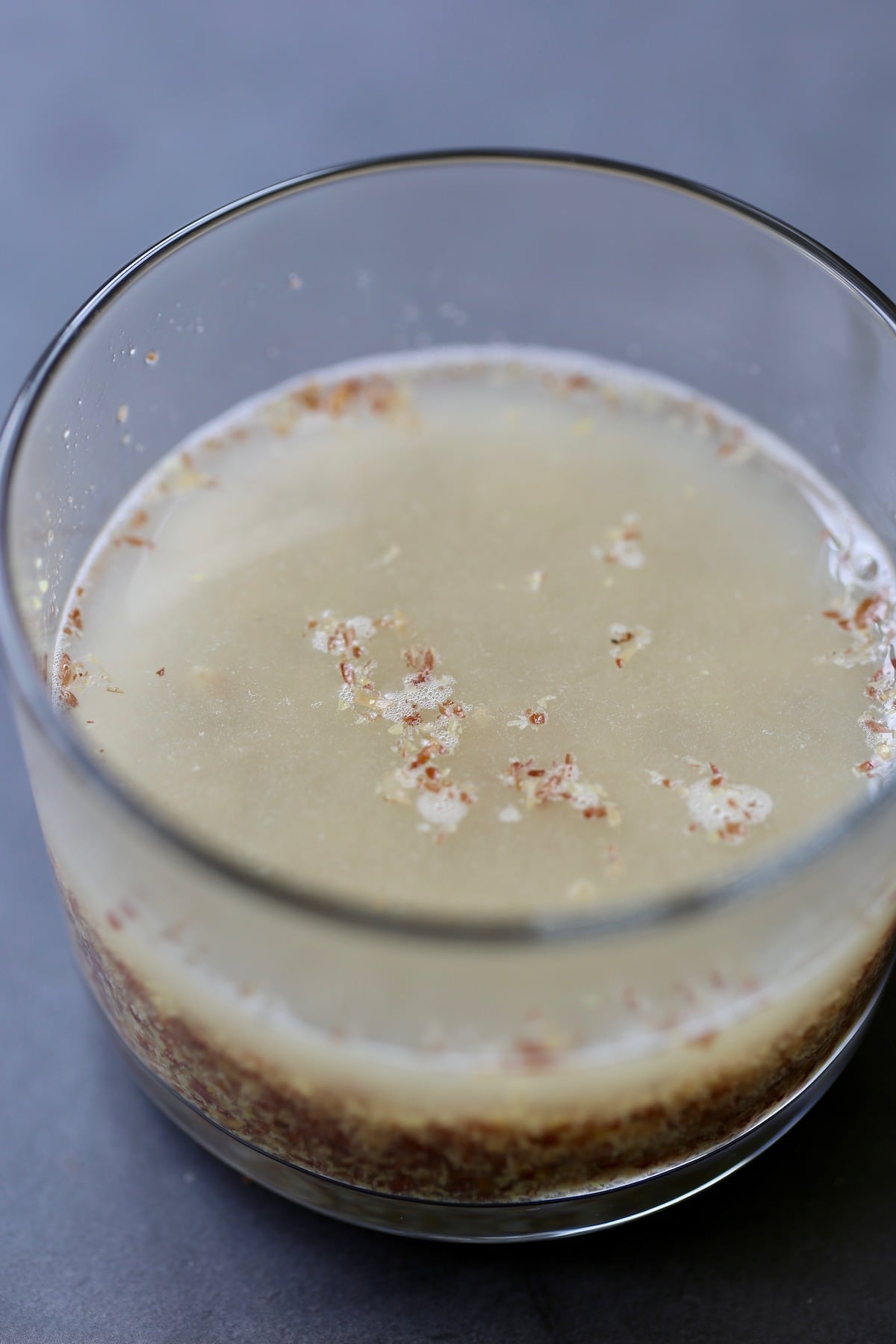 Step 2: Allow the mixture to sit for 5-10 minutes or until thick and goopy.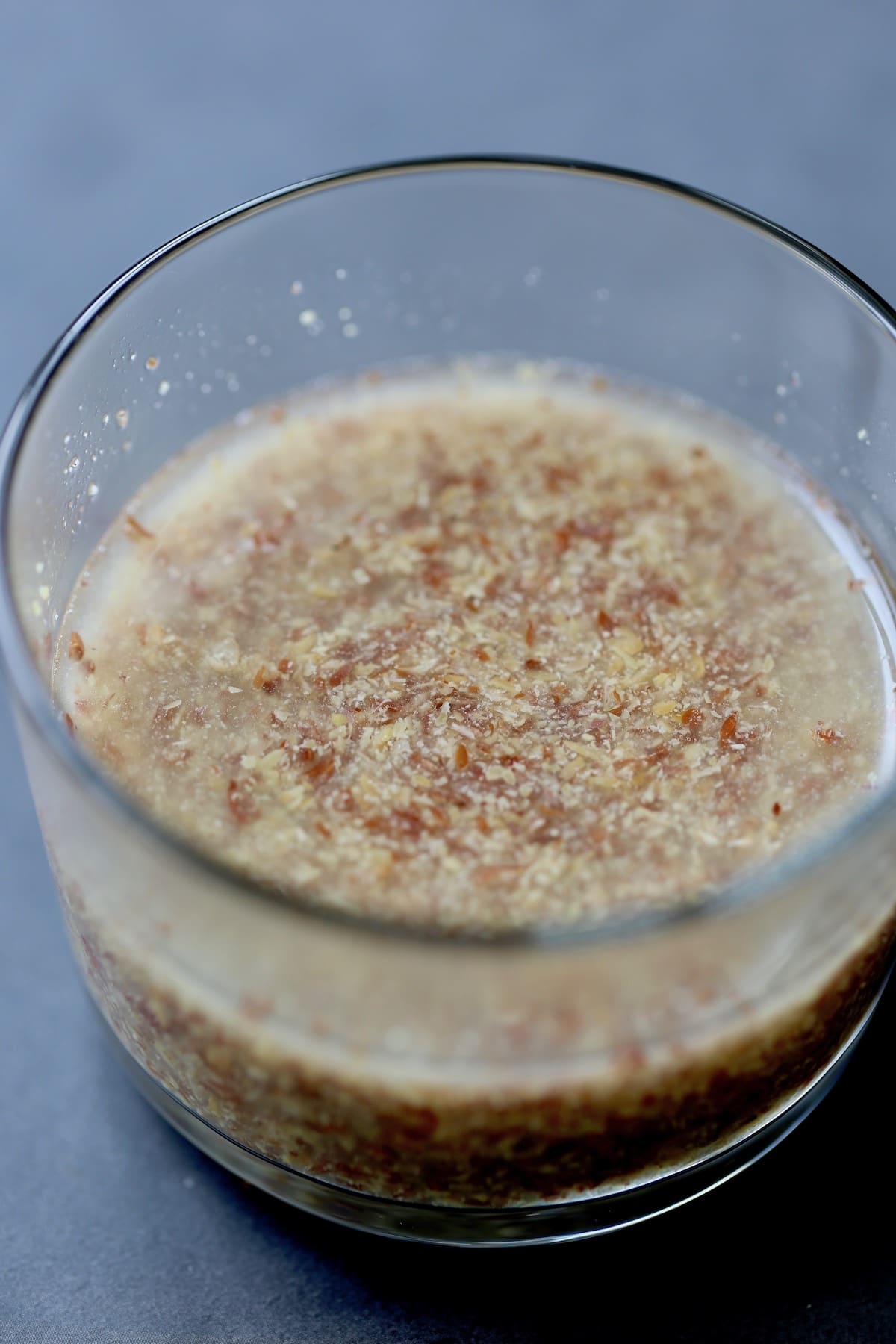 Step 3: Use the thickened flax egg right away!
How to use a flax egg in baking
When using a flax egg in baking, I recommend making the flax egg first thing so it has time to thicken while you prepare the other ingredients. Then you simply use the flax egg as you would a normal, cracked, beaten egg. Simply add it into the other ingredients according to the recipe instructions.
1 flax egg (1 tablespoon of ground flax seed + 3 tablespoons of water) is equivalent to 1 normal egg. I don't recommend using more than 2 flax eggs in baking. If a recipe calls for more than two eggs, consider using another egg replacement method or a combination of two.
How long can you keep a flax egg?
I would recommend making your flax eggs only as needed and not preparing them in advance. Since they take only a few minutes to make, preparing them right before you need them usually isn't a problem. Ground flaxseed tends to go rancid fairly quickly unless refrigerated or frozen, so I don't recommend storing flax eggs.
What is the best kind of ground flaxseed to use when making a flax egg?
You can use whatever brand of ground flaxseed you want when making a flax egg. Flaxseeds can be either brown or golden in color, but both work the same when making a flax egg. One thing you may want to consider is that brown ground flaxseed may add dark speckles to whatever you're baking. If you prefer to have your lighter baked goods uniform in color, then simply use golden flaxseed meal.
How to grind flaxseeds into flaxseed meal
If you can't find ground flaxseed, but have access to whole flaxseeds, you can simply grind the whole flaxseeds into flaxseed meal yourself. The best ways to do this is in a coffee or spice grinder. However, you can also use a high speed blender. Just make sure you don't grind the flaxseeds too long or else they will start to form a butter or paste.
What is the best way to store ground flaxseed?
If you start making ground flaxseed a pantry staple in your home, then I highly suggest--once you open the bag--storing it in the fridge or freezer. Once a bag of ground flaxseed has been opened, it can turn rancid quickly if stored at room temperature. Thankfully, freezing or refrigerating your ground flaxseed will allow it to last a fairly long time. If you decided to freeze your ground flaxseed, it will still maintain its ground form instead of freezing into a large block. You can use frozen flaxseed meal straight from the freezer to make flax eggs.
Recipes using flax eggs
Now that you know how to make a flax egg, I want to share with you some of my favorite recipes that require a flax egg. I hope these recipes inspire you to get in the kitchen and use your new-found-flax-egg-making-skill!
📖 Recipe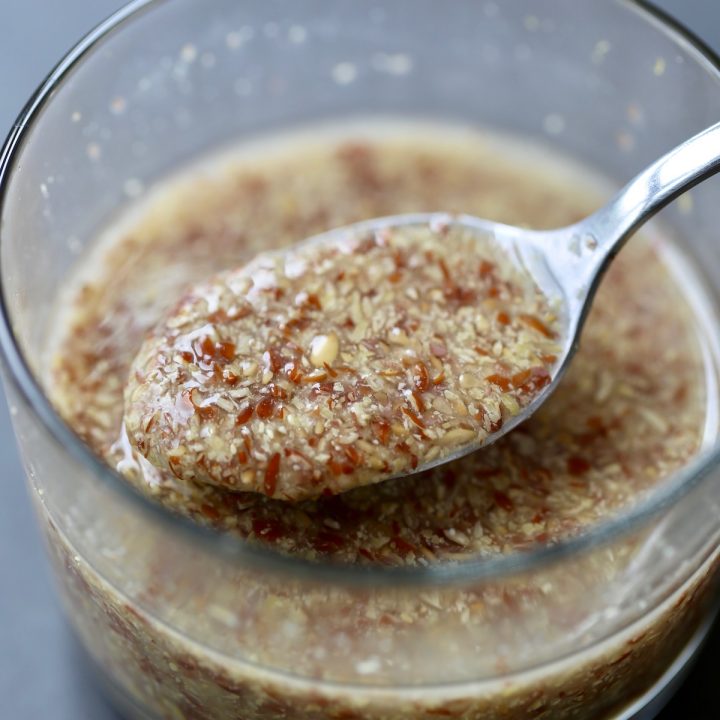 How to Make and Use a Flax Egg
Requiring just two ingredients and 5 minutes of time, you can quickly learn how to make and use a flax egg to replace eggs in baking!
Instructions
Allow the mixture to sit for about 5 minutes, stirring halfway through, until it has thickened. Stir again before using.
Notes
Warm water isn't necessary, but I find it makes the flax egg thicken faster.
Nutrition
Serving:
1
egg replacer
Calories:
37
kcal
Carbohydrates:
2
g
Protein:
1
g
Fat:
3
g
Saturated Fat:
0.3
g
Polyunsaturated Fat:
2
g
Monounsaturated Fat:
1
g
Sodium:
2
mg
Potassium:
57
mg
Fiber:
2
g
Sugar:
0.1
g
Vitamin C:
0.04
mg
Calcium:
18
mg
Iron:
0.4
mg