Can I just share how crazy my life is right now? Brett and I just got back from a week vacation on Saturday and are currently trying to pack up our entire apartment and move everything into storage by tonight. We also have to have bags packed for a 1-week work trip to West Palm Beach and a 5-week trip to China! Our schedule is insane...and somehow we like it that way.  
It's still surreal that we're leaving Orlando. We're really going to miss this state, but we're so excited for the adventure that living in New York City is sure to bring!  
Notice the horchata on the bench!    
My life for the next two months:
May 29 - June 6: West Palm Beach
June 9 - July 15: China!
July 15 - July 21: New York City (we're flying straight from China to NYC to find our apartment!)
July 21 - August 1: Flying to Orlando, driving up a U-haul to New York, and moving in.  
Thankfully amidst all the craziness I've still be able to create some delicious food in the kitchen, which is always a stress reliever for me.  
Breakfast: Homemade Cashew and Almond Cherry "Yogurt" with homemade granola and a banana
Morning Snack: a Fried Plantain in coconut oil and sprinkled with sea salt.
Lunch: A big ol' salad with spinach, tomato, cucumber, carrots, and Gingerly dressing...
...with a side of Rosemary Power Seed Crackers and Avocado Hummus (recipes coming soon!)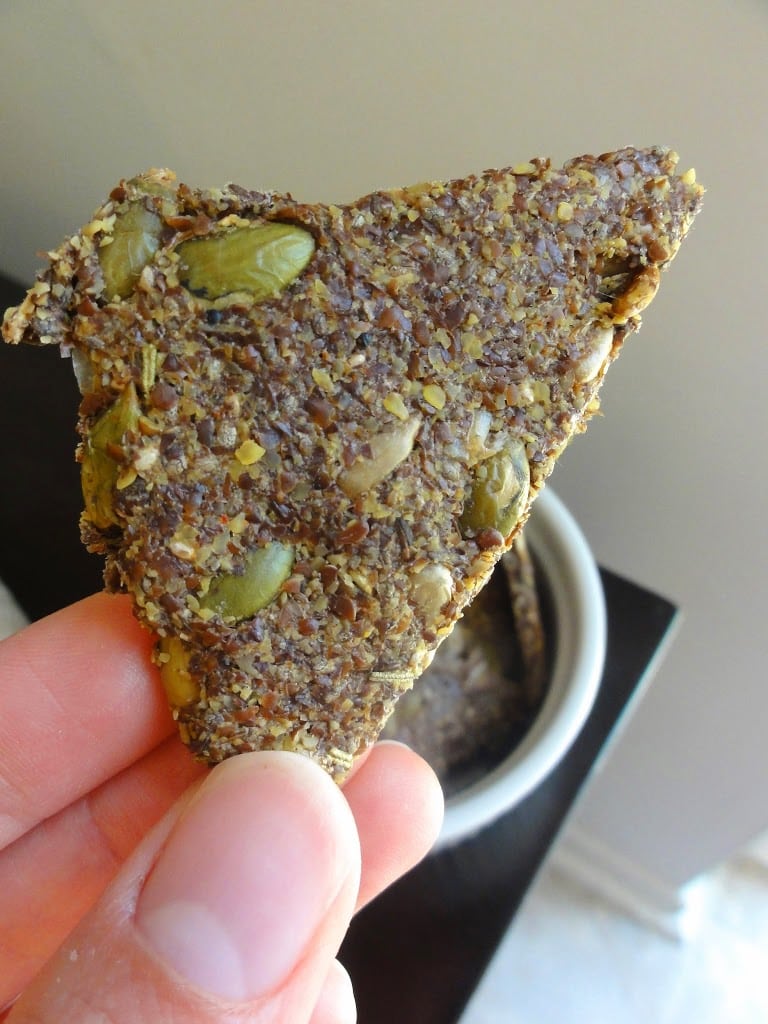 If you're looking for a way to get more fiber and healthy fats in your life, these crackers would be perfect. I'll post this recipe on Friday, so check back!  
Afternoon Snacks: A nibble of this, a nibble of that, as I experimented in the kitchen... and broke kitchen appliances... (seriously?!)
I may have forgotten to pit a few of my dates...whoops!
Almond Date Chocolate Chip Cookies! There are only 6 ingredients in these bad boys and they don't have contain any sugar, dairy or gluten.  
Dinner: A bowl of some this amazing Butternut Squash Soup with some more crackers.  
Seriously check out this recipe!! This soup is so flavorful and is made with 1 butternut squash, a sweet potato, carrots, an apple, an onion and some veggie broth, water and spices. It's one of my favorite recipes I've made so far!  
It was Brett and my good friend's birthday this past week so we had her and her husband over for some birthday dessert. I was trying to make vegan brownies (and of course decided to experiment a little) and accidentally made an amazing Vegan Chocolate Cake! It's made with whole wheat flour, olive oil and I used only agave to sweeten it. And when you top it off with some Easy Fudge Sauce it's so decadent.
Dessert: A slice of Vegan Chocolate Cake with Easy Fudge Sauce for icing  
And that's it: a full day of what I ate. Hope you got some new recipe ideas! Check out Jenn's blog Peas and Crayons to see what other people are eating.  
Eat Consciously,  
Faith