Breaded and baked in sweet BBQ sauce, these hearty and crispy 4 Ingredient Baked BBQ Tofu Nuggets are a fun way to jazz up your protein source.
You'd think this plant-eating, tofu-loving girl would be in heaven living in China with how cheap and accessible tofu is here. And in one sense, I am! You can find vendors selling tofu on almost every block and all throughout the markets. Plus it's CHEAP! A 15 ounce square of tofu costs me about $0.30! Don't mind if I do.
BUT, what you may not know is that Chinese people don't just eat one kind of tofu. Just like in American where you can buy silken, soft or firm tofu, here in China they eat dried tofu, moldy tofu (yes, the top literally has a ½ inch of white fuzzy mold), soupy tofu, spiced tofu and probably so many more variations that I'm unaware of. Unfortunately, the one type of tofu that most resembles the tofu sold in American just tastes weird. On it's own it has a super potent smell and a slightly musty taste. The first time I bought it, I used it to make a tofu scramble. After one bite I ended up throwing away because it had such a weird taste that no amount of seasonings could cover. I rarely through out food so that's saying something!
While I've never tried out the moldy, soupy or spicy tofu (and maybe never will), Brett and I LOVE the dried tofu. They sell it sliced really thin and it has a meaty texture to it. I love adding it to noodle and rice dishes, my Super Simple Homemade Sushi, or veggie sandwiches. In regards to the American-style tofu, I've thankfully learned that pressing it makes it taste more "normal," so I'm excited to start experimenting more with, starting with these Baked BBQ Tofu Nuggets!
I'm sure you've seen Buffalo Cauliflower Bites floating around the internet, and these Baked BBQ Tofu Nuggets are a spin off of those. If you're not a fan of tofu, this is a great recipe to try! By pressing (removing the water) and breading the tofu, you end up with a chewy, meaty texture that is hearty and finger-food-able (yes, I just made that word up). Then when you coat the breaded tofu in sweet BBQ sauce and crushed corn flakes, you end up with the cutest little nuggets that you can dip in more BBQ sauce, use as a filling for wraps, or add to rice dishes.
I'm gonna be making these lil' guys a lot.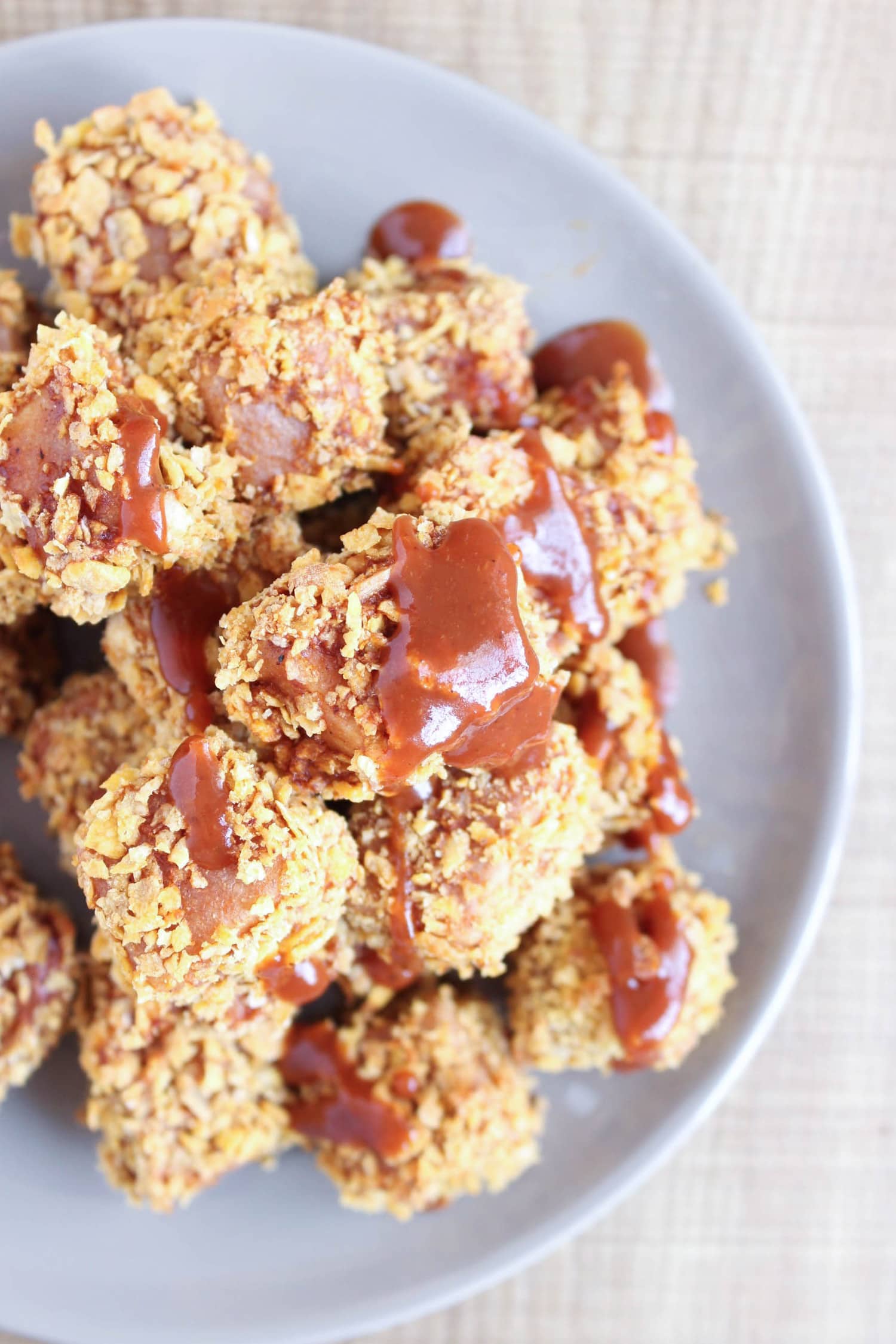 I hope you guys give these 4-Ingredient Baked BBQ Tofu Nuggets a try! They are so simple to make and make a great protein source for any meal. If you give them a try, leave a comment letting me know what you thought or take a picture and tag #theconscientiouseater on Instagram. I hope to see your creations!
📖 Recipe
4-Ingredient Baked BBQ Tofu Nuggets
Breaded and baked in sweet BBQ sauce, these hearty and crispy 4 Ingredient Baked BBQ Tofu Nuggets are a fun way to jazz up your protein source.
Ingredients
15

ounce

firm tofu

pressed and cubed

½

cup

spelt flour

½

cup

water

½

cup

BBQ sauce

2

cup

corn flakes
Instructions
Start by pressing your tofu block. Cut it into fourths length-wise and place it on a clean towel or paper towel. Place a flat baking tray on top and place something heavy on the baking tray to press all of the water out of the tofu. Let it sit for about ½-1 hour.

Preheat your oven to

450

°F

.

Once your tofu has been pressed, cut it into ½-1 inch cubes.

In a bowl, mix together the flour and water until smooth. Dip each cube of tofu into the flour mixture and scoop it out with a fork, banging the fork on the bowl to let any excess flour mixture fall back into the bowl. Place it on the baking tray and continue until all the cubes have been coated.

Bake the flour coated cubes for about 10 minutes or until golden brown.

While the tofu is baking, crush the 2 cups of corn flakes in a

food processor

or carefully with your hands until mostly fine crumbs. Pour into a bowl.

Once the tofu has baked for 10 minutes remove them from the oven. Pour ½ cup of your favorite BBQ sauce into a small bowl. Dip each tofu cube into the BBQ sauce and then roll it in the corn flakes crumbs before returning it back to the baking tray. Continue until all the tofu cubes are coated with the BBQ sauce and corn flakes.

Return the tofu back to the oven and back for another 5-10 minutes or until golden brown.

Serve warm with more BBQ sauce.
Notes
*You can also used different kinds of flour, such as white, whole wheat or even all-purpose gluten-free.
**Choose your favorite BBQ sauce!
Nutrition
Calories:
261
kcal
Carbohydrates:
40
g
Protein:
13
g
Fat:
5
g
Saturated Fat:
1
g
Polyunsaturated Fat:
3
g
Monounsaturated Fat:
1
g
Sodium:
477
mg
Potassium:
106
mg
Fiber:
4
g
Sugar:
14
g
Vitamin A:
330
IU
Vitamin C:
3
mg
Calcium:
146
mg
Iron:
6
mg