Merry Christmas from China!!
To be honest, it didn't really feel like Christmas until yesterday. With traveling to India and Nepal, jumping straight back into language lessons, and living in a country that doesn't really celebrate for Christmas, it's was hard to get in the spirit of this wonderful day. It wasn't until Brett and I picked up a small tree from Walmart and skyped with family that it started to feel more like Christmas. I forgot how much I LOVE a decorated Christmas tree! Ours is small and fake, but it's perfect, especially with flickering lights and two new ornaments that Brett and I picked out.
Skyping with my family was so good, but at the same time so hard. I didn't realize how much I missed my family until I saw them all together in my brother's warm and cozy house, celebrating Christmas together. All my nieces and nephews were goofing off together and my Mom and Dad even flew in from Ireland. I unexpectedly started tearing up and felt super sad after we got hung up. I absolutely love living in China, but I love my family so much and being away from them, especially during the holidays is hard.
To make being away from family not so hard, Brett and I are starting some of our own traditions (well, I'm planning the and he's willingly participating:) Last night Brett and ate dinner together and then bundled up on our couch and watched a movie while drinking chai and eating cookies. Our tree was lit as well as our one candle and we had our space heater right next to our feet to keep us warm. It was perfect.
Today I'm making us a special breakfast and then we're having a non-traditional early dinner of hummus and roasted chickpea stuffed sweet potatoes with green beans. Tonight we have some foreign and local friends coming over to eat dessert and watch Elf. Should be a wonderful day!
And…just in case any of you are in need of a last minute warm, delicious beverage…I've got you covered! You had to guess that after going to India I would post some Indian recipes. I actually got on a chai kick right before our trip to India. I'm guessing it was because I was looking forward to all the delicious food we were going to eat! The woman we stayed with in India (finally) let me join her in the kitchen to see how she makes her chai. She grinds her spices up and adds them towards the end of the process. Alternatively, I love to boil my spices whole and then strain them. Boiling the spices for a while, leaves you with some beautifully spiced tea that tastes amazing with some dairy free milk and sweeter.
If you try out this Dairy-Free Indian Chai recipe let me know! Leave a comment or tag #theconscientiouseater on Instagram!
I hope your day is full of quality time with those you love and lots of delicious FOOD!

Dairy-Free Indian Chai + Merry Christmas!
This warm and spicy authentic Dairy-Free Indian Chai, is the perfect beverage to warm you up this Holiday season.
Author:
Faith VanderMolen
Ingredients
4 cups of water
1 cinnamon stick
8 cardamom pods, lightly crushed
10 whole cloves
4 black pepper corns
1 star anise
2 slices fresh ginger root
2 teaspoons loose leaf black tea
3 cups non-dairy milk
about ¼ cups sweetener, or to taste
Directions
In a sauce pan, combine the water and spices and bring it to a boil. Cover the pot, reduce the heat to a simmer, and allow the spices to infuse the water for about 30 minutes.
After 30 minutes, add in the black tea and allow it to simmer for 3-4 minutes.
Strain the water into another container and then pour it back into the pot.
Add in the non-dairy milk and liquid sweetener or sugar to taste. The sweetness make this tea, so be generous! Bring the liquid back to a simmer, watching carefully so that it doesn't overflow.
Pour into cups and serve.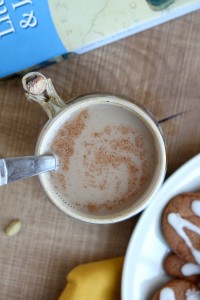 Eat Consciously,
Faith