This sweet and creamy dairy free matcha latte is a great way to switch up your morning cup of caffeine. It's simple, healthy and delicious!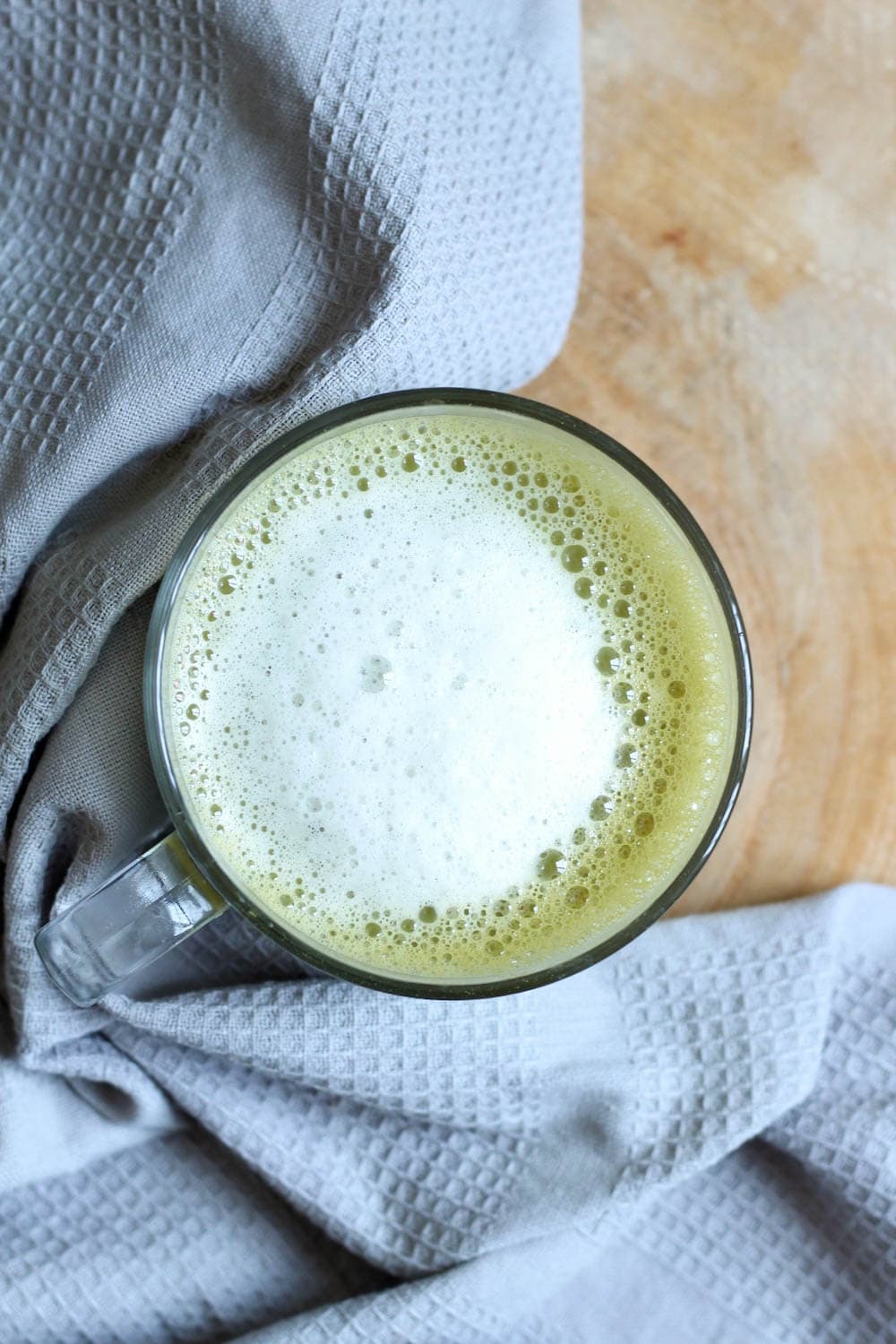 During my time in America I got hooked on Matcha Lattes, so today I thought I'd share with you How to Make a Dairy Free Matcha Latte. I actually started making Matcha Lattes after our trip to Taiwan when I found some matcha powder at one of the grocery stores I was perusing. Whenever we travel to a city or country that has nice grocery stores, you can know for sure I'm going to spend some time walking up and down the aisles, gawking at all the food I don't have access to in our smaller city in China.
#expatproblems
I was so glad when I found some matcha powder, as I had been wanting to try in out for quite some time. I made Matcha Lattes occasionally after we got back from Taiwan, but it wasn't until our time in America, when we were staying at my brother's house, that I really got hooked on them. In the middle of a grueling Kayla Itsines workout session, my sister-in-law mentioned that she had just bought some matcha powder and that she would make us a Matcha Latte once we finished our workout.
Please tell me you too dream about the post-workout-food you're going to shove into your face while your working out...
Yeah, that Matcha Latte was good motivation!
After the first sip of the latte she made us, I realized that the powder you buy makes a huge difference! Unlike my just-okay Matcha Lattes using my random powder from Taiwan, her latte tasted so much sweeter and less chalky. YES!
(Also, can I just say I took a break from this writing session to have a dance party. They make me happy.)
Anyways, back to the matcha powder. The brand my sister-in-law bought was THIS BRAND from Amazon, and I made sure to order some to bring with me to China. I love making my lattes with my homemade soy milk or when I'm in America, almond milk is also another winner. I love my lattes both without sweetener and with sweetener. Both are delicious and it just depends on what I'm feeling at the time.
The most important step, however, when making a homemade Matcha Latte is to first turn your matcha powder into a paste using a little bit of water. This keeps your matcha powder from clumping together and gives you a smooth, non-chalky latte. Just how we want it right? The second important aspect of a good, homemade Matcha Latte is the FOAM! Seriously, the foam is always my favorite part as it makes me feel like I'm at a fancy restaurant sipping on a cappuccino. You can make foam easily by using a hand held milk frother. They're really inexpensive and do a great job of turning warm milk into frothy, foamy goodness.
I hope you try give this Homemade Dairy Free Matcha Latte a try! It's easier than you think and just like me, you too can be hooked on that green frothy goodness! If you do try out this simple recipe, leave a comment and let me know what kind of milk you used and whether you like yours sweet or more bitter! Also, be sure to take a picture and tag #theconscientiouseater on Instagram so I can see your beautiful beverage.

How to Make a Dairy Free Matcha Latte
Sweet and creamy Matcha Lattes are a great way to switch up your morning cup of caffeine and in this post you'll learn How to Make a Dairy Free Matcha Latte. They're simple, healthy and delicious!
Ingredients
½

cup

non-dairy milk

1

teaspoon

matcha powder*

¾

cup

boiling water
Optional
1

tablespoon

liquid sweetener

or to taste
Instructions
Start by warming up the ½ cup of non-dairy milk in a saucepan or a microwave safe container.

While the milk is warming up, add in 1 teaspoon of matcha powder and 1 tablespoon of your boiling water into a mug. Then use a

milk frother

or a

matcha brush

to turn the powder and water into a smooth paste.

Once your matcha powder is smooth, add in the remaining boiling water and optional sweetener and froth again until fully incorporated.

Once your milk is hot, again use your milk frother to froth the milk until foamy, being careful not to splash hot milk on yourself. Pour the foamy milk on top of the matcha tea.

Drink immediately while hot, or allow to cool in the fridge, then enjoy with some ice for an Iced Matcha Latte.
Notes
*If you're not used to matcha, start out with ½ teaspoon of matcha powder.
Nutrition
Calories:
120
kcal
Carbohydrates:
20
g
Protein:
6
g
Fat:
2
g
Saturated Fat:
0.2
g
Polyunsaturated Fat:
1
g
Monounsaturated Fat:
0.5
g
Sodium:
83
mg
Potassium:
166
mg
Fiber:
0.5
g
Sugar:
15
g
Vitamin A:
664
IU
Vitamin C:
9
mg
Calcium:
185
mg
Iron:
1
mg