Sneaking veggies into your smoothies is now easier than ever with this creamy, sweet Zucchini Smoothie recipe! Frozen zucchini and frozen banana create the perfect ice cream-like texture, while simultaneously filling you with lots of plant-based nutrition!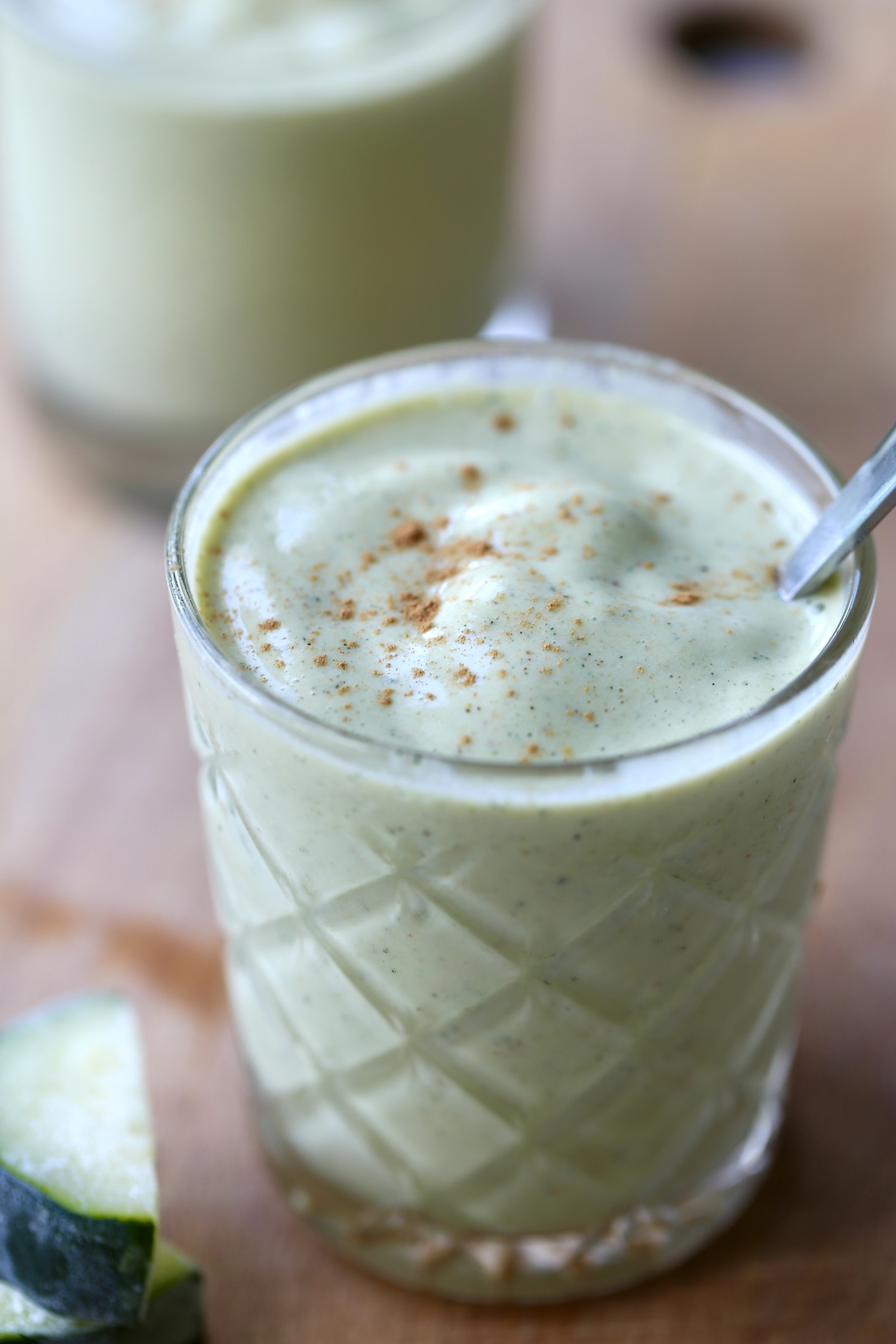 I've been sneaking zucchini into my meals for years now and I love how it adds extra volume and nutrition. I love putting shredded zucchini in oatmeal. I love making zucchini muffins. Zucchini even works in brownies like in this zucchini brownie recipe! But my all-time favorite way to eat zucchini is to free it and to add it to smoothies. Today I'm sharing my favorite zucchini smoothie recipe and I know you'll love it!
Jump To
Why This Recipe Works!
When you freeze zucchini, it acts like frozen banana in smoothies and makes your zucchini smoothie super thick and creamy.
Zucchini doesn't have a strong flavor, especially when it's frozen raw, so you can add in quite a bit and not even notice you're drinking vegetables.
If you are worried about adding vegetables to your smoothie, this zucchini smoothie also calls for vanilla protein powder and nut butter, which covers up any zucchini taste and makes this smoothie taste like a milkshake!
Ingredients
Zucchini - Obviously you're going to need some zucchini to make a zucchini smoothie. But don't use raw zucchini! Chop the zucchini up into large pieces and freeze them before making this smoothie. Frozen zucchini is practically tasteless and creates a creamy, frosty-like smoothie.
Banana - Just like the zucchini, you're going to want to use frozen banana in this recipe. I still can't believe I ever used raw bananas in my smoothies. Frozen bananas make any smoothie taste like a milkshake. I like to wait until my bananas are nice and brown and spotty, then peel them before breaking them into pieces and placing them in a freezer-safe zip-lock bag.
Non-Dairy Milk - I personally love to use homemade cashew milk (so creamy!) in this recipe, but any non-dairy milk will work. Usually I opt for unsweetened milk so that I can control the sugar content in my smoothies. To bulk up the protein content in this smoothie, use soy milk!
Vanilla Protein Powder - I love adding vanilla protein powder to this smoothie. It makes this zucchini smoothie so creamy and sweet. Just use whatever brand of plant-based protein you like best! I personally love California Gold Nutrition Vanilla Protein and Orgain Protein Powder.
Nut Butter - You can use any nut butter you have on hand. Peanut butter will add more protein, but cashew and almond butter are more neutral flavored and just add richness to this zucchini smoothie. If you can't eat nuts, sunbutter would also work!
See recipe card for full list of ingredients and quantities.
Substitutions & Variations
Zucchini - Frozen zucchini is the star of this zucchini smoothie, but another vegetable I love to add to smoothies is steamed and frozen cauliflower. If you don't have either on hand, just add more frozen banana.
Protein Powder - Vanilla protein powder adds so much flavor to this smoothie and helps to thicken it up. If you don't have any, I would add another ½ of a frozen banana.
Chocolate Zucchini Smoothie - To make this zucchini smoothie like a chocolate milkshake, add in a tablespoon of cocoa powder! YUM! Plus, the cocoa powder will help to cover up the green color of this smoothie.
Nut Butter - Like I mentioned above, any nut butter would work in this recipe. I like to add peanut butter for added protein, but my favorite nut butters to is cashew butter because it makes this smoothie taste like ice cream.
Should You Use Fresh or Frozen Zucchini?
I've added both fresh and frozen zucchini to my smoothies and, technically, both work. However, I think frozen zucchini is the best option. When you cut and freeze zucchini, it makes the zucchini practically tasteless. Frozen zucchini also helps to thicken up your smoothies and makes them nice and creamy.
How to Freeze Zucchini for Smoothies
I like to buy a few zucchinis at a time and prep them all at once so I always have frozen zucchini on hand for smoothies. First I wash them and then I chop them up into fairly large pieces. I've found that they don't blend as well if you cut them too small. Once chopped, I simply place them in a freezer-safe zip lock bag and freeze them in a single layer (if possible). Then, whenever I'm making a smoothie, I can just throw a handful of frozen zucchini into the blender to add volume and nutrition!
How to Make a Zucchini Smoothie
Step 1: A day before you want to make this zucchini smoothie, wash, chop and freeze your zucchini. I've found the zucchini blends better when I don't cut it too small.
Step 2: Starting with the non-dairy milk, add all of the ingredients into your blender.
Step 3: Blend everything together until smooth, adding more non-dairy milk if necessary. I love a thick, Frappuccino-like smoothie so I use my tamper and try not to add too much liquid.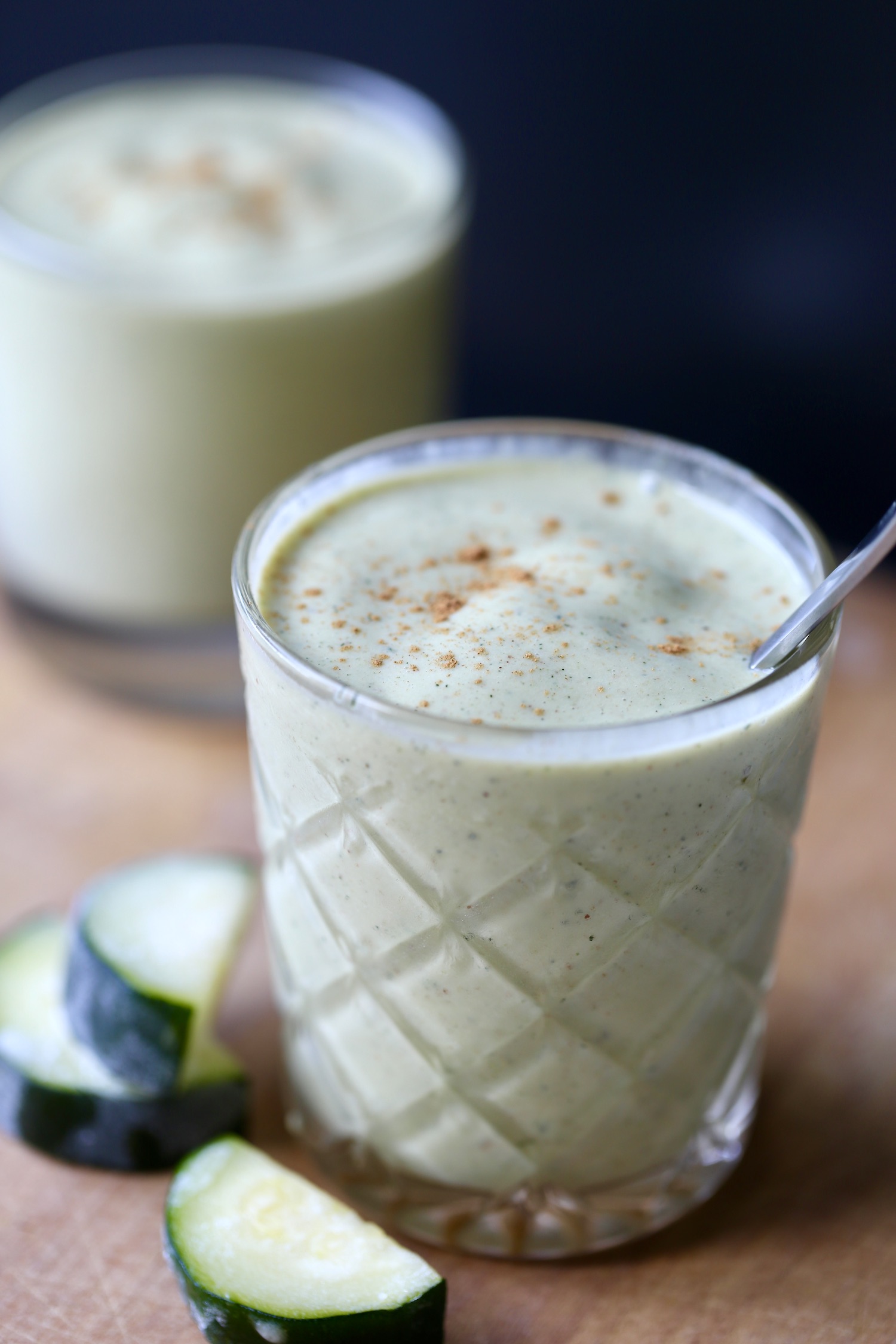 Step 4: Pour the smoothie into glasses and serve.
Hint: Sprinkle some cinnamon on top! It pairs perfectly with this thick, vanilla zucchini smoothie!
Storage
I don't recommend storing this zucchini smoothie. Personally I like smoothies best when I drink them immediately after making them, especially if there is frozen banana in the smoothie! If you wait to drink this smoothie (even if you stick it in the fridge) the frozen banana will thaw and start to oxidize which isn't my favorite flavor.
However, if you want to make a large batch in advance, I recommend dividing the smoothie into single servings using freezer-safe glasses and storing them in the freezer. To thaw, transfer the smoothie from the freezer to the fridge and allow it to thaw for a few hours. The colder you keep this smoothie the better!
Top tip
👉 Don't forget to freeze your zucchini and banana ahead of time! This smoothie won't be very good if you use fresh/raw zucchini and banana. Freezing the zucchini and banana makes this zucchini smoothie so creamy and thick...just like a milkshake!
👉 Make only as much as you'll drink right away! This smoothie tastes best enjoyed right after you make it.
👉 If you love chocolate as much as I do or don't like to drink green things, add some cocoa powder to cover up the green-ish color. This especially works well if you're serving this to picky eaters.
Recipe FAQs
What's the best vegetable to put in a smoothie?
There are so many vegetables that taste good in smoothies. In green, tropical smoothies I like to add cucumber, celery, and leafy greens. To thicken smoothies, I like to use chopped, frozen zucchini or steamed and frozen cauliflower florets. You can even use pumpkin in smoothies!
Can you freeze zucchini for a smoothie?
Yes! Frozen zucchini is one of my favorite vegetables to add to a smoothie. Both fresh and frozen zucchini can be added to smoothies, but frozen zucchini is practically tasteless and helps to make the smoothie super thick and creamy.
Should you cook vegetable before adding them to a smoothie?
It depends on which vegetables you want to add. Cucumber, celery, leafy greens and zucchini are all fine to use raw. When it comes to cauliflower, I like to cut it into florets, steam it, let it cool and then freeze it. If using pumpkin, I like to use pumpkin puree or cubed, steamed and frozen pumpkin.
How much zucchini should I put in my smoothie?
I found that 1 cup of frozen zucchini is a great amount to put in a smoothie for 2 people. Pair the frozen zucchini with one large frozen banana for a creamy, sweet smoothie base! Then you can add in other frozen fruit, spices, non-dairy milk and/or nut butters as well.
More Zucchini Recipes!
Love this recipe? Please leave a 5-star 🌟🌟🌟🌟🌟 rating in the recipe card below & a review in the comments section further down the page.
📖 Recipe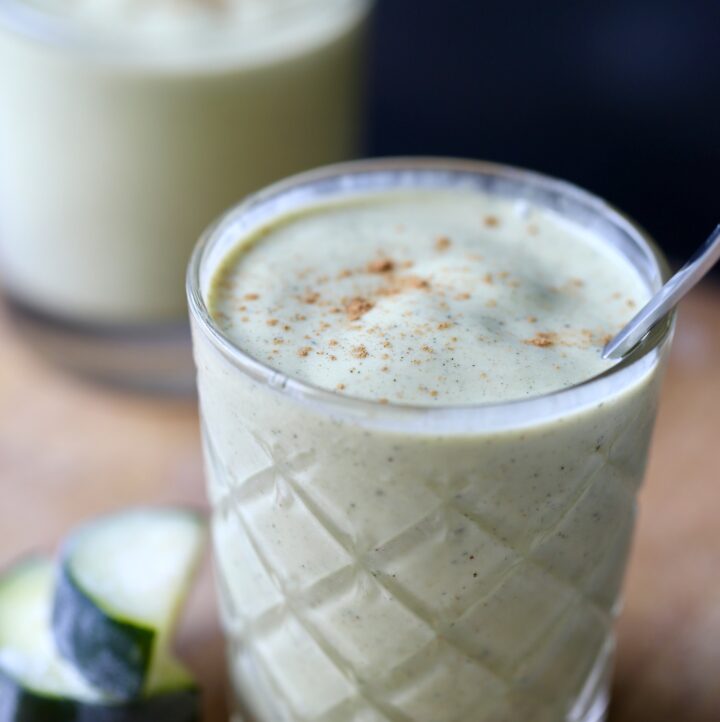 Zucchini Smoothie
Sneaking veggies into your smoothies is now easier than ever with this creamy, sweet Zucchini Smoothie!
Equipment
1 blender

high speed if possible
Ingredients
1

cup

non-dairy milk,

use soy milk for more protein

1

cup

frozen zucchini pieces

1

large

frozen banana

cut into pieces

1

tablespoon

nut butter

½

scoop

vanilla protein powder

or more frozen banana
Instructions
The day before you make this smoothie, make sure to cut and freeze some zucchini and ripe banana.

Into your blender, starting with the non-dairy milk, add in all of the ingredients.

Blend until smooth, using a tamper to press everything down into the blades. If you don't have a high speed blender or a tamper, add in more non-dairy milk as needed until everything is well blended and smooth

Divide between two glasses and sprinkle with cinnamon if desired. Enjoy!
Notes
- To disguise the green color from the zucchini, add in a tablespoon of cocoa powder. It also makes this smoothie nice and chocolatey!
- To bulk up the protein, use peanut butter and soy milk. 
Nutrition
Serving:
1
g
Calories:
213
kcal
Carbohydrates:
32
g
Protein:
10
g
Fat:
7
g
Saturated Fat:
1
g
Polyunsaturated Fat:
1
g
Monounsaturated Fat:
3
g
Cholesterol:
15
mg
Sodium:
82
mg
Potassium:
555
mg
Fiber:
4
g
Sugar:
20
g
Vitamin A:
414
IU
Vitamin C:
17
mg
Calcium:
252
mg
Iron:
2
mg