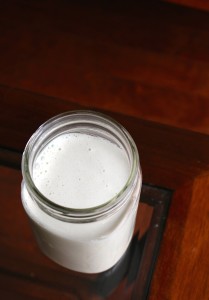 I know I've posted tons of non-dairy milk recipes on the blog and they're all pretty much the same: 1 cup of nuts blended with 3 to 4 cups of water and strained.
Easy peasy.
The other day I found a large bag of raw hulled hemp seeds in my freezer and I couldn't believe I had forgotten about them! When we moved from Florida to NYC I had made a point to get a cooler to keep them fresh on the journey so that they wouldn't go to waste. Now a month before I move to China I'm rediscovering them way down in the depth of my freezer, just screaming to be eaten.
Seriously, those little seeds pack quite a nutritious punch! Hemp seeds are 33% protein, 35% fatty amino acids (think omega 3 and 6), contain all essential amino acids, and are high in dietary fiber. If you're looking for a whole food, plant-based protein source, look no further! Now that I've rediscovered these seeds I'm going to be bringing a large bag of them with me to China to use in protein smoothies and to add healthy fats and creaminess to homemade salads dressings. I might as well sprinkle some on my oatmeal and salads while I'm at it too:)
The reason I ended up finding these raw hulled hemp seeds in my freezer is because I was in need of some non-dairy milk. The other day I was craving hot chocolate (I know, in the middle of summer...weird), but I didn't want to use the store bought almond milk that my husband drinks. I was scouring our freezer to see what nuts I could use and came across these hemp seeds. Score! What's even better is that you don't need to soak hemp seeds before using them to make homemade non-dairy milk like you do other nuts.
My hot chocolate hankering was about to be satisfied.
In about 5 minutes I had freshly made Homemade Non-Dairy Hemp Seed Milk at my fingertips and just waiting to be made into healthy, homemade hot chocolate. Another great use for this Homemade Non-Dairy Hemp Seed Milk is to use it as the base for oatmeal in the mornings. It adds great creaminess and nutrition to your first meal of the day!
I hope you're inspired to buy some raw hulled hemp seeds or to make your own non-dairy milk!
📖 Recipe
Homemade Non-Dairy Hemp Seed Milk
This Homemade Non-Dairy Hemp Seed Milk is a easy and nutritious substitute for dairy milk that can be ready in just 5 minutes!
Ingredients
1

cup

raw hulled hemp seeds

3-4

cups

filtered water
Instructions
In a

high speed blender

combine the raw hulled hemp seeds and water and blend until creamy and mostly smooth. Use 3 cups of water for a thicker milk or 4 cups of water for a thinner milk.

Strain the milk through a

nut milk bag

into a separate container and store in an air tight container in the fridge for 3-4 days.
Notes
Hemp milk is SO fast - no need for soaking like nuts!
Nutrition
Serving:
0.5
cup
Calories:
290
kcal
Carbohydrates:
4
g
Protein:
19
g
Fat:
23
g
Saturated Fat:
2
g
Polyunsaturated Fat:
18
g
Monounsaturated Fat:
3
g
Sodium:
9
mg
Fiber:
2
g
Vitamin A:
259
IU
Calcium:
75
mg
Iron:
7
mg