This Homemade Chocolate Syrup recipe is great to have on hand during the summer months when you want to make a quick and delicious glass of chocolate milk!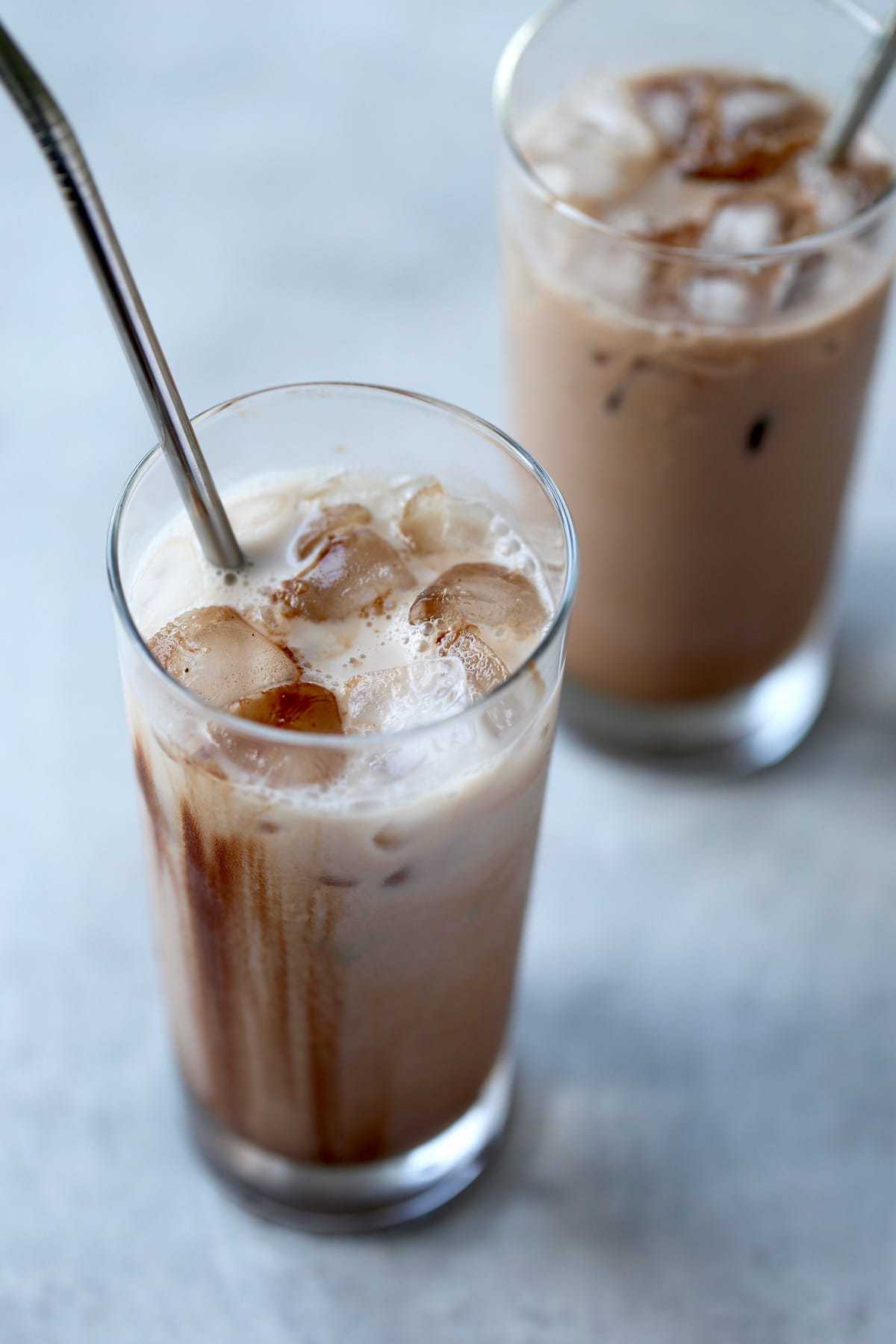 Jump To
I don't know about you, but I definitely remember the days of squeezing way too much Hershey's Chocolate Syrup into my milk to make chocolate milk growing up.
Even as an adult, I still love chocolate milk.
However, I love to make my own homemade chocolate syrup.
Homemade chocolate syrup is easy to make, made with fewer, more wholesome ingredients, and tastes just as amazing!
While I love to use my own homemade chocolate syrup to make chocolate milk, I also love to add it to my iced lattes to make a delicious iced mocha!
Let me show you how to make this easy, 3 ingredient homemade chocolate syrup!
Is Hershey's syrup real chocolate?
Before we jump into this homemade chocolate syrup recipe, let's talk about Hershey's syrup first.
There are a few versions of Hershey's Chocolate Syrup, one of which (so I hear) only contains 5 simple ingredients and doesn't contain high fructose corn syrup.
I've yet to come across their "Simply 5" chocolate syrup, but at least it's a step in the right direction.
However, the more common Hershey's syrup that you'll find contains high fructose corn syrup, corn syrup, water, cocoa, and sugar.
I wouldn't consider it real chocolate, but instead would call it a chocolate-flavored syrup.
However, I gotta admit that they definitely did well in the taste department!
Are chocolate sauce and chocolate syrup the same thing?
There are so many kinds of chocolate sauces on the market.
Some are called "sauce", some are called "syrups". Some go by "hot fudge".
It gets confusing!
I would say that chocolate syrup is usually a runnier consistency and often doesn't contain milk or dairy products.
Store-bought chocolate sauces and hot fudge sauces are often thicker in consistency and are made that way by the addition of cream or other dairy products.
However, you can easily make your own, homemade chocolate sauce or hot fudge sauce at home and omit the dairy.
What can be made from chocolate syrup?
Now that I have chocolate syrup in my fridge at all times, I'm realizing that it's a great condiment to have on hand.
While I usually prefer to sweeten things with whole foods like dates and fruit, sometimes you just need some extra decadence.
Other than using this homemade chocolate syrup to make chocolate milk, I also love to:
drizzle it on desserts (especially ice cream),
add it to my smoothies,
drizzle it on on peanut butter toast,
dip fruit like strawberries and bananas into it, or
blend it into my iced coffee to make a delicious iced mocha.
You could even eat it with a spoon!
Really, can you ever run out of uses for chocolate syrup?
How do you make chocolate syrup?
Okay, so let's get to the practical details now.
Chocolate syrup is so easy to make you guys. Basically you mix together some sugar (I like to use coconut sugar) and cocoa powder and add hot water a little at a time until a syrup forms.
It's that easy!
Then you simply store it in the fridge and mix it into your favorite milk to make delicious and refreshing chocolate milk whenever you want!
How to make homemade chocolate milk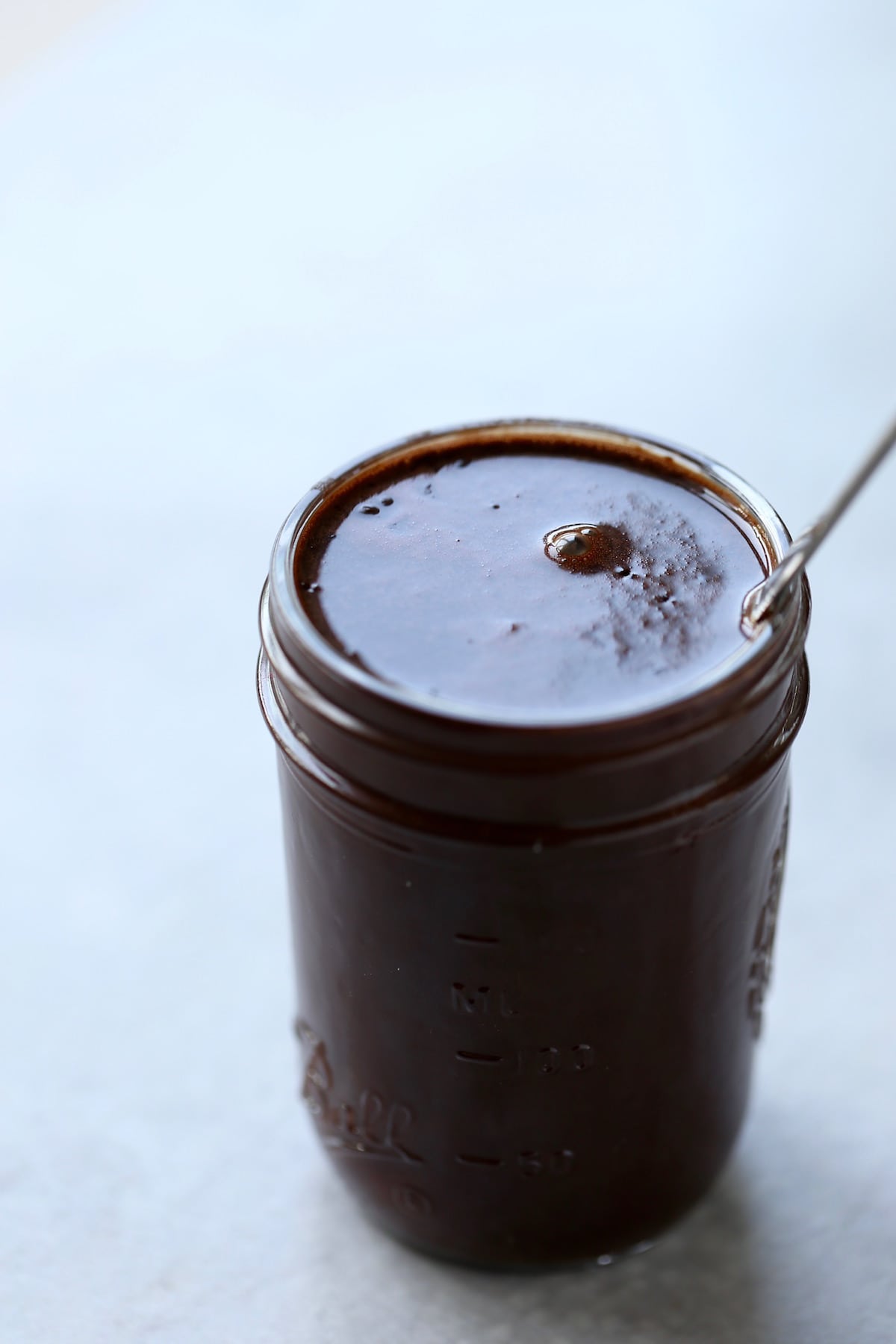 STEP 1: Make the chocolate syrup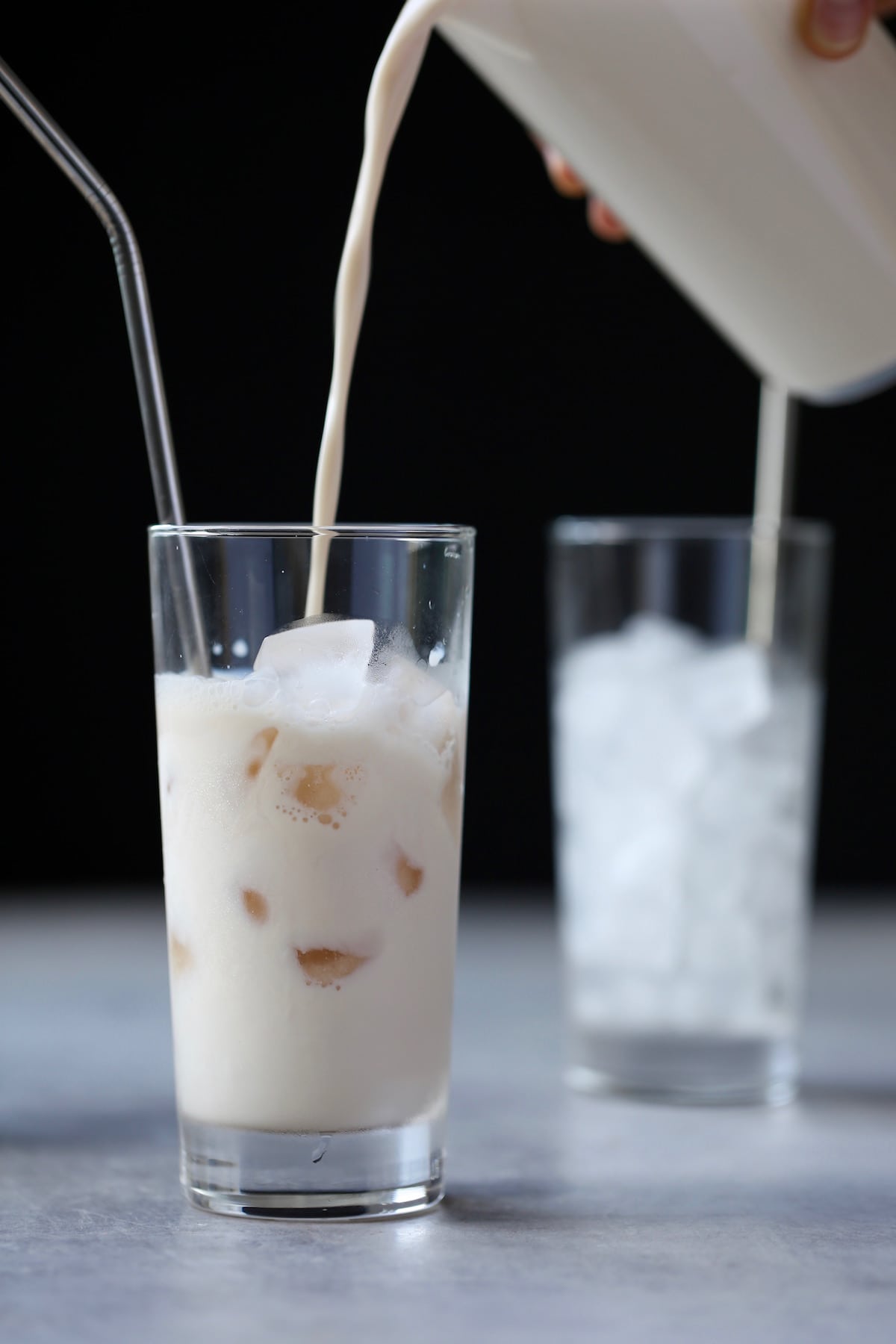 STEP 2: Pour your favorite milk into a glass with ice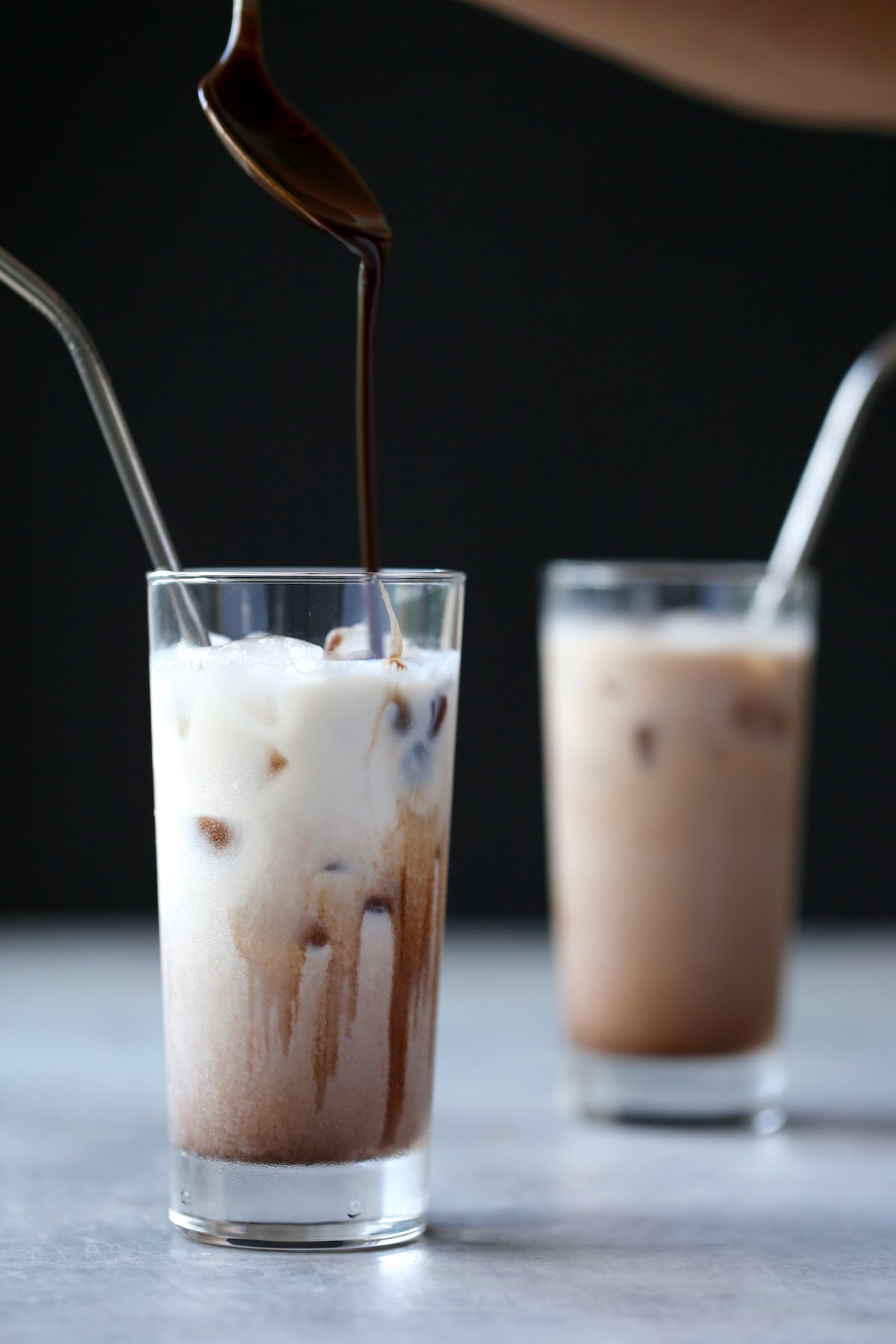 STEP 3: Drizzle in your homemade chocolate syrup
STEP 4: Stir well.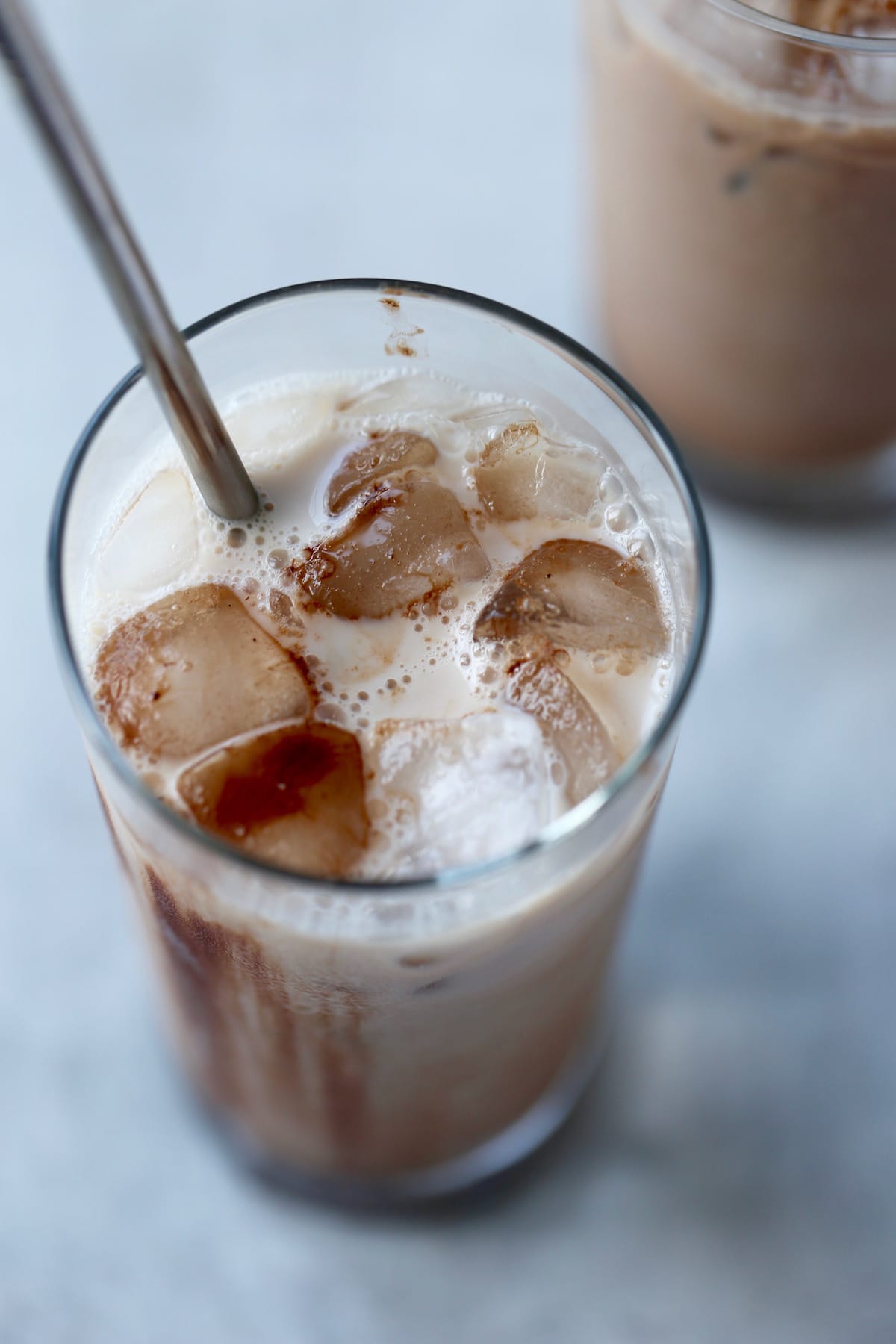 STEP 5: Enjoy!
Recipe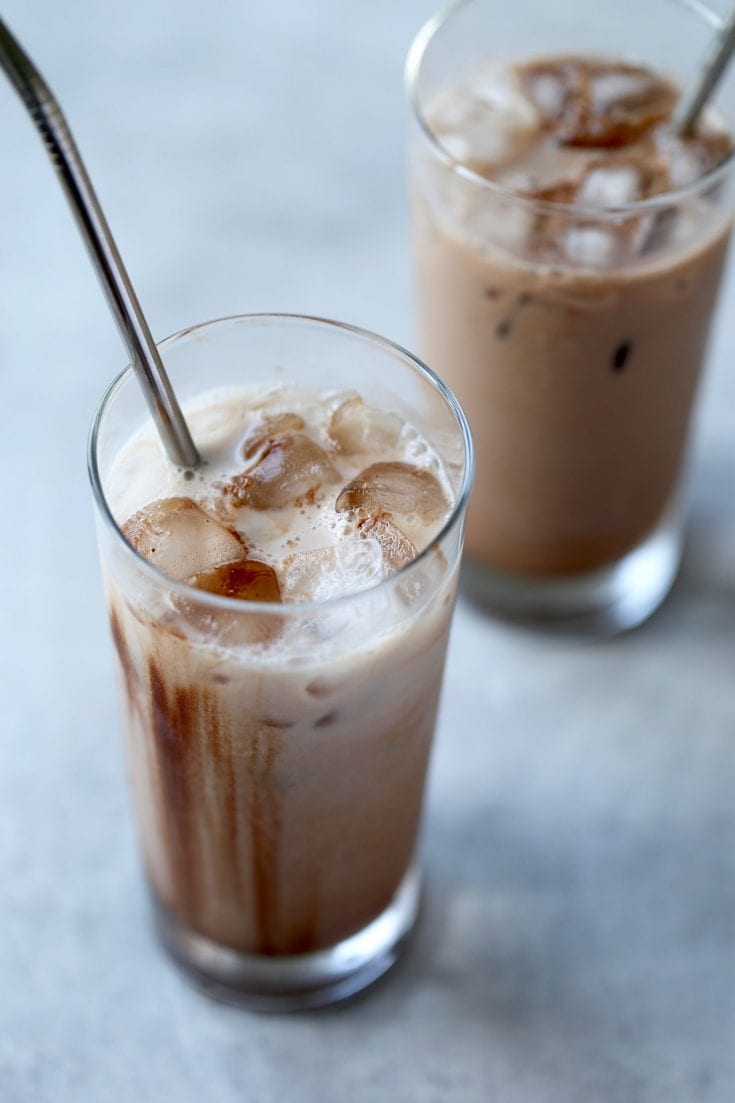 Yield:

2 glasses
Simple Chocolate Syrup Recipe + Homemade Chocolate Milk
This simple homemade chocolate syrup recipe is great to have on hand during the summer months when you want to make a quick and delicious glass of chocolate milk!
Ingredients
CHOCOLATE SYRUP
½ cup sugar (I use coconut sugar)
¼ cup + 2 tablespoons hot water
CHOCOLATE MILK
1 cup non-dairy milk
1-3 tablespoons chocolate syrup
Instructions
CHOCOLATE SYRUP: In a jar, mix together the sugar and cocoa powder.
Add in 2 tablespoons of hot water and stir until a uniform paste forms. Slowly stir in the remaining hot water until a smooth syrup forms.
CHOCOLATE MILK: To make chocolate milk, stir 1 tablespoon of chocolate syrup into a cup of milk. Add more syrup if you want a richer chocolate milk.
STORE: Store the chocolate syrup in a sealed jar for up to a couple weeks.
Nutrition Information
Yield
4
Serving Size
½ cup
Amount Per Serving
Calories

177
Total Fat

2g
Saturated Fat

1g
Trans Fat

0g
Unsaturated Fat

0g
Cholesterol

5mg
Sodium

39mg
Carbohydrates

39g
Net Carbohydrates

0g
Fiber

1g
Sugar

35g
Sugar Alcohols

0g
Protein

3g
Nutrition information is a rough estimate provided by Nutrionix and should be used for informational purposes only.