8 ingredients is all you to make this delicious, refined sugar-free and Oil-Free Wheat Bran Blueberry Banana Bread!
I caught the quickest cold known to man this week. I felt my throat getting itchy on Tuesday, woke up with a sore throat on Wednesday, and started feeling better on Thursday. Holla! The funny thing is, just a few days before my cold started, I was cockily thinking about how I didn't get sick when Brett had his bad cold. Pride comes before the fall, y'all.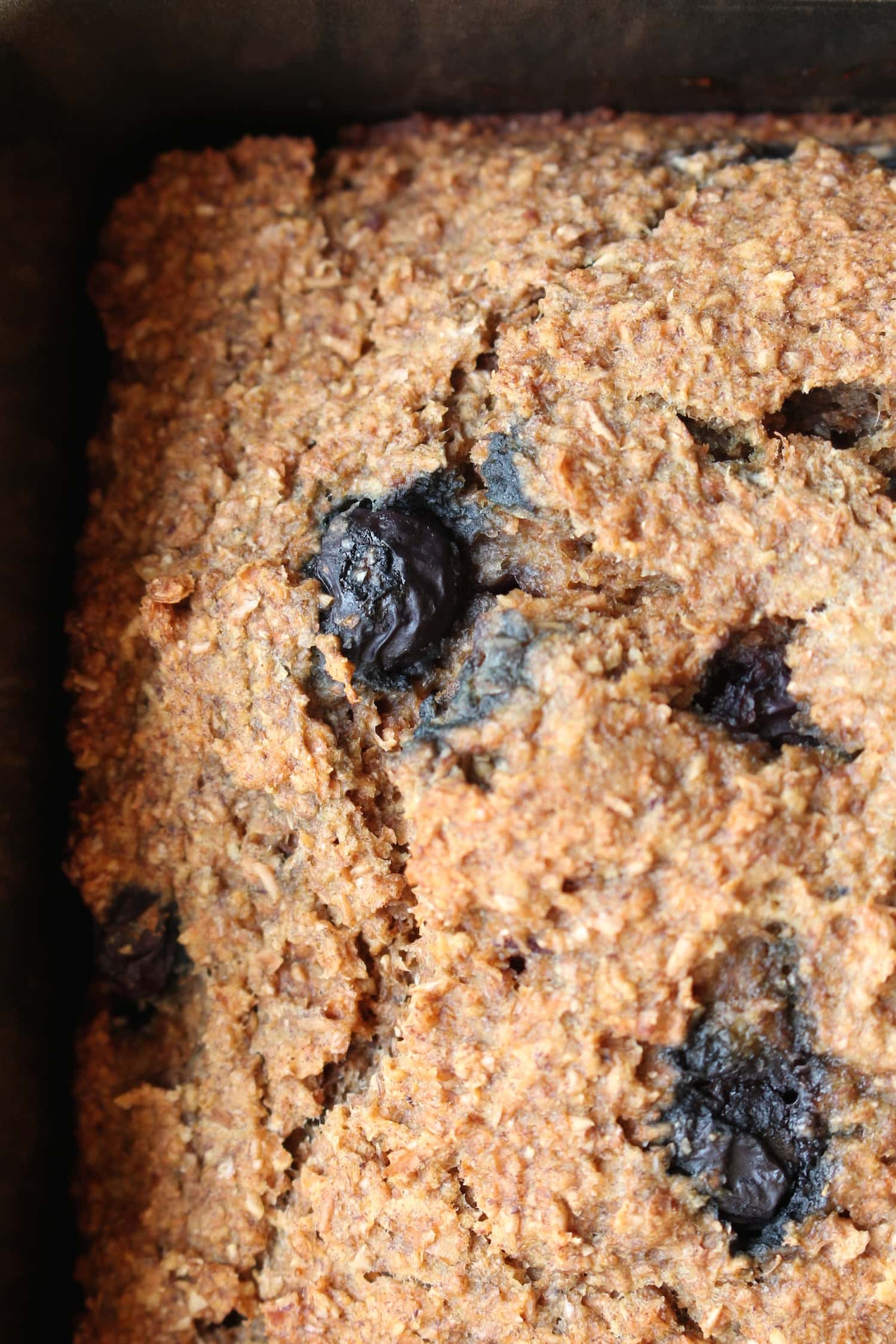 Another random, unrelated thought. Remember when I shared with you that I was going to slowly try to switch to all natural cosmetic products? A couple weeks back we got our first shipment from Amazon that included new shampoo, conditioner, soap, face wash (raw honey), and aluminum-free deodorant for Brett (I have already started making my own from scratch). Welllll, turns out some of products we tried didn't work so well. I love the soap and honey (both of which I use on my face), but the shampoo, conditioner and deodorant were no goes.
First of all, Brett smelled. I didn't notice it too much myself, but the aluminum-free deodorant didn't fly with him. As for the shampoo and condition, Brett thought they were okay, but my scalp became super greasy and itchy and I started getting dandruff. Eww. No thank you. Hopefully I'll find some natural products that actually work on my hair soon, but as for now, I'm loving my chemical-laden shampoo. It's so nice to have normal hair back!!
As for this Oil-Free Wheat Bran Blueberry Banana Bread, I honestly wasn't sure if I was going to post this recipe (I know, I know. Just what you want to hear, right?). I still doubt myself sometimes and wonder whether people will like certain recipes as much as I do. But once I realized that I kept looking forward to having a slice of this bread, and that Brett kept eating it too, I knew it was post worthy.
Some reasons I love this bread, other than the few ingredients it requires, is it's doughy, sweetness, which all comes from bananas and dates! Natures candy, I tell you. Then you have all the fiber from the wheat bran and flour that keeps you full and satisfied and provides plant-based protein. Lastly, you've got little jewels of blueberries laced throughout each slice that provide a sweet burst of freshness. Yum!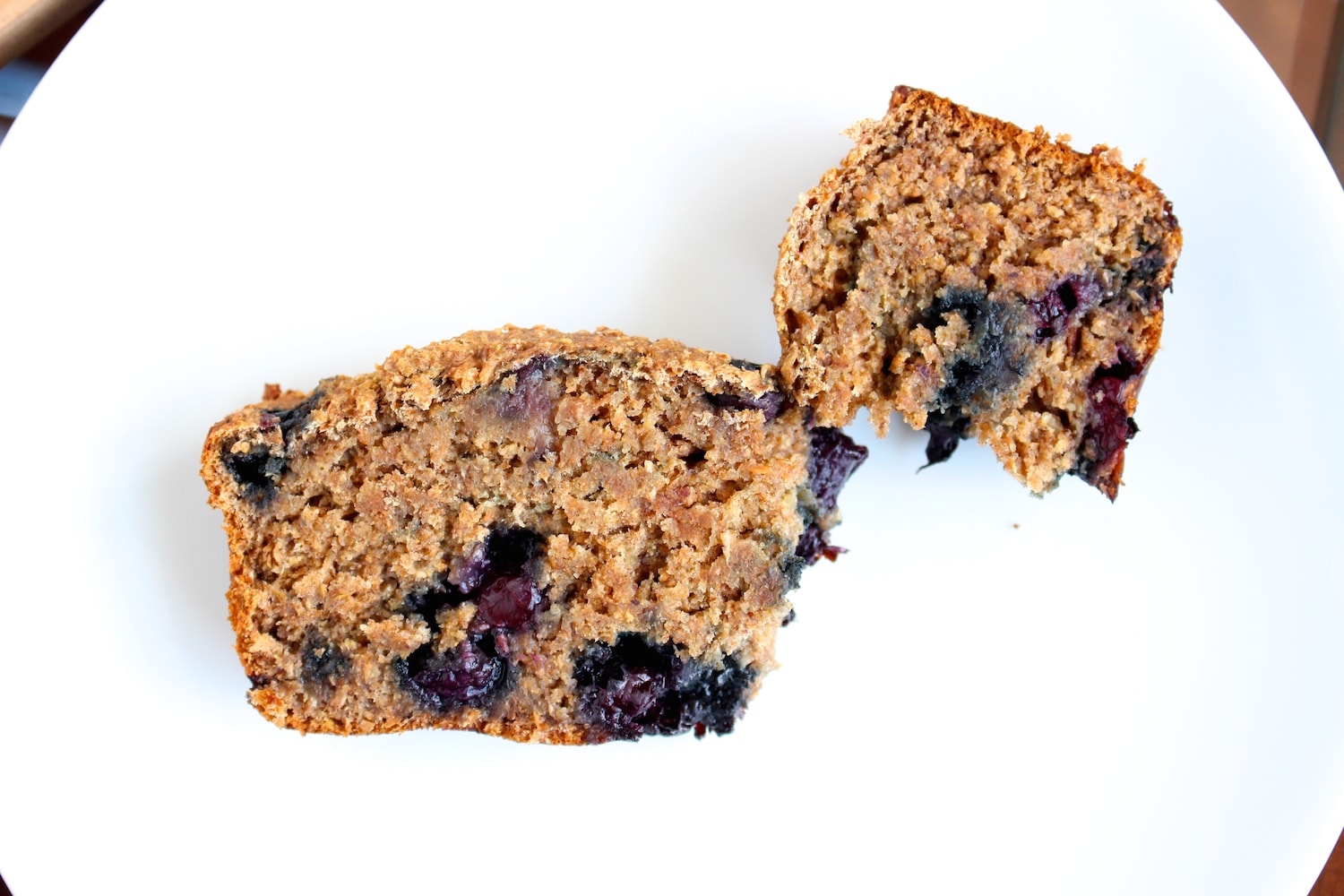 📖 Recipe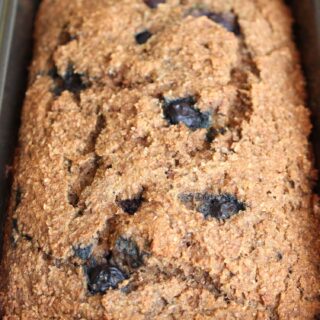 Oil-Free Wheat Bran Blueberry Banana Bread
8 ingredients is all you to make this delicious, oil-free and refined sugar-free Wheat Bran Blueberry Banana Bread!
Instructions
In a large bowl, mix together the wheat bran and the almond milk and let is stand for 10 minutes.

In a

food processor

, process the bananas, dates and vanilla until smooth. Mix into the bran mixture.

In another bowl whisk together the wheat flour, baking soda, baking powder, and salt. Add this dry mixture into the wet mixture and stir until just blended. Fold in the blueberries.

Pour the batter into the loaf pan and bake for 45-50 minutes or until a toothpick inserted into the center comes out clean and the edges brown. Allow the bread to cool before slicing.
Notes
*Store leftovers in an airtight bag in the fridge for up to a week.
Nutrition
Serving:
1
slice
Calories:
153
kcal
Carbohydrates:
37
g
Protein:
4
g
Fat:
1
g
Saturated Fat:
0.2
g
Polyunsaturated Fat:
1
g
Monounsaturated Fat:
0.2
g
Sodium:
161
mg
Potassium:
394
mg
Fiber:
7
g
Sugar:
16
g
Vitamin A:
129
IU
Vitamin C:
5
mg
Calcium:
80
mg
Iron:
2
mg