This healthy, higher-protein, chocolate studded Chickpea Flour Banana Bread makes for a delicious breakfast or tasty afternoon treat!
This post is also featured in my Easy Plant Based Breakfast Ideas For 2020 roundup.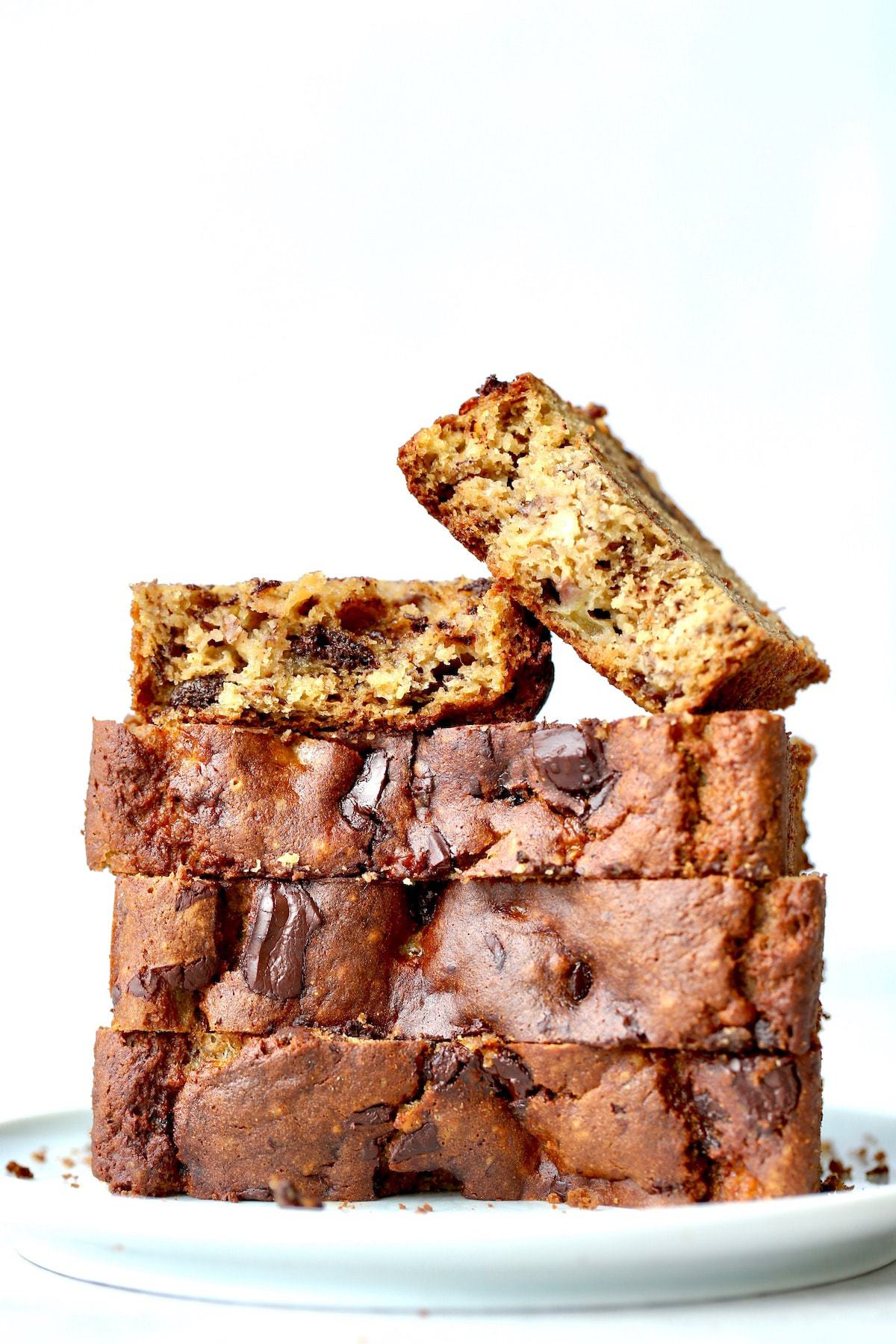 Jump to:
You guys already know that I'm obsessed with aquafaba. I'm now also obsessed with chickpea flour! High in protein and fiber and naturally gluten-free, what's not to love?!
As its name suggests, chickpea flour makes up the base of this banana bread and you'd never know it. It's soft, moist and healthy, making for an awesome, quick breakfast or fun afternoon treat.
I don't know what happened when we got to Kuala Lumpur, but I feel like my baking and cooking game has dramatically improved.
Maybe it's because I finally have my own kitchen again and time and space to experiment.
Maybe it's because our nomadic lifestyle has ended and I again have friends to cook and bake for.
Maybe it's just 6 years of practice finally paying off.
I don't know what the reason is, but I'm sure Brett is happy we're not eating beans and rice for every meal and often have delicious, vegan treats on hand. I'm not complaining either!
Like I mentioned, now that we're more stationary, we've been able to make some good friends here in KL. One of our closest friends is a family of 8 who all eat vegan and gluten-free due to health reasons. They live in walking distance from our apartment so we see them often.
My desire to host and cook for these friends has forced me to get better at gluten free baking and I've been loving it (apart from the occasional recipe fail). In fact, we just had them over for dinner last night and while we were eating we discovered that it was their eldest son's birthday. I hadn't prepared a special dessert, so we ended up frosting this banana bread (which I had thankfully just made that morning) and called it cake. It was amazing and we all would have eaten seconds if we had had enough.
What is chickpea flour?
Chickpea flour is what you'd guess it to be: ground up chickpeas! It has many names including garbanzo bean flour, besan flour and gram flour. Chickpea flour can be made with either raw or roasted chickpeas. If it's made from roasted chickpeas it's called Chana. One thing to keep in mind when baking with chickpea flour is that it doesn't taste good raw. If you lick the batter of this banana bread before baking it, you'll be grossed out. Don't worry though, it tastes amazing once baked!
Can you substitute chickpea flour for all-purpose flour?
Chickpea flour absorbs more liquid than all-purpose flour, so keep that in mind if you want to use it to replace all-purpose flour. I'd recommend using only 3/4 cup of chickpea flour to substitute 1 cup of all-purpose flour.
Chickpea flour nutrition facts
While chickpea flour is high in carbohydrates, it also contains a hearty dose of fiber and protein. Per cup, it has triple the amount of fiber than white flour and has 20 grams of protein compared to white flour's 13 grams. Additionally, it's high in many vitamins and minerals including folate, iron and manganese.
How to make chickpea flour at home
If you can't find chickpea flour, but have dried chickpeas at home, you can make your own chickpea flour by using a grain mill or high powered blender. If using a high powered blender, place 1 cup of dried chickpeas into the blender and slowly increase the blender's speed until it's at maximum speed. Continue blending the chickpeas until a fine flour forms. Next, sift the flour through a fine mesh sieve to remove any of the unblended, dried chickpeas. Place those unblended, hard pieces back in the blender and blend again until they turn into flour. Continue this process until all the dried chickpeas have been blended into flour.
Okay, now that you know all about my current favorite ingredient–chickpea flour–get baking!
I really hope you enjoy this healthy and delicious banana bread recipe. Be sure to let me know your thoughts in the comments below.
Rate this Chickpea Flour Banana Bread Recipe in the recipe card and share it with others!
And as always, if you make this banana bread, be sure to snap a picture and tag @theconscientiouseater on Instagram so I can see your creation!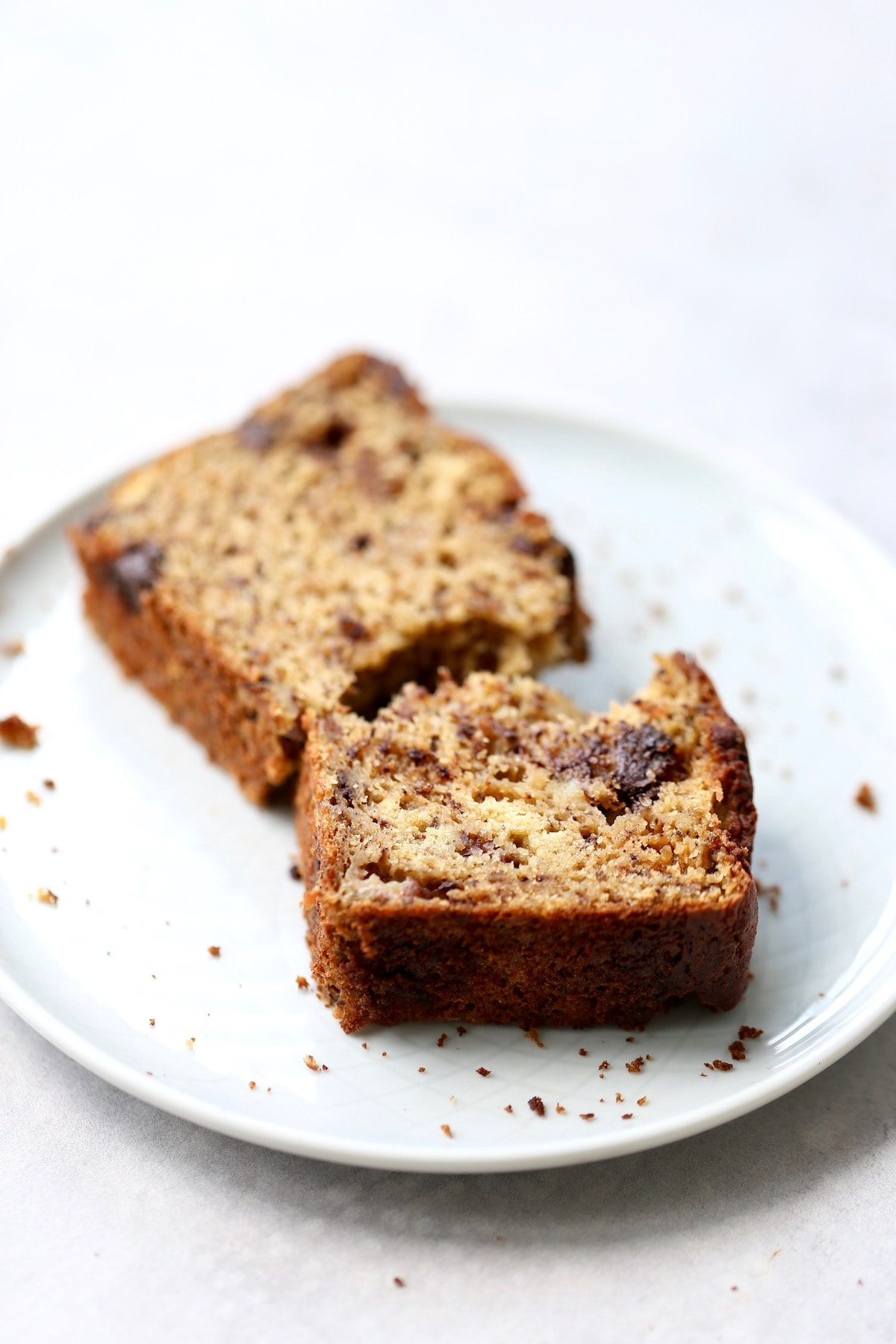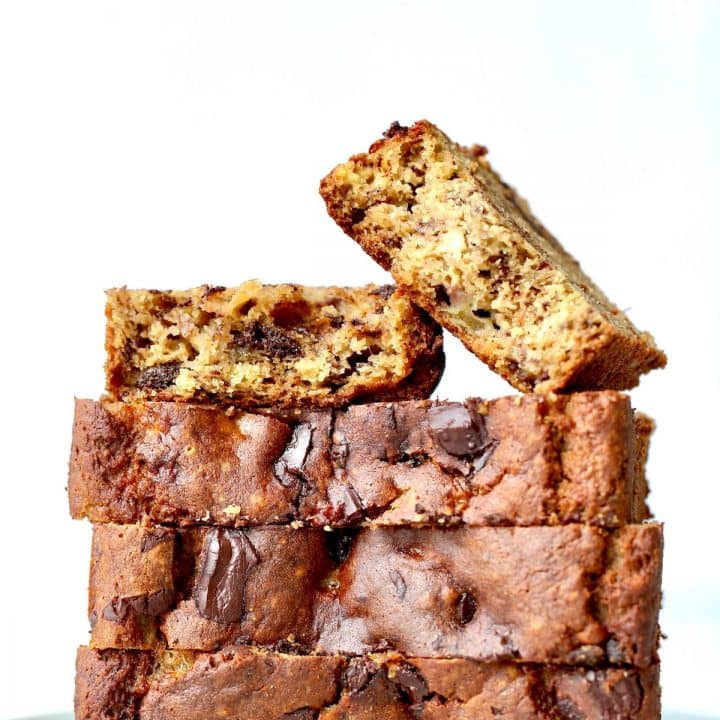 Chickpea Flour Banana Bread (Vegan + Gluten Free!)
Total Time:
1 hour
5 minutes
This healthy, higher-protein, chocolate studded Chickpea Flour Banana Bread makes for a delicious breakfast or tasty afternoon treat!
Ingredients
3 medium ripe bananas, mashed
3 tablespoons maple syrup
1/4 cup + 2 tablespoons aquafaba*
2 tablespoons coconut oil, melted
2 teaspoons apple cider vinegar
2 teaspoons vanilla extract
1 1/2 cups chickpea flour*
1 teaspoon baking soda
1 teaspoon cinnamon
1/4 teaspoon salt
1/2 cup chocolate chunks
Instructions
PREP: Preheat your oven to 350 degrees and line or grease a standard loaf pan. Set aside.
BREAD: In a large mixing bowl, mash the ripe bananas until fairly smooth. Add in the remaining wet ingredients, from the maple syrup to the vanilla and stir well.
Add in the dry ingredients, from the chickpea flour to the salt. Stir until just combined
Fold in the chocolate chips. (Uncooked chickpea flour tastes horrible, so while it may be tempting, I don't recommend tasting the batter!)
BAKE: Pour the batter into your prepared loaf pan and bake for 40-50 minutes, or until a toothpick or knife inserted into the center comes out clean.
Allow the bread to cool in the pan for a while before removing it to continue cooling on a wire rack. Slice and enjoy!
STORE: Store the leftovers in an airtight container on the counter for 1-2 days or in the fridge for longer.
Notes
*Aquafaba is the liquid in a can of chickpeas.
**Chickpea flour can also be called garbanzo bean flour, gram flour and besan flour. Chana is also chickpea flour, but the chickpeas have been roasted. Use unroasted chickpea flour!
This recipe was adapted from Ambitious Kitchen.
Recommended Products
Nutrition Information
Yield

12
Serving Size

1 slice
Amount Per Serving
Calories

144
Total Fat

5g
Saturated Fat

3g
Trans Fat

0g
Unsaturated Fat

1g
Cholesterol

2mg
Sodium

163mg
Carbohydrates

21g
Net Carbohydrates

0g
Fiber

2g
Sugar

12g
Sugar Alcohols

0g
Protein

3g
Nutrition information is a rough estimate provided by Nutrionix and should be used for informational purposes only.
This recipe is part of my Vegan Banana Bread series: