This healthy, higher-protein, chocolate studded Chickpea Flour Banana Bread makes for a delicious breakfast or tasty afternoon treat!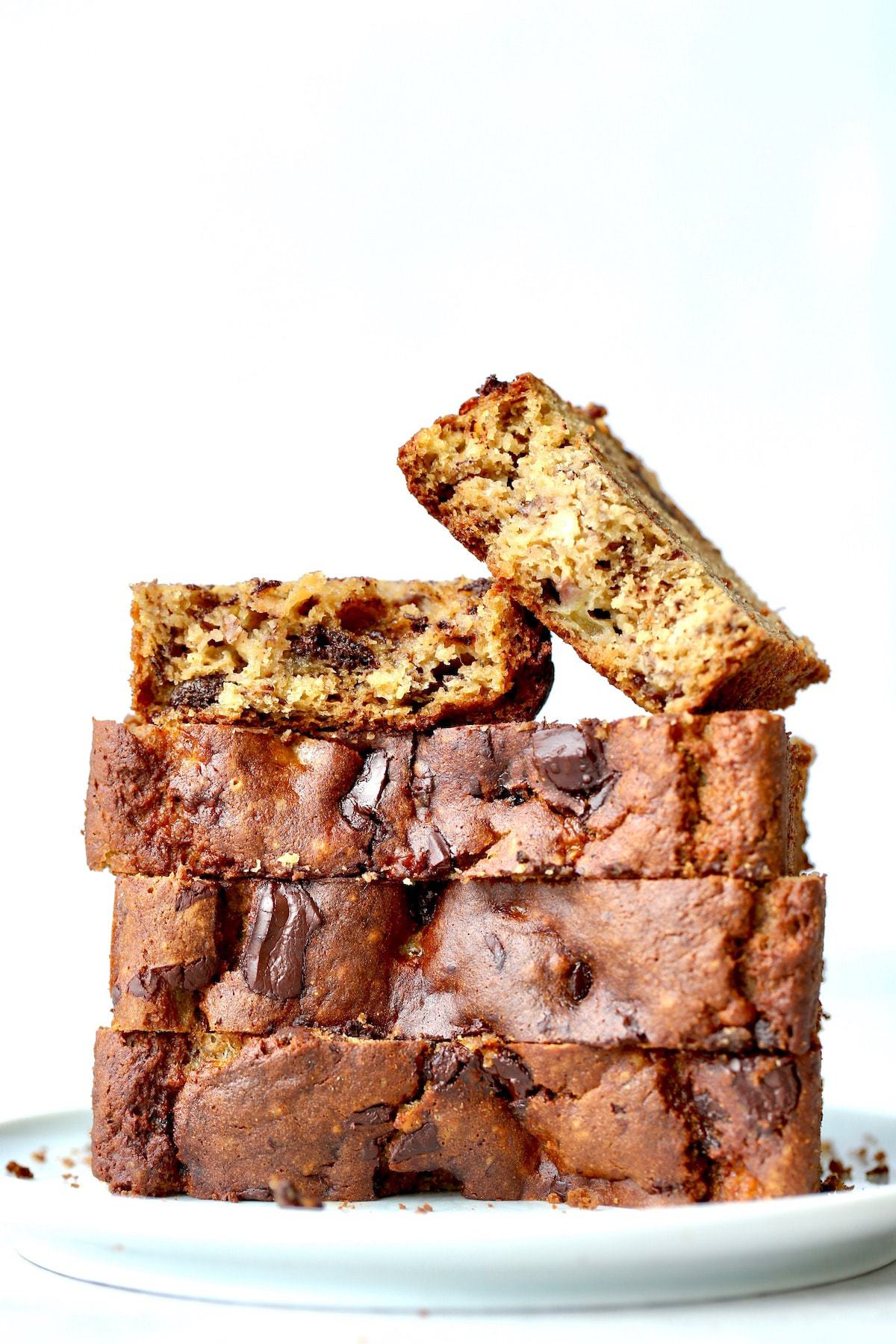 Jump To
It's no joke that I make a loaf of vegan banana bread almost every week.
I always buy tons of bananas just so that they can ripen and be turned into a golden loaf of deliciously, sweet banana bread.
I've shared a number of vegan banana bread recipes on the blog over the years.
Some of my personal favorites are my Black Sesame Tahini Vegan Banana Bread and this classic Vegan Banana Bread Recipe.
HOWEVER, today's recipe for Chickpea Flour Banana Bread may take the cake.
It's sweetened almost entirely with bananas, is gluten-free AND higher in protein thanks to chickpea flour.
What's not to love?!
Ingredients You'll Need for Chickpea Flour Banana Bread
I'll list out all of the ingredients you'll need to make this Chickpea Flour Banana Bread below:
This recipe calls for two ingredients you may have never baked with before: aquafaba and chickpea flour.
What is Aquafaba?
Aquafaba is simply the liquid from a can of chickpeas and it's going to act as the eggs in this recipe.
What is Chickpea Flour?
Chickpea flour is what you'd guess it to be: ground up chickpeas!
Chickpea flour has many names including garbanzo bean flour, besan flour and gram flour.
Chickpea flour can be made with either raw or roasted chickpeas. If it's made from roasted chickpeas it's called Chana.
One thing to keep in mind when baking with chickpea flour is that it doesn't taste good raw. If you lick the batter of this banana bread before baking it, you'll be grossed out.
Don't worry though, it tastes amazing once baked!
Can You Substitute Chickpea Flour for All-Purpose Flour?
Chickpea flour absorbs more liquid than all-purpose flour, so keep that in mind if you want to use it to replace all-purpose flour.
I'd recommend using only ¾ cup of chickpea flour to substitute 1 cup of all-purpose flour.
Chickpea Flour Nutrition Facts
While chickpea flour is high in carbohydrates, it also contains a hearty dose of fiber and protein.
Per cup, chickpea flour has triple the amount of fiber than white flour and has 20 grams of protein compared to white flour's 13 grams.
Additionally, it's high in many vitamins and minerals including folate, iron and manganese.
How to Make Chickpea Flour at Home
If you can't find chickpea flour, but have dried chickpeas at home, you can make your own chickpea flour by using a grain mill or high powered blender.
If using a high powered blender:
place 1 cup of dried chickpeas into the blender and slowly increase the blender's speed until it's at maximum speed.
Continue blending the chickpeas until a fine flour forms.
Next, sift the flour through a fine mesh sieve to remove any of the unblended, dried chickpeas.
Place those unblended, hard pieces back in the blender and blend again until they turn into flour.
Continue this process until all the dried chickpeas have been blended into flour.
Okay, now that you know all about my current favorite ingredient--chickpea flour--get baking!
How to Store Leftover Banana Bread
If you happen to have any leftover vegan banana bread (which I doubt you will), you can either refrigerate it or freeze it.
Fridge: If you'll be finishing off the banana bread in less than a week, simply store it in an airtight container or zip-lock bag in the fridge. When you want to enjoy some, just slice off a piece and dig in!
Freezer: You can also freeze any leftover banana bread if you want it to last longer or if you happen to make two loaves at once. To freeze an entire loaf of banana bread, wrap it tightly in plastic wrap before placing it in a large zip-lock bag to freeze for up to 3 months.
To thaw frozen banana bread, remove it from the freezer the night before you need it and allow it to thaw overnight in the fridge.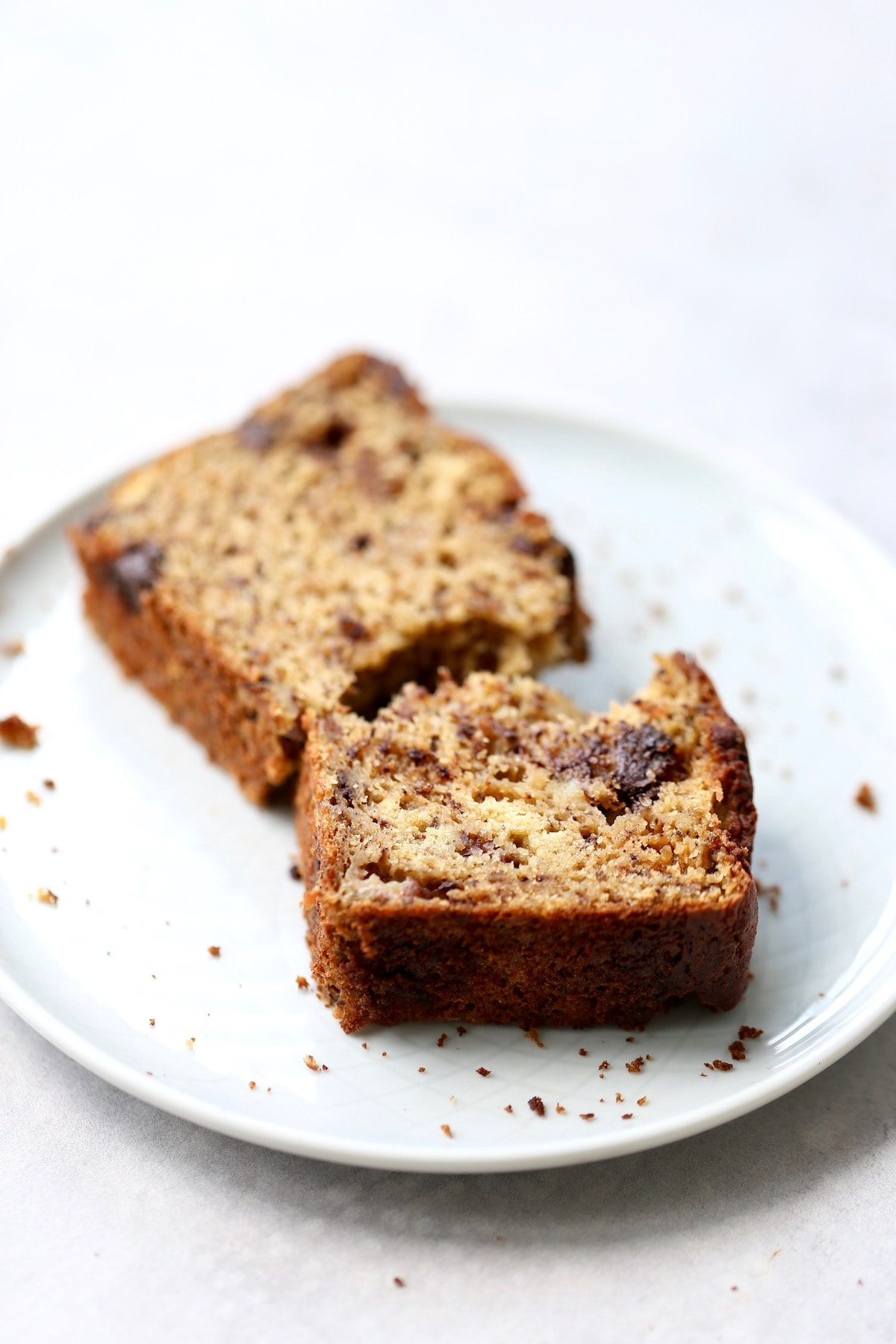 📖 Recipe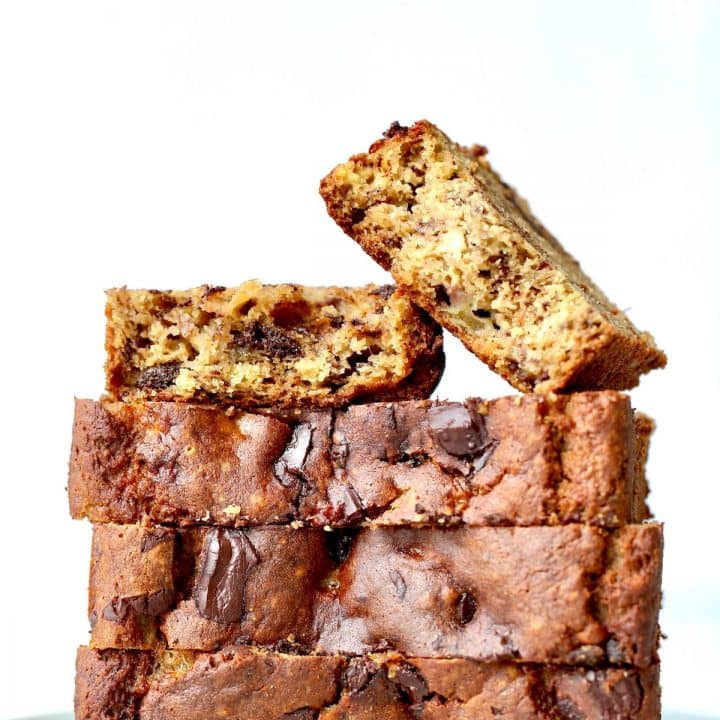 Chickpea Flour Banana Bread (Vegan + Gluten Free!)
This healthy, higher-protein, chocolate studded Chickpea Flour Banana Bread makes for a delicious breakfast or tasty afternoon treat!
Instructions
PREP: Preheat your oven to

350

°F

and line or grease a standard loaf pan. Set aside.

BREAD:

In a large mixing bowl, mash the ripe bananas until fairly smooth. Add in the remaining wet ingredients, from the

maple syrup

to the

vanilla

and stir well.

Add in the dry ingredients, from the chickpea flour to the salt. Stir until just combined

Fold in the chocolate chips. (Uncooked chickpea flour tastes horrible, so while it may be tempting, I don't recommend tasting the batter!)

BAKE: Pour the batter into your prepared loaf pan and bake for 40-50 minutes, or until a toothpick or knife inserted into the center comes out clean.

Allow the bread to cool in the pan for a while before removing it to continue cooling on a wire rack. Slice and enjoy!

STORE: Store the leftovers in an airtight container on the counter for 1-2 days or in the fridge for longer.
Video
Notes
*Aquafaba is the liquid in a can of chickpeas.
**Chickpea flour can also be called garbanzo bean flour, gram flour and besan flour. Chana is also chickpea flour, but the chickpeas have been roasted. Use unroasted chickpea flour!
This recipe was adapted from Ambitious Kitchen.
Nutrition
Serving:
1
slice
Calories:
193
kcal
Carbohydrates:
27
g
Protein:
5
g
Fat:
7
g
Saturated Fat:
4
g
Polyunsaturated Fat:
1
g
Monounsaturated Fat:
1
g
Trans Fat:
0.01
g
Cholesterol:
1
mg
Sodium:
181
mg
Potassium:
343
mg
Fiber:
4
g
Sugar:
13
g
Vitamin A:
35
IU
Vitamin C:
3
mg
Calcium:
24
mg
Iron:
2
mg
This recipe is part of my Vegan Banana Bread series: