Instead of throwing away the okara (soy milk pulp) left over from your homemade soy milk, turn it into this creamy, zesty Okara Hummus!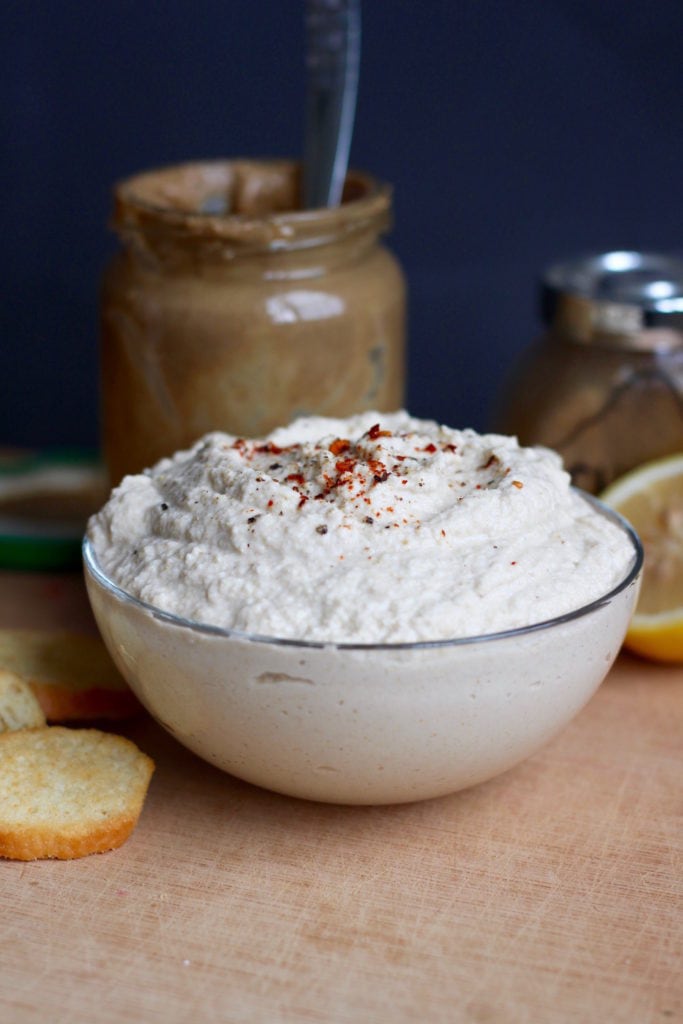 Jump to:
My friend is a genius.
I have a new friend from America that recently moved to our city and she has been such a gift to me. She makes me laugh as much as my sister does--and that's saying a lot. She also loves to watch movies, drink boba tea, experiment in the kitchen, eat vegan food, etc.
Plus, she's a soy milk drinker.
Yay for creamy, dreamy soy milk!
Not long after she moved to China I helped her buy a soy milk maker like the one I've been using for over a year. Soy milk makers (I don't know what else to call them) really are a brilliant invention and I've definitely gotten my money's worth out of mine, considering a bag of soy beans costs less than a dollar and I make about 1-2 liters of soy milk a week. I also love that, unlike the soy milk you buy in cartons in America, this soy milk is made with just two ingredients: soy beans and water. No need for any of those weird additives and thickeners!
What is okara?
My friend had never tried okara before until she bought her own soy milk maker. Okara is the pulp left over after you make and strain soy milk. It's basically watery soy bean pulp and it's delicious. My friend has been eating it by itself with her fingers and mixing it into her oatmeal ever since she discovered it. But she also had the brilliant idea that, since it's basically beans, we should try to make hummus out of it. Now why didn't I think of that?!
How can I add okara to other foods?
In addition to using okara to make hummus, there are lots of different ways you can add okara to your food. It is naturally pretty bland so you don't have to worry about it adding a potent bean-y taste to your food. You can add it to smoothies, oatmeal, and baked goods for added nutrition or volume. I find it has the consistency of pumpkin puree, so sometimes I'll use it as I would pumpkin puree in baked goods. You can also use it to make delicious vegetable "crab" cakes!
How long does okara last? Can you freeze okara?
If you don't plan to use the okara leftover from your soy milk right away, I would recommend freezing it. There have been countless times that I've placed it in some tupperware in the fridge with good intentions to use it later, only to forget about it. A few days later I remember I have some in the fridge, but by that point it's already gone bad. I find okara doesn't last much longer than three days in the fridge before spoiling. So yeah, definitely use your okara right away to make something else or freeze it for later!
Is okara healthy?
I know there's a lot of controversy over soy products and whether or not they're harmful to our bodies, so I suggest you do your own research. As for me, I'm okay with eating soy at the moment and am going to fully embrace this creamy, cheap ingredient! However, I do think it's best to buy organic soy products when possible. Since okara is the pulp from soy beans, it contains lots of fiber, protein, and calcium and can be a great addition to oatmeal, smoothies, baked goods and especially this homemade okara hummus!
Can you eat okara raw?
I have only used okara that is leftover from making homemade soy milk. I use a soy milk maker which heats my soy milk and therefore cooks the okara. However, I don't recommend using raw okara that has not been heated or cooked!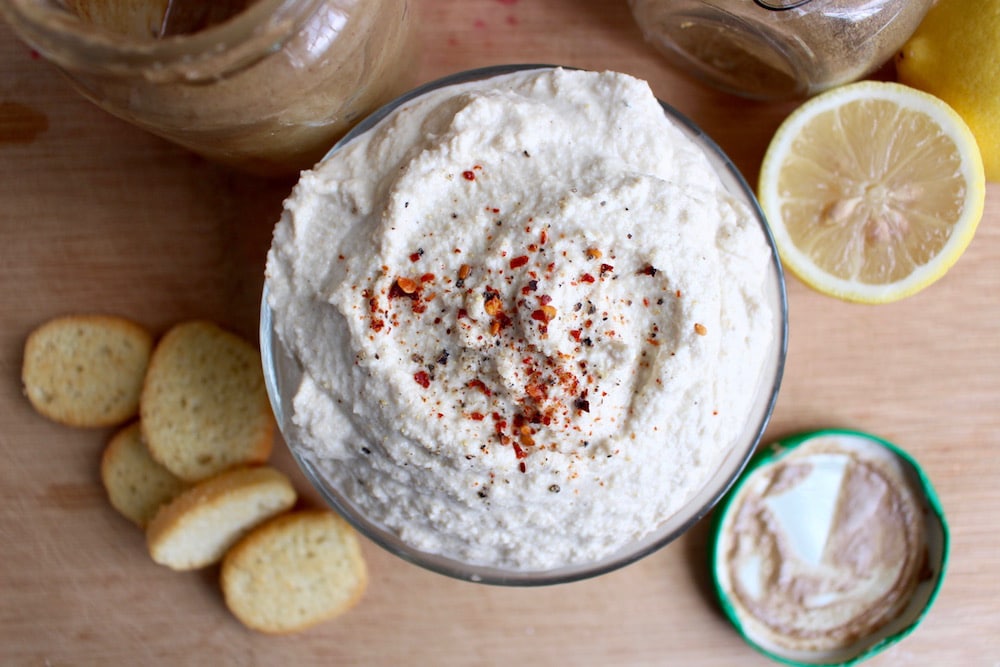 Other okara recipes
In addition to this delicious okara hummus, there are lots of other amazing okara recipes available. Be sure to check out some of the ones below and let me know if you try any of them out! If you happen to be someone who makes their own soy milk, I'd love to know how you make use of your leftover okara!
Unohana - Sautéed Okara with Vegetables
---
Okara (Soy Milk Pulp) Hummus:
Please rate the recipe (in the recipe card), leave a review, and share it with others.
I'd also love to see your creation! If you make this recipe, please take a picture and tag #theconscientiouseater on Instagram so I can see it!
Okara (Soy Milk Pulp) Hummus
Instead of throwing away the okara (soy milk pulp) left over from your homemade soy milk, turn it into this creamy, zesty Okara Hummus!
Ingredients
1 ¾ cups Okara*
¼ cup lemon juice
¼ cup tahini
2 cloves garlic, roughly chopped
1 teaspoon cumin
¾ teaspoon salt
3-5 tablespoons water or olive oil*
Instructions
Place all the ingredients, starting with just 3 tablespoons of water, into your food processor or high speed blender and blend until smooth.
Add more water if the hummus is too thick or until you reach your desired consistency.
Add more spices to taste.
Store in an airtight container in your fridge.
Notes
*Make sure that your okara has been heated or cooked and then cooled before using. Don't use raw okara!
*The amount of water or olive oil you add depends on how thick you want your hummus to be or how strong your blender is
Nutrition Information
Yield

5
Serving Size

½ cup
Amount Per Serving
Calories

117
Total Fat

8gg
Saturated Fat

1gg
Trans Fat

0g
Unsaturated Fat

0g
Cholesterol

0mg
Sodium

368mg
Carbohydrates

8g
Net Carbohydrates

0g
Fiber

5g
Sugar

0g
Sugar Alcohols

0g
Protein

4g
Nutrition information provided by verywellfit.com