Instead of throwing away the okara (soy milk pulp) left over from your homemade soy milk, whip up this creamy, zesty Okara Hummus Recipe!
Jump To
If you make your own homemade soy milk, you may be wondering what to do with the leftover soy milk pulp, also known as "okara".
Well, I've got the perfect solution with this Okara Hummus recipe!
By blending your leftover okara with a few other ingredients, you'll end up with a creamy, zesty hummus.
Now you don't need to waste all that soy milk pulp!
What is okara?
Okara (おから) or "unohana" is the pulp that is leftover after making and straining soy milk from soybeans. It's basically a watery soy bean pulp and despite how that may sound, it's delicious. Since okara is basically beans, why not make hummus out of it?!
If you make homemade almond milk and are wondering what to do with the leftover almond milk pulp as well, make these healthy brownie bites!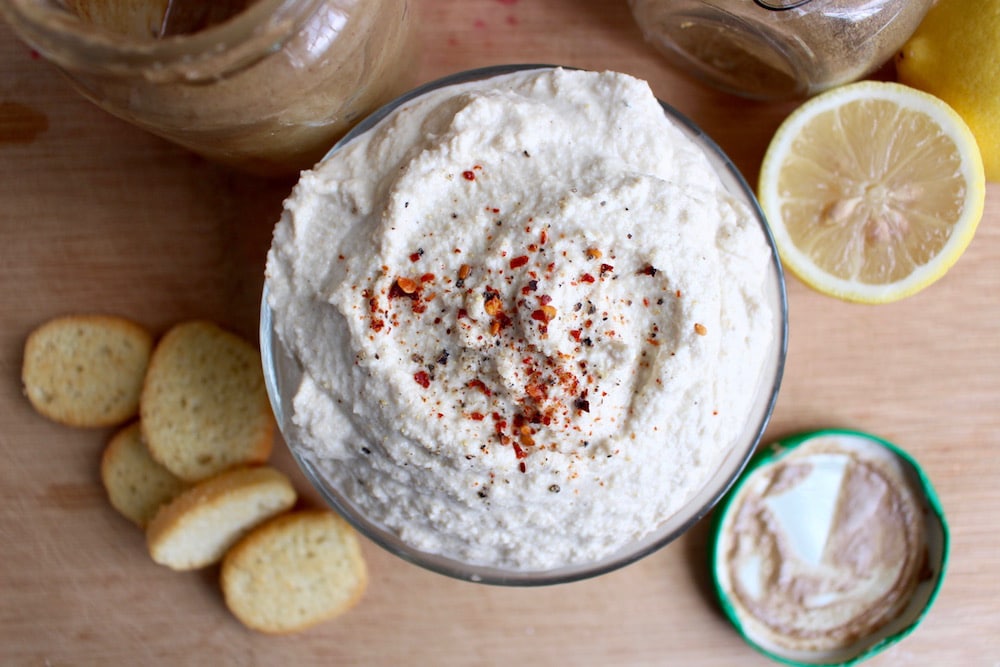 What can I do with okara (soy pulp)?
In addition to using okara to make hummus, there are tons of other okara recipes that you can make. You could:
Blend it into your smoothie
Add it to your daily oatmeal
Include it in your baked goods for added nutrition or volume
And don't worry, okara is naturally pretty bland, so you don't have to worry about it adding a strong bean-y taste to your food.
I find it has the consistency of pumpkin puree, so sometimes I'll use it as I would pumpkin puree in baked goods.
Is okara healthy?
Since okara is the pulp from soybeans, it contains lots of fiber, protein, and calcium. This makes okara a healthy addition to oatmeal, smoothies, baked goods and this homemade okara hummus!
One surefire way to make okara recipes healthier is to but organic soy products.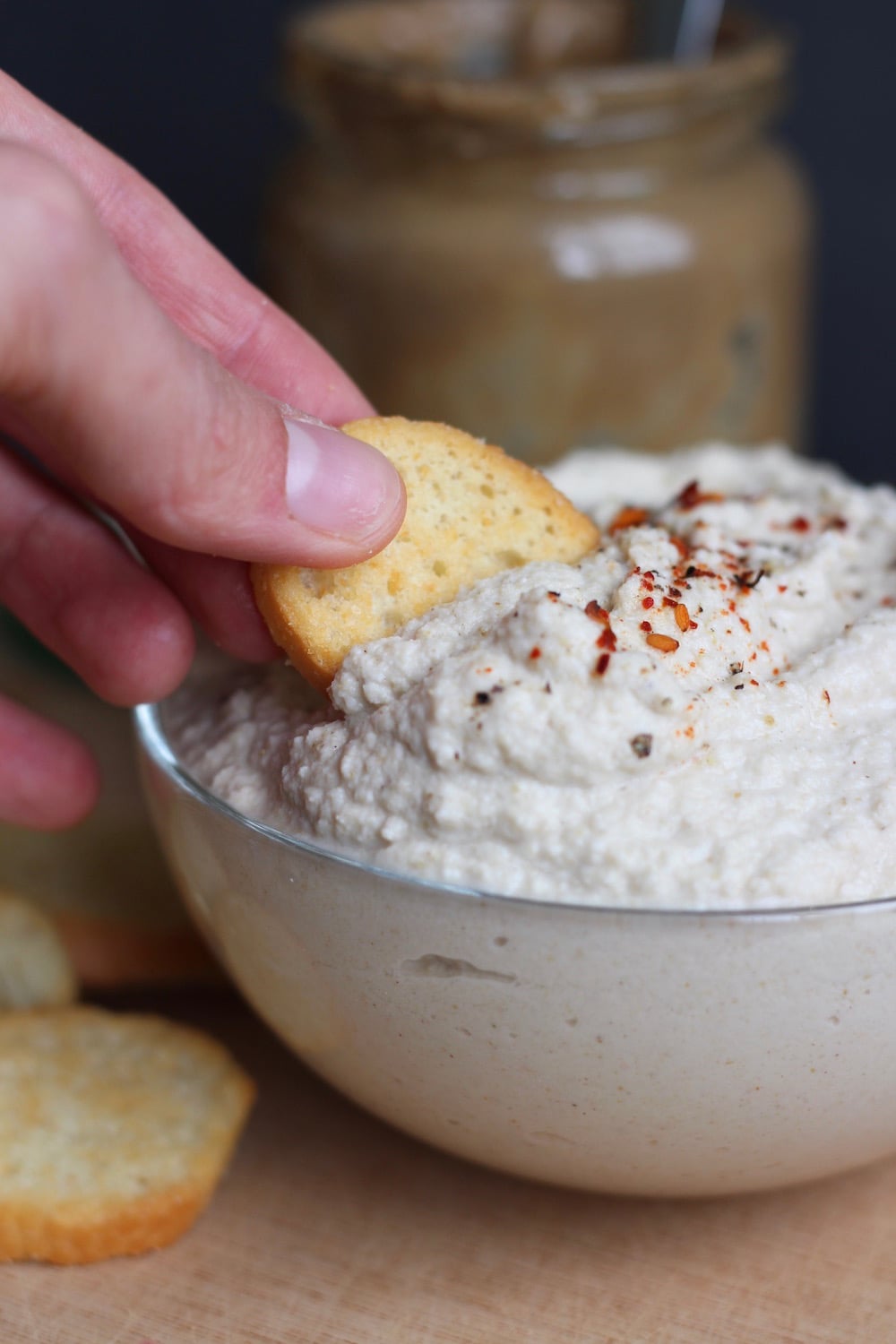 Can you eat okara raw?
I have only used okara that is leftover from making homemade soy milk. I use a soy milk maker which heats my soy milk and therefore cooks the okara. However, I don't recommend using raw okara that has not been heated or cooked!
Ingredients
Okara hummus requires many of the same ingredients you would use to make traditional hummus. The big difference is that, instead of using chickpeas, you are going to be using okara!
I'll list out all of the ingredients you'll need below:
So easy, right?
How to make okara hummus
To make this simple okara hummus, all you need to do is place all of the ingredients, starting with just 3 tablespoons of water, into your food processor or high speed blender and blend until smooth.
If the hummus is too thick, you can add more water or olive oil until it reaches your desired consistency.
Taste and add more salt for saltiness, lemon juice for zest, or cumin for flavor!
Storage
Store this okara hummus in an airtight container in your fridge for up to 3 days.
How long does okara last?
I find okara doesn't last much longer than three days in the fridge before spoiling, that's why I recommend freezing it.
There have been countless times that I've placed it in a container in the fridge with good intentions to use it later, only to forget about it! A few days later I remember I have some in the fridge, but by that point it's already gone bad.
Definitely use your okara right away to make something else or freeze it for later!
Can you freeze hummus?
Yes! To freeze hummus, place your desired amount in a freezer-safe container and freeze the hummus for up to 2-3 months.
Pro Tip: I recommend dividing your homemade (or store-bought) hummus among a few different containers so that you can thaw smaller portions as needed.
How to thaw frozen hummus
Thaw the hummus by removing it from the freezer and placing it in the fridge overnight, or until soft.
Other okara recipes
In addition to this delicious okara hummus dish, you can make several other okara recipes with your leftover soybean pulp:
Unohana - Sautéed Okara with Vegetables
Be sure to check out some of the ones below and let me know if you try any of them out!
Also, if you are someone who also makes homemade soy milk, I'd love to know how you make use of your leftover okara!
📖 Recipe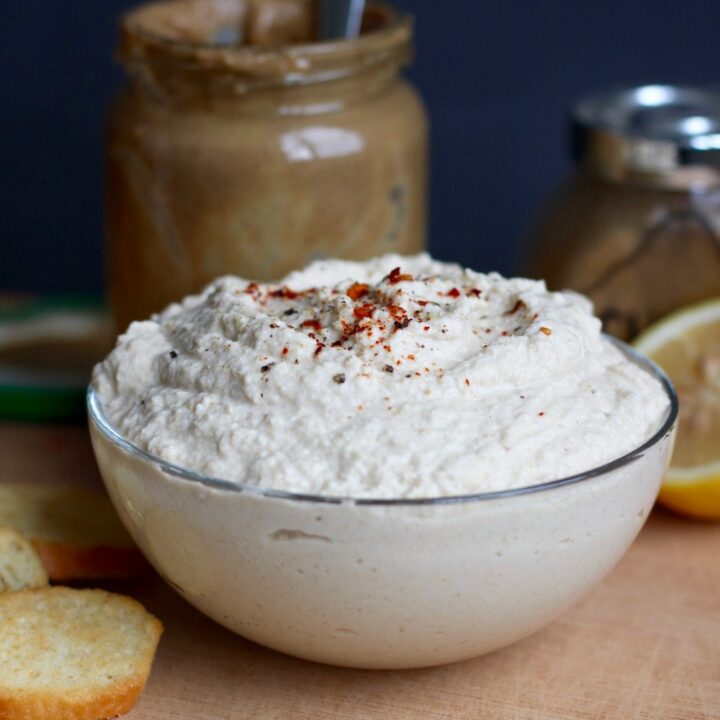 Okara Hummus (Soy Milk Pulp Hummus)
Instead of throwing away the okara (soy milk pulp) left over from your homemade soy milk, turn it into this creamy, zesty Okara Hummus!
Instructions
Add more water if the hummus is too thick or until you reach your desired consistency.

Add more spices to taste.

Store in an airtight container in your fridge.
Notes
*Make sure that your okara has been heated or cooked and then cooled before using. Don't use raw okara!
*The amount of water or olive oil you add depends on how thick you want your hummus to be or how strong your blender is
Nutrition
Serving:
0.5
cup
Calories:
110
kcal
Carbohydrates:
9
g
Protein:
4
g
Fat:
7
g
Saturated Fat:
1
g
Polyunsaturated Fat:
3
g
Monounsaturated Fat:
3
g
Sodium:
358
mg
Potassium:
171
mg
Fiber:
1
g
Sugar:
0.3
g
Vitamin A:
14
IU
Vitamin C:
6
mg
Calcium:
58
mg
Iron:
1
mg