Made with chewy oats, crispy rice cereal and crunchy peanuts, these Peanut Butter Coconut Granola Bars make for a delicious and sweet grab-and-go snack!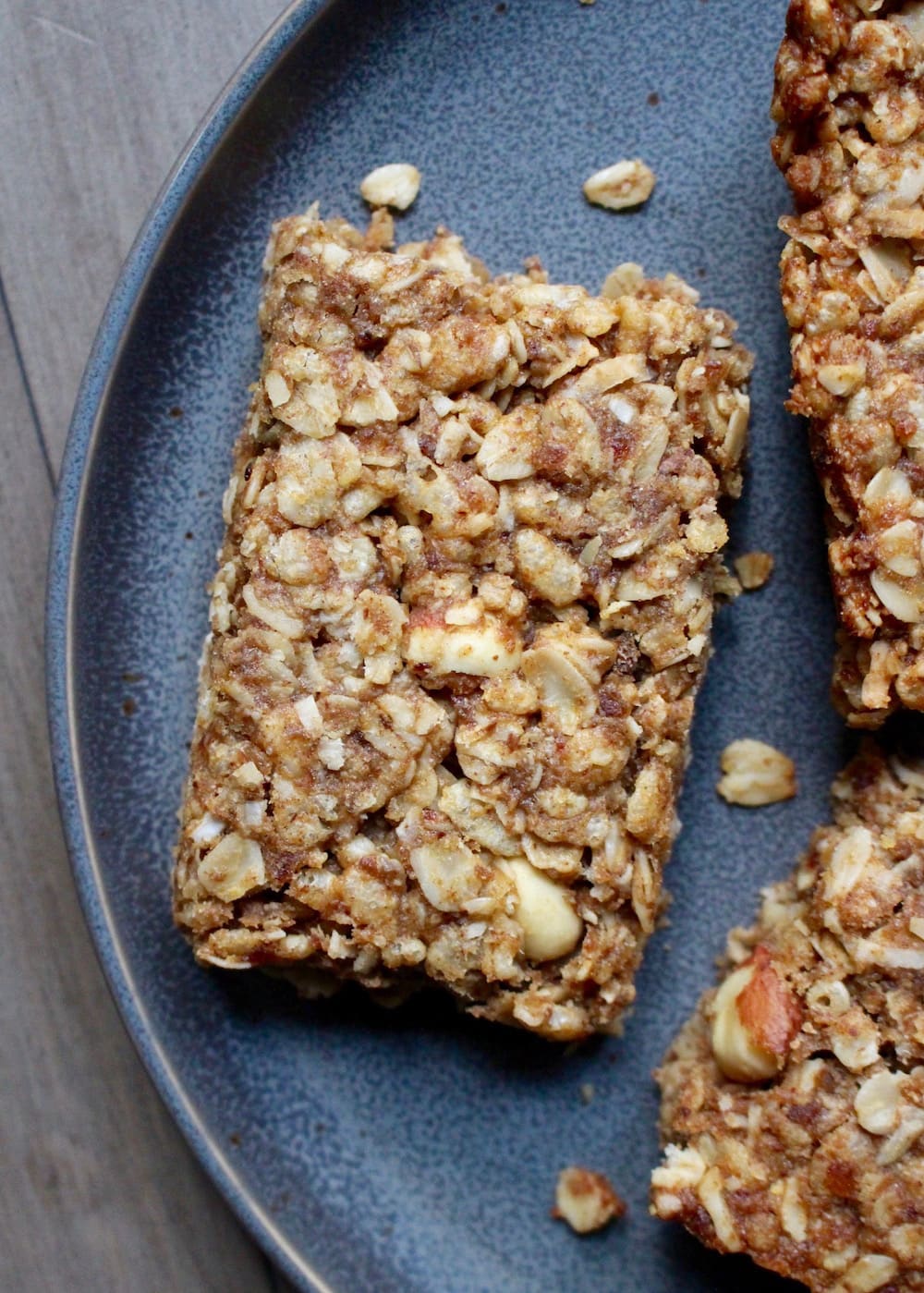 These Peanut Butter Coconut Granola Bars have been fueling some super sweaty workouts lately. It's getting crazy HOT here in Houston and as many of you know, Houston is also extremely humid. Brett and I aren't sure we want to keep running outside anymore because the only semi-enjoyable time to run is really early in the morning. While we wake up early most days anyways, we love to use the mornings to read and journal before Harper baby wakes up. Plus, doing quick HIIT or Nike Training Club workouts inside under a fan in the A/C sounds a lot more appealing.
Where we live in China the summers are just as hot, if not as hot as Houston, but the air is dry, which makes it possible to find relief in a shaded area or under an umbrella as the locals often do.
I'm amazed at how quickly bodies adapt. I've lived in climates like Houston before (hello Orlando) and over the 4 years of living in Florida I became accustomed to the sticky heat, even to the point where the upper 60's felt chilly! But since living in dryer climates, my body has yet again adjusted to less humidity and I'm finding myself struggling to enjoy being outside here in Houston lately. Hopefully after another week or two I'll stop being such a wimp and just embrace running through all the hot water in the air.
But we are really loving these Peanut Butter Coconut Granola Bars. I'm so glad I found another homemade snack that we all love so that we can add a bit of variety to our favorite 5 Ingredient Adaptable Granola Bars and these easy vegan protein balls. These bars have all kinds of different textures going for them as they are made with rolled oats, crispy rice cereal, whole peanuts and shredded coconut. I've been enjoying them as an afternoon pick-me-up with sliced banana and even for dessert at night. They are perfectly sweet and taste amazing with a cup of tea or coffee. 
I've been making a batch of these every week and we just store them in the fridge in an airtight container. I'd love to know if you give these deliciously sweet and nutty Peanut Butter Coconut Granola Bars a try and what you think! Leave a comment down below or take a picture of the finished product and tag me on Instagram (@theconscientiouseater) so that I can see your creation!

📖 Recipe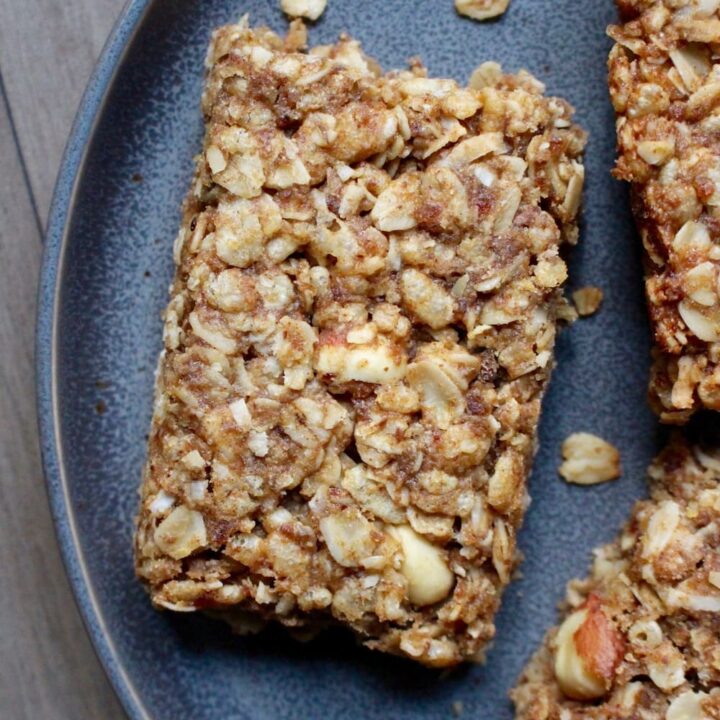 Peanut Butter Coconut Granola Bars
Made with chewy oats, crispy rice cereal and crunchy peanuts, these Peanut Butter Coconut Granola Bars make for a delicious and sweet grab-and-go snack!
Instructions
Preheat your oven to

350

°F

.

Line a 9x13 inch baking dish with

aluminum foil

so that some aluminum foil hangs over the edges. Then spray the bottom with cooking spray. Set aside.

Place the 1 cup of dates into a bowl and cover with boiling water for about 5 minutes.

Once the dates have soaked, drain the water and place the softened dates into a small

food processor

or

blender

. Add in the maple syrup and process until a fairly smooth paste/syrup forms.

In a large mixing bowl, mix together all of the dry ingredients, from the

old fashioned oats

to the salt.

Add the

peanut butter

, melted

coconut oil

and date/syrup mixture into the mixing bowl with the dry ingredients. Stir everything together until a sticky, uniform dough forms.

Pour the mixture into your prepared baking dish and use your hands to spread the mixture out evenly. Then use the bottom of a flat measuring cup or glass to pack the mixture down even more so that it's flat and compact.

Place the baking dish into the oven and bake the bars for 18 minutes.

Remove the pan from the oven and allow the bars to cool completely before using the aluminum to remove them from the pan. Make sure everything is completely cool before cutting the rectangle into 16 uniform bars. If it hasn't cooled completely, the bars will break apart easier when you cut them.
Notes
Store the bars in an 
airtight
container in the fridge.
Nutrition
Serving:
1
granola bar
Calories:
279
kcal
Carbohydrates:
30
g
Protein:
6
g
Fat:
17
g
Saturated Fat:
7
g
Polyunsaturated Fat:
3
g
Monounsaturated Fat:
5
g
Sodium:
112
mg
Potassium:
261
mg
Fiber:
4
g
Sugar:
16
g
Vitamin A:
234
IU
Vitamin C:
2
mg
Calcium:
38
mg
Iron:
2
mg