5 pantry-staple ingredients get combined to form these sweet, hearty and protein-packed Peanut Butter Protein Balls! I have a batch (or two!) of these on hand at all times!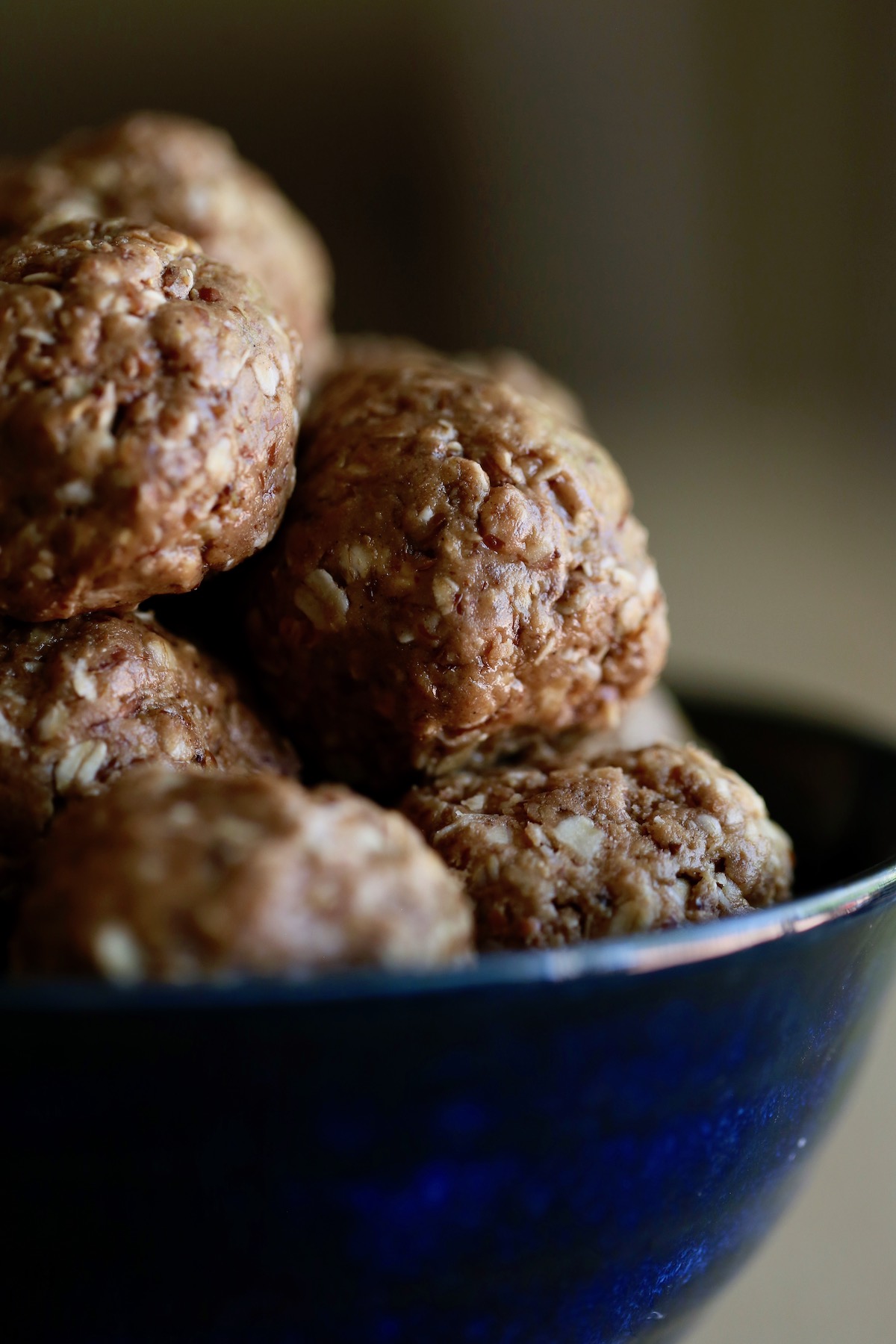 I have over 15 different vegan energy bite recipes on my blog.
You shouldn't be surprised to learn, then, that we love our energy bites! (or energy balls or power balls or bliss balls or protein balls...or whatever you want to call them!)
Full of protein, carbs and fats, they are the perfect little snack all rolled into one.
Plus, the flavor combinations are endless!
Some of my favorite energy bite (or energy ball) recipes that I've shared over the years are these Chocolate Tahini Brownie Bites, these Lemon Coconut Energy Bites and my go-to 5 Ingredient No-Bake Energy Bites.
Today I'm adding another favorite energy ball recipe to my blog's repertoire with these Peanut Butter Protein Balls!
My sister introduced me to this recipe, so I now switch off between making my no-bake energy bite recipe and this Peanut Butter Protein Balls recipe, depending on what I'm feeling that week.
Let me show you how to make them!
Ingredients
The more I make energy balls, the more I become aware of how adaptable and easy they are to make.
You can get so creative with the spices, nut butters, sweeteners and add-ins you use so that you never get sick of them.
Today's recipe is another 5-ingredient recipe that uses all pantry-staple ingredients and preps in less than 10 minutes, making them the perfect snack to meal prep at the beginning of the week.
To make them you'll need the following ingredients:
You can also include some add-ins such as dried fruit, chocolate chips, cacao nibs, etc. if you desire.
Also, if you are allergic to peanut butter or don't care for the taste, you can always use another nut or seed butter. I love to use natural, runny butters for this recipe. If your nut butter is really thick or dense, you may need to add more nut butter or sweetener to get the dough to form.
The Best Vegan Protein Powders
I used to hate protein powder.
It's often chalky or gritty and can have a weird aftertaste thanks to fake sweeteners.
However, my sister recently introduced me to a vegan protein powder that I actually like: Women's Best Vegan Chocolate Protein Powder!
That is the protein powder I use in these protein balls and I love how it tastes, not only in these peanut butter protein balls, but also on its own or even in my oatmeal.
I even got my sister-in-law to by a tub after she tried out these protein balls.
I am aware, however, that there are a lot of good vegan protein powders on the market that I have just yet to try.
Below I'll list out the brands I've heard of that have great reviews by my fellow foodie friends.
I'd love to hear what your favorite vegan protein powder brands are in the comments below!
How to Make Peanut Butter Protein Balls
These protein balls couldn't be easier to make.
From start to finish, they usually take me less than 10 minutes to make.
Follow the step-by-step instructions below and you'll soon be on your way to enjoying your new favorite snack!
Step 1: In a large mixing bowl, stir together the quick oats, protein powder and ground flaxseed.
Step 2: Add in the peanut butter and liquid sweetener and stir well until a dough forms.
Step 3: Using damp hands, roll the dough into balls.
How to Store Protein Balls
These peanut butter protein balls last for quite a long time, which is why they are the perfect snack to meal prep in 2-3 batches.
Fridge
To store these protein balls in the fridge, place them in an airtight container in the fridge for up to 2 weeks. They may even last longer than that, but they'll firm up the longer they sit in the fridge.
Freezer
If you want to prepare a lot of these protein balls at once, you can always store some in the freezer and thaw them as needed. To freeze them, place the protein balls on a cookie sheet and freeze for 1-2 hours. Then transfer the partially frozen balls to a freezer zip-lock bag and store them in the freezer for up to 3 months.
To thaw the frozen protein balls, remove them from the freezer the night before you need them and allow them to thaw in the fridge overnight. Or you can leave them at room temperature until soft enough to eat.
Peanut Butter Protein Balls
5 pantry-staple ingredients get combined to form these sweet, hearty and protein-packed Peanut Butter Protein Balls!
Notes
*My favorite vegan protein powder to use in these protein balls is Women's Best Chocolate Vegan Protein Powder.
**You can always use a different nut or seed butter if you don't want to use peanut butter. Just remember that will obviously change the flavor of this recipe!
Nutrition
Serving:
1
ball
Calories:
140
kcal
Carbohydrates:
15
g
Protein:
5
g
Fat:
8
g
Saturated Fat:
1
g
Polyunsaturated Fat:
2
g
Monounsaturated Fat:
4
g
Sodium:
10
mg
Potassium:
117
mg
Fiber:
2
g
Sugar:
7
g
Vitamin C:
0.01
mg
Calcium:
21
mg
Iron:
1
mg