5 pantry-staple ingredients get combined to form these sweet, hearty and protein-packed Vegan Protein Balls! I have a batch (or two!) of these on hand at all times!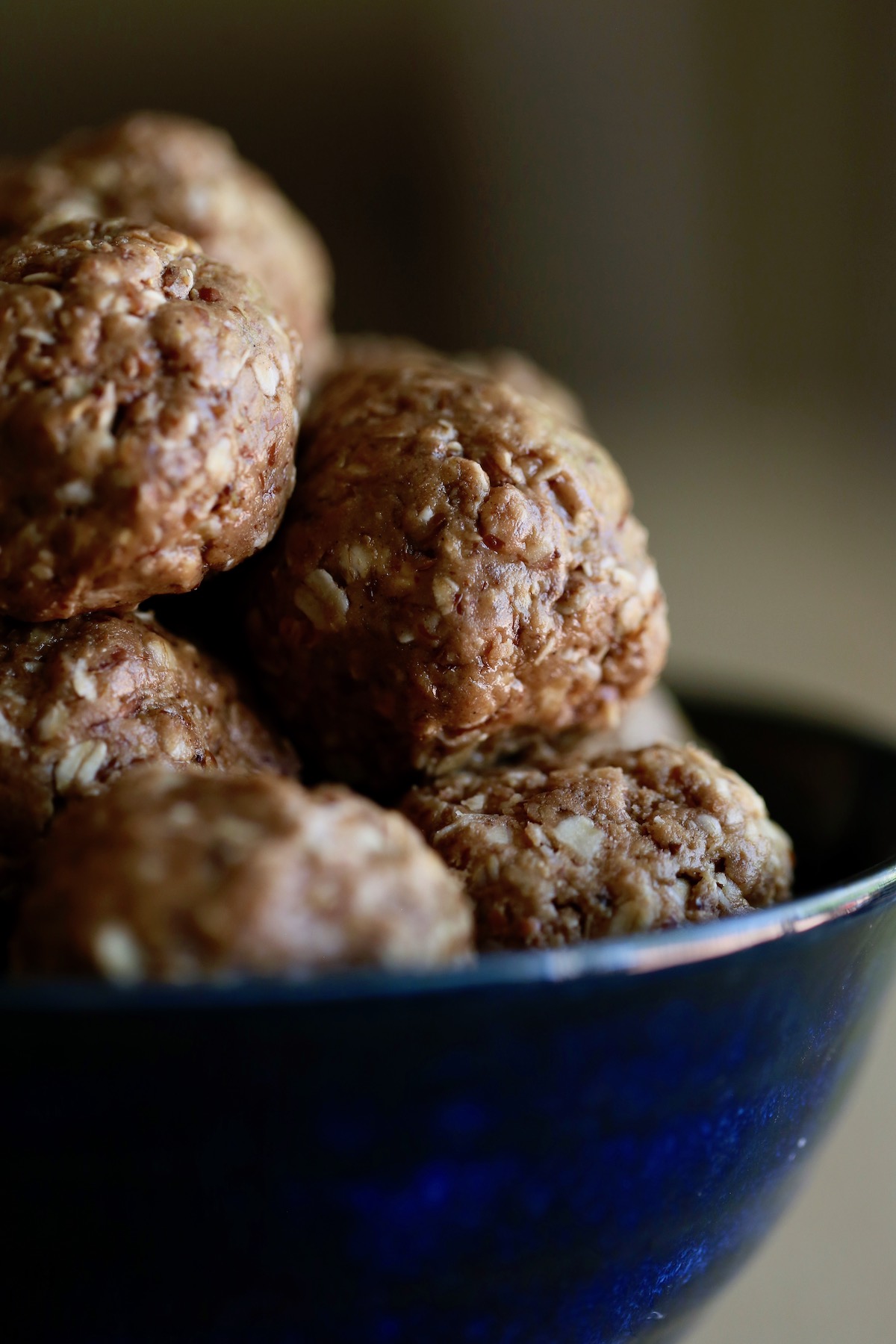 I have over 15 different vegan energy bite recipes on my blog. So you shouldn't be surprised to learn that we love our energy bites! (or energy balls or power balls or bliss balls or protein balls...or whatever you want to call them!) Full of protein, carbs and fats, they are the perfect little snack all rolled into one. Some of my favorite energy bite recipes that I've shared over the years are these Chocolate Tahini Brownie Bites, these Lemon Coconut Energy Bites and my go-to 5 Ingredient No-Bake Energy Bites. And if you'd rather enjoy a bar, definitely check out my Vegan Protein Bars...yum!
Today I'm adding another favorite energy ball recipe to my blog's repertoire with these Vegan Protein Balls!
Ingredients
🔀 Variations & Substitutions
🔀 Peanut Butter - Also, if you are allergic to peanut butter or don't care for the taste, you can always use another nut or seed butter. I love to use natural, runny butters for this recipe. If your nut butter is really thick or dense or has hydrogenated vegetable oils in it, you may need to add more nut butter or sweetener to get the dough to form. For a nut free option, try tahini or sun butter!
🔀 Liquid Sweetener - Honey, agave, brown rice syrup and maple syrup should all work in this recipe.
🔀 Protein Powder - Like I mentioned above, most protein powders would work in this recipe. I usually use flavored and sweetened vegan protein powders, so I'm not sure how a plain soy or pea protein would taste.
🔀 Mix-ins - If you want to add some extra texture, you can also include some mix-ins such as dried fruit, chocolate chips, cacao nibs, etc.
How to Make Vegan Protein Balls
Step 1: In a large mixing bowl, stir together the quick oats, protein powder and ground flaxseed.
Step 2: Add in the peanut butter and liquid sweetener.
Step 3: Stir the batter together until a uniform, sticky dough forms.
Step 4: Roll the dough into balls.
Hint: Wet your hands slightly before you roll the dough into balls. It will keep the dough from sticking to your hands. I usually have to do this multiple times throughout the processes until all the dough has been rolled into balls.
Storage
Fridge: To store these protein balls in the fridge, place them in an airtight container in the fridge for up to 2 weeks. They may even last longer than that, but they'll firm up the longer they sit in the fridge.
Freezer: If you want to prepare a lot of these protein balls at once, you can always store some in the freezer and thaw them as needed. To freeze them, place the protein balls on a cookie sheet and freeze for 1-2 hours. Then transfer the partially frozen balls to a freezer zip-lock bag and store them in the freezer for up to 3 months.
To thaw the frozen protein balls, remove them from the freezer the night before you need them and allow them to thaw in the fridge overnight. Or you can leave them at room temperature until soft enough to eat.
Expert Tips
👉 Be sure to use quick oats instead of rolled oats or steel cut oats. The quick oats are broken down into smaller pieces so they help the protein balls to hold their shape better instead of crumble apart.
👉 If your dough seems dry after stirring all of the ingredients together for a while, you can try adding a small splash of water or more nut butter and liquid sweetener. I'll just dollop a little bit of extra peanut butter into my dry dough until I get a sticky dough that holds together when you pinch it between your fingers.
👉 I keep a small bowl with water beside me when I start rolling the dough into balls. Whenever the dough starts sticking to my hands, I'll just dip my hands in the water to re-wet them. Works like a charm to keep the dough from sticking!
Recipe FAQs
What are the best vegan protein powders?
It can be hard to find a good vegan protein powder as many of them are chalky or gritty. Some brands that I have tried and enjoyed are Women's Best, Orgain, Tropeka and Vivo Life.
How much protein is in a vegan protein ball?
These vegan protein balls contain almost 9 grams of protein per ball. However, this may change depending on the vegan protein powder you use as well as which nut butter you use.
How many calories are in a vegan protein ball?
These vegan protein balls made with peanut butter contain about 200 calories per serving. However, if you make bigger or smaller balls, that will affect the number of calories in each ball.
Where do vegans get their protein?
It's easy for vegans to get enough protein everyday, even without trying. Some high protein plant-based foods are tofu, tempeh, beans, lentils, nuts and seeds, peanut butter, dark leafy greens, etc. Eating enough and a wide variety of foods everyday will help to ensure you're getting enough protein on a vegan diet.
Are vegan protein powders healthy?
All protein powders are processed and are therefore not a whole food. To help you decide which protein powder to purchase, read the ingredients list to see what ingredients are included in your protein powder. The less, more natural ingredients the better!
Can vegan protein powders cause constipation?
There are lots of different reasons you may be dealing with constipation. If you are trying to consume a high protein diet, then you may not be consuming enough fiber, which can lead to constipation.
More High Protein Vegan Snacks!
Love this recipe? Please leave a 5-star 🌟🌟🌟🌟🌟 rating in the recipe card below & a review in the comments section further down the page.
📖 Recipe
Vegan Protein Balls
5 pantry-staple ingredients get combined to form these sweet, hearty and protein-packed Peanut Butter Protein Balls!
Notes
*My favorite vegan protein powder to use in these protein balls is Women's Best Chocolate Vegan Protein Powder.
**You can always use a different nut or seed butter if you don't want to use peanut butter. Just remember that will obviously change the flavor of this recipe!
Nutrition
Serving:
1
ball
Calories:
198
kcal
Carbohydrates:
21
g
Protein:
8
g
Fat:
11
g
Saturated Fat:
2
g
Polyunsaturated Fat:
3
g
Monounsaturated Fat:
5
g
Cholesterol:
6
mg
Sodium:
20
mg
Potassium:
168
mg
Fiber:
3
g
Sugar:
9
g
Vitamin C:
0.02
mg
Calcium:
43
mg
Iron:
1
mg