How on earth am I less than a month away from my due date?! I'm so thankful to be on the home stretch and I can't wait to meet this little, squirmy girl inside of me.
This past month was overall smooth, but I did experience some hip/back pain over the course of 2 weeks which I'll share more about down below. I've also been reading like a crazy person, trying to educate myself as much as possible on labor and delivery. I'll share more below!
Size of the Baby:
She is the size of a head of romaine lettuce and weights almost 6 pounds and is more than 18.5 inches long! At this point she should be gaining about an ounce of weight every day!
Bump Update:
I'm (obviously) the biggest I've been yet this pregnancy and I definitely get more stares and questions about when I'm due. I'm fine with that! I still don't feel very uncomfortable or large, but catching a glimpse of my belly in the mirror can surprise me at times. But I think it's cute!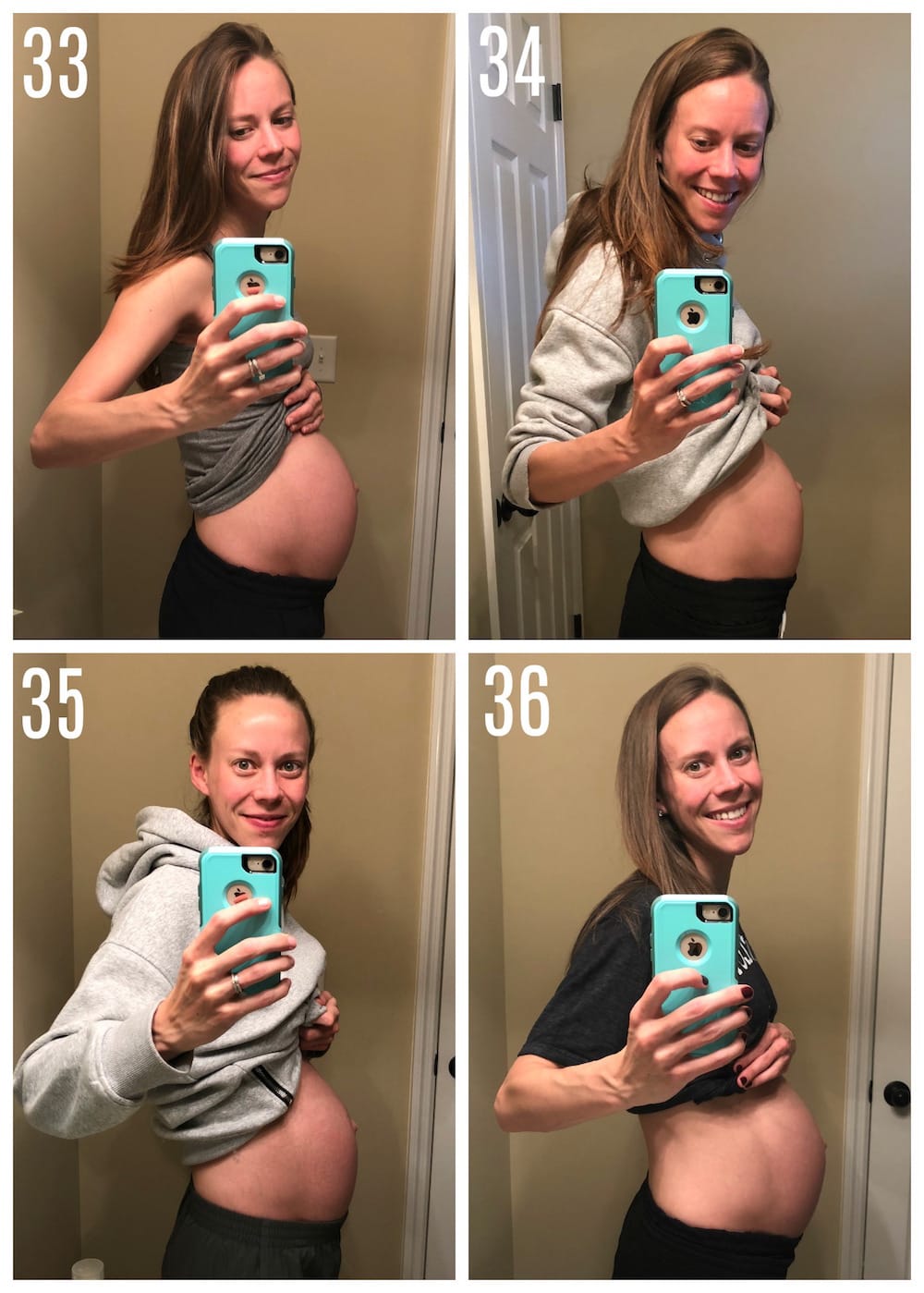 Food Cravings and Aversions:
As has been the norm since the start of my 2nd trimester, I don't have any cravings or aversions. All foods are go! But I definitely have some favorite foods/meals that I eat on rotation quite often.
Tofu scramble has been one of my biggest obsessions this past month. I add onion and garlic and season everything with nutritional yeast, turmeric, garlic salt, pepper and more sea salt. It's amazing and tastes cheesy.
I rediscovered plantains a few weeks ago and I love them as a snack or with tofu scramble. I just slice them and cook them on a non-stick skillet without any oil. They're so filling and sweet!
Oatmeal is still a staple and I've been switching off between baked oatmeal and chocolate oatmeal cooked on the stove.
Nachos were eaten for about a week straight and I'm still not sick of them. I cut corn tortillas into triangles and bake them until crispy and then top them with whatever random ingredients we have on hand.
Sweet potatoes and sautéed spinach are eaten often as well. I love how many greens I can eat in one sitting when I cook my spinach. I top it with lots of salt too!
Energy bites and lara bars are my go-to, heartier snacks. I've especially been loving my Peanut Butter Pretzel Cookie Dough Balls.
Hot chocolate happens about every other day. I make it with almond milk and use maple syrup as my sweetener. I also add in a teaspoon or so of nut butter for extra staying power.
Symptoms:
I experienced my first rough patch of pregnancy a few weeks ago when some subtle back pain turned into me barely being able to walk. I had to stop running for exercise and even walking around the house was a struggle most days. I was forced to take a few days off from most cardio until I was able to talk to my midwife about possible options for relief. She suggested a Serola Belt that helps place pressure on the hip bones, making them more sturdy. She also suggested swimming which ended up being the biggest lifesaver and I'll talk about more about that in the exercise portion of this post.
Other smaller symptoms I've been having include the following:
poor sleep during the worst bout of hip pain. The pain made it difficult to switch sides at night (thankfully this isn't an issue anymore!)
stuffy nose and bloody boogers
a bruise feeling on my belly (possibly due to where she is often pressing or kicking )
more intense hunger
smaller stomach space
Exercise:
I cannot thank God enough that I actually have lots to write about in this section! At the beginning of these past 4 weeks, due to my hip pain, I wasn't sure if I would be able to continue exercising other than weighted arm workouts. But after the midwife mentioned swimming, Brett and I researched gyms nearby and ended up signing up at the local YMCA. I cannot tell you how grateful I am for that gym!
Thanks to stopping running and instead swimming and doing the stair climber (which surprisingly didn't hurt my hips even at their worst point), my hips are practically back to normal! I can go on walks and do my normal weighted workouts again too!
I swim about 2-3 times a week and on the other days use the stair climber/lift weights or go on walks around the neighborhood. Every week, I try to take one day completely off from exercise (which is hard for me), but I'm feeling so strong and energetic!
I plan to continue working out until the day this baby girl makes her arrival.
Maternity Clothes:
Over the course of this pregnancy, I've learned a lot about what maternity clothes I like and don't like and which ones I think are necessary. I'm sure every woman is different and so many factors also depend on which season a woman is giving birth. Since the beginning I've tried to buy a minimal amount of maternity clothes and I'm so happy I went that route.
Even though I have a winter due date, I was fine with just buying one pair of maternity jeans. Other than that pair of jeans, I just wear non-maternity leggings and my pre-pregnancy jeans with a belly band. Earlier in my pregnancy, during the summer and fall months when it was still hot outside, I was still fine with only buying one pair of maternity jean shorts and wearing those in addition to sports shorts or loose dresses that I already owned.
As for tops, I realized after the fact that I really don't care for maternity tops that have ruching along the sides. I find the extra fabric makes you look bigger and frumpier than if you were to wear a long, stretchy shirt. I thankfully found some non-ruched maternity shirts (Target's Ingrid and Isabel brand) which I love and bought 2 short sleeved and 2 tank tops. Even though it's winter, these are still my staple tops as I can wear them with cardigans and a scarf for extra warmth. In addition to those basics I bought a denim, maternity, loose fitting shirt with a waist tie and I like it too. I can still wear a lot of my looser non-materinty tops which I already owned as well. Even the two Cuddl Duds long-sleeve, non-materinty tops which I already owned stretch enough to go over my belly and are long enough that I don't have issues with my belly popping out.
I didn't buy a winter coat either. I can still wear the winter coat I already own, but I just don't button it up in the front. A scarf helps keep me warmer when needed or I borrow my mother-in-law's coat which I can zip up if I need something extra warm. In the house I'm also still able to wear the oversized sweatshirt which I already owned for warmth.
Farther along in my third trimester I purchased some nursing bra which I absolutely love and I've been wearing them non-stop. I had a harder time finding nursing camisoles that fit well, but I just recently purchased some Undercover Mama nursing tanks and like them a lot. The best part is that they don't have a built in bra but instead attach to the nursing bra you already own.
For swimming, I also didn't buy a maternity swimsuit. My normal swimming bottoms still fit and I have two sports bras which I layer to create an athletic swim top. It works!
Lastly and most importantly, I've found that certain non-maternity clothes work better than some maternity clothes. It all goes back to me not liking the ruching added to the sides of most maternity tops. Two non-maternity items that I purchased and loved were a high waisted black, stretchy skirt from H&M (about $10) and a bodycon dress from H&M (similar to this style). They both are form fitting, but stretchy and I found them the most flattering items to wear. They stretch with you as your belly grows too and they're easy to layer with more clothes when the temperature gets colder. For a warmer outfit, I like to wear them both with a long, form-fitting top which I tie in a knot above my belly.
Pregnancy Books I've Read:
Since I plan to give birth naturally, I've been reading books that are in line with that philosophy. I've found all of these books really informative, helpful and encouraging. Knowing what the body does during labor and delivery gives me so much peace about giving birth. Our bodies were meant to do this!
Birth Plan:
While I'm fully aware that birth plans don't always go as hoped, that hasn't kept me from doing my research and trying to give myself the best chance possible of having a natural, un-medicated childbirth. Every woman is different and I'm so grateful that there are medications and methods to reduce discomfort during childbirth, but I personally want to focus and plan for an unmedicated birth.
We were originally planning to have our girl in a birthing center, but due to the small amount of prenatal care we received while in China, we "risked" out of that option. Thankfully, everything has turned out fine and we are going to give birth at the Vanderbilt Hospital in Nashville using a midwife. We won't know which midwife will be on call when I go into labor, but all of the midwives we've met so far have been wonderful. I plan to move around and change positions often while in labor and Brett is also prepared to help me deal with contractions. The hospital has a tub in two of the birthing rooms, so I hope we can get a room with a tub so that I can labor in water when needed.
We are planning to do lots of skin-to-skin right after she's born and to delay cord-clamping.
Other:
As of yesterday, we will be hosting quite a few friends at Brett's parent's house in Nashville. Then in mid-January my sister and her youngest daughter are planning to come visit for a quick weekend. I know the upcoming weeks will fly by and we'll be meeting this baby girl before we know it!
---
Thanks so much for following along! I may or may not have one more update before we meet our girl. I guess we'll all have to wait and find out!