Made with fresh herbs and protein-packed chickpea flour, these savory Chickpea Flour Falafel Pancakes make for a hearty and delicious meal anytime of day!
Jump To
Intro
Finally! We've been loving these savory chickpea flour pancakes for a while now and I'm finally getting around to sharing the recipe on the blog. The first time I made chickpea flour pancakes for Harper she was NOT a fan. I basically used a recipe for a chickpea flour omelette that I found online and it only called for chickpea flour, some spices and nutritional yeast. I too didn't think they were that great, so didn't blame Harper for dropping her pieces on the floor. Yet, I didn't want to give up on chickpea flour as an ingredient for Harper too quickly. I just felt like I needed to get creative and add more Harper-friendly flavors. Enter in falafel pancakes!!
Harper and I are both obsessed with falafel...and hummus...and tahini--any type of Middle Eastern food really. Since falafel is made out of chickpeas, it randomly occurred to me that I should try to make falafel-flavored chickpea flour pancakes. Thankfully, Harper loved them as much as I did! Now they are a staple in our house and I love getting to enjoy falafel in a new form that's super easy to make.
What is chickpea flour?
As it's name suggests, chickpea flour is made from dried chickpeas that have been milled into a fine flour. Sometimes the chickpeas are raw and sometimes they are roasted. The flour made from raw chickpeas is more bitter, while the flour made from roasted chickpeas is more flavorful. Whether its raw or roasted, chickpea flour is naturally gluten free and packed with protein. While chickpea flour easy to find in many grocery stores, Indian markets and bulk stores, you can also attempt making your own at home using a food processor or a high speed blender to grind dried chickpeas into a fine flour.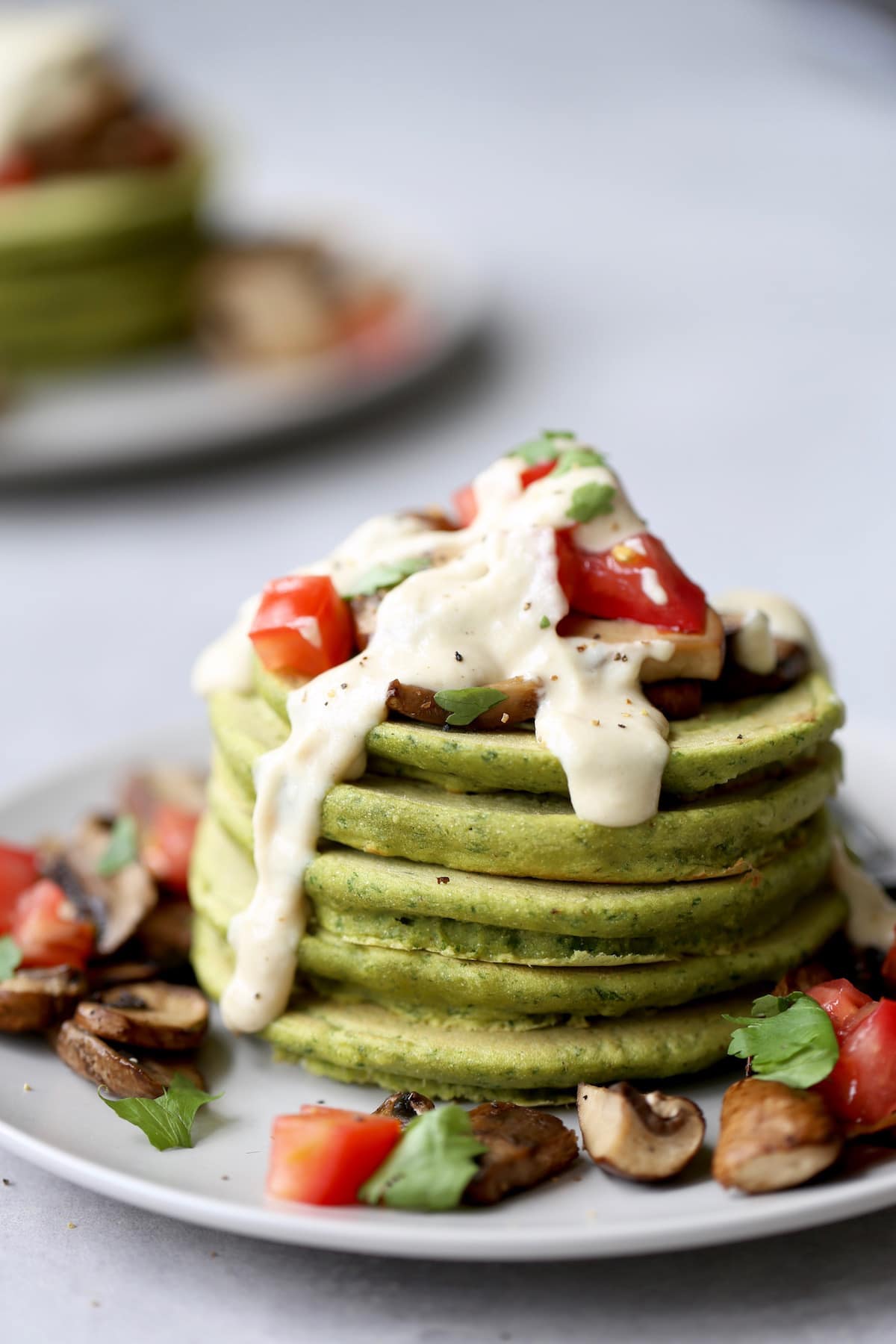 Is chickpea flour and garbanzo bean flour the same thing?
There are many different names for chickpea flour. It is often also called garbanzo bean flour and in Indian markets, you may also see it called gram flour or besan flour. They are all the same thing are can be used interchangeably. 
Is chickpea flour healthy?
Chickpea flour is naturally gluten free and packed with plant-based protein. It's fairly high in carbohydrates, but also in fiber. I love incorporating it into our diet as a way to boost our protein and fiber intake in a healthy and delicious way. However, if you are trying to reduce the amount of carbs you are consuming, it may not be the best flour for you.
Can I substitute chickpea flour for all-purpose flour?
I don't find chickpea flour as a good substitute for all-purpose flour. Their textures are very different as chickpea flour is more dense and becomes stickier when mixed with water. However, chickpea flour makes for a great gluten-free binder when making vegetable patties or fritters. I can also be used as an plant-based egg-replacer as you'll see in the following recipes!
Other chickpea flour recipes
There are so many different ways that you can use chickpea flour. Below I list some of the more popular recipes that use chickpea flour. I hope you can give some of them a try!
---
Please let me know if you give these simple, amazing chickpea flour falafel pancakes a try and what you think!
Yield:

10 pancakes
Savory Chickpea Flour Falafel Pancakes Recipe
Made with fresh herbs and protein-packed chickpea flour, these savory Chickpea Flour Falafel Pancakes make for a hearty and delicious meal anytime of day!
Ingredients
1 cup water
1 medium-packed cup cilantro
1 medium-packed cup parsley
2 cups chickpea flour
2 tablespoons chopped onion
1 clove garlic, minced
Instructions
Sift the chickpea flour, baking powder and baking soda into a large mixing bowl. Stir in the chopped onion, minced garlic, and herby liquid mixture. Lastly stir in the apple cider vinegar until just combined.
Heat a non-stick skillet over medium heat. Once hot, drop the batter by ¼ cup increments and use the back of the measuring cup to spread the mixture into a pancake-shaped circle. Cook for a minute or two, or until bubbles appear around the edge. Then flip the pancake over to allow the other side to cook for another minute or two. Continue this process until all the batter has been used.
Serve warm with sautéed mushrooms, fresh tomato, hummus and lemon tahini dressing!
Nutrition Information:
Yield:
5
Serving Size:
2 pancakes
Amount Per Serving:
Calories:

153
Total Fat:

3g
Saturated Fat:

0g
Trans Fat:

0g
Unsaturated Fat:

2g
Cholesterol:

0mg
Sodium:

567mg
Carbohydrates:

24g
Net Carbohydrates:

0g
Fiber:

5g
Sugar:

4g
Sugar Alcohols:

0g
Protein:

9g
Nutrition information is a rough estimate provided by Nutrionix and should be used for informational purposes only.